Mmm, what's that smell? Paleo stuffed peppers? There is something about this dish that is so cozy like comfort food, yet it's so easy to make healthy; the main components are often veggies and meat anyways.
They're also fully customizable. Why set limits with what you put inside of the pepper? After all, that is what counts!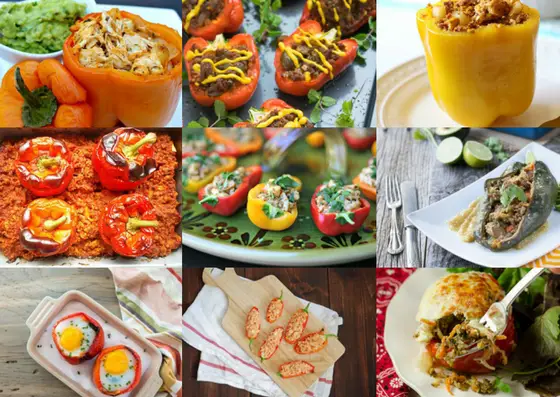 The bell pepper serves as a sturdy vessel for any kind of craving you've got brewing. We've got a recipe here for everyone from the breakfast aficionado to the spicy-food lover.
These grain-free creations are rich and filling without any rice in the middle. Bonus materials include quite a few homemade spice blends and sauces to kick the flavors up a notch.
1. Breakfast stuffed peppers
Start your morning off by waking up on the right side of the bed with this baked egg recipe. Fair warning: these take a bit of prep time, so save this one for the weekend or get them ready the night before.
All you need are bell peppers, eggs, and spinach. If you want to up the protein content, these are great with ground beef added into the mix. Garnish them with fresh chives or your choice of seasoning, and voila! Get the recipe from Stupid Easy Paleo.
2. Paleo stuffed peppers
This is like the taco pizza of stuffed peppers, combining the best of both worlds in the realm of quick, easy, and delicious. You can use either beef or bison depending on what you like, what you can find grass-fed, and what kind of texture you're going for.
Use your favorite spicy or mild pepper based on preference. Top these beauties with sliced olives for flavor and aesthetic appeal, and you're good to go. Get the recipe from Our Paleo Life.
3. Easy Mexican stuffed bell peppers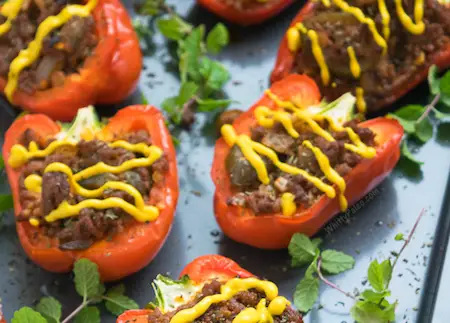 It's all about the seasoning with these guys, and it's seriously GOOD! There's some coconut aminos in there for some salty umami flavor, fresh mint and coriander, and nutritional yeast for a cheesy punch.
Otherwise, the jalapeños in these guys stand out and give them that spicy Mexican kick that can't be beat. This dish is so easy, and so tasty. Get the recipe from Whitty Paleo.
4. Buffalo ranch stuffed peppers
Buffalo sauce, ranch, and chicken are the ultimate combination, and we're sure you're no stranger to the concept. Unfortunately, that combo is usually dreadfully unhealthy!
This recipe includes a homemade ranch seasoning which is a crucial step to these pretty peppers. The butter to hot sauce ratio is up to you and your taste buds, but the instructions list the perfect ratio. Top this with guacamole to capture the true essence of this dish. Get the recipe from Primally Inspired.
5. Enchilada stuffed peppers with chile verde sauce 
The brilliant chili verde sauce recipe smothered on top of this recipe makes this option truly stand out. These poblanos are a little spicy, and a little sweet with the addition of yams or butternut squash in the center. Grass-fed ground beef will hold this one down.
Hint: the leftover meat filling pairs well with eggs the next morning. Serve this with fresh sliced avocado or homemade guac for the best results. Get the recipe from Against All Grain.
6. Slow cooker Italian stuffed peppers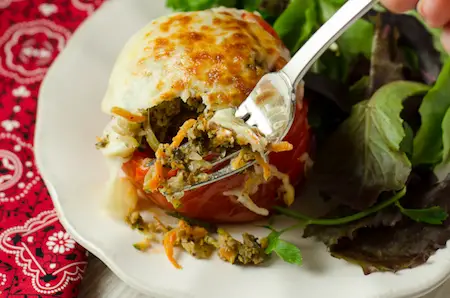 The slow cooker makes these guys hands-off and well worth the little effort you have to put in. Instead of rice, these peps pack a veggie punch with shredded carrots, zucchini and onion inside making them nutritious, delicious and grain-free.
Oh, and there's prosciutto too, in the true name of Italian cooking! Finally, the cheese is optional, but we say go for it. Get the recipe from Following In My Shoes.
7. Chorizo, egg & potato stuffed peppers
Here's an idea: breakfast hash in a pepper instead of a bowl. In fact, this is an idea we really, really like. If you're feeling crazy, you can add some cheese on top, but these require just four ingredients!
These are great to prep the night before and heat up in the morning for a seriously filling brekky full of healthy fats, nutrient-dense veggies and slow carbs. Get the recipe from See Vanessa Craft.
8. Shrimp & pesto stuffed baby peppers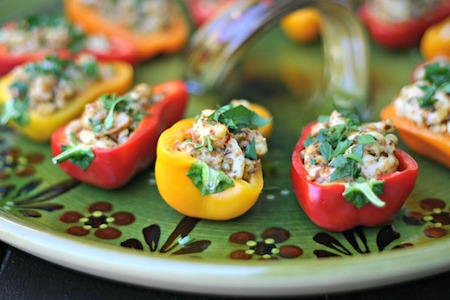 These guys are the perfect candidate for a party if you're looking to whip up a delicious, crowd-pleasing hors d'oeuvres. This is some lighter fare for the generally heavy, carb-laden appetizers you see gracing the table, and a step above a Plain Jane veggie tray with some actual protein to keep you satisfied until dinner!
On the other hand, you could just have a few of these for dinner alongside a scrumptious salad. Get the recipe from Everyday Maven.
9. Clean ground turkey roasted peppers
This recipe is a full-on meal, and one you'll love. These peppers are roasted to charred perfection with a bed of 'overflow' you'll want to dig into beneath them, making these peppers arguably the coziest recipe on our list!
Turkey stands in for the meat, and it really absorbs all the gorgeous flavors that are present in this dish. Don't knock the drizzle of raw honey on top 'til ya try it – yum! Get the recipe from Perchance to Cook.
10. Salmon stuffed peppers
Looking for lunch in a jiffy? These peppers require no cooking, and they're economical to boot. Tinned salmon, compliant mayonnaise, and raw baby bell peppers are all you need besides a sprinkle of spice and a little onion if you like.
You can get a little crazy with these and add in some hot sauce, chopped green onions or fresh dill on top. Get the snackable recipe from Whole Fork.
How do you stuff your peppers? What's your favourite way to make 'em – oven or slow cooker? Share your tips with us below, and how you turn this classic recipe into your own. Maybe, you've found your new signature weeknight dish here! 
Want more paleo dinner recipes and ideas?
Music, mountains, dogs, travel, food and friends.