Ah, the elusive act of losing weight. In reality, it's not as hard as it seems. In fact, it's quite a simple formula: you expend more energy than you take in. When you're eating whole foods that are nutrient-dense, this is pretty easy because you feel full, you feel good, and you feel energised. Gone are the days of diet foods and the low-fat fad. We believe that you can eat well and achieve those weight loss goals without deprivation.
As you begin your journey or find yourself in the midst of it asking, "Why am I not losing weight?," you should consider these few factors. More goes into sustainable and healthy weight loss than just eating less and moving more!
Related posts
10 Simple Ways To Accelerate Fat Loss (Beyond Your Diet)
How Brown Fat Can Supercharge Weight Loss[/fusion_text][/fusion_builder_column][fusion_builder_column type="1_3″ layout="1_3″ last="yes" spacing="yes" center_content="no" hide_on_mobile="no" background_color="" background_image="" background_repeat="no-repeat" background_position="left top" hover_type="none" link="" border_position="all" border_size="0px" border_color="" border_style="" padding="" margin_top="" margin_bottom="" animation_type="" animation_direction="" animation_speed="0.1″ animation_offset="" class="" id="" min_height=""][fusion_text]Share on Pinterest[/fusion_text][fusion_imageframe lightbox="no" lightbox_image="" style_type="none" hover_type="none" bordercolor="" bordersize="0px" borderradius="0″ stylecolor="" align="none" link="https://au.pinterest.com/pin/263460646930630346/" linktarget="_self" animation_type="0″ animation_direction="down" animation_speed="0.1″ animation_offset="" hide_on_mobile="no" class="" id=""]
[/fusion_imageframe][/fusion_builder_column][fusion_builder_column type="1_1″ layout="1_1″ background_position="left top" background_color="" border_size="" border_color="" border_style="solid" spacing="yes" background_image="" background_repeat="no-repeat" padding="" margin_top="0px" margin_bottom="0px" class="" id="" animation_type="" animation_speed="0.3″ animation_direction="left" hide_on_mobile="no" center_content="no" min_height="none" last="no" hover_type="none" link="" border_position="all"][fusion_text]
1. Not enough veggies
In the day and age of "diet foods," veggies are a little left out. Fresh produce is replaced with low calorie spreads, cheeses, and frozen dinners. If your primary goal is weight loss, a focus on real food should be first. Second should be mastering serving sizes.
When it comes to non-starchy veggies, the general rule of thumb is to eat to your heart's content. This will provide the body with maximum nutrition, any vitamins and minerals you might be deficient in, and the key factor – fibre!
Fibre and volume can make us feel satiated which in turn leads to less snacking and mindless eating.
Pro tip: use a mixing bowl for salad. Too many greens is NOT a thing!
2. Not getting enough sleep
Whatever your question might be, sleep is probably the answer. It's tied to so many aspects of our life, and it's a huge factor in losing weight. How so? Well, poor sleep and exhaustion leads to the release of appetite-stimulating hormones like ghrelin.
This hormone may be the reason you crave (and give into) sweets and carbs when the midday slump sneaks up on you. In order to achieve weight loss goals, it's important to get some quality shut-eye at night.
Pro tip: If you're waking up earlier and sacrificing those zzz's to meal prep and hit the gym, consider prioritizing sleep as much as you would food and exercise.
3. Going nuts on nuts
Nuts and seeds are a great source of healthy fats, a little bit of protein, and plenty of vitamins and minerals. Each variety has their own unique and impressive nutrient profile. Alas, just 1/4 cup of nuts packs a pretty serious calorie punch which can stall your weight loss.
While the combination of fat and protein often leaves us feeling full, nuts are something we reach for as a snack. This means a handful turns into half the bag in no time. Next time you're chowing down on cashews in front of the TV, take a second to be mindful.
Oh, and this rule applies to the oh-so-delicious nut butters you're eating by the spoonful, too. Not judging, just saying.
Pro tip: Pack up nuts in portion-sized baggies for appropriate sized munchies on the go.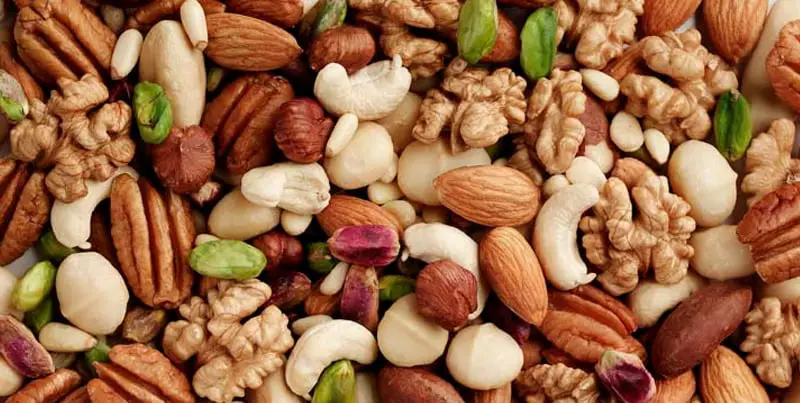 4. Overtraining to justify overeating
When we develop a more active lifestyle, our bodies often react by becoming hungrier. Makes sense, right? When you're using up fuel, you need more of it.
Many people overestimate their energy expenditure though, and they use those workouts as an excuse for a fourth meal. Even worse is overtraining and exhausting your body in order to "burn more calories" and eat more food. Give yourself a break!
Before or after a workout, you may need to adjust nutrition if that workout is not centered around a meal. Consuming an extra meal is enough to cause your weight loss to stall or even result in weight gain.
Pro tip: If it will be hours before you eat again, have a post-workout snack, not a feast.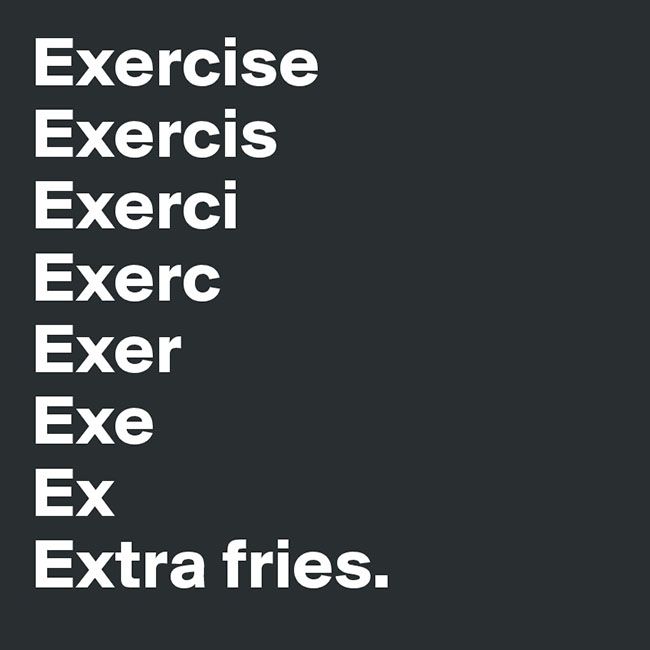 5. Cardio, cardio, cardio
Cardio is great. Running, walking, elliptical-ing, cycling, and swimming make our hearts happy and release endorphins which can actually help you manage hunger and stay on the track to steady weight loss.
The problem? Overdoing it. Moreover, individuals who perform strictly cardiovascular exercise and no resistance or weight training might see that the process of losing weight is slower or less satisfactory.
By performing resistance training with weights, machines, or bodyweight exercises, we build muscle which takes up less space than fat and burns more calories over the day which can rev up the metabolism a little better.
Pro tip: Do what makes you ENJOY working out above all, but try to incorporate both cardio and resistance training with high intensity interval training or kettlebells for optimal weight loss and physical health.
Hopefully now you have a better understanding of how to stay on track while losing weight and address those pesky problems that can get in the way. The Happy Body Formula addresses these issues head on making shedding the pounds easy, delicious and fun. What have you found that stalls your weight loss efforts?
Want a weight loss meal plan?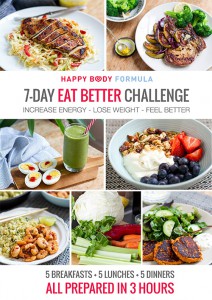 Is life getting in the way of your goals to eat healthier and feel better?
We know it's hard to stay on track when you're tired and busy during the week. We often make bad choices when unplanned and unprepared.
That's why we created our make ahead meal plans, complete with real food recipes and shopping lists that will cover you for five dinners, lunches and breakfasts.
We believe that planning and preparing meals ahead of time is your best strategy towards healthier eating. Get the 7 Day Meal Plan Today.
Share below!
Music, mountains, dogs, travel, food and friends.