We can talk about diet all we want from a food standpoint, but here at the Happy Body Formula, we're quite focused on the BIG picture. That includes the psychology behind the act of eating, how we view our choices, the way we interact with food and the relationship we foster between body and mind.
Unfortunately, it's all easier said than done. As much as we focus on lifestyle change versus diet, old habits die hard. This is especially true from a societal standpoint and how we eat.
You've likely been eating the same way for years, and it's not easy to reverse a decade worth of damage.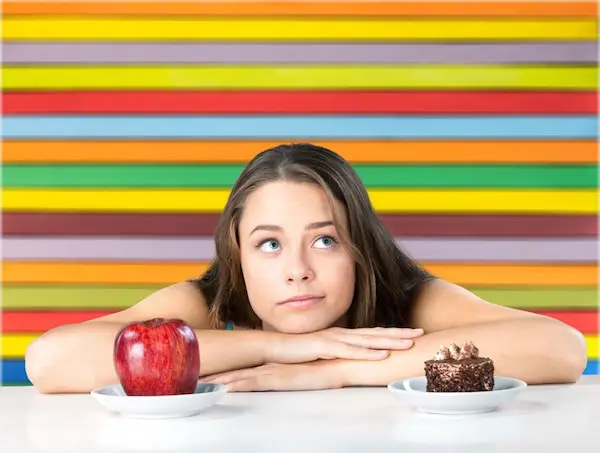 Whether your main struggle is squeezing meals into a hectic work life without a proper dining room table to sit down to, or you find it difficult coming to peace with your body, mindful eating can change the game.
If you're at all new to the subject of mindful eating, it's a plain and simple concept – to eat with purpose. Think about it like small talk compared to a captivating and intelligent conversation. The same differences apply.
We're a food for fuel, comfort, boredom and everything but hunger society, so we have to fight back against what's preventing us from getting in touch with our forks and knives.
So, what steps can we take to get there? Again, it's easier said than done, but these little habits make big changes that matter in the long-haul. Here are our favorite mindful eating tips.
Learn more about healthy, mindful eating with our 7 Day Make Ahead Meal Plan.
Question your hunger
Now, the absolute last thing we want to promote is deprivation, but hear me out on this. We don't just eat because we're hungry. We reach for sugar when we're tired (hello, quick energy!), treats when we're stressed, snack foods when we're bored, bigger dinners when we're in social settings, and the list goes on.
Instead of being so quick to give into your body's invasive and urgent need for FOOD NOW, take a second to question if your hunger is physical or emotional. When is the last time you ate?
Did you have enough food, specifically fat and protein? Are you reacting to an emotion? Are you watching TV, driving, or otherwise distracted? Do you feel like you don't have a choice but to eat?
It's good to consider why you might be reaching for more food, especially if you're craving sweets. A good rule of thumb is to eat only if you're hungry enough to have a piece of fish and vegetables.
Otherwise, your brain might just be playing tricks on you. It's not always a bad thing to eat for pleasure. In fact, it's probably an emotionally healthy choice on occasion. Alas, it should not be a daily routine.
Abandon the "clean plate club"
Here's a childhood lesson that's not quite akin to "Treat others the way that you would like to be treated." While the golden rule is indisputable, the notion that we need to clear our plates is an outdated moral that is often instilled in us well into adulthood, working actively against mindful eating.
Yes, it's okay to be reminded that people in the world are going hungry and that you ought to be grateful for the food on your plate. In fact, this is a good step to take for mindful eating – being appreciative of your food.
The fact of the matter is that leaving the last five bites of your meal unfinished because you're already full isn't going to make much of an impact in terms of solving the problem of world hunger.
If you eat slowly enough, you will likely realize that you feel satiated before you finish your meal. This is especially true if you're being served food at a restaurant where portions are much larger than at home.
If you're second-guessing it, just wait a little bit or save the rest for later. You don't have to waste food to be mindful!
Turn off your electronics
We're so accustomed to having the background noise of the TV buzzing or our phone in our hands, it's hard to just focus on the food. If you're at home, opt for turning on some relaxing music instead of plopping down on the couch in front of the tube.
While eating out, it's easy for us to keep our phones turned on – at least setting them to vibrate – so we don't miss out on any important interactions. Do you recognize the obvious mistake with this one?
Paying attention to the screen takes your focus away from both the food on the table and the people at the table. Bad news for mindfulness!
Shut the phone off entirely. Turn the TV off entirely. Screens are the easiest way to tune into something besides the food which often leads to overeating. Mindfulness is accompanied by focusing on the task at hand. Food tastes better without electronics.
Bring less to the table
Family meals are becoming less and less common while bringing more to the table is all but obsolete. When serving a crowd, we're expected to offer up a buffet-style spread with all the food – salad, sides, condiments, wine, dessert, the main dish and the tempting bread basket – conveniently located in the centre of the table. Do you see the problem already?
It's easy enough to grab seconds, especially if all you have to do is reach a few inches in front of you to load up your plate. On the contrary, if you leave these foods in the kitchen, you're more likely to engage in conversation rather than mindlessly doubling up.
By the time you're no longer distracted by conversation, you'll likely find that you've had enough. At the very least, your body will have had some time to process and digest the food, helping you to realise if you actually want another serving.
If you're going to bring something to the table, opt for the salad and the vegetable sides. Nobody chooses a second portion of greens when there are dinner rolls to be buttered. This is a fact!
Be gracious
Whether or not you're religious, there's something sacred about every meal. Unfortunately, our society has been conditioned to forgo pre-meal rituals in favour of getting down to business. And no, we're not just talking about prayer, here.
Being mindful about your food is much more easily achieved when we give credit where credit is due. Think about the animal you're eating whose life you value.
Think about the farmers whose life revolves around making sure that fresh produce reaches your table. Take a moment to appreciate the chef (it could be you!) who went through the effort to serve this meal.
When we think beyond our hunger, we can really tune into the flavours, colours, aromas and sensations that accompany every meal and every bite. When we have these things in mind, we can practice mindful eating at its finest.
Finally, it's worth noting that practicing gratitude helps just about everything.
What is your best tip to practicing mindful eating? Share it with us, and share our advice with someone who could use a little motivation!
Music, mountains, dogs, travel, food and friends.