Fact checked by Aimee McNew for Accuracy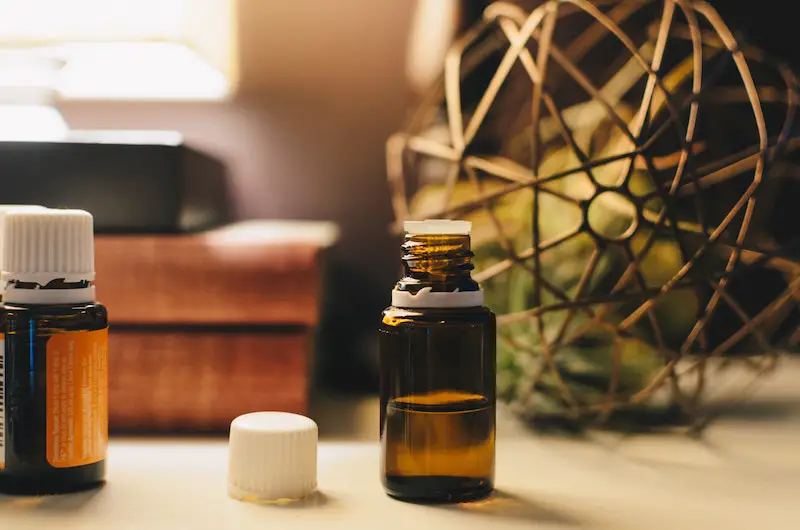 Essential oils have many health benefits and uses, but eucalyptus oil is one of the most versatile and health-promoting that exist.
Between boosting immunity and easing respiratory health, to cleaning around the house and addressing headaches or seasonal allergies, eucalyptus oil has a well-deserved place in your medicine cabinet.
Let's explore more about this versatile plant-based oil.
What is Eucalyptus Oil?
Eucalyptus oil comes from leaves on the eucalyptus tree, which originates from Australia, Tasmania, and the surrounding area.
The oil has been extracted from eucalyptus leaves for its medicinal properties for many hundreds of years. In order to make eucalyptus oil, the leaves are harvested, dried, crushed or ground, and then distilled.
The first use for eucalyptus oil was pain-relief, as a topical analgesic. It was also relied on for reducing inflammation and addressing respiratory afflictions.
Nowadays it's still popular for these reasons, and it is found in many "menthol" products that are used to help clear sinuses or airways or to address common colds and side effects.
Because eucalyptus is so potent, it's not safe to ingest internally. It can harm the tender tissue of the esophagus and can irritate the stomach lining, potentially burning it.
But eucalyptus offers every needed benefit simply by being used topically or aromatically, so there's no need to drink it anyway.
9 Proven Health Benefits of Eucalyptus Oil
Eucalyptus essential oil has many proven health benefits, including some that are little known! Once you understand how beneficial eucalyptus oil can be, you'll realize that it has the potential to be a go-to source for daily use.
1. Antimicrobial Activity
Eucalyptus oil has broad-spectrum antimicrobial mechanisms that can help to fight bacteria and other pathogens. It can be useful when fighting infections, even viral and fungal.
Eucalyptus oil can be beneficial when you're already sick, to help speed time to healing and to boost the immune system in doing its job, but it can also be used to help prevent sickness.
During cold and flu season, cleaning with eucalyptus oil can help to kill contact germs, and if you're around others who are sick, breathing in eucalyptus can help to preemptively stimulate the immune system to be on alert for defending your body against sickness.
2. Anti-Inflammatory
One of the major benefits of eucalyptus oil is that it fights inflammation. Inflammation is often a driving force behind pain and other chronic conditions, and eucalyptus is a natural, non-toxic way to ease muscle pain, soreness, joint pain, swelling, and general achiness.
Inhaling eucalyptus oil has been research-proven to lower pain levels, even after surgery. (source) It can lower blood pressure, too, which can relieve stress on the body, and allow it to focus more thoroughly on tissue repair.
3. Fights Coughs and Respiratory Problems
Eucalyptus can help to break up mucus in the respiratory tract, which is why it can be helpful for relieving coughs, congestion, and associated symptoms of colds and the flu.
Eucalyptus is also beneficial for addressing more serious lung-related issues like chronic obstructive pulmonary disease, also known as COPD, as well as bronchitis, asthma, and even sinus infections.
While it should never replace medical treatment for an asthma attack or other serious issues, in non-life threatening situations eucalyptus can be a way to ease the irritating symptoms of congestion.
It works by helping to stimulate the immune system and improving circulation in the respiratory pathways.
If you're stuffed up and breathe in eucalyptus, you'll notice that it helps immediately relieve being unable to breathe through your nose.
This is because it activates scent receptors in the nose, which can help to move mucus out of a stagnant state. It can also relieve inflammation in the sinus cavity that is usually present during sinus infections, colds, or influenza.
4. Seasonal Allergy Relief
Eucalyptol and citronellal are two components of eucalyptus oil that work to modulate inflammation and immunity, which can be helpful in providing relief for seasonal allergy symptoms.
Histamine production rapidly increases in the presence of seasonal allergies or other environmental allergens, like grass, dust, or pollen, but eucalyptus oil can help to calm the immune system's reactivity to the presence of allergens, thereby reducing histamine overproduction.
As histamine levels decrease, symptoms of allergies lower as well.
5. Headache Relief
Not only can eucalyptus oil relieve sinus-related head pain, but it can also address headaches caused by different reasons, including stress, tension, tiredness, and more.
Breathing in eucalyptus as needed for head pain doesn't have physical side effects like taking NSAIDs does, and it can be used as often as needed for more immediate relief.
6. Boosted Mental Clarity
Eucalyptus can help to clear head pain, but it can also help to improve focus and clarity in the brain. Eucalyptus has invigorating properties that can help stimulate blood flow to the brain, resulting in a brain that seems to fire more rapidly.
This is perfect for an afternoon slump at work, preparing for a test, or psyching yourself up for a public speaking engagement.
Eucalyptus also helps to alleviate head and neck pain because it can relax muscles in the face, neck, and shoulders, a primary cause of tension headaches.
For the ultimate boost of mental clarity, pair eucalyptus with peppermint oil.
7. Natural, Chemical-Free Disinfectant
When it comes to germs, most of us want our homes to be squeaky clean. But bleach and other conventional germ-killing cleaners can be toxic to humans and animals and can also produce reactions like coughing, eye irritation, and even skin rashes.
Eucalyptus oil is an excellent natural home disinfectant that doesn't harm humans or animals and which can effectively kill surface germs. Make your own disinfectant spray by pairing a water spray bottle with 20 to 40 drops of eucalyptus, depending on how strong you want your cleaner to be.
Wipe surfaces as often as needed for maximum cleanliness. It also works as an excellent bathroom cleaner, too.
8. Non-Toxic Pest Repellent
We don't love it when pests of any kind come into our living spaces, but many pest repellents are toxic to humans and animals. Many essential oils work to naturally keep pests away, and eucalyptus is especially effective for one of nature's worst pests: rats.
In areas where rats are problematic, a strong eucalyptus spray should be sprayed on entry areas and surfaces where they might be drawn to.
Initially, repeat area treatment frequently, as often as daily, and then once the pest issues are controlled, repeat a few times per week or weekly as needed. You can also soak rags in a strong eucalyptus mix and lay them near baseboards or entry points.
9. Wound Healing and Skin Care
Eucalyptus can be used topically for many needs. Far beyond just aches and pains, eucalyptus can work to address stinging pain from bug bites, bee stings, or contact rashes, as well as other skin issues like burns and non-allergic rashes.
It can fight cold sores, boils, ulcers, shingles, toenail fungus, blisters, and even abscesses.
For these topical purposes it can be put directly on the skin, as a single drop or two, or if sensitive, it can be paired with a carrier oil. Eucalyptus oil is a great way to promote natural skin care.
36 Ways to Use Eucalyptus Oil in Your Daily Life
How many ways can you use eucalyptus oil in your everyday life? Dozens! Just remember that it's not safe to ingest internally.
Helps relieve coughs.
Opens airways in stuffy noses.
Relieves chest congestion.
Helps alleviate the pressure from sinus headaches.
Kills germs and activates the immune system for colds, flu, and other infections.
Kills surface germs better than conventional cleaners without being toxic.
Inhale to fight or protect against colds and other infections.
Inhale to work as pain relief for chronic pain, post-surgery pain, or illness.
Massage into tissues and muscles to fight topical pain and achiness.
Use regularly to fight seasonal allergies.
Inhale to address headaches that are caused by stress, fatigue, or any other reason.
Breathe eucalyptus in for increased mental focus and clarity.
Use topically for bug bites or stings.
Use topically for toenail fungus, Athlete's foot, blisters, fungus, and other infections.
Use topically for burns.
Use topically for cold sore prevention and relief.
Mix with water for a natural disinfecting spray for surfaces.
Diffuse eucalyptus in the air for sickness prevention or healing.
Use eucalyptus directly on mold areas to inhibit growth, or add 5-10 drops to vacuums to prevent food-related mold growth.
Put eucalyptus on your throat to help alleviate sore throat pain from sickness or allergies.
Make your own mouthwash by putting a few drops of eucalyptus into a few ounces of water and swishing in your mouth. (Do not swallow.)
If you're congested and can't easily sleep, make a pillow spray by adding eucalyptus to water and spraying your pillow until damp, letting dry a few minutes before going to sleep.
Pair with coconut oil to make an anti-lice hair treatment.
Add drops of eucalyptus to your shampoo and conditioner to fight against dandruff and other scalp irritation and to promote healthy hair.
Make a fever compress by adding eucalyptus oil to a warm washcloth and placing it on your head when feverish.
Pair with water and spray liberally for a mosquito and other bug repellent.
Sniff eucalyptus when battling sugar cravings, because regular use can help to promote stable blood sugar levels.
Add to your washing machine to disinfect and prevent mold and mildew.
Add eucalyptus to a cloth and wipe out your dryer.
Add a few drops of eucalyptus to your dishwasher and run on a low-heat cycle to disinfect.
Add a few drops of eucalyptus to the back of your toilet bowl for a clean smell and disinfecting properties.
Put a few drops of eucalyptus oil on your car's air vents to freshen the air and to naturally diffuse.
Add eucalyptus oil and a carrier to a roller bottle and take instant headache and sinus relief on the go with you.
Add a few drops of eucalyptus to shoes that are smelly to help fight bacteria and scent.
Add eucalyptus to the bottom of your trash can to kill germs from bag leaks and to fight that nasty trash smell.
Clothes that are germy and need soaked? Add a few drops of eucalyptus to your bucket of soaking water to fight stains and germs.
Cautions for Eucalyptus Oil
While eucalyptus is safe for humans and animals if you have cats they can find it especially irritating.
Because eucalyptus is so potent, it should not be used internally. Eucalyptus oil is poisonous if used internally. It can irritate the esophagus and stomach lining.
It's so potent that breathing it in gives you every benefit that it offers, so there's no need to ingest it internally anyway.
Do not use eucalyptus directly on the skin of infants or children. Always dilute, and if your child is under age 12, be sure to ask their pediatrician if it's safe for use.
Some people can be allergic to eucalyptus, even if breathed in or used topically, so be sure to use caution if you don't know that eucalyptus is safe for you. Never use with children under age 5.
Do not use eucalyptus too close to the eyes, as it can cause extreme irritation and burning.
How to Buy Eucalyptus Oil
All essential oils should be 100 pure and not contain any fillers or other ingredients. Eucalyptus oil should be purchased from a reputable company. If an oil is especially inexpensive or a brand you're unfamiliar with, it could contain other unlisted ingredients.
Essential oils don't really have expiration dates, so once eucalyptus oil is purchased you should be able to use it as long as needed until it's gone.
Essential oils come in tiny bottles because only a few drops are needed each time for an effective use dose.
This article was fact checked for accuracy by Aimee McNew, MNT, a certified nutritionist. As always, this is not personal medical advice and we recommend that you talk with your doctor.
Share on Pinterest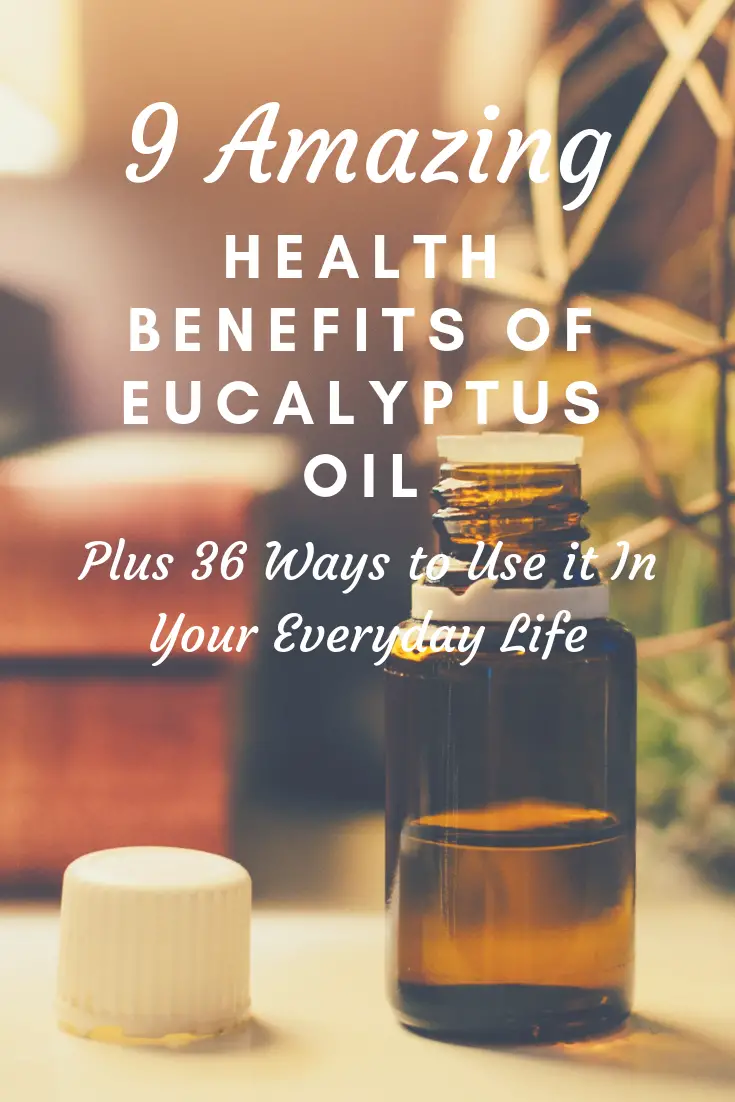 References
Kumar HD, Laxmidhar S. A review on phytochemical and pharmacological of Eucalyptus globulus: a multipurpose tree. International Journal of Research in Ayurveda & Pharmacy. 2011;

2

(5):1527–1530.
Gobel H, Schmidt G, Soyka D. Effect of peppermint and eucalyptus oil preparations on neurophysiological and experimental algesimetric headache parameters. Cephalalgia. 1994;

14

(3):228–234.
Sadlon AE, Lamson DW. Immune-modifying and antimicrobial effects of Eucalyptus oil and simple inhalation devices. Alternative Medicine Review. 2010;

15

(1):33–47.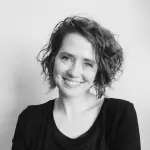 Aimee McNew, MNT, CNTP, is a certified nutritionist who specializes in women's health, thyroid problems, infertility, and digestive wellness. She ate her way back to health using a Paleo diet, lost 80 pounds, and had a healthy baby after numerous miscarriages. She focuses on simple nutrition practices that promote long-lasting results.