Who needs some keto inspiration? I know we do! We're always looking for fun and existing recipes to try. The internet is a fantastic place to start, but there's just something so satisfying about loading up the kitchen bookshelf with good old-fashioned paper and binding.
These books? They hold magic. You can really make your new collection your own, too. My books are always filled with bookmarks and my personal notes, and I know that they're there when I need to turn to the pages that contain my tried and true favorites, or when I'm looking to experiment with a meal I've never tried yet.
When it comes to cooking keto, there are so many possibilities. Unlike your typical meat and potatoes dish, the steps aren't always quite intuitive.
We went looking for the best keto cookbook out there, and well… we couldn't quite decide. In fact, we found quite a few. We're sharing our top picks with you today so you can cook low-carb – like a pro.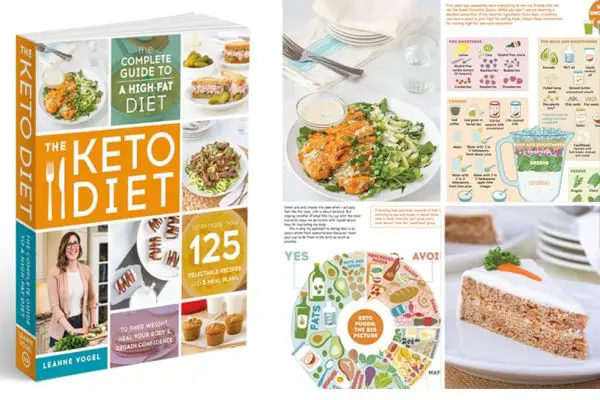 Leanne knows what she's doing when it comes to eating low-carb, and she's got the recipes to prove it. This is one of the best keto books for the paleo-eater transitioning to keto because she doesn't use dairy – a rarity in keto recipes!
She focuses heavily on quality ingredients and quality fats which we love, never skimping on the good stuff. One of my favorite parts of the book are the five 28-day meal plans included, so you can mix and match recipes to plan your meals for the week.
If that doesn't make it my quintessential pick, I don't know what does. She also wrote low-carb shopping guides for specific grocery stores, helping you to navigate familiar places in new ways.
Finally, 42% of the recipes in this book are either vegan or can be made vegan. This is easily the most thorough ketogenic recipe book for a plant-based eater I've ever seen. She even did a Q&A with us all about keto, so if you have questions, find the answers!
There are few – if any – keto books geared towards kids, and saying this one is might be a bit of a stretch, but it will certainly be appealing to them as it takes on keto-fying some comfort food classics that people of any age are bound to enjoy.
With 170 recipes ranging from cinnamon rolls to glazed chocolate donuts, to fabulous eats for the savory cravings like sandwiches and steak frites, you will never tire of the endless options that warm your soul and have that 'stick to the ribs' feel to them.
This book conveniently organizes all recipes into high, medium, or low-ketogenic, helping you to cater to your specific low-carb plan. It also includes all nutritional values and macros for the meals, so you can spend less time counting and more time eating.
This is perhaps the best ketogenic diet cookbook for the lazy cooks who like to get things done the hands-off way. No judgment from us – we love the approach the incredible meals you can make without much fuss.
If you like using your slow-cooker, you definitely want to pick this one up. These crock pot recipes are perfectly hearty and delicious, helping you effortlessly add variety to your keto diet by creating full meals.
After all, that's what this book is all about! Not only do you get slow-cooker recipes, you also get simple one-dish meals that encompass all the elements of a full meal.
No more mixing and matching mains and sides – these recipes do it for you. In the photo above, you can also see just how many additional dietary restrictions this book caters to.
If you're doing keto without dairy or nuts, this is hands-down one of the best keto diet books.
4. Keto In 28 by Michelle Hogan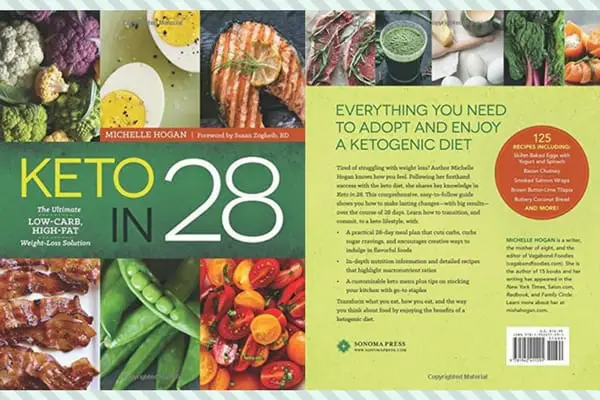 If you need more structure than just what a simple cookbook offers, this is the book for you. Whether or not you've tried keto before, that month-long reset is an integral part of the journey.
The body undergoes a lot of transition during that time, shifting into ketosis and maintaining that new source of fuel, so planning is key. Not only does this contain fantastic recipes, but the book arms you with weekly shopping lists and meal plans for 28 days to help you organize those recipes into your life and build new, healthy habits.
With 125 different keto recipes including basic tilapia and chicken dishes to breakfast pudding and cheesecake, you'll never get bored of this little reset. You'll gain basic knowledge of low-carb essentials while also strengthening your meal prep skills. It's a winner.
5. Quick Keto Meals in 30 Minutes Or Less from Martina Slajerova
We know that time is of the essence, so having a stockpile of recipes that take less than half an hour is ideal for anyone. When you're looking for the best keto cookbook, look for something that suits your needs.
For many of us, that's getting low-carb food on the table fast. Eating healthy food can be a time-consuming practice in and of itself, but this book really chips away at all the more involved stuff helping you get back to basics without sacrificing taste or aesthetics.
These meals are also generally easy to make in larger batches so you can cut down on time further by not having to cook throughout the week, and it features plenty of recipes that can be reworked into other dishes, helping you divide prep-work and cooking.
It's categorized into handy and appealing chapters including quick lunches, snack time staples (including speedy keto crackers), and boasts fun dishes like low-carb ramen.
6. Keto Restaurant Favorites by Maria Emmerich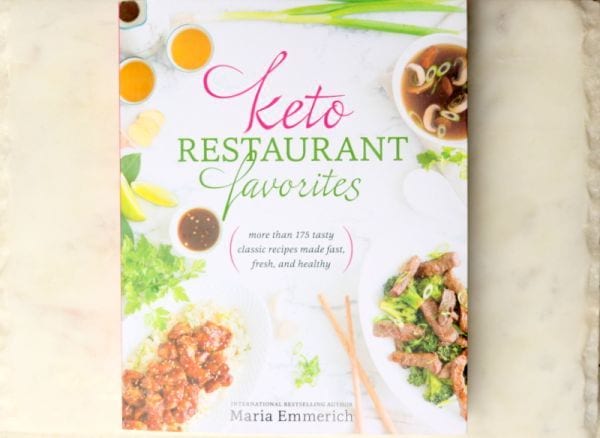 So you're missing your favorite restaurant foods because your diet is restricted? We all do! Maria has quite a few cookbooks, so we had to feature another favorite of ours today with her low-carb renditions of all your most beloved restaurant dishes.
If you're looking for a ketogenic cookbook that allows you to pick anything you want off the menu, this is your one-stop shop. You can get everything from a sit-down meal to Asian food to drive-thru classics in this one.
The book features over 175 recipes including a copycat Wendy's frosty, General Tso's chicken, appetizer goodies like mozarella sticks and poutine, and so much more. This is a truly fun book with a ton of creative effort shining through, and it's a joy to work through in your kitchen.
7. Fat for Fuel Ketogenic Cookbook by Dr. Joseph Mercola & Pete Evans
If there's someone we trust in the realm of natural, holistic health and healing with food, it's Dr. Joseph Mercola. He teamed up with paleo expert, recipe developer, and cookbook author Pete Evans for a jam-packed keto diet cookbook emphasizing the most important facet of the protocol: fat for fuel.
Not only does this book provide you with tasty recipes chock full of delicious and healthy fats, but the duo provides tons of information on why you might want to follow a low-carb plan including metabolism, digestion, gut health, disease, and more.
They also take into consideration how you cook your food, and provide information on the best techniques to enrich and preserve nutrient-density. We love the blend of fun food ideas and science in this one.
If you want to learn a little bit more about healing with food, this is the best keto cookbook for you.
8. A Year of Fat Bombs by Elizabeth Jane
When it comes to eating dessert on the keto diet, fat bombs are the answer. Not only do they provide a bite for your sweet tooth, but fat bombs serve a purpose.
They combine healthy fats and some protein for easy fuel on the go when you need it the most. Eating low-carb will basically eliminate your need for sweets and reduce sugar cravings to none, but that doesn't mean you should go without enjoying the finer things in life a.k.a. chocolate and fruity treats!
With 52 unique recipes, you'll always have something different to pack in your lunch or enjoy for a pre or post-workout treat. They're also great for entertaining.
Generally speaking, these fat bombs are much like "bliss balls," meaning all you need is a few raw ingredients and a blender to make the magic happen.
9. The Wicked Good Ketogenic Diet Cookbook by Amanda Hughes
Amanda went through a keto journey herself, so she really knows the ropes and the power of low-carb eating. One of my personal favorite highlights?
Her tips for following keto on a budget that help you save money. With a guide to cleaning out your pantry and restocking it keto-style for people who are just getting started and macros included for each neatly categorized recipe, you'll never feel lost with this book (or go over your daily carb limit!).
Chicken parm, mug cakes, and fat bombs – this book has it all.
10. The Ketogenic Diet Instant Pot Cookbook by James B. Stone
The Instant Pot basically combines fast cooking with slow cooking for decadent, delicious, and easy-to-prepare one-pot meals that'll knock your socks off.
Anyone who owns an Instant Pot will testify to its almost magical powers. Finding low-carb recipes suitable for pressure cooking can be challenging in the vast world of the world wide web, so stock your bookshelf with the best keto cookbook for cooking low-carb in your Instant Pot.
It includes basic essential information on both the Instant Pot and what the keto diet is all about, helping you get acquainted to both with lip-smacking recipes like baby-back ribs, broccoli and ham chowder, and luscious lavender lamb chops. Drooooool!
We hope you found some great choices for keto diet books here in our review today! We tried to include something for everyone, whether you love your slow-cooker, you're short on time, or you just want some good old-fashioned comfort food.
Enjoy your low-carb journey and the beautiful food that comes with it!
Music, mountains, dogs, travel, food and friends.