With today's health craze, it can be difficult to discover what is truly healthy for your consumption verses what is just another junk food snack.
It is crucial to read the labels completely and know exactly how to detect the appropriate protein bar.
There are many protein bars out there on the market that are packed full of fillers and unnecessary sugars; making them just as unhealthy as the candy bar up at the checkout lane.
If you take the time to understand what you are looking for in a protein bar; then you will be able to enjoy the treat all while reaping the benefits of a high protein healthy product that will keep your stomach full and your body energized for hours.
| | | |
| --- | --- | --- |
| | | |
| Julian Bakery Primal Thin Protein Bar | | |
| | | |
| Primal Kitchen Collagen Protein Bars | | |
| Dr. KellyAnn Collagen Fiber Bar | | |
You always want to check the protein, carbohydrates, sugars, and fibers inside the protein bar.
Are you nervous because you have never bought a protein bar?
Worried you do not know or fully understand what ingredients to look for in a bar?
The following list has been comprised of the top 10 best protein bars options out there on the market in 2021.
I will take you through each option to discuss the pros and cons in depth.
[toc]
Perfect Keto Bars
---
Finally, my top pick and number one bar on my list is the Perfect Keto Bar. This bar is a must try for every protein bar consumer out there.
The company has taken an entire year developing the perfect formula to get these bars just right. There is no longer any question as to what is in the Perfect Keto Bar. The bars contain no added sugars and no sugar alcohols.
The ingredients used are simple, healthy, and of high quality. The Perfect Keto Bar is now making the Keto lifestyle more easily achievable by us that are always on the go and constantly busy.
Julian Bakery Primal Thin Protein Bar
---
For the second place spot on my list we have the Julian Baker Primal Thin Protein Bars. These bars a simple, organic, and absolutely delicious. Made up of only a few ingredients; customers are sure to understand what all is in these bars.
The whey that is used to make up the majority of this bar is certified organic grass-fed and offers 20 grams of protein.
This product is sure to satisfy you all while keeping your appetite at bay throughout the day. This product also has very few carbohydrates and sugars making it an ideal choice for many individuals.
Kiss My Keto Bars
---
The Kiss My Keto Bars have made their way into the third spot on my list due to their nutrients and popularity. These bars are so popular that they are currently sold out.
However, the company is taking pre-orders and are offering a nice discount for those willing to wait for these delicious bars. The Kiss My Keto Bars contain a fair amount of protein but only a few carbs and sugars, which is critical for those strictly following a keto diet.
These are slightly higher in price; however, if following a strict diet these bars are worth the investment. Classified as a Ketogenic Bar; these are sure to curve your appetite while still giving you a sweet fix.
Primal Kitchen Collagen Protein Bars
---
The Primal Kitchen Collagen Protein Bars steal the number 4 spot on my list. They have the top paleo and gluten free protein bar option.
The product still provides a high amount of protein while keeping the sugars to a minimum. The only sugars contained in these bars are from all-natural ingredients such as honey.
The company is passionate about only providing the highest quality and most nutritional ingredients to its consumers. These bars, like many of the others, do come in a variety of flavors and do contain nuts.
Dr. KellyAnn Collagen Fiber Bar
---
In the number 5 slot is the Dr. KellyAnn Collagen Fiber Bar. While these bars are a slightly pricy product; I still believe they hold a great amount of nutrients.
It is a great soy-free, dairy-free, and gluten-free option for customers. There are no added sugars and no GMO's. These bars do contain a higher number of carbohydrates but do not let that worry you.
There is an almost equal amount of fiber in them; therefore, making them still a smart choice for a protein bar. A nice addition to these bars is that Dr. KellyAnn is so confident you will love them that if for some reason you do not; there is a 30-day money back guarantee.
Sunwarrior Sol Good Protein Bars
---
The Sunwarrior Sol Good Protein Bars have slid into the sixth spot on my list. These bars are a decadent gooey treat that almost taste too good to by healthy for you.
Containing around 17 to 19 grams of plant based protein; these bars are a must try for all protein bar users. The Sol Good bars are a tasty vegan and organic option in the protein world.
They are free of all soy, daisy, unnecessary additives, and GMO's; truly making these bars an irresistible choice to try out. These bars can also be purchased individually or in various box sizes. Stick with one flavor or mix it up!
Onnit Omega Protein Bars
---
The number 7 spot has been awarded to Onnit Omega Protein Bars. These delicious bars come with a high amount of protein to keep you full throughout your day.
They do contain a higher amount of carbohydrates, however; these protein bars are a great option for those searching for a crispy or crunchier option in their bars. The whey protein used to produce the Onnit bars come from grass-fed.
The company is committed to only using the most natural and responsibly sourced products to produce their protein bars. These bars also come in a variety of different flavors and textures to help customers have a variety of options.
BulletProof Collagen Bars
---
This option contains high quality fats that keep you full longer than other bars. BulletProof bars are all natural and avoid using unwanted additives.
They are the perfect fuel for your body in order to get you through your long busy day. Although these bars still contain a far amount of carbohydrates; it is still a much lower amount than other products on the market.
With a higher fat content in combination with a fair amount of protein; these bars are still an ideal solution to hungry busy people. These bars overall have received an extremely high rating by consumers.
thinkThin Protein Bars
---
The next spot on our list goes to the thinkThin Protein Bars. These bars are an incredible source of protein. For those who are on the go most of their day; these bars are the perfect solution to reach your protein goals.
Because they are individuals wrapped and easy to transport; they are ideal for a snack or after a workout to help your muscles recover and grow.
The thinkThin protein bars contain 0 sugars and are also low in GI making it better to digest. Worried about gluten? No worries with these bars because they are gluten free and GMO free.
Quest Nutrition Protein Bars
---
The number 10 spot goes to the Quest Nutrition Protein Bars. These bars are a great high-protein low-carb option with only 1 gram of sugar and a fair amount of fiber.
The sugar-free chocolate chunks dispersed throughout the Chocolate Chip protein bar option makes this one of the most craveable bars on the market. You are able to purchase these bar either individually or in different sized boxes; whichever works best for your lifestyle.
Plus they come in a variety of flavors. This option tastes just like a candy bar but is much more guilt free! You can feel like you are getting a treat but still feed your body with needed protein and fiber.
Our #1 Recommended Protein Bars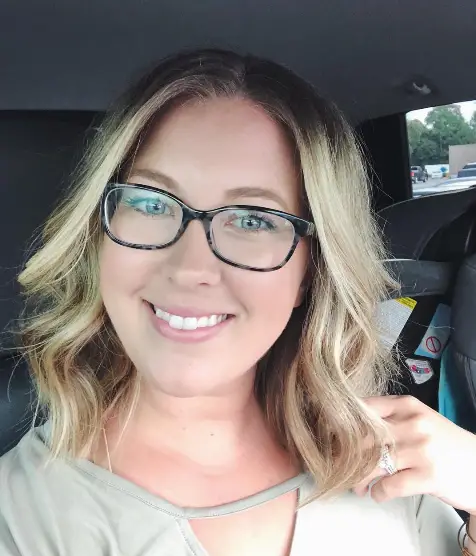 Lauren Gamble is an author, mompreneur, co-founder of Naturally Made Essentials. She is on a mission to help thousands of women across the world achieve a healthy, happy lifestyle through teaching natural health practices.