Ah, there is nothing quite like winding down with a beautifully crafted cocktail. Beyond the buzz, there is so much to enjoy in an ice-cold, colorful glass of goodness.
Unfortunately, alcohol isn't exactly known for its healthy reputation (besides red wine), and sometimes, it's good to cut back.
One of the major focuses in the beginning stages of The Happy Body Formula is eliminating alcohol entirely. Unsurprisingly, this is HARD for people to do.
When it comes time for the weekend, or when we get a night off, we tend to gravitate towards a drink to wind down with. While these healthy mocktails lack in the hard stuff and sugar, they are tasty and can help curb the urge by giving you something delicious and refreshing to sip on.
Black cherry basil mocktail
If the herb garden is blossoming, you'll find that the opportunities to practice your craft cocktail skills are endless. This fizzy drink features fresh basil with an unlikely but delicious component – black cherry. A twist of lime brings this mocktail from The Wicked Spatula together.
Pomegranate mint mocktails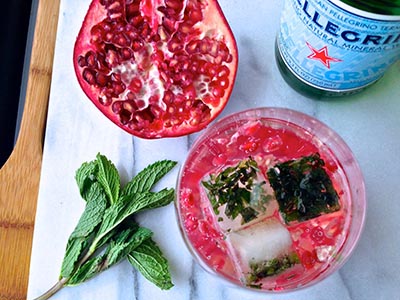 If you're in the mood for something beautiful and vibrant, this mocktail is dressed to impress. The pomegranate lends its slightly tart and slightly sweet flavor and color to this gorgeous glass.
Mint-infused ice cubes make this totally unique, and they won't get watered down if you're hanging out in the sun. Get the full recipe for these beautiful drinks from Real Food with Dana.
Watermelon hibiscus lime cooler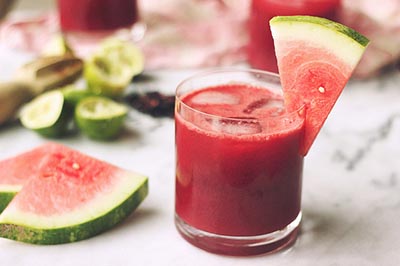 Looking for something with a little tea? This refreshing toss-up is just for you. Subtle floral flavor from the hibiscus mixed with tart lime and sweet juicy watermelon makes this the perfect healthy mocktail to cool down with.
Check out the full poolside ready recipe from Tasty Yummies.
Mango raspberry kombucha mocktail
If you've got a fresh brew of kombucha handy, or even store bought, you're halfway to a fancy schmancy mocktail already. In fact, you don't have to add much more if you don't want to.
This recipe takes it up a notch with creamy fruit purees for added sweetness and texture with natural hydration from coconut water. Get your probiotics in with this fizzy drink from Gratitude and Greens.
Gin & tonic inspired tipple
Gin and tonic is a classic bar staple if you're sticking to the basics, and its distinct taste is easy to miss if you're trying to give up alcohol. Juniper berries and lemon peel give this the taste it needs to make it feel a whole lot like the real deal.
Fresh citrus does the rest of the work. Get the deets from Eat Drink Paleo.
Ginger lime mocktail
Ginger and lime don't only taste fantastic together, but they're super healthy for you. This drink is crisp, cool, and anti-inflammatory with immune-boosting properties.
The only other ingredients are stevia and sparkling water, so these guys couldn't be easier to make. Get the scoop on these refreshing spritzers from Elana's Pantry.
Pine lime splice
Pineapple, lime and vanilla. It doesn't get much better than this! Lime is a popular choice for a garnish on our healthy mocktail list and for good reason – it goes with everything.
Pineapple stands in for those tropical cravings while vanilla lends its complexity. Sounds fancy, but it's quite simple. Check out how to make these on Well Nourished.
Lemon pineapple kiwi sparkling mocktail
Here we have ALL the things including the oh-so-loveable kiwi. Oh, and La Croix! This stuff goes a long way in mocktail creation, as you have a variety of flavoured bases to use.
This drink gets its sweetness from just a bit of pineapple juice with a base of sparkling lemon water and some kiwi to garnish. Get this recipe from Physical Kitchness ready for the beach.
Blackberry smash
It's no surprise we have another lime-y mocktail! This time, this citrus pairs up with blackberries for a sweet and sour treat. This blackberry smash is exactly what it sounds like, and the recipe includes details for a blackberry syrup you can use in loads of cocktail creations.
Check out all the ingredients for these guys from A Calculated Whisk.
Blueberry mint agua fresca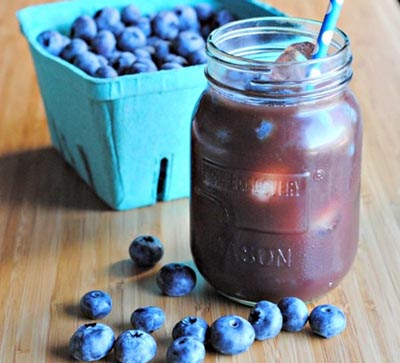 What's a mocktail roundup without an agua fresca? While this drink is usually made with watermelon, this recipe uses blueberries instead. Truly, you could use just about any fruit!
A little mint goes a long way in addition to a squeeze of lime in this one. Get experimental. Use a variety of berries if you'd like. Get the entire recipe from The Blenderist.
What's your favourite way to enjoy a mocktail? Get creative! Skip the sugar and the spirits, and use mixers with natural fruits and plain sparkling water instead – you might not even miss the "bad" stuff!
Music, mountains, dogs, travel, food and friends.