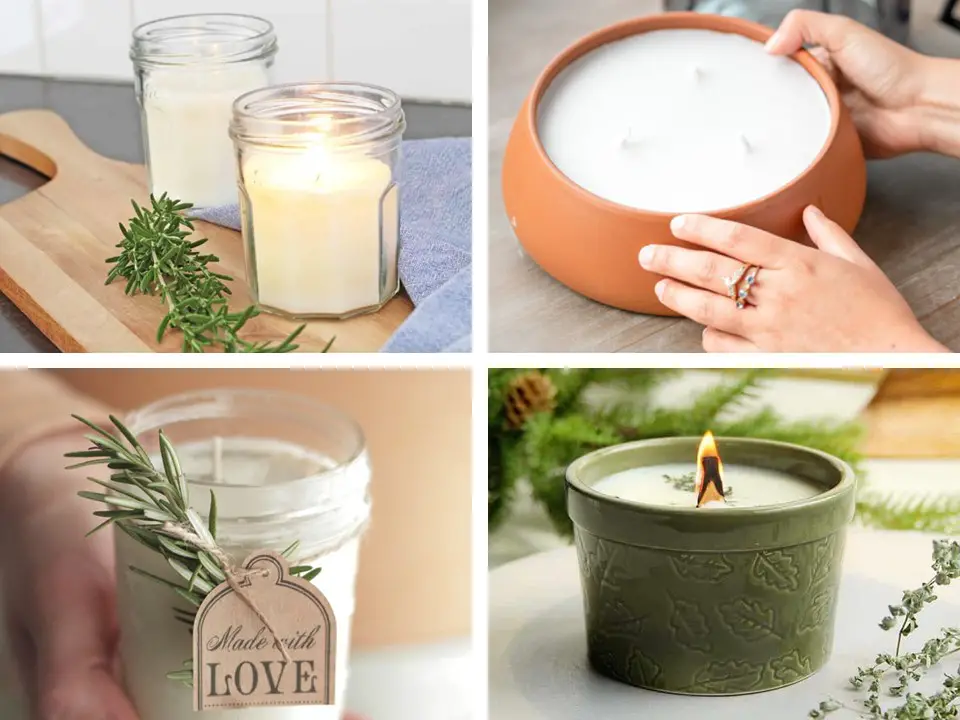 We've written extensively about essential oils on the blog here before, but did you know you can also create your own candles to further enjoy aromatherapy and its associated health benefits?
Aromatherapy can reduce symptoms of and conditions including:
Nausea
Pain and body aches
Anxiety, agitation, stress, and depression
Fatigue and insomnia
Muscular aches
Headaches
Circulatory problems
Menstrual problems
Menopausal problems
Alopecia, or hair loss
Essential oils have been used for nearly 6,000 years and their popularity certainly won't be declining any time soon.
If you want to get in on the health and wellness practice through the use of homemade candles, keep reading, as we've rounded up 15 DIY essential oil candles you need in your life right now!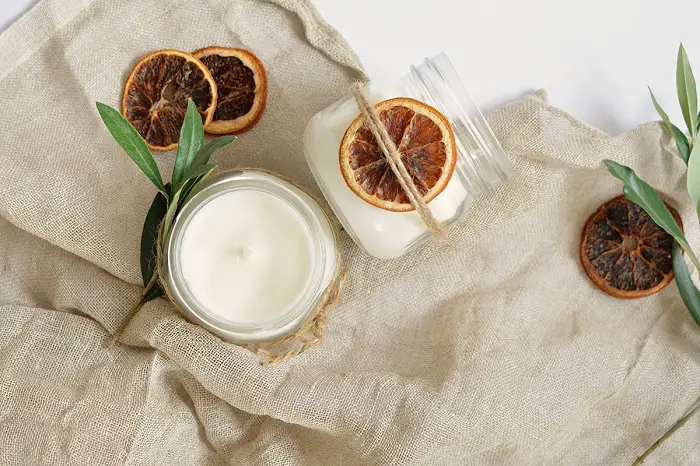 1. DIY CHRISTMAS SCENTED CANDLES FROM BURKATRON
We all seem to love the familiar scents of Christmas time, but what if you could capture these nostalgic smells in your very own candle?
This one uses essential oils such as orange, cardamom and pine and is very easy to whip up. In fact, you'll be wanting to create a whole batch of them to give out to your loved ones!
2. HOMEMADE ROSEMARY PRESSED HERB CANDLES FROM GARDEN THERAPY
Aside from their aromatherapy benefits, pressed herb candles are a unique way to preserve the beauty of your garden, including what herbs are in season.
This DIY candle uses a mix of beeswax and soy wax, Mason jars, pressed rosemary leaves, and essential oils. Rosemary reportedly eases stress, improves memory and cognitive function, and reduces tiredness.
With just a bit of citronella essential oil, you can make your own mosquito-repelling candles which also have added health benefits.
The scent can help to ease stress and anxiety for both humans and animals, plus the smell is pleasant, making the ingredient a common one in perfumes.
Place this homemade candle outside next time you and your family eat al fresco and you'll certainly notice fewer insects hovering around!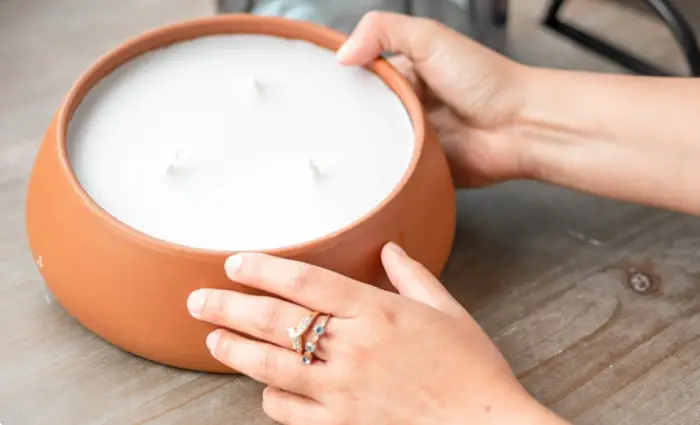 4. WINTER ESSENTIAL OIL SCENTED CANDLE FROM DOTERRA
Ready to enjoy your favorite scents of winter in your home?
This DIY version uses a combination of essential oils and blends including Frankincense, Holiday Joy, and Black Spruce, but you can mix it up to include any of your most-loved smells.
We love the triple wicks too – what a great way to make your homemade candle look like something straight out of a fancy décor store!
5. ESSENTIAL OIL HOLIDAY CANDLE WITH PRINTABLE LABEL FROM FRANCOIS ET MOI
The candle's scent is mostly pine needle with orange added for sweetness and Wyndmere's Forest Retreat Blend added to give depth and complexity.
Sounds delightful, doesn't it? The best part is this DIY candle uses soy wax, which is a lot easier to clean up and use than beeswax.
This lovely DIY candle also comes with a printable label, making it the perfect last-minute gift for friends or family.
6. MAKE THESE GORGEOUS TERRARIUM CANDLES FROM POP SHOP AMERICA
Fancy an essential oil-filled candle that also features beautiful pressed petals within it?
The post prompts you to use an essential oil combination you love, but if you're stuck for ideas, there's also a post linked within it suggesting an enormous amount of awesome essential oil pairings.
What's not to love?
7. HOW TO MAKE BLUE SPRUCE HAND POURED CANDLES FROM LIFE-N-REFLECTION
Do you love the nostalgic scent of blue spruce?
If (like us) you do, then you're in luck, as this DIY candle contains spruce or blue spruce essential oil, giving it that Christmas time smell.
Other things you'll need to make this beautiful, homemade candle include: 4 medium wood wicks and clips, 2 lbs soy wax flakes, 4 glue dots, and 4 candle pots (8 ounce in size). Simple!
8. DIY LEMON LAVENDER CANDLE FROM BOXWOOD AVENUE
This is a great DIY candle recipe using lavender and lemon essential oils to give your surroundings a zesty, fragrant, and summertime scent.
What's really wonderful about these DIY candles is that because you've made them yourself, you know they only contain natural and safe ingredients. Now that's something you can feel good about it!
9. DIY HOMEMADE CANDLES (WITH NATURAL LAVENDER-ROSEMARY SCENT) FROM LIVE SIMPLY
These homemade candles take just 5 minutes to prep, followed by 10 minutes to put together.
Isn't that quick? Many of us often assume candles are laborious, lengthy, or difficult to make, but we're here to tell you that they're not!
This version uses lavender and rosemary essential oils, as well as dried lavender for an additional kick.
10. HOMEMADE EUCALYPTUS ESSENTIAL OIL CANDLE RECIPE FROM THE HOMESPUN HYDRANGEA
Here's a tip: burning soy candles not only smells great, but soy candles burn clean and last so much longer as well.
This homemade soy candle uses eucalyptus essential oil to reap benefits such as easing sinus congestion, repelling insects, fighting flus, and so much more.
The green color is achieved using a green crayon. How clever!
11. DIY WOOD WICK CANDLES WITH SOY WAX AND ESSENTIAL OILS FROM SWOON WORTHY
This homemade essential oil candle uses soy wax flakes, wood wicks, wood wick stabilizers, a mixture of essential oils of your choice, clear candle jars, and gold candle lids. Fancy!
Despite this, these candles are so easy to make and even come with not one, but two printable label options. You'll want to make them for every special event this year – Mother's Day, birthdays, Christmas – you name it!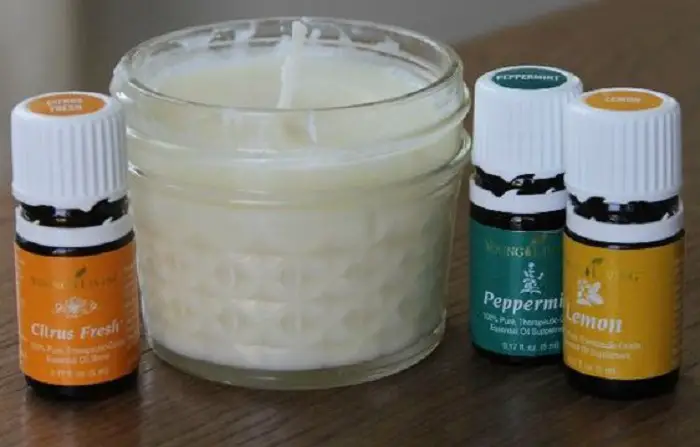 12. DIY LEMON, PEPPERMINT, AND CITRUS ESSENTIAL OIL CANDLE FROM SMART MONEY MOM
This DIY tutorial for a fragrant lemon, peppermint, and citrus essential oil candle is broken down into just 4 easy steps, including filling up the glass containers, melting the wax, adding essential oil, and placing the wick.
It's a great place to begin if you're a little unsure about the entire candle-making process!
13. EASY DIY ESSENTIAL OIL CANDLES FROM RUN TO RADIANCE
Ready to learn how to make scented candles using 100% natural essential oils? These homemade candles are a great way to reduce the amount of toxins you expose yourself to on a daily basis.
The tutorial also recommends a number of essential combinations to help you with things such as stress-relief, relaxation, and energy.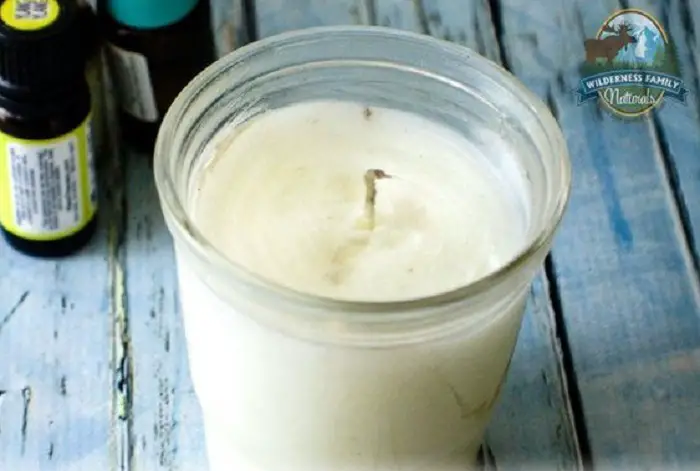 14. HOW TO MAKE AN AROMATHERAPY CANDLE WITH ESSENTIAL OILS FROM WILDLY ORGANIC
Essential oils can play such a great role in your day, adding freshness to the air or giving off calming scents during a hectic time.
This is what makes these DIY aromatherapy candles so great, as they're the perfect companion for your downtime at home.
Suggested essential oil blends include vanilla and lavender, sweet orange and rosemary, lemon and lime, eucalyptus and lemon, and basil and sweet orange. Divine!
15. DIY BEESWAX ESSENTIAL OIL CANDLES FROM A NOD TO NAVY
Try these DIY beeswax essential oil candles for an easy way to add your favorite scent to your home!
To make them, you'll just need 1 pound of granulated beeswax pellets, an aluminum pitcher or can, a sauce pan, 1/2 cup coconut oil, cotton candle wicks, candle wick holders, two 12 oz glass jars (she used old jam jars), and of course your favorite essential oils. Go forth and conquer!
Which Candles Will You Make Out of Essential Oils?
Making your own essential oil candles isn't just a fun activity that the whole family can join in on, but is also a great way to embrace non-toxin-filled candles in your environment.
Additionally, as you burn your natural, homemade candle, you'll get to enjoy the aromatherapy benefits of your selected essential oils.
Aside from smelling great (and therefore, lifting your mood), aromatherapy also provides many health benefits, including assisting with conditions such as nausea, anxiety, stress, depression, fatigue, headaches, and so much more. It's the perfect way to enjoy a healthier home!
Among our list of the top 15 DIY essential oil candles, you'll find many for beginner candle makers, all the way through to those who are more advanced with the craft.
Choose a candle tutorial that takes your fancy, then feel free to slowly work your way through the list from there if you're feeling adventurous!
Which DIY essential oil candle will you be making for your home? We'd love to hear from you in the Comments section below!
Share on Pinterest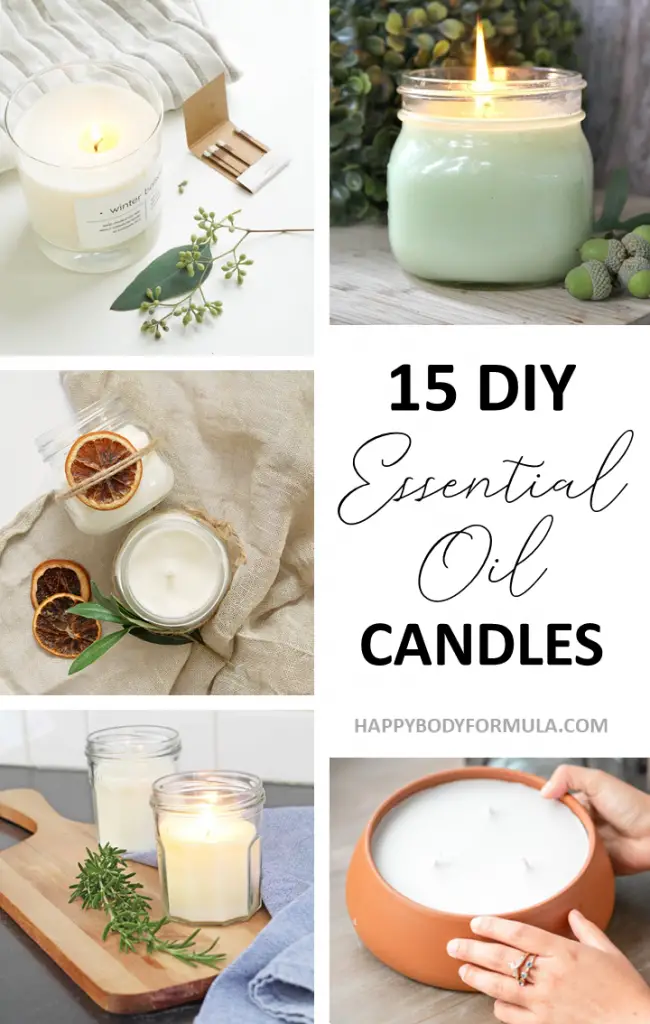 Melanie Clarke is the founder of Whim Online Magazine, an online magazine based in Australia that has a strong focus on whimsical + dreamy photography, as well as art and fashion content.