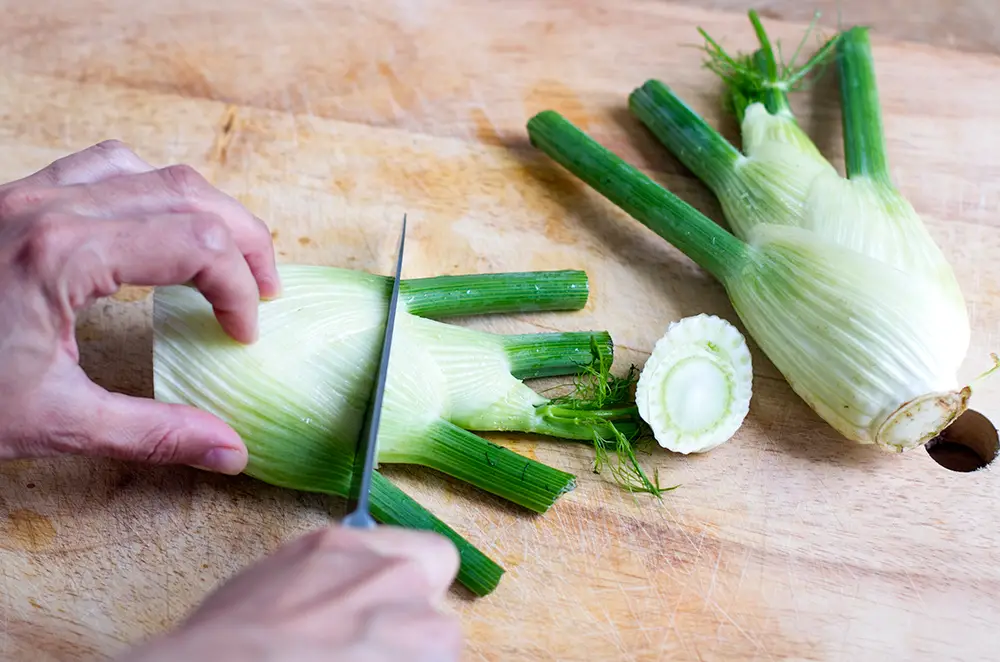 Fennel is one of those vegetables that you often pass by at the markets because you're not quite sure what to do with it. That's a pity because fennel is a fantastic vegetable with a variety of health benefits. It's also quite versatile in the kitchen.
Fresh fennel has a pale white bulb with green stalks and foliage. It is crunchy like celery or carrot, and has a slightly sweet, anise flavour. Traditionally it is known as a Mediterranean vegetable, in fact its other popular name is Florence fennel.
Nutritional benefits of fennel
Fennel is an excellent source of vitamin C, which is also antimicrobial, and helps to support healthy immune function. This antioxidant helps to protect our bodies from free radicals and cellular damage.
It's a good source of folate too, which

 

plays a role in DNA synthesis and repair.
It's high in mineral potassium, which helps to lower blood pressure and is necessary for the heart, kidneys, and other organs to function properly.
Like many other fruits and vegetables, fennel has its own unique combination of phytonutrients with antioxidant and health promoting effects. One of these compounds is anethole, which has been shown to reduce inflammation and to help prevent the occurrence of cancer in multiple animal studies.
Fennel is a good source of fibre, which can help prevent heart disease, diabetes and weight gain. Most people don't get enough fibre so adding crunchy, slightly fibrous vegetables like fennel and celery is a great way to boost it.
Using Fennel
Both the bulb, stalks and leaves can be used in cooking. Typically, the bulb is eaten raw or cooked, and the foliage can be used as herbs, added to soups and sticks, or made into a tea.
To use the bulb, cut the stalks and the base away from the bulb, and give it a wash. You can cut fennel into wedges, thin slices, cubes or shave it with a peeler.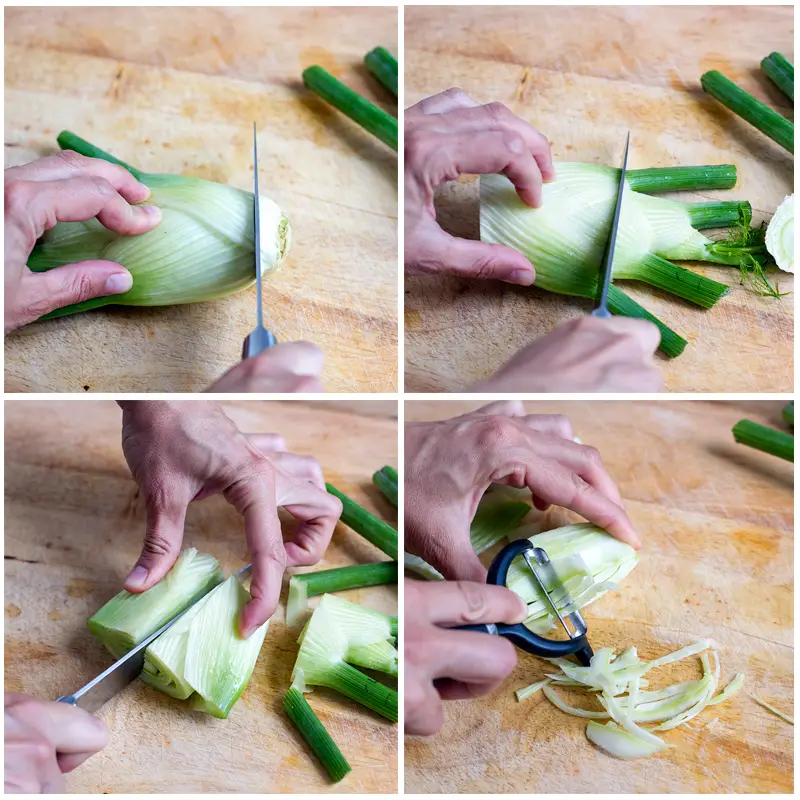 When buying fennel, look for clean and firm bulbs without signs of bruising or discolouration. We recommend choosing the smaller bulbs as they tend to be more flavoursome and crunchy. You can store fennel in the fridge for up to a week, although it will start to lose flavour after a few days. Some recommend to store the bulb and the stalks separately, like with carrots, as the stalks will keep drawing the moisture from the root.
Here are some quick ideas on how to use up different parts of fennel
Shaved or thinly sliced fennel bulb can be added to most salads. Fennel, orange and olive is a famous combination, and it goes well in a colourful slaw or a Greek salad. Fennel, pea and mint salad is fantastic.
Try our fennel & prawn salad with fresh apple and Parmesan
We also love this fennel, blood orange and almond salad from Taste, Travel & Nourish.
Sautéed fennel and onions is a great side dish and goes well with fish and seafood, especially salmon. You can add freshly sliced fennel to baked fish parcels or roast a piece of salmon on a bed of fennels, onion and lemon. Try this lemon, fennel and tomato roasted salmon is from The Hungry Goddess
Fennel bulb slices cab be grilled or barbecued, drizzled with some olive oil and lemon juice, or you can braise them with some onion and tomatoes. This braised fennel with saffron and tomatoes from Green Kitchen Stories look fabulous.
Another idea is to add sliced fennel to potato gratin or braised potatoes. For a more substantial side dish, try this dish of fennel baked in cream from Saveur.
Roasted fennel is delicious, especially drizzled with a little balsamic. You can also roast them with some grated Parmesan over the top. This is a nourishing roasted fennel and cauliflower soup from In Sonnet's Kitchen
The stalks can be roasted in the oven or added to stocks and stews. They are good to use in place of celery as they add a similar taste.
The fronds can be chopped up and used as fresh herbs. You can add them to pesto and other dips, over eggs, in potato salads or as a garnish. I quite like making a mint and fennel fronds tea, which is very soothing for the digestive system.
Dried fennel seeds add fantastic flavour to roasted fish or chicken, and are used widely in Middle Eastern and Indian cooking. Fennel seeds could be chewed on as breath mints.
How about you? Do you often cook with fennel? What are your favourite ways to us it? Tell us in the comments below. 
Pin for later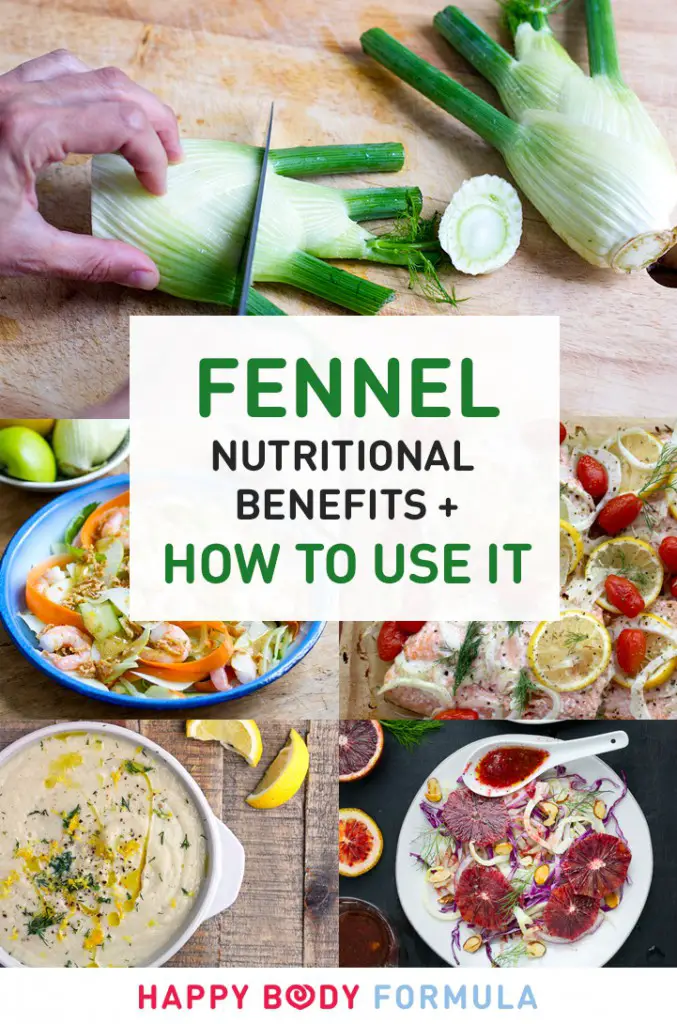 Music, mountains, dogs, travel, food and friends.