Fennel is fantastic in salads, especially when paired up with sweet apple and sharp cheese like Parmesan. I opted for some prawns as my protein choice but grilled chicken or fish would work well too.
It's light yet satiating and very nourishing. The best part is it only takes 15 minutes to make.
Looking for more quick meals? Consider using our 7 Day Make Ahead Meal Plan as a guide.
What's good about it: This salad contains lots of powerful anti-aging and immune supporting nutrients, which we talk about a lot in our Happy Body Formula program. It's a perfect meal to include in your weekly meal plan.
It's high in B group vitamins and vitamin C, comes with lots of fibre, which helps with weight loss and is important for a healthy heart. Prawns are an excellent protein choice with high amounts of magnesium, which plays a role in bone development and nerve and muscle function (plus it helps you sleep better); zinc, which supports immune function; and selenium, one of our favorite antioxidants.
Parmesan is a good source of beneficial probiotics and vitamin K2, which is important to your heart, brain and bones.
Learn more about fennel, its nutritional benefits and how to use it here.
Fennel & Prawn Salad with Parmesan and Apple
Ingredients
400 grams cooked, peeled prawns
1 medium fennel, shaved or thinly sliced
1 medium carrot, shaved or thinly sliced
1 medium cucumber, shaved or thinly sliced
1 medium green apple, quartered, seeds out and thinly sliced
½ cup shaved Parmesan cheese
¼ cup crispy fried shallots (found in Asian grocers), optional
Instructions
tablespoons lemon juice
½ teaspoon Dijon mustard
tablespoons olive oil
teaspoon honey or brown rice syrup
generous pinch sea salt
Want more recipes like this?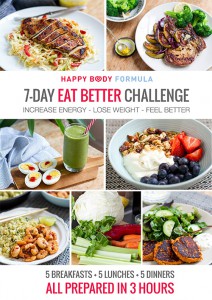 Is life getting in the way of your goals to eat healthier and feel better?
We know it's hard to stay on track when you're tired and busy during the week. We often make bad choices when unplanned and unprepared.
That's why we created our make ahead meal plans, complete with real food recipes and shopping lists that will cover you for five dinners, lunches and breakfasts.
We believe that planning and preparing meals ahead of time is your best strategy towards healthier eating. Get the 7 Day Meal Plan Today.
Love this recipe? Pin it for later from here. If you'd like to share your creation of this dish, post on our free Facebook group or Instagram. We love seeing your pics. Just hashtag #happybodyformula.