It's time to get excited for the new year, and we're here to tell you what the hot commodities of 2018 are going to be. While we can't tell you exactly where this new year of health and wellness will take us, there are quite a few things we're pretty pumped up about.
Because we're looking out for you – and we want you to be the one who spreads the word in your group of friends – we're going to share our upcoming trend predictions so you can be the one who boasts that you knew about it before everyone else.
You know – claiming your title as the true wellness warrior!
There was the cauliflower craze, the kale boom (and more where that came from this year), the superfood frenzy and more, but we're moving forward. We still quite like cauliflower rice and kale chips – don't get us wrong! – but we have some changes to embrace.
Here's our food, health and wellness trend forecast for 2018 – the new and exciting year ahead.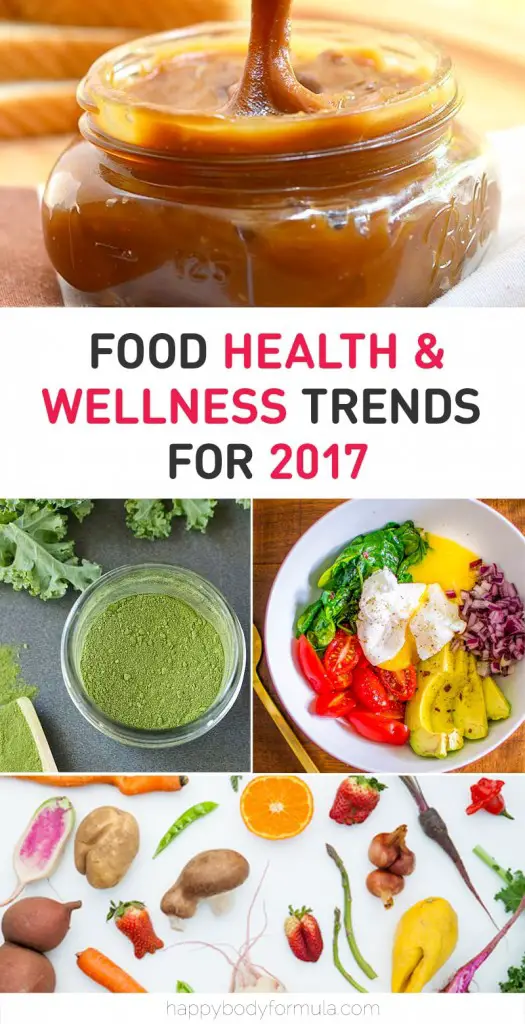 Share on Pinterest
Kale powder
Kale is SO 2014, right? Think again! Hopefully, you haven't given up on it because it makes a mean salad when it's massaged with a little olive oil and sea salt. The reason it's popular is because of its amazing nutrient profile, though!
So, what if we could sort of squeeze it all out and put it in powder form? Well, 2017 did just that.
Kale powder is simply a concentrated source of kale that you can add to juices, smoothies or maybe a batch of pancake powder that you want to be green-colored, because health.
You can even just sprinkle it on your salad or a zoodle dish because it's totally non-invasive. A dose of the stuff packs in some serious plant power with vitamin A from beta-carotene, vitamin C, vitamin K1 and calcium.
If you're not fond of kale's flavor, this is a fabulous way to get some greens. These vitamins support healthy detox, liver function, and cellular health.
You can purchase kale powder here. This freeze-dried, cold-milled product ensures bioavailability of the nutrient power within, and this brand sells lots of veggie powders in case you want to expand your horizons. Perhaps, beet powder will be another 2017 trend!
P.S. You can even make your own kale powder using this method.
Minimalism
The all-or-nothing mentality is generally frowned upon, but we kind of like the nothing end of it right now. Minimalism is less of a look and more of a mindset if you really get into it.
We're going to see big waves of decluttering, tidying up and going for a cleaner look in general.
The idea at the core is pretty solid, reaffirming the notion that things don't make us happy. We can let go of all the junk we're holding on to physically to free up space around us and within, and instead focus on experiences.
Take our 7-day minimalism challenge if you're down to get on board with this trend.
Savory bowls
Bowl meals have been all the rage, especially in the vegan community. Smoothies the side of your head, anyone? Eaten with a spoon and topped with everything from goji berries and hemp seeds to bliss balls and pee pollen, these fruit-centric breakfasts took Instagram by storm.
The acai bowl comes to mind, too, and of course a piping hot bowl of porridge in the A.M. doesn't grow old.
This year, though, we think savory bowls are going to come into play in new and exciting ways. The bowl meal has something decidedly cosy and comforting about it, and we especially love the way that you can really pack in the healthy eats in ways that a plate just can't accommodate.
The Buddha bowl boasts a base of grains, and it's been popular in a macrobiotic diet for years now, but the new savory bowl is something more veggie and meat-centric. You could also experiment with savory oatmeal bowls by… putting an egg on it?
We're especially big fans of the savoury bowl for breakfast with some eggs and hash in there, but it's a blank canvas for you to work with. Expect to see more options like this at cafes and restaurants.
Adrenal fatigue
While this isn't a super fun trend, it is important that we predict many more people will recognize the signs of symptoms of adrenal fatigue, which will then lead to proper treatment through nutritional therapy and lifestyle changes.
Adrenal fatigue is simply the cause of a buildup of both mental and physical stress over time, and the solution is very holistic.
We don't suspect to see a rise in "popularity," per se, but we do expect to see people taking this syndrome a bit more seriously. The more we know, the better.
Read more about the best foods and supplements for adrenal fatigue.
Coconut jams
We've made just about everything out of coconut at this point. It's the staple food in our diets whether it's the oil or the flour, so why not make jam out of it?
While the concept isn't new, we aren't seeing this pop up on the shelves in the store just yet, but 2017 might be the year.
Coconut jam – also called kaya – is just a concoction much like delicious and decadent dulce de leche. The base is made of sweetener and sometimes egg yolks mixed with coconut milk.
Hopefully, we'll see it made with honey and coconut sugar. Or, you can get to making your own and pack some jars up as gifts throughout the year. Remember, you're the trendsetter this year!
You can make your own coconut jam or  you can purchase coconut jam here. The Minkijo brand uses just coconut milk and coconut syrup in place of cane sugar, so you can feel good about indulging.
Use it as a sweet addition to waffles, pancakes, a baked sweet potato or a bowl of porridge.
The Instant Pot
The Instant Pot has been gaining traction for awhile now, but 2018 is it's year to shine. Basically, you can't go a day without running into why someone loves their pressure cooker or some new recipes you definitely want to try out in your own.
If you don't have one, now is the time to get one and not just for the sake of being on-trend. It cooks real food, real fast and real… deliciously. We rounded up a few of our favorite recipes to get you inspired.
If you dig bone broth, yoghurt and other time-intensive kitchen staples, the IP can cut hours down on prep time.
Purchase the Instant Pot here.
Protein cookies
It only makes sense that we've been on the hunt for a good excuse to have our cookies and eat 'em too, so why not add protein? Protein is generally lacking in the average cookie, considering carbs – sugar, we're looking at you – often take precedence in baking.
So, if we add some protein, take down the sugar content and swap out refined oils for healthy fats, we've got pretty healthy, indulgent treats that aren't so far off from the macronutrient ratios of the meals we're ideally eating. They're perfect to pack for the gym or just being on-the-go.
Check out some of our favourite healthy, high-protein cookie recipes. These treats won't spike blood sugar hard, so they're actually a satiating dessert and you won't be tempted by the sugar demon to eat the whole batch in a night.
The Sirtfood Diet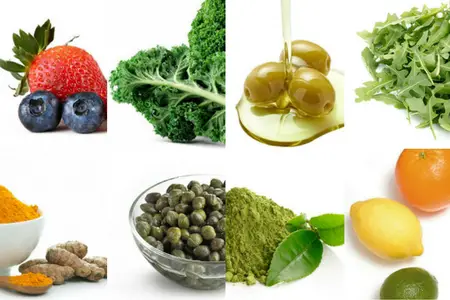 We're expecting this to be the "fad diet" of 2017, but believe us when we say that you can drop fad from the name! The Sirtfood Diet includes foods that activate sirtuins – a type of protein in the body – which act as protectors for our cells and boost everything from immunity to weight loss.
The diet has three phases, and the last is a maintenance phase. The entire "diet" is very approachable and sustainable, save for the first week which includes reducing caloric intake to around 1,000 calories of green juice!
It's a real food-focused diet with some science to back it, and sirtfoods include standard superfoods like parsley, olive oil, and red onion. Some additional and indulgent sirtfoods you'll want to include each day are wine and dark chocolate (85% cacao+), so who couldn't get down with this diet?
Read more about The Sirtfood Diet and how to use it for weight loss, and consider the 9-week Happy Body Formula program which incorporates loads of sirtfoods for optimal health and wellbeing.
Buckwheat > quinoa
Quinoa was all the rage, and we still quite like it for a plant protein, but buckwheat is coming in the clutch in 2017. From crepes to pancakes, to kasha and macro bowls, we love this inherently gluten-free seed – that's right, not a grain! – for all kinds of dishes both sweet and savoury.
You can check out our favourite buckwheat recipe ideas here.
Hygge
Hygge is a Danish word but there actually is no direct translation of hygge to English. The dictionary definition reads, "A quality of cosiness and comfortable conviviality that engenders a feeling of contentment or well-being (regarded as a defining characteristic of Danish culture)."
Basically, getting cosy just got super trendy.
Denmark and its neighbours are notoriously happy despite living in a really, really dark part of the world. How do they manage to keep the winters flowing?
Wine, fires, comfy socks, hanging out with friends, lighting a few candles, playing games and baking something warm and spicy. I mean, you could use an excuse to up your decor game and wear pajamas all day – right?
Read more about the Danish art of happiness and how to do it.
Collagen-rich skin sprays
Collagen is one of the most important "nutrients" for healthy, ageless skin. It's not technically a nutrient, but collagen is essentially what are skin is comprised of. This protein helps to hold our skin together, so it supports reducing wrinkles.
As we age, the skin produces less collagen, and the more important it is to supplement with it whether that's through diet or externally with a collagen-rich skin spray.
This natural skin product is an easy way to improve elasticity in the skin, prevent sun damage, and just give you a nice glow. Let 2018 be the year of the best skin ever. You can learn more about gelatine and collagen's health benefits for skin and beyond here
Zen co-working spaces
Co-working spaces have been becoming increasingly popular, especially as many remote workers are opting for smaller home spaces in the city to avoid big rent spikes.
The standard office is getting a makeover, though, and it's a makeover we like a lot.
A space in New York City is offering up space to sit with your laptop but take convenient yoga breaks during the day with an unlimited yoga membership.
Another co-working space offers up a naturally lit space with super zen floor seating and breaks in the day for both yoga and guided meditation. Is this the key to productivity?
We adore this idea which helps slow down the pace for people – especially in the big, working cities these spaces are popping up in!
Mitochondrial health
While mitochondrial health is a matter of science and not trend, but we're happy to see that the knowledge of the cell is infiltrating headlines, especially in the wellness community.
It only makes sense that we tend to our health on a cellular level to address our entire organism – that's what we're made of, after all.
You can read more about the digging we did on mitochondrial health, and how it's related to autoimmune disease, cancer and our overall wellbeing.
Antioxidant-rich teeth whitening treatment
Many teeth whitening treatments are neither natural nor affordable, but Dr. Brite's pens are infused with organic ingredients we recognize and love like vitamin C gel, hydrogen peroxide and coconut oil.
There are no chemicals or bleach to be found. The product claims to whiten teeth up to two shades in just two days.
Smart shopping
The shift in grocery gathering is leaning towards cheap, environmentally friendly and efficient. We're seeing lower prices on quality organic ingredients like at the Aldi and Lidl stores, we're getting more options when it comes to purchasing groceries online, and we're leaning towards a future where grocery stores are packaging-free.
The future is bright!
Zero waste culture
In the home, in supermarkets and in restaurants, we're seeing a shift towards embracing 'waste.' Whether that's the whole animal, ugly produce, edible scraps and peels, or making beloved bone broth, we're happy to discover creative ways to use food waste so it doesn't go to waste.
By and large, developing this mentality could help to feed a lot more people and save us a lot of money over time. We're on board!
What trends do you hope to gain some traction in 2018? Share your predictions with us below, and spread the word to your ahead-of-the-game friends!
Summary
Article Name
Food, Health & Wellness Trends for 2017
Description
Read about our predictions for 2017's biggest, most exciting trends in wellness, natural and holistic health, and real food.