Simple living is appealing to many, and minimalism is on-trend for a good reason right now. It's not just about clean, white spaces and homesteading, though – whatever your taste may be.
We like this mentality in the kitchen, too. While eating healthily opens up doors to experiment with new and exciting ingredients, and to dedicate entire evenings to time-consuming recipes for grain-free bread or baked goods, the true beauty of cooking comes when we pare down and cut back.
Enter the 5-ingredient meals!
It's a luxurious freedom to open up the fridge, choose five ingredients and have a gorgeous dinner before us in a short to moderate amount of time.
It opens up new doors, and we become much more skilled in turning less into more over time. It also lessens our tendency to make excuses like, "There's nothing to eat here!"
How many times have you said that to a genuinely empty fridge or cabinet? Chances are, it has something to offer, so here are our favorite nourishing and delicious 5-ingredient meal recipes.
P.S. for simplicity's sake, salt, pepper and oil are not included in the ingredient count!
Butternut squash & sage breakfast casserole from PaleOMG
Breakfast shouldn't be a complicated affair to be both delicious and nutritious. A simple egg bake packs in loads of goodness when you've got hearty squash and flavourful sage in the mix.
Five ingredients, one pan, and super tasty when made ahead of time? We're on it. Get the recipe from PaleOMG.
Baked plantain pumpkin pancakes from The Curious Coconut
These pancakes are gluten, dairy and sugar-free, plus they're paleo, AIP and vegan-friendly. Baking them helps them fluff up, so you get a tall stack every single time without fail.
Plus, the plantain and pumpkin pair up for a healthy starch duo with serious flavor. Get the recipe from The Curious Coconut.
Smoked salmon & egg stuffed avocado from Fresh Planet Flavor
Yet another complete meal for breakfast (or anytime, really) with these baked avocado nests. They're packed with protein and healthy fats, and they look really good to boot.
These require just three main ingredients, and you can easily top 'em off with your favorite herbs or condiments. Get the recipe from Fresh Planet Flavor.
Dreamy almond butter chia pudding from The Almond Eater
Pop this jar in the fridge overnight for a sweet and heavenly morning breakfast full of omega-3s from healthy chia seeds and a boost of fats from creamy almond butter.
This stuff truly is dreamy. Top off with banana or other fruits if you want. Get the recipe from The Almond Eater.
Sweet potato, prosciutto & rocket salad from Eat Drink Paleo
We all need a simple salad to come back to. This one brings in some starch, some greens, some fats and some protein all in one. You can easily prep the sweets ahead of time, and otherwise, this is a 100% no-cook meal.
Get the recipe from Eat Drink Paleo.
Taco stuffed sweet potatoes from With Salt and Wit
We love stuffed sweets so much that we dedicated an entire roundup to them. This one? Just five ingredients and you've got a complete meal.
All you have to do is bake your spud and saute some meat making hands-on prep time around five minutes. Get the recipe from With Salt and Wit.
Balsamic butternut & bacon salad from Food Faith Fitness
This meal is truly decadent with just five ingredients, considering you've got smoky bacon and sweet maple syrup in the mix. It's a flavor explosion with every bite, and it's a crowd-pleaser to boot, so you can cook simply even if you're hosting.
If you're up for six ingredients, you could add some protein to the mix! Get the recipe from Food Faith Fitness.
Paleo Asian side dishes 3 ways from I Heart Umami
Side dishes can be even harder to choose from than main dishes. Make it simple with these three veggie sides with Asian flavor that can't be matched! Simple can incorporate crunchy texture and strong umami taste without much fuss at all.
Get these recipes from I Heart Umami.
Black bean & quinoa burgers from Yuri Elkaim
Vegetarians and omnivores alike will love this hearty, plant protein-packed burger with black beans and quinoa. It's also vegan-friendly and perfect for stacking high with veggie toppings in a bed of crunchy lettuce.
Nutrients galore! Get the recipe from Yuri Elkaim.
Zesty lime shrimp with simple cauliflower rice from The Natural Nurturer
Cauliflower rice is a fabulous base to have handy for use in endless 5-ingredient meals, including this zesty lime and shrimp dinner, featuring plenty of bite and a healthy portion of protein from the prawns.
Get the recipe from The Natural Nurturer.
Cauliflower fritters from Sweet as Honey
This gorgeous stack is just four ingredients (although avocado on top might be the fifth), and they're low-carb plus high in protein from the eggs and almond flour for a filling veggie lunch!
You could add protein or some tinned fish to the mix if you want. Get the recipe from Sweet as Honey.
Oven poached salmon with veggies from Avocado Pesto
This is the kind of single pan, feel good dinner we're talking about! With just five fresh ingredients, you can simply toss this in the oven for a half an hour for a perfectly cooked, delicious and balanced meal in the end.
Get the recipe from Avocado Pesto.
Delicata squash super gyro sliders from The Castaway Kitchen
This meal is the perfect party pleaser that brings in summertime, sunshine-y BBQ goodness plus a little warmth from that fall and winter produce bounty with winter squash in the mix.
Get the recipe from The Castaway Kitchen.
Chicken fajita stew from Just Jessie B
This meal is a one-stop shop, and the ingredients couldn't be simpler. You can toss your chicken into a pot of broth, salsa and frozen veggies and it somehow turns into something beautiful.
Better yet, you can double up and store some in the freezer. Killing two birds with one stone here! Get the recipe from Just Jessie B.
Almost 5-ingredient pizza pie from PaleOMG
Okay, so it's not QUITE five ingredients, but the additional effort is so worth it. This "pizza" pie is made with spaghetti squash so it's veggie-loaded and ready to go with Italian sausage and pizza sauce to bring it all together.
This > a slice any day when it's so easy to make! Get the recipe from PaleOMG.
10-minute blueberry pork chops from Pure and Simple Nourishment
This fun dish is just three ingredients, and it yields blue pork chops. Not only is it delicious and slightly sweet, but it's fun! It will pair will with veggie mash or roasted vegetables if you want to add a fourth and fifth ingredient to the mix.
You won't be complicating things much, considering this funky dinner takes just ten minutes! Get the recipe from Pure and Simple Nourishment.
One-sheet roasted sausage and brussels sprouts from The Natural Nurturer
The best part about 5-ingredient meal recipes is that they also generally include just dirtying one dish. Not only is the effort to cook it small, but so is the clean-up.
Enter this sheet pan dish with sausage, sprouts and sweets for a scrumptious and filling trio. Get the recipe from The Natural Nurtuter.
Pan-seared cod with artichokes and capers from Delicious Obsessions
The especially fun thing about THIS recipe is that two of the ingredients come from the jar, simplifying things even more. The cod is the perfect pairing, and it still has a little something fancy about it making it perfect for guests!
Get the recipe from Delicious Obsessions.
Enchiladas Verdes from Skinnytaste
This classic green enchilada dish is gluten-free using corn tortillas, and it boasts just a few other humble ingredients – namely chicken and salsa verde.
It's a lovely one-dish dinner that is kid-friendly and highly delicious with some queso fresco on top. Get the recipe from Skinnytaste.
Spaghetti squash & beef bowl
Spaghetti squash is yet another fabulous base to cook ahead of time and make simple meals from. Adding beef to the mix with some tomato sauce and spices makes this 5-ingredient dish low-carb, hearty, filling and ultra tasty.
Get the recipe from Carrie on Living.
Maple-roasted chicken & sweet potatoes from Honey, Ghee and Me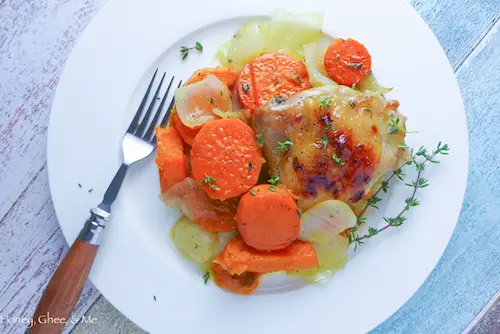 If you're a meat and potatoes kinda guy or gal, let this be your go-to. Of course, you can add extra veggies to the mix, but here you get a full meal that could easily be considered comfort food – done up healthily, of course!
Get this hearty recipe from Honey, Ghee and Me.
Do you have a go-to 5-ingredient recipe that you love revisiting when you need healthy food in a jiffy? What ingredients do you find the most easy to use?
Share your ideas with us below, and share this article with someone who needs some simplicity in their life!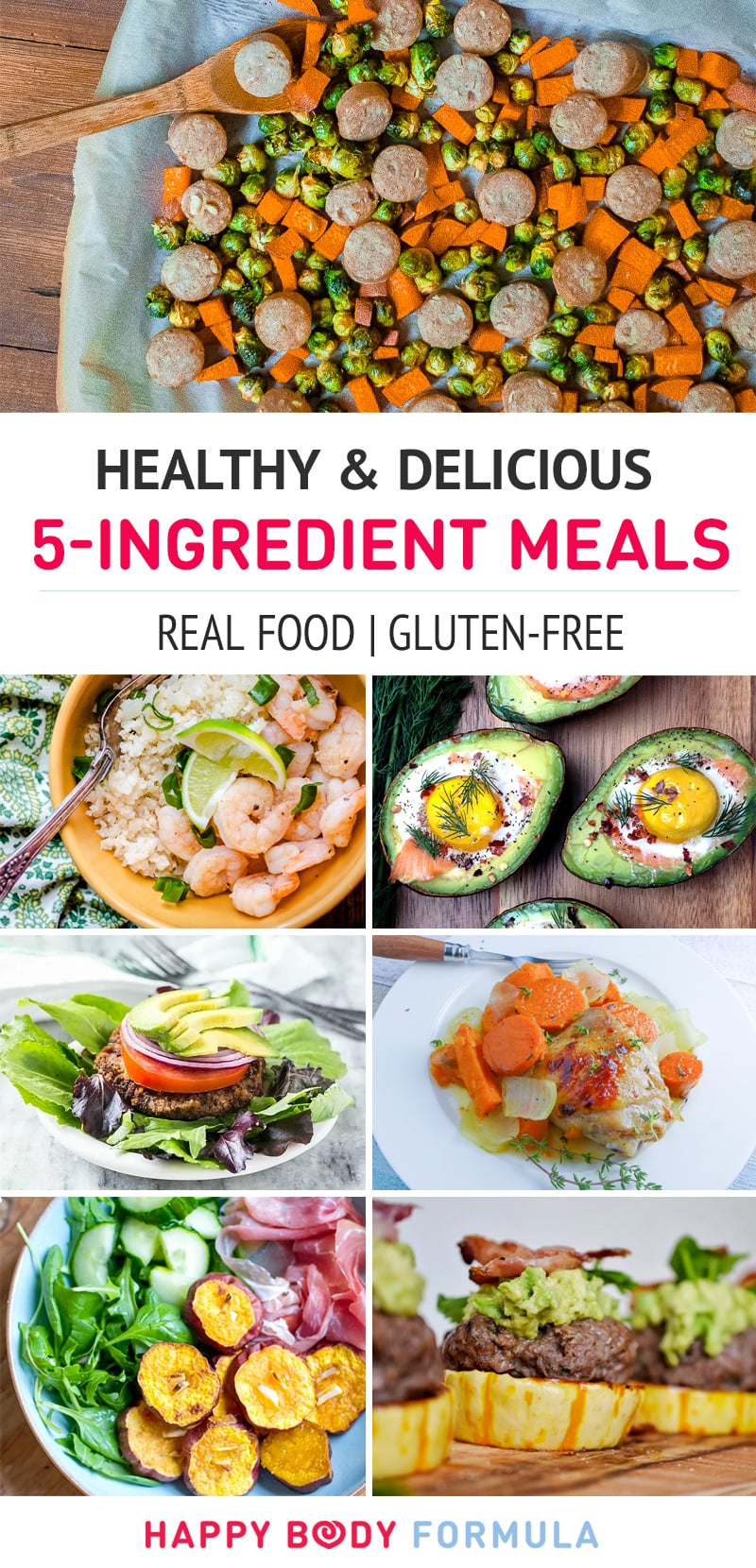 Music, mountains, dogs, travel, food and friends.