Fact checked by Aimee McNew for Accuracy
Eczema is a skin condition that impacts more than 30 million Americans. (source)
It is not contagious and can appear at any time in a person's life, whether they're a few weeks old or a few decades old or anywhere else along the spectrum.
Read on to learn more about this chronic skin disorder along with natural ways to ease symptoms and find relief.
Eczema Basics
Common eczema symptoms include skin that is red, dry, and scaly and is often itchy.
It can look extreme and appear over many different parts of the body, including the face, neck, behind the ears, elbows, back, behind the knees, wrists, ankles, and beyond. It may also only show up consistently in one spot or area.
Young children have more potential to have eczema all over their bodies, and while they'll sometimes outgrow it, it may remain with them for the rest of their life.
There is no cure for eczema, so sufferers rely on prescription, over-the-counter, and natural remedies to address symptoms and relieve pain.
What Causes Eczema?
There is not one known trigger for eczema, but in 65 percent of cases, it occurs before a child turns one. More than 90 percent of the remaining cases begin between the ages of one and five.
Caucasian children seem to have the highest risk, with nearly 40 percent of them developing eczema before three years of age.
While research is ongoing as to what triggers eczema in some and not others, most of it points back to as yet unknown ties to allergies, the immune system, and other environmental triggers that can be involved.
Genetic mutations are also to blame in some cases.
For example, one study found that living in a home with a dog significantly reduced the risk for developing eczema between the ages of one and three, particularly in those with genetic mutations that made them high-risk for eczema development. (source)
While most children who develop eczema may still outgrow it after the age of five, not all of them will. Some could continue having flare-ups into the teenage years and adulthood, particularly when triggers include environmental allergens or severe food allergies.
Documented risk factors and other triggers that could indicate a likelihood for developing eczema include:
Family history of eczema or atopic dermatitis
Family history of hay fever, asthma, or other environmental or food allergies
Being caucasian
Being under the age of five
Living in a dry climate with cold winters
Nutritional deficiencies such as low vitamin D levels in the mother during pregnancy or low levels of DHA and vitamin D in the first few years of life
Food allergies such as egg and peanut
Autoimmunity or other immune dysfunction
Environmental allergies or conditions
Genetic mutations
Chronic stressors
The initial onset of eczema in young children can look more severe than later outbreaks, and as they grow into older children, they may have less severe symptoms or outgrow it altogether.
Common childhood eczema can appear as:
Small, red bumps that itch or appear to be part of a rash
Bumps may ooze clear liquid and crust over, or may have a yellow-crusted appearance, especially when scratched frequently
Skin may appear thick, dry, and scaly or cracked
On infants, it may appear on the scalp, back of neck, behind the ears, and all over the face
While eczema can be extremely unpleasant and can lead to poor quality of life and sleep disruptions, severe outbreaks are typically short-lived and tend to be worse during the dry, winter months or during periods of allergen exposure or extreme stress.
There are several natural ways to address eczema for relief, and while they won't cure it, they can lessen symptoms and provide significant improvement in quality of life.
14 Natural Remedies for Eczema
Many doctors rely on steroid creams as over-the-counter or prescription ways to address more severe and disruptive cases of eczema.
While they could be good short-term relief, they won't cure an outbreak and can lead to more complications with thinning skin. Steroid creams can also not be used on the face.
While research is mixed and ongoing with various natural methods to relieve eczema, the following ways might provide relief and don't require a prescription.
1. Coconut Oil
Coconut oil is a popular natural option for moisturizing and skin health. It can be used anywhere on the body, even the face, and while it's greasier and thicker, it does an excellent job at providing moisture without being overly greasy. It absorbs well and doesn't leave a perpetually greasy sheen.
The National Eczema Foundation recognizes coconut oil as one of the top alternative remedies for eczema. (source)
It is valued because it also has antibacterial qualities which can help address the bacterial causes of eczema while preventing secondary infections, especially when eczema is oozing or crusted over.
For the best skin care, make sure to choose organic coconut oil that is extra-virgin and cold-pressed. This has the most nutrients left in the oil without having been processed with harsh chemicals.
Coconut oil can be used liberally throughout the day, as many times as needed. You can also add other ingredients to it, such as preferred essential oils.
If using on a child, be sure to check with their pediatrician or allergist as some essential oils are not safe for children or could worsen eczema flare-ups. Lavender oil is usually a safe option.
2. Omega-3 Fatty Acids
Research is mixed and ongoing, but some indicates that regular seafood in the diet along with supplementation of EPA and DHA fatty acids could reduce the development or flare-ups associated with eczema. (source)
This is especially true when babies and young children are repeatedly exposed to these nutrients before the age of nine months.
Omega-3 fatty acids are potently anti-inflammatory, and can nurture skin health from the inside out.
However, of special concern for eczema-prone babies is the potential for food allergens. Most fish oil supplements have a shellfish derivative or component, but it is a top eight allergen.
Before starting any supplements with children it's always essential to check with their doctor or allergist.
3. Colloidal Oatmeal
Often used in baths or creams, colloidal oatmeal is made from oats that have been finely ground and often combined with other ingredients. You can also make your own oatmeal bath by taking organic oats and grinding them into a find powder (a coffee grinder works well for this).
Oats are soothing topically on inflamed and itchy skin and can be added to baths or lotions to provide ongoing relief. For an oatmeal bath, be sure to soak for at least 12 to 15 minutes up to once per day.
After the bath it's essential to quickly pat dry the skin and then apply a moisturizer (coconut oil is a great post-bath hydrator), before the skin dries out.
4. Sunflower Oil
An allergen-friendly option, sunflower oil is also a great topical moisturizer that is lighter than coconut. Since coconut can be an allergenic food, some look for an alternative to this.
Sunflower oil is especially good at protecting the epidermis, or the outer layer of the skin, which is predominantly affected in eczema.
Allergies to sunflower oil are still possible, so be sure to do a test spot before all-over application. It's also important to read the labels and ensure that it doesn't contain any other ingredients or share manufacturing equipment with any allergens.
5. Light Therapy
A treatment recommended by Mayo Clinic, light therapy is also known as phototherapy. (source)
It is an alternative technique that is often used in conjunction with moisturizing and other therapies to provide relief for severe cases.
Light therapy can help to decrease inflammation in the skin, reduce itching, and fight bacteria on the skin's surface that can be associated with frequent infections. (source)
Light therapy can be done on your own by exposing unprotected skin the direct sunlight for 10 to 15 minutes a day, or it can be done with a doctor's supervision and laser treatment.
6. Evening Primrose Oil
Evening primrose oil is an oil that comes from a plant. It can be taken internally or used topically for eczema, though it shouldn't be used internally in children unless directed by a doctor.
EPO, as it's also known, works to decrease systemic inflammation because it's high in a certain type of fatty acid known as GLA (gamma-linolenic acid).
While it's not an omega-3 fat, it works in conjunction with those anti-inflammatory fatty acids to nourish the skin without causing negative side effects.
7. Calendula Cream
Popular in natural anti-itch and eczema creams, calendula is an herbal remedy. It has even shown up in natural infant diaper creams because it's known for reducing inflammation.
While it can be helpful for some with eczema, others may find that it worsens the itch. Some herbal remedies can worsen environmental or outside allergens, so be sure to read the labels on any products and avoid this and other plant or herb based remedies if hay fever, ragweed, or pollen are allergenic triggers.
8. Dead Sea Bath Salts
Sea salt can help to provide itch relief in baths, but dead sea salt is especially therapeutic for skin conditions. It can lead to better skin hydration and barrier function. It can also help decrease overall itchiness and inflammation.
Following a bath with dead sea salts, it is still important to gently pat dry and immediately apply moisturizer to prevent losses from skin.
9. Vitamin E
Vitamin E is a fat-soluble nutrient that is beneficial both internally and topically for eczema. Internal supplementation may not be appropriate for children, however, so check with their doctor first.
Vitamin E oil comes in different potencies, but a generalized 400 IU formula might work for daily moisture and skin protection.
Adults can also take 400 IU internally of an encapsulated product, but it's still best to check with a doctor for interactions and dosage.
10. Vitamin D Supplementation
Vitamin D is a crucial nutrient for many aspects of health, including immunity. Since eczema is thought to be tied to autoimmunity or immune problems, optimizing vitamin D levels can be important.
Supplementation should be done under a doctor's direction since it's a fat-soluble nutrient and gets stored in fat cells. Taking too much can result in toxicity.
You can get vitamin D from the sun, and if you get enough direct exposure you might not need to supplement. Getting levels tested is the best way to determine if you need extra support or not.
Levels below 35 are considered to be inadequate, and between 40 and 75 are optimal.
11. Mind-Body Relaxation Practices
Since stress can be a trigger for eczema, finding ways to manage it both regularly and during acute flare-ups can help to provide relief for eczema.
Different types of mind-body relaxation practices exist, and some research exists to support each of them. What you choose can be based on preference, desire, and availability.
Options include:
Meditation
Deep breathing
Biofeedback
Music therapy
Art therapy
Talk therapy
Other forms of stress relief that can work include gentle forms of exercise such as tai chi, yoga, and Pilates.
12. Lavender Essential Oil
Lavender essential oil has been used for thousands of years for many conditions. Eczema and other skin relief is popular, along with aromatherapy uses for stress and anxiety.
To use topically, add a few drops to your preferred carrier oil (coconut or sunflower work well) and apply a few times per day. You can also diffuse it in the room for aromatherapy benefits.
13. Witch Hazel
Witch hazel is the mother of all natural anti-itch remedies and may be effective for severe episodes of acute itching. You can use an alcohol-free liquid form or it can be added to a homemade cream blend.
Research even shows it to be as effective as hydrocortisone, which is often used for eczema itching relief. (source)
14. Other Oils
Eczema remedies abound, and you'll often find various other oils recommended for topical relief. Many that are successfully used, and which don't increase allergenic potential, can include:
Emu oil
Lard
Tallow
Shea butter
Jojoba oil
Bottom Line
Finding what works for you or your child to manage eczema can be a bit of a trial and error experiment, but with a little patience and time, these natural remedies provide an arsenal of relief from itching, redness, and discomfort.
This article was fact checked for accuracy by Aimee McNew, MNT, a certified nutritionist. As always, this is not personal medical advice and we recommend that you talk with your doctor.
Share on Pinterest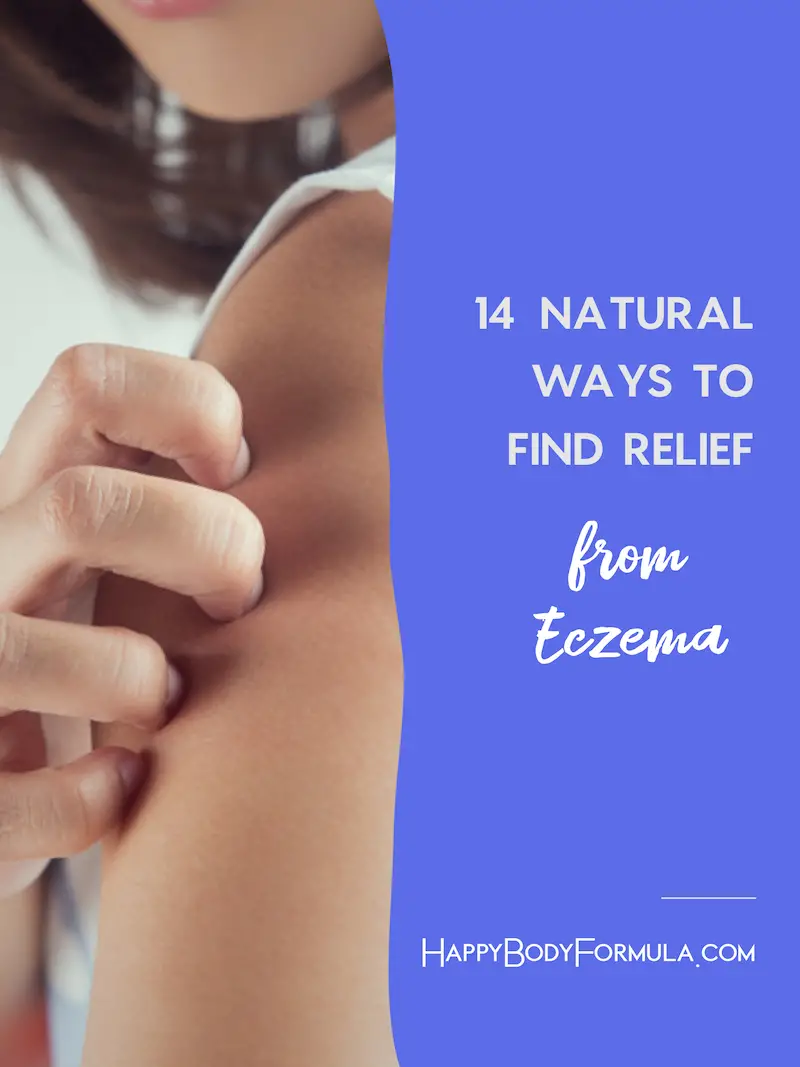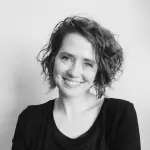 Aimee McNew, MNT, CNTP, is a certified nutritionist who specializes in women's health, thyroid problems, infertility, and digestive wellness. She ate her way back to health using a Paleo diet, lost 80 pounds, and had a healthy baby after numerous miscarriages. She focuses on simple nutrition practices that promote long-lasting results.