Today's roundup focuses on one of our favorite pantry staples: canned salmon. There's tuna, there's sardines… you can get just about any fish in a can. The best part?
These seafood options are no less healthy than fresh if you source them right. Canned salmon is one of the easiest and most affordable ways to eat this nutritious oily fish loaded with protein, healthy fats and omega-3's for optimal health.
In case you're bored with eating it plain Jane on a salad, we've got some tried and tested healthy canned salmon recipes that will make lunch-time easy, breezy and delicious.
In case you're new to canned salmon, look for words like sustainable and wild-caught just as you would when sourcing fresh seafood. These options will taste better, provide more nutrient-density, and do these recipes the justice they deserve.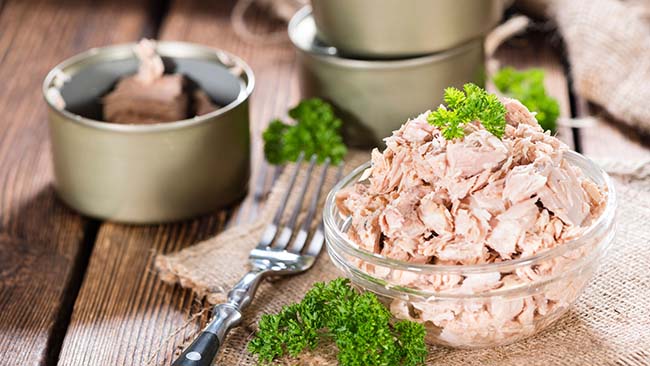 Sourcing sustainable salmon
Before you get cooking, you should know that not all salmon is created equal. It's inevitably more economical to purchase canned salmon, but you have to look for the same labels: wild-caught.
We have a few brand recommendations you can shop for online or in-store. These are brands whose sourcing we really trust and stand by! Plus, the taste is off the charts which will make it easy to do these recipes justice.
Wild Planet boneless and skinless salmon. This brand makes great seafood and even tinned chicken across the boards.
Kirkland Alaskan sockeye salmon. This is one of the least expensive sockeye options on the market. You can find Kirkland brand at Costco and stock up!
Henry & Lisa's Natural Seafood Alaskan pink salmon. These guys catch their fish sustainably and put out a really good product consistently.
Salmon croquettes with simple tartar sauce
These croquettes are a healthy take on a classic fish combo, providing a recipe for tartar sauce you can use on any seafood dinner you choose. Dill, cajun seasoning and gluten-free bread crumbs make these flavorful and full of tasty texture. Serve on a lettuce bun and voila! Lunch. Get the full recipe from Delicious Obsessions.
You might also like these salmon burgers from Simply Nourished Recipes.
Baked Salmon Load with Cucumber & Dill Salad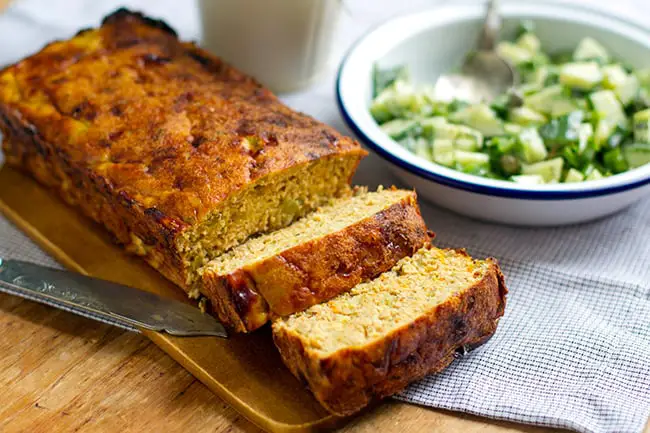 Forget about the meatloaf and try a different protein baked goodness with this delicious canned salmon loaf. It's budget friendly, and will make even the most anti-tinned-fish-eaters think twice.
Served with a refreshing, saucy dill and cucumber salad, this is a fantastic weeknight dinner meal. Get the recipe from Eat Drink Paleo.
Spicy salmon salad
There are a few staple salads beyond just piling up the greens; egg salad, chicken salad, tuna salad. Well, this takes that classic concept and turns it into something a little special with a hefty dose of spice (not for the faint of heart) and salmon, both giving it the gorgeous red hue you'll want to scoop into and onto everything. Dip into this goodness from Everyday Maven.
You might also like these avocado, salmon & palm heart boats from Comfort Bites.
Salmon balls (paleo, gluten-free)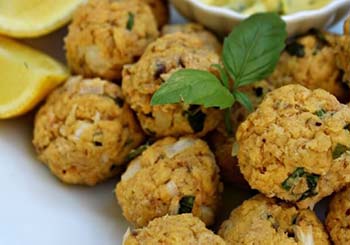 Much like fried convenience foods of the like (think poppers and other spherical delicacies), these poppers are easy to make and addictive. Unlike their greasy counterparts, these salmon balls are healthy and loaded up with nutritious ingredients.
This recipe can easily be customized to include your favorite spices and shredded veggies for a unique taste, but this basic roundup is good on its own or dipped in homemade mayo. Find the deets on this dish from Primally Inspired.
Hot smoked salmon spread (AIP)
You know what they say; double the salmon, double the fun. This recipe takes that idea to the next level with a spread you'll want to smear on absolutely everything.
Smoked salmon combined with its more economical neighbor – canned salmon – makes for a dreamy, creamy recipe that will excite any seafood enthusiast. Combined with spices and coconut milk, you might even have the ingredients for this AIP-friendly dip handy. Get the full recipe at Meatified.
Kale & salmon cakes
Salmon is fine and dandy on its own, but canned salmon truly gets by with a little help from its friends. Case in point: these lovely, nutritious cakes that pack in some green veggie power with the addition of kale and a healthy addition of cassava flour. Snag the scoop on these patties from Made It Love It Paleo.
Ginger salmon nori rolls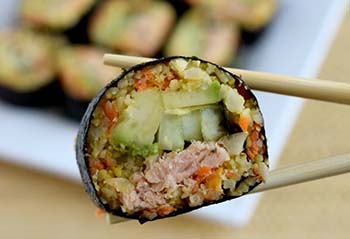 The universal truth: we all love sushi. The downside? Well, eating sushi out can be a difficult menu to navigate, especially if you're avoiding grains, soy and sugar.
Making sushi at home runs up a pretty hefty grocery bill buying raw fish and all. The solution? Nori sheets, canned salmon and riced cauliflower. These bites are perfect for that takeout feel without stretching your budget or sacrificing taste. Find out how to make these at Hold the Grain.
You might also like this paleo sushi with salmon and avocado from Eat Drink Paleo.
Alaskan salmon with black quinoa & spinach
What's a recipe roundup without a solid salad? Nothing at all! Salads are easy to pack, make ahead of time, and dig into during the warmer months when cooking isn't on the radar.
This one boasts a simple ingredient list and complex flavour with the healthy addition of gluten-free quinoa. Check out all the ingredients from Bev Cooks.
You might also like this low-carb salmon nicoise salad from Everyday Maven.
---
Waffle iron salmon cakes
Looking for an excuse to bust out the waffle iron? This is IT. Easy clean-up and minimal prep work make this savory breakfast recipe suitable for any morning.
These waffles don't require the guesswork that a traditional dough does when you're opting for gluten-free or grain-free flours, instead relying on salmon, eggs and coconut flour to do the trick.
These will keep you fueled up and energized for those busy morning hours, and you could likely freeze them to keep handy for busy weeks. Get the recipe from Grassfed Mama.
Baked salmon meatballs with creamy avocado sauce
When you think of meatballs, you likely think ground beef. If you're getting fancy, you might mix in some ground pork or veal, too. This recipe, though? None of that!
We've got a tasty toss-up of salmon giving these a healthy twist. The true standout? The creamy avocado and Greek yoghurt sauce. Get the details from Cookin Canuck.
Paleo salmon terrine
Most terrine recipes go heavy on pork ingredients, but this one is a much lighter fare. It still boasts some full-factor with full-fat coconut milk and homemade mayo, and it sticks together making it easily sliced with good-for-your-gut gelatine. The flavor explosion comes from the canned salmon, of course.
Oh, and don't forget the capers – salmon's best friend! Catch all the details for this recipe from The Healthy Foodie.
What's your favourite tinned fish? Share your best healthy canned salmon recipes and more with us! You can find more recipes that use canned salmon in our 7 Day Make Ahead Meal Plan.
[/fusion_text][fusion_text]
Music, mountains, dogs, travel, food and friends.