Setting up an efficient kitchen is a huge key to success when it comes to batch cooking or simply staying inspired in the kitchen. While shopping for fun kitchen supplies and gadgets can feel overwhelming and expensive, we have a few favorites.
Amongst the non-negotiables in the kitchen is the veggie spiralizer. While it might seem flippant, it's a fabulous investment. It's budget-friendly and incredibly useful for turning average meals into something a little more exciting.
Plus, who doesn't like noodles? It's a must-have for anyone avoiding grains!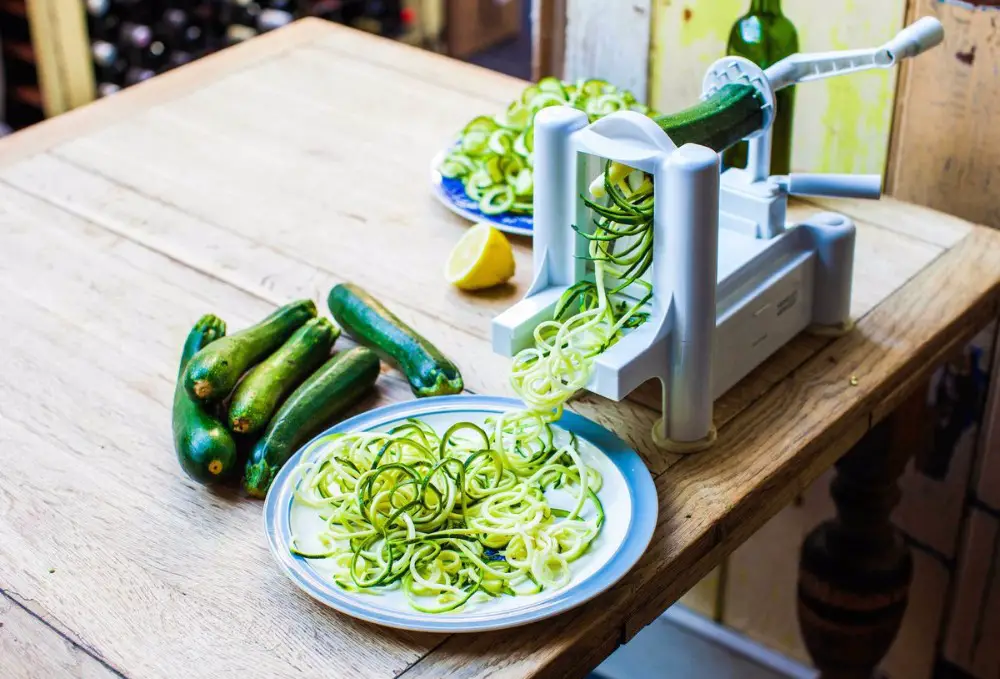 Why you should get a raw vegetable spiralizer
For one, we're big believers in treating yourself. A good vegetable spiralizer doesn't cost a fortune, nor does it take up a ton of space. If you have a few dollars and a tiny bit of counter space to spare, the spiralizer will swiftly become your best friend.
You'll wonder, "How did I live without this?" as you revel in the glory of your noodle dishes and curly fries.
It's fantastic for warm weather for a few reasons, in particular. While hearty soups and pasta dishes will be a staple during the cooler months, the spiralizer can put those garden veggies to good use, helping you eliminate waste because you KNOW just how much zucchini you get every year!
Plus, you can work up gorgeous raw dishes like raw zucchini zoodles with fresh pesto, or cool cucumber salads with an Asian dressing. Don't worry – we've got recipes coming up!
Turning the oven on in the summertime heat can be totally brutal, but we need a way to get nutrient-dense meals on the table regardless. That's why we love this little gadget so much.
Another obvious reason to snag a veggie spiralizer is to keep things fresh if you're cutting down on grains. Life without pasta just isn't the same, so we've found a way around that.
No – zucchini doesn't taste like spaghetti, but if you load it up with a tasty bolognese or Alfredo sauce, it will certainly take on the flavors while cutting calories and the potential negative health side effects of wheat.
It's also not just good for spiralizing – it can slice and dice like no other. You can use it to thinly slice onions in record time (and with far less tears), "shred" cabbage perfect for coleslaw, or "rice" veggies like beets and squash for grain-free curries, burrito bowls, and more.
Finally, it's effective and efficient. It's quicker than boiling water to make pasta in the first place, and it makes eating veggies feel accessible and even fun.
Not only does it make for super fast prep work, but it's effective in getting the kids to eat veggies, using up that stray produce in the fridge, and keeping you feeling inspired to try new and exciting recipes.
These are big battles when it comes to a sustainable way of healthy eating. We've really gotta hand it to the spiralizer!
Spiralizing beyond zoodles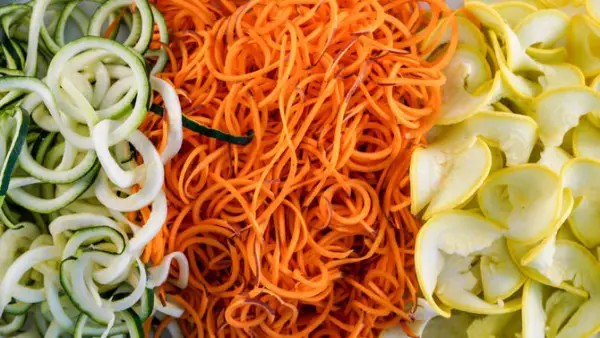 Let's talk about what the spiralizer can do. We see plenty of zucchini noodles a.k.a. zoodles, but its abilities extend far beyond that.
If you get a quality spiralizer, you can work nearly anything into curly strands of veggie excellence.
Spiralized zucchini ideas
This is the most common spiralized veggie, and for good reason. It's just sturdy enough, it has a very mild flavour that takes on other sauces well, you can easily eat it raw (while having it still taste ah-mazing!), and it's super low in calories.
It's fibre-rich and packed with vitamins and minerals, so you can really load up your plate and eat that heaping portion of pasta that you've only dreamed about before.
You can sub it out for yellow summer squash, too, depending on what you have around. Here are a few recipes to try:
Spiralized beets

Beets can admittedly be a tough veggie to work with. If you like to peel them, you know it can be a bit of work – and a bit of a mess! You can opt for red beetroot or golden beetroot with the spiralizer to make roasted beet strings or beet noodles if you're feeling funky.
The slight sweetness lends itself well to a huge variety of dishes and sauces. It works especially well with creamy sauce recipes or pesto for a gorgeous color contrast. The only downside is that starchier veggies tend to have a longer cooking time.
It's still far less time required to cook the spiralized veggies than it is to roast them whole, though! Oh, and you could still eat them raw, too. Here's some recipe inspiration:
Ideas for cucumbers
Cucumber is a lovely no-cook option for the spiralizer when you just need a side dish, but don't feel like putting in the effort or cooking. This hydrating veggie is delicious and abundant in the spring and summer – especially for you green thumbs!
It's a great base for fresh herbs and tangy onions or a simple solution of oil and vinegar to take things to the next notch. If you're entertaining in the summer, you will be thankful for your spiralizer.
Take notes with these cucumber "noodle" recipes:
Spiralized carrots
Carrots are a beautiful base for a raw or cooked dish. Like beets, they have a nice sweetness and crunch to them, and they come in a variety of colours for maximum nutrient and presentation options.
It's good to choose thicker carrots as they'll be far easier to spiralize. These are abundant throughout the year at farmer's markets in particular, so another inherent benefit of the spiralizer is the drive to shop local! Basically, it's saving the environment and your budget.
Here are some recipes to get started with:
Sweet potato with a spiralizer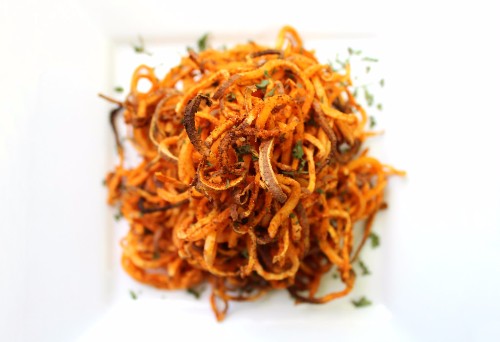 Sweet potato is hands-down one of the most versatile vegetables. It lends itself well to dishes both sweet and savory. You can mash it, you can roast it, you can slice or dice it, or you can spiralize it!
Obviously, we're focusing on the latter and its fantastic potential. It makes for a great crispy roast as shoestring curly fries, or you can roast the spirals for a tasty bed to top off with an egg, taking breakfast hash to the next level.
Here are a few ideas:
Butternut squash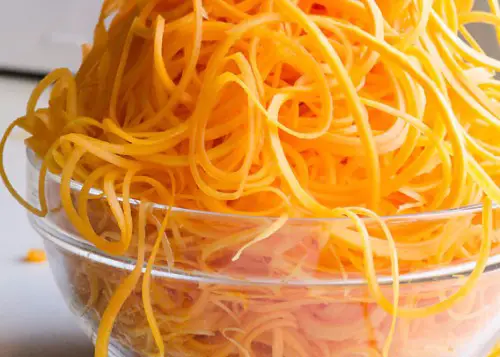 Spiralized butternut squash noodles are pretty similar to sweet potato, and can often serve the same purposes. If you're seeking out recipes, you could easily swap one for the other without fail, depending on what you have handy.
This is a great winter veggie to keep handy so your spiralizer gets year-round use! Butternut squash or pumpkin is generally a bit less starchy and lower in carbs, so it may be more suitable to those who watch their carbs or their blood sugar.
Here are some butternut squash recipes:
Apples!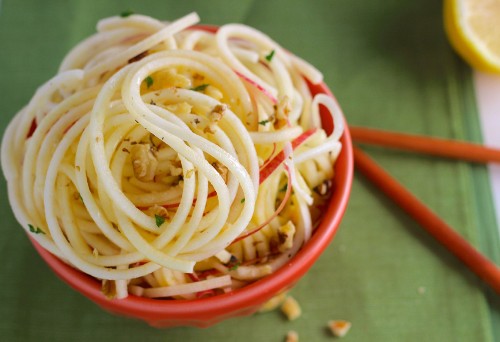 This is probably the go-to fruit for spiralizing. This is another fantastic option for spiralizing well into autumn as juicy apples grow in abundance. The fun part is being able to choose your flavor.
You can opt for juicy apples, sweet apples, tart apples, or anything in between. These will pair up well with savory dishes or stand alone for a healthy sweet tooth fix.
Here are some apple-licious recipe ideas:
Our best vegetable spiralizer recommendation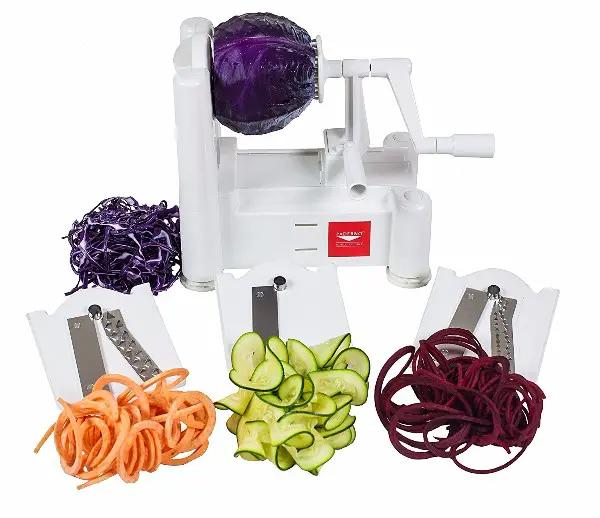 Take it from someone who used a tiny handheld spiralizer for a LONG time – you definitely want to splurge a little on the upgrade. Moreover, I've also broken a spiralizer (or two) in my day, attempting to use a product that simply wasn't cut out for my sweet potato string dreams.
The trick is finding the right fit, and the Paderno World Cuisine Tri-Blade Slicer is perfect. You know what they say: "If you can't take the heat, get out of the kitchen."
The Paderno takes the heat, and gracefully so. It can handle starchy veggies that are tough to slice through, and you don't have to get in an unofficial arm day just to make dinner with it. Score!
You can even upgrade to the 4-blade slicer if you're dedicated to staying spiralized. Pretty much all of our team members own one!
What's the verdict? Let us know how much you love YOUR spiralizer in the comments, and share this with someone who might be on the fence. Better yet – surprise them with a gift!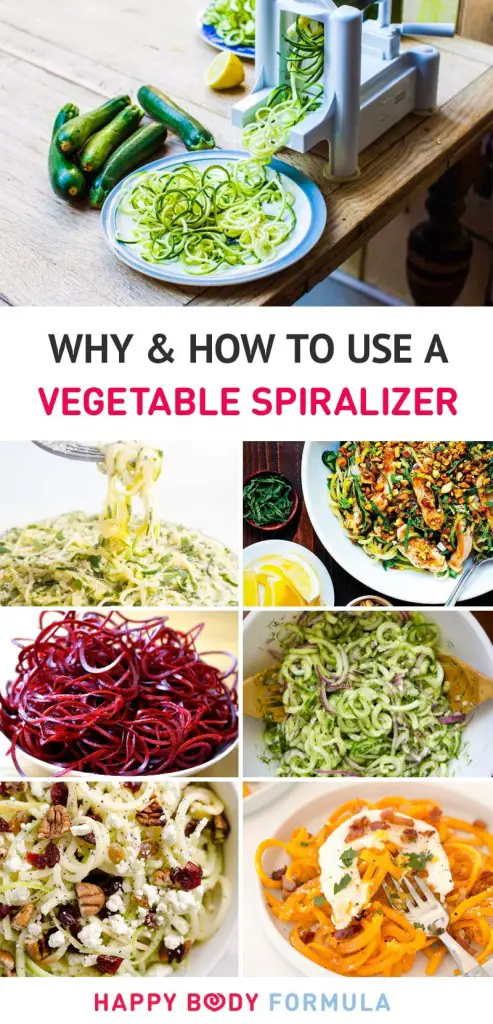 Music, mountains, dogs, travel, food and friends.