Keto quiche? Yes, please! Egg bakes, frittatas, and quiches are some of our favorite ways to wake up in the morning. A quiche differs from the rest, mainly because it generally implies there will be crust and there will be cream.
Fortunately for low-carb'ers, the cream is a go (and it makes a huge difference!). The crust, on the other hand, needs to be worked around.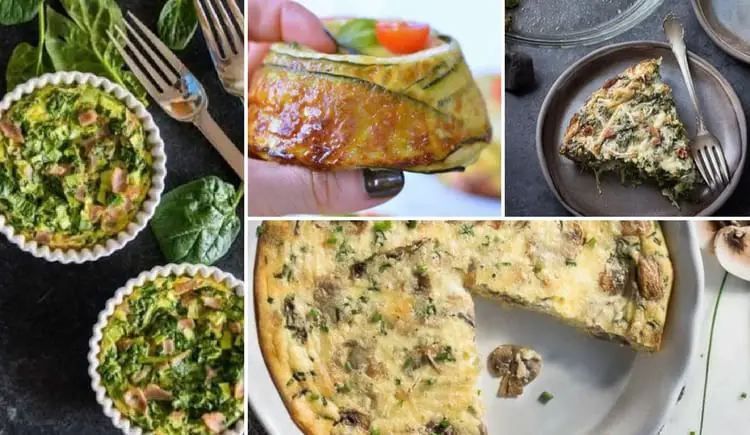 Some of the quiche recipes here are crustless while others utilize veggies or homemade low-carb crusts to hold the glorious egg blends within. Veggies, cheese, and bacon will be had today.
Start your morning off right fueling up with healthy fats, plenty of protein, and nourishing ingredients. Quiche is a fabulous meal prep recipe to make, and it's good hot or cold.
Plus, you can have it any time of the day, and it's a great dish for potlucks or entertaining.
Keep it crustless! You won't miss out on the crust with this loaded quiche slice. This is one sturdy egg recipe, perfect for those of you who don't love a custard-like texture.
With just 2 grams of net carbs per serving and a whopping 3o grams of protein, there's really no better way to start the day fueled up and ready to go.
Frozen spinach helps this come together really easily, too, and it packs in the fats with a splash of heavy cream and plenty of cheese. Drooling yet?
2. Quiche lorraine from All Day I Dream About Food
Quiche lorraine is so classic, and this recipe really leans on humble ingredients that still make that flavour pop. It's a lovely dish to eat cold or at room temperature on busy mornings, and it pairs perfectly with a green salad.
This dish features a low-carb crust, bacon, Gruyere cheese, heavy cream, and fresh thyme for a stunning slice that clocks out at only 5.5 grams of net carbs per serving.
Looking for a single serve option? These mini quiches are darling, perfect for meal prep or entertaining. They're loaded with nutrient-dense leafy greens, smoky ham for flavor and a protein boost, and leeks for a fresh taste.
This recipe is paleo-friendly, swapping out heavy cream for coconut milk instead.
Did you know you can make quiche in the slow cooker? Talk about a hands-off approach. This low-carb egg bake is packed with cheese and broccoli, and it only takes a little under three hours to make.
Just mix the ingredients and toss 'em in for perfect results every time. We can always get behind a good low-carb slow cooker recipe!
Pick your poison! This recipe includes two keto quiche variations. They're perfect for breakfast or for a snack, both boasting just 6 grams of net carbs per serving.
You can take your pick from spinach and gorgonzola or tomato and bacon. Heck – make both and mix and match them throughout the week with this perfect batch cooking recipe.
How beautiful does this pie look? Dense and scrumptious, this quiche is almost like a savory cake.
Prosciutto, cheese, and zucchini in every bite, this is a bit less eggy than your average quiche and holds up really well for breakfast on-the-go, picnics, and lazy weekend brunching.
At under 3 grams of carbs per slice, you just can't go wrong with this!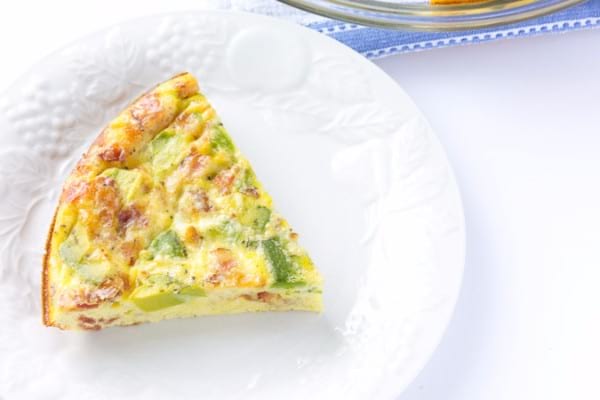 Avocado and bacon in your quiche? YES PLEASE. The ultimate keto combination is eggs, cheese, and these two stand-out ingredients. There's no shortage of healthy fats and fuel in this slice, coming in at just 1.3 grams of net carbs per slice.
It's creamy, smoky, and all around freakin' delicious. If you've never added avocado to your egg bakes, now is the time to start with this stellar recipe.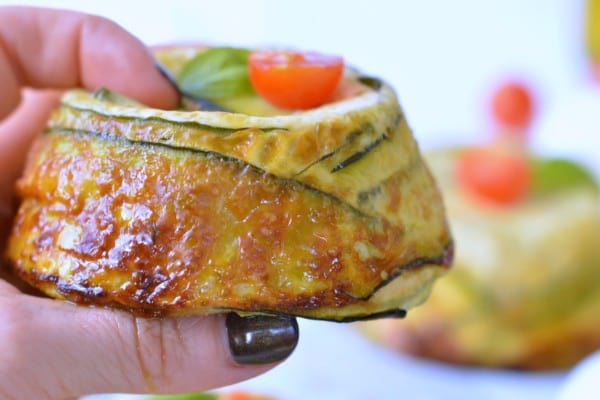 No need to make a dough for these crusted quiches. Thin sliced zucchini is the perfect low-carb alternative to hold these little bundles of egg joy, infused with fresh pesto and Parmesan so they're not slacking in the flavor department at all.
These are handheld and 100% portable, good hot or cold, and make for some impressive presentation. Feel good about eating your breakfast!
Cauliflower crust doesn't just come in the clutch for pizza. It also works brilliantly for encasing a gorgeous quiche. This one is loaded with ham, cheese, and asparagus for a tasty springtime meal any time of the day.
Experiment with the cauliflower crust, and you could pretty much adapt any quiche recipe to this one, making your favorite food combinations keto-friendly.
Mushrooms are a pretty classic addition to quiche, so of course we had to include this easy quiche in our roundup.
With a custard-like texture and umami mushrooms strewn throughout, this slice with minimal ingredients really lets each individual flavor shine and take the spotlight, including the creamy Gouda cheese blended in.
Each serving has just 5 grams of net carbs.
Inspired to eat breakfast now? We can't wait until the morning either! Remember – sleep is a time machine to the best meal of the day. Do it right, the low-carb way.
These keto quiche recipes are sure to pull you through a few weeks of meal prep. Enjoy!
Pin it for later from here
Music, mountains, dogs, travel, food and friends.