WHAT IS HAPPY BODY FORMULA?
Most people don't know how amazing their bodies can feel. That's why we created the Happy Body Formula – a powerful nutrition and lifestyle program to uncover your happy body.
DISCOVER THE POWER OF REAL FOOD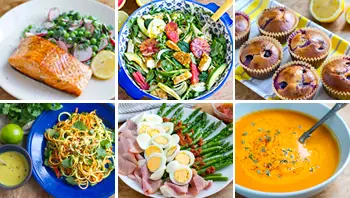 Fuel your body with 9 weeks of real food meal plans and delicious, easy to make recipes approved by our expert nutritionist.
DEDICATED COACH & ACCOUNTABILITY
Track your meals and progress with our own iOS app. Get guidance, feedback and daily motivation from your dedicated team coach.
JOIN OUR AMAZING COMMUNITY
Get the encouragement you need to stay on track with the support from our amazing private Facebook group and program coaches. Our community is our #1 priority.
Next program kicks off in January 2017
REGISTER YOUR INTEREST TO WIN 1 OF 5 FREE ADMISSIONS
+ Receive our program sample including the Start Guide, weekly meal plan & 3 recipes from the plan.
What Our Participants Have To Say
I have lost 7kg having been unable to do so for a few years despite trying other meal plans. I feel healthier and happier than I have for a long time. I am doing more and being more active in general. I'm so happy about all of that – thank you
I have not only noticed physical changes such as weight loss and clearer skin but I have also noticed mental changes. I have so much more energy and my sleep has improved so much. I feel happier and I look forward to the day. The meal plans and recipes are easy to follow and simple to prepare. Plus the app is a great way to track your progress.
The HBF provided me with the support and accountability to stay on track with healthy eating and living habits while traveling for four weeks. It was the first long vacation I've taken where I didn't gain any weight! Alex and Irena were very responsive to any questions and the camaraderie of the group kept me engaged in the topics as we worked through the program.
The Happy Body Formula has improved my health in more ways than I expected. My goal was to eliminate joint pain. What I got was a lot more; better sleep, more energy, greater confidence – overall a HAPPIER body.

For anyone looking to improve their overall health in a sustainable, informative, affordable and that fits easily in with everyday life, give the Happy Body Formula a go.
I was extremely happy with the program. My body was as well – bloating gone, digestion improved and overall I felt more positive. I loved logging my meals as it made me really think about presentation – which is a huge part of eating – liking the look of your meal. It also kept me accountable and stopped me straying from the program. 10 out of 10 from me.
HBF is a great holistic program that helped me eat healthier and feel better. It can be easily incorporated in busy work and social lives! Many additional topics are incorporated into the program and the team is great – support comes just at the right moments when you struggle!
Disclaimer: The results described here are the individual experiences and personal opinions of those who have purchased and followed the Happy Body Formula program. Please note that everyone's results differ during the program.
INSIDE THE PROGRAM
Here is a quick preview of what you will receive in the program
Eat Delicious Food
Weekly accessible shopping lists

Weekly easy to make meal plans

Approved by our nutrition expert

Exclusive simple to prepare recipes
Exercise Efficiently
Custom 20-minute daily exercise routines

Work out anywhere anytime

Minimal equipment required

Designed by our fitness expert
360° Lifestyle Improvement
Strategies to improve your sleep

Detoxify your home

Learn to reduce and manage stress

Create healthy habits
Track progress with our iOS app
Track your food and stay accountable

Tick off your to-do lists

See what your team is eating

Access meals and shopping lists
Coach support & motivation
Dedicated human coach

Get regular useful feedback

Maximum accountability and support

Weekly contests and prizes for motivation
Amazing Community
Vibrant and supportive community

Make new friends

Private Facebook Group

Daily motivations
A PEEK INSIDE THE MEAL PLANS
9 weeks of simple yet nutritious and delicious meals.
MEET THE TEAM
We're with you step by step for 9 weeks.
IRENA MACRI
HAPPY BODY FORMULA HOST
Irena is an internationally acclaimed real food cook and author. She draws on her love of world cuisines and all-natural ingredients to produce delicious recipes that promote wellness and longevity.
ALEXANDRA BARONE
HAPPY BODY FORMULA COACH
Alex is the official coach of the Happy Body Formula. She will guide you step by step for 9 weeks. Alex is known to change hair color every other week, loves real food, thrift shopping, vinyl, kettlebells and dogs.
SEBASTIEN DE BANDT
HAPPY BODY FORMULA HOST
Seb is the co-founder of MyPaleoPal, the #1 Paleo app. He is passionate about nutrition and how technology can help us become healthier and stronger.
MEET OUR EXPERTS
We've brought together world-class experts to contribute to the program.
JAD PATRICK
NATUROPATH & COUNSELLOR
CLAIRE YATES
NUTRITIONIST & AUTHOR
SCOTT GOODING
FITNESS EXPERT & HEALTHY CHEF
LEE HOLMES
HOLISTIC NUTRITIONIST 
DARRYL EDWARDS
MOVEMENT EXPERT & NUTRITIONAL THERAPIST
ERICA SONNENBURG, PHD
MICROBIOTA SCIENTIST
ALEXX STUART
LOW-TOX LIFE EXPERT
DR. ALESSANDRA WALL
PSYCHOLOGIST & LIFE COACH 
LARINA ROBINSON
WHOLE FOOD DIETICIAN
AMY CRAWFORD
CTC THERAPIST & BUSINESS COACH
HOW IT WORKS
Our 9-week nutrition, exercise and lifestyle program is led by a dedicated coach and is structured in 3 phases:
Week 1 Foundation: Get to know the program and prepare yourself for the next 8 weeks.
Week 2 – 4 Reset: We cleanse and recharge, while focusing on mindset, movement and sleep.
Week 6 – 9 Recalibrate: We reintroduce foods, while focusing on gut health, stress management, and healthy living habits.
WEEKLY STRUCTURE
The Happy Body Formula is designed around 9 weeks of food, exercise, learnings and community interaction.
REGISTER YOUR INTEREST
Register your interest

 in the next round of the Happy Body Formula
and go in the draw to 
WIN 1 of 5 FREE program admissions.
REGISTER YOUR INTEREST
+ Receive our program sample,  including the Start Guide, weekly meal plan and 3 recipes from the plan.
FREQUENTLY ASKED QUESTIONS
What is your nutritional philosophy? 
The nutritional guidelines underpinning the Happy Body Formula are inspired by real food, clean eating, paleo, and primal philosophies. We believe in clean, natural, nutrient-rich, anti-inflammatory and non-processed foods. We don't focus on labels, trends and buzzwords. The Happy Body Formula meal plan has been reviewed and approved by our qualified nutrition expert.
How will I be able to access the program's content each week?
You can access the Happy Body Formula content through multiple devices. Just choose what's most convenient for you:
Daily emails
Members-only website
Dedicated iOS app
Print out plans, guides and check lists
How does our 200% Money Back Guarantee work?
During Week 1 of the program you will agree with your coach on a safe, achievable and measurable target to achieve by Week 9. The target depends on your current age, weight, activity level and history. For example this could be "I want to lose 8 lbs" or "I want to gain more energy and sleep better".
Our guarantee is simple – if you don't reach that target by the end of Week 9, we pay you back twice the program cost.
All you have to do is show us that you are making an effort and follow our guidelines: the guarantee holds as long as you post at least 1 meal per day on our dedicated app or on Instagram, 6 days a week. Simple!
When do I start the program?
As this is a guided program, we recommend to start at the same time as other participants. The next program kicks off in January 2017.