Let's talk about stepping up your omelette game.
First thing's first: master your flip! Otherwise, these healthy omelette fillings will work well tossed in with scrambled eggs just fine. Next step: get creative. Egg dishes are the perfect vessel for more veggies, especially greens.
As a disclaimer, ALL of these combinations will take well to a handful of greens! An omelette is a blank canvas for a nutritious breakfast on the go or a brunch party spectacular.
Whether you're fueling up for a long day or entertaining, these dynamic duos (and trios!) will take your egg mastery to the next level.[/fusion_text][fusion_imageframe lightbox="no" style_type="none" hover_type="none" bordersize="0px" borderradius="0″ align="none" linktarget="_self" animation_type="0″ animation_direction="down" animation_speed="0.1″ hide_on_mobile="no"]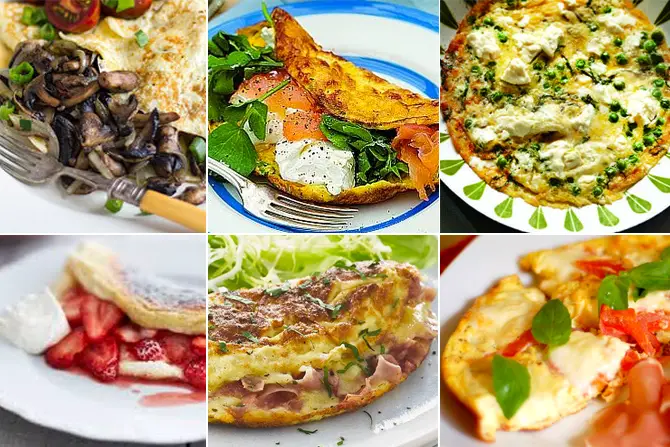 [/fusion_imageframe][fusion_text]
Peas & feta
Step into spring with this seasonally appropriate omelette. Frozen peas are budget-friendly and often a staple in the freezer. They're jam-packed with vitamin K, fibre, and vitamin B1 amongst other vitamins and minerals.
Feta adds an appropriate tang that complements these little legumes.
Take it a step further: If you're sensitive to peas, try asparagus or zucchini in place of them (or add some in addition). Pack a flavor punch with a few sprigs of fresh mint.
Try this fab looking pea, feta & mint omelette from Delicious Magazine
Sweet potatoes or butternut squash

Oftentimes, we serve starch on the side of our eggs. Think hash browns or buttered toast. Instead of bothering with the hassle of finely grating those potatoes, opt for healthier starches like sweet potato and butternut squash.
They're loaded with beta-carotene hence the orange color, and they both contain a fair amount of vitamin C. Butternut squash is far less starchy than potatoes and even sweets, so it's the perfect hash brown sub if you're watching carbs.
Take it a step further: Add in some fresh goat cheese if you tolerate dairy well. It will help bring out the natural sweetness in the veggies.
Try this roasted sweet potato & bacon omelette from Eat Drink Paleo
Avocado & salsa
Who needs chips when you have eggs? If you're feeling like tacos in the AM, these fillings can satisfy your craving for a big ol' burrito. Avocado will lend its healthy fats to help you feel full and energised throughout the entire morning, easily tiding you over 'til lunch rolls around.
Fresh salsa (props if it's homemade) will give it the kick you need. I also love Arriba fire roasted Mexican salsa.
Take it a step further: Add in some leftovers! Pulled pork, grilled chicken, or ground beef will complete your taco omelette. If you're feeling extra crazy, add a dollop of grass-fed sour cream or cheese.
Apples & almond butter
Omelette fillings aren't limited to just savoury items. If you're feeling pancakes but not feeling the effort it takes to make 'em – especially if you're trying to make a healthier version!
Fear not – a sweet omelette can nix your sugar cravings and fuel your morning the right way. Can't say the same for waffles, huh?
Chop up an apple and fry in a bit of coconut oil with cinnamon on top and place inside the omelette with a scoop of healthy fats from almond butter.
Take it a step further: Not sweet enough? Drizzle a little grade B maple syrup on top.
Salmon & cream cheese
Before you stop at the bagel shop on your way out the door, think about adding this combination to your omelette instead. Salmon packs in healthy fats, omega-3's and even a little vitamin D to make for a super-satisfying breakfast plate.
A few eggs in place of a carb-heavy bagel turns your standard lox into something a bit more diet-friendly. Use fresh salmon or smoked.
Take it a step further: Sprinkle some capers in there. If you don't tolerate dairy well, replace the cream cheese with 1/4 or 1/2 avocado to boost the healthy fats.
Mushrooms & onion
Get your fungus on! Mushrooms contain loads of health benefits (you can read all about Reishi mushrooms here) as they contain selenium, some plant protein, and loads of antioxidants.
A little red onion keeps this omelette straight-forward and simple. Prep mushrooms and onion ahead of time by roasting and slicing 'em to easily add them to any egg dish your heart desires.
Take it a step further: This combination is versatile taking to most varieties of cheese, other veggies, and fresh herbs quite well.
Ham and cheddar
Another easy, no-prep option is using some uncured, nitrate-free deli meat to spice up your omelette. This classic combination turns your eggs into something reminiscent of a sandwich.
Try sourcing cheddar from a clean and sustainable animal source, or use your favorite cheese instead. Provolone, swiss, and Pepperjack would make nice substitutions.
Take it a step further: Add in a handful of spinach to add some mighty green power and extra nutrients to your breakfast.
Strawberries & cream
Yet another sweet omelette! Berries and cream (and maybe a little chocolate) can curb your sweet tooth with this inventive omelette idea. Add fresh chopped strawberries to your omelette, and whisk your eggs with a bit of full-fat coconut milk for a dreamy, creamy egg breakfast.
You can also opt to whisk in a bit of raw cacao powder if you're giving into your inner chocoholic.
Take it a step further: Use frozen mixed berries and melt them down in a pan to make a luscious berry sauce for your omelette. Add some chia seeds which will thicken up, making it like a jam.
Brussels sprouts & bacon
The trick to learning to love brussel sprouts? Eating them with bacon! This side dish is easily prepared ahead of time during a batch cooking session. You can roast or sauté them together.
Shred the brussel sprouts for an easy addition to your omelette. They are an excellent source of vitamin C and vitamin K. And what's breakfast without bacon? Once again, fueling up with healthy fats should be a breakfast ritual.
Take it a step further: Add in a dollop of goat's cheese or cheddar to boost flavor.
Tomatoes & mozzarella
Turn your omelette into a caprese salad with eggs! There's nothing quite as dreamy as the simple Italian-inspired combination of tomatoes and fresh mozzarella.
You can also incorporate some roasted or sautéed eggplant into this dish to pack in the veggies first thing in the morning. Eggplant is rich in dietary fiber, vitamin B1, and copper.
Take it a step further: Drizzle with a quality olive oil and include fresh basil for a true Caprese feel. Oh, and don't forget the balsamic!
What are YOUR go-to omelette fillings and egg recipes? Share below!
Pin these ideas for later from here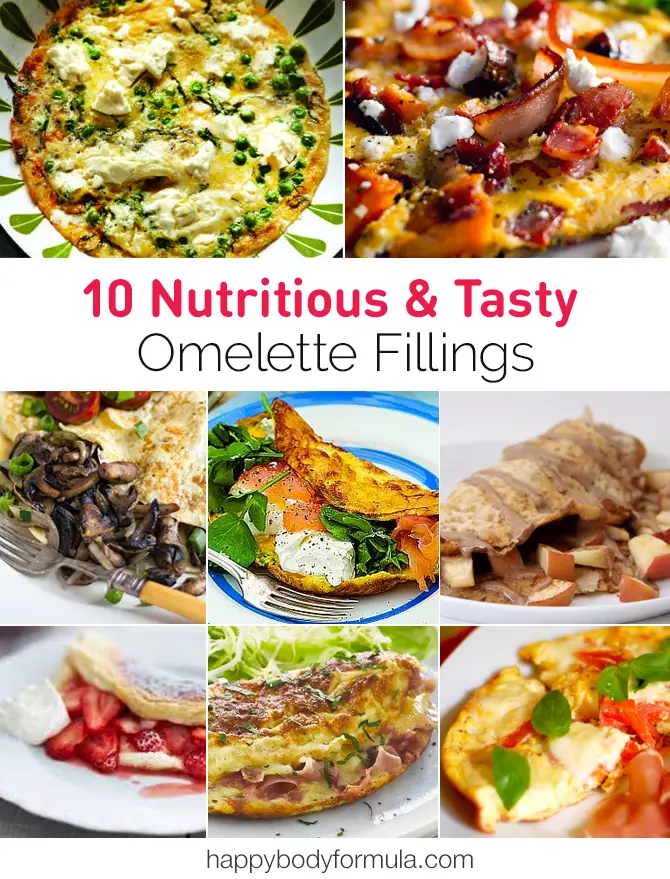 Music, mountains, dogs, travel, food and friends.