It's the most wonderful time of the year! The holidays are a time of giving and sharing, and that means giving and sharing food.
They're also prime time for indulging a bit too much and feeling your pants squeeze you a little tighter… and for good reason.
The goodies that show up all over the place throughout the season are too good to resist sometimes, and when we're relaxing with family and enjoying some time off work, it only makes sense to reach for those comforting classics that remind us of cosy Christmas mornings at our childhood home.
We can still make good choices, though. If you're entertaining or bringing food to the table for holiday festivities this year, we've got some healthy dishes for you to consider instead!
These paleo Thanksgiving and Christmas recipes recreate the seasonal table staples without grains, dairy, or sugar. We've got everything from the starters to the sides to the mains to make your menu planning easy this season.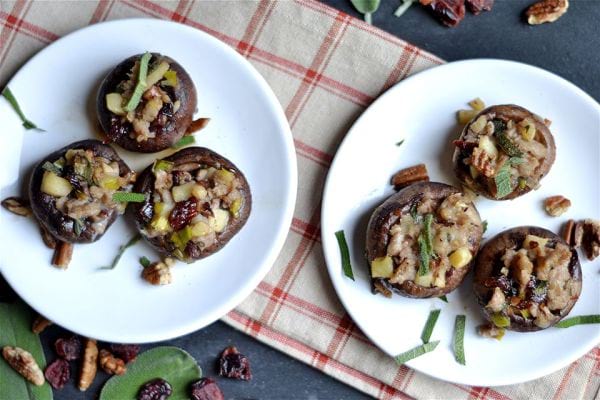 The appetisers are the most important part, right? Everyone shows up to the party hungry! Provide some finger foods like these sausage and cranberry-stuffed mushrooms, garnished with fresh sage for a festive bite before the rest of the food shows up (and watch them disappear!).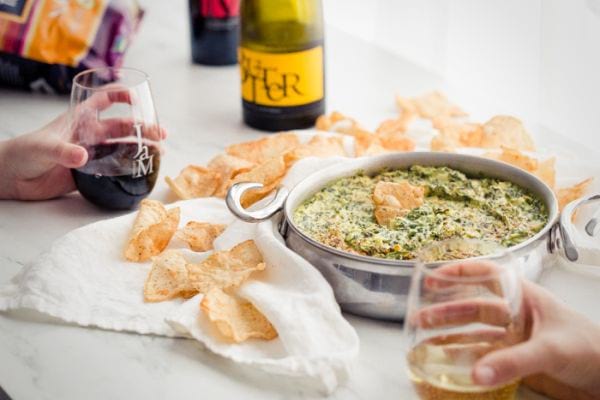 Every party needs a good dip, and spinach and artichoke dip is always the best choice. It's the one I look forward to the most during the holidays!
It's perfect for dipping veggies, gluten-free bread, seed crackers, or chips into. This version is dairy-free, vegan, and paleo so everyone can enjoy it without the bellyache.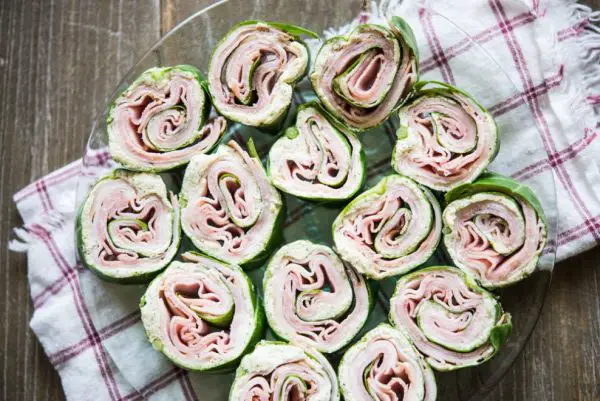 Pinwheels are a great finger food to have on the table. They're light enough to snack on without ruining your appetite, and you can make a few different varieties with ease.
These forgo any grains, instead utilizing a handy lettuce wrap for the pinwheel effect – and they're every bit as awesome!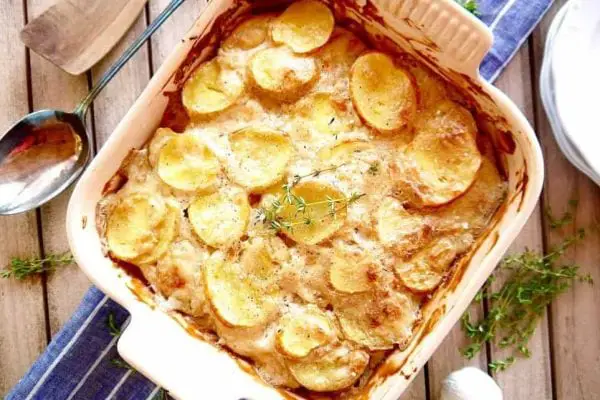 Potato dishes are such a winner at holiday parties. Potatoes au gratin are often heavy and rich, boasting large amounts of cheese, butter, and cream.
This is a lighter version using coconut milk to make it creamy instead, and the rest is history. It's baked to perfection for that classic comfort food your guests will devour every last bite of.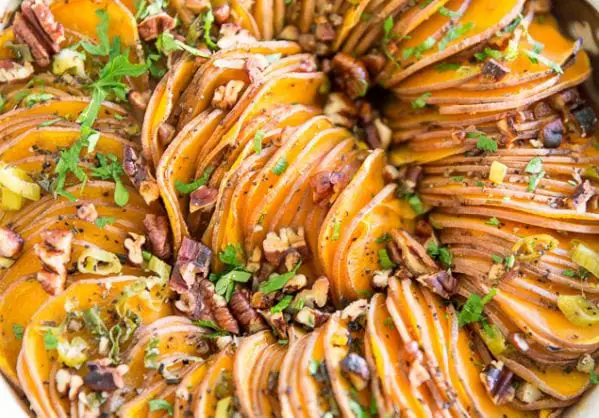 If sweet potatoes are your jam, this stunning ring of them is the recipe for you. It's baked with a sticky sweet maple syrup glaze, topped off with pecans and fresh rosemary.
Melt down some ghee on top to really help the potatoes cook down and blend with the maple flavor for a simply stunning side that will look fantastic as the centerpiece of any table.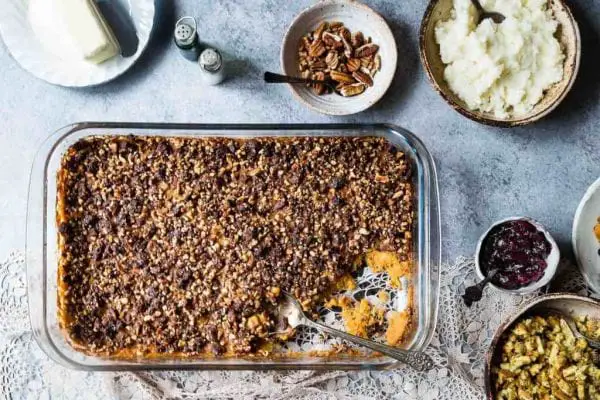 Maybe you're more of a purist when it comes to the sweet potato side dishes. If so, you'll be happy to know this casserole is free of all the junk.
It's sweetened with apples and applesauce, topped off with a crunchy and chewy pecan-date crust for that perfect bite. No refined sugar or added sweetener? This is a winner!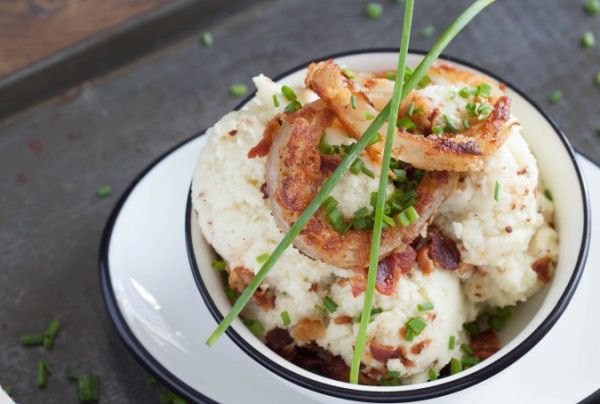 Potatoes are good and all, but there tend to be quite a few starchy dishes at the holiday table. Mix things up with this loaded 'faux-tato' mash made with cauliflower instead.
It's dairy-free and low-carb, packed with goodies like bacon, onions, and chives. It's made rich with egg and ghee so you can skip out on the heavy cream while still getting great results.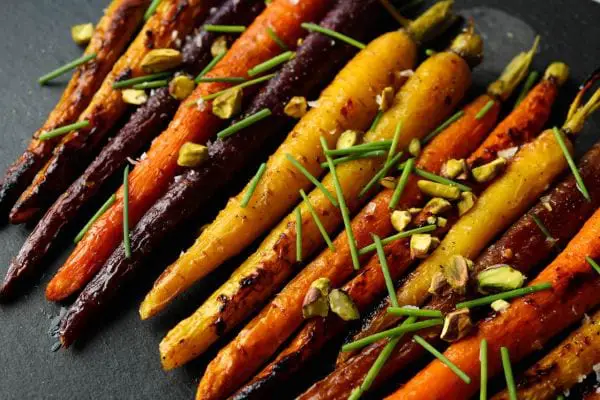 There's no display quite like a rainbow of fresh carrots glazed with maple and dijon, topped with crushed pistachios. Roasting them whole, low and slow brings whole new life and depth to the flavor with perfect, melt-in-your-mouth texture for a shining star on the sides table.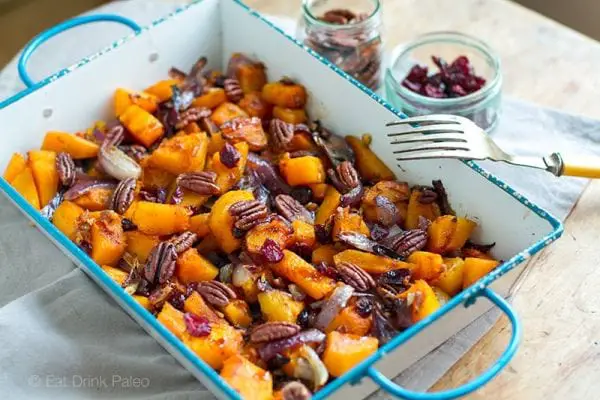 Break out some pumpkin or some butternut squash for a simple roasted recipe folks will enjoy, topped with pecans and cranberries. This is a one-pan affair so it won't add to the natural stress of the holidays, and you can add other garnishes or veggies to the dish with ease to bulk it up.
This is a great way to serve seasonal squash if you're looking to switch things up from potatoes.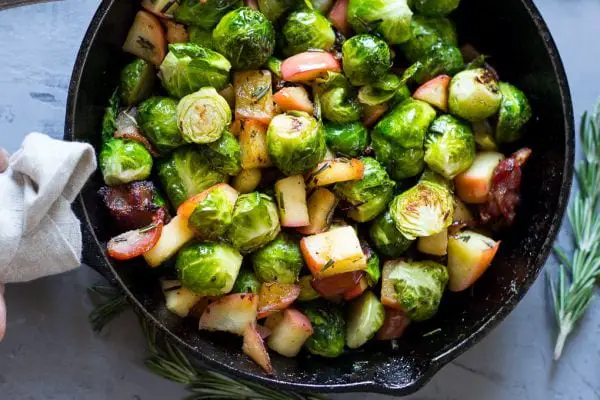 With all the meat, starch, and sweets, we need a little greenery. Cruciferous sprouts are a seasonal favorite, especially paired with cooked apples and bacons keeping things both sweet and savory in this addictive veggie side dish.
Embrace the fall harvest and bring something truly nutritious to the table this year.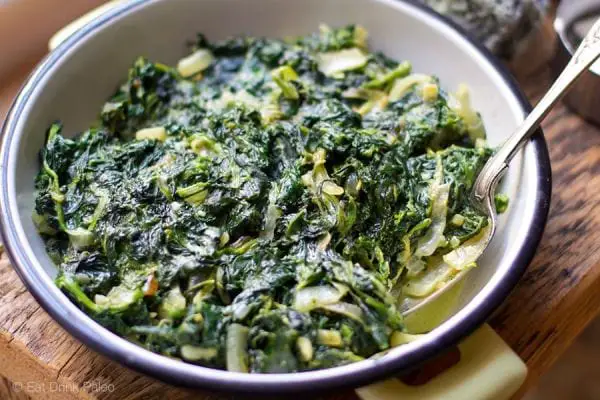 Creamed spinach pairs well with everything. It's a surefire way to get people to eat their greens, often blended with cream for a rich and hearty side to any meat dish.
This recipe boasts the texture and flavor you love without going heavy on the dairy. In fact, it's entirely dairy-free and it's still darn good.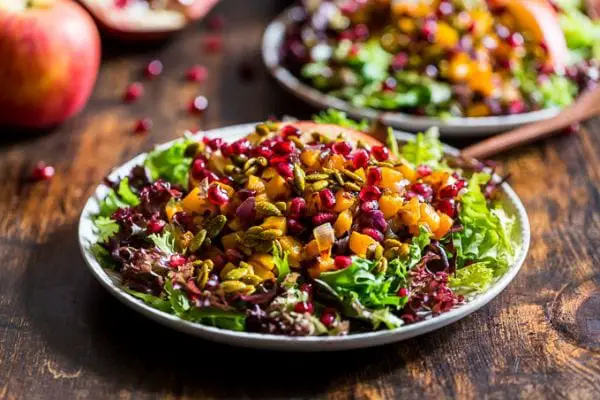 Salad is always welcome during the holidays. When it comes to picking and choosing sides, having something light and appetizing is perfect for saving room for the main courses, and this autumnal salad fits the bill.
With tender roasted butternut squash, tart pomegranate arils, sweet Honeycrisp apple, crunchy pepitas, and a curry dressing, this is a unique recipe to bring to the table.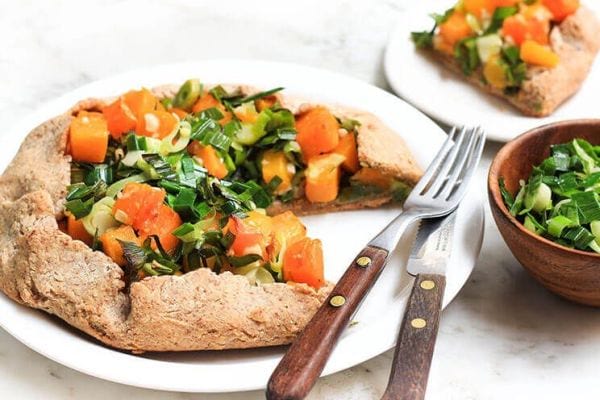 Galettes bring beautiful presentation to the table in a rustic way, and you can easily double the recipe by cooking it on a large pizza stone or sheet pan.
This grain-free crust holds chard and butternut squash for a delightful way to get in veggies and delicious crusty bread all at once.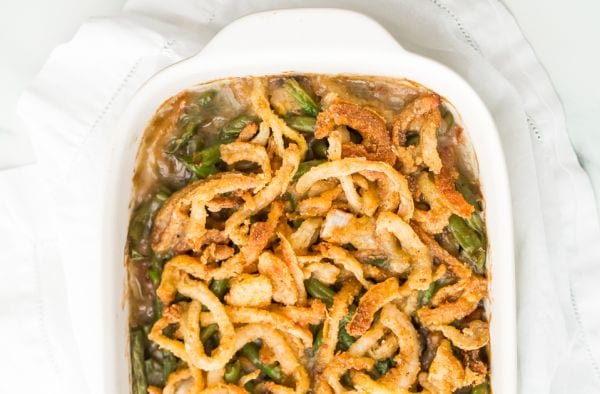 Green bean casserole is another favorite during the holidays. Let's get real – you don't make it any other time of year!
It takes a lot of effort to make this one healthy, working up the cream of mushroom soup and fried onions for the topping from scratch, but the results are worth it. This definitely doesn't taste like it comes from a can!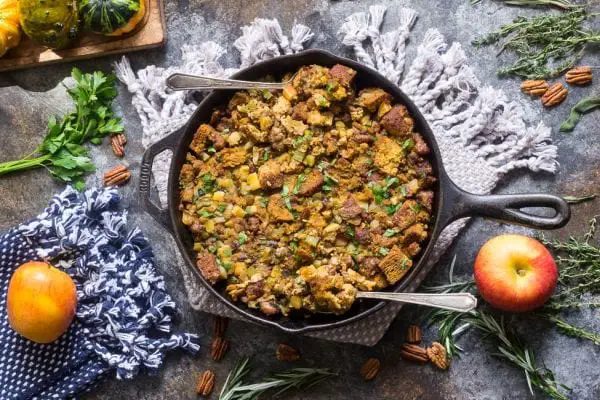 What do you get when you combine two of the most arguably delicious foods of all time? This, of course. Cornbread and stuffing are a match made in heaven, and people will adore this paired with their turkey and gravy.
It's packed with all the goodies including bread chunks, sausage, veggies, fruits, and nuts. It's the only stuffing recipe you need, and nobody's going to ask where the gluten is…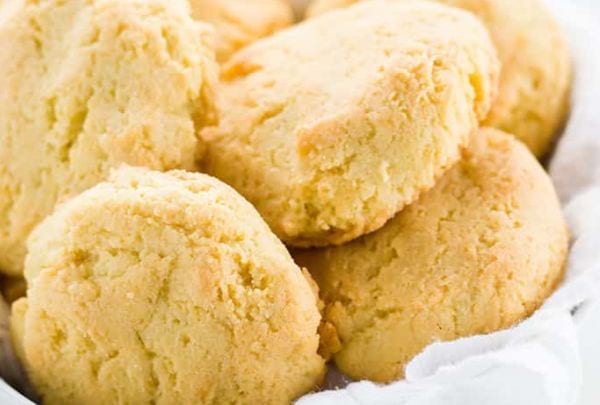 We all know there must be a dinner roll at the holiday table. How else do you soak up the gravy and delicious sauces from all your meals?
Serve these grain-free, low-carb rolls hot out of the oven for dinner with fresh grass-fed butter or ghee for a real treat. Crispy and flaky on the outside, and fluffy on the inside, these will be gone before you know it.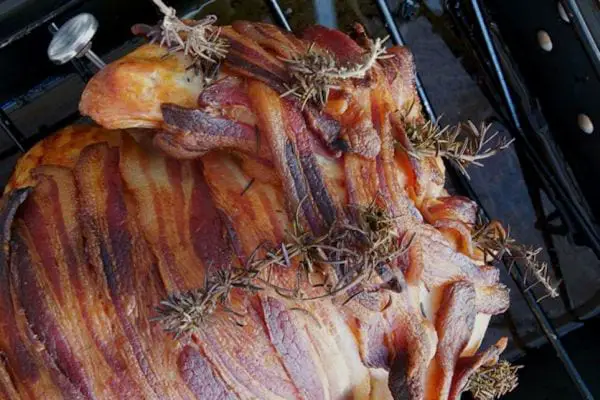 If you really want to impress people with the main dish this holiday season, this is the only recipe you need. The turkey begins with a beautiful brine that brings it to life and ensures a tender, juicy final result.
Then, you'll wrap it in bacon for a little extra goodness. The crispy, smoky weave infused with paprika and fresh herbs will blow your guests away before they even get a taste of it.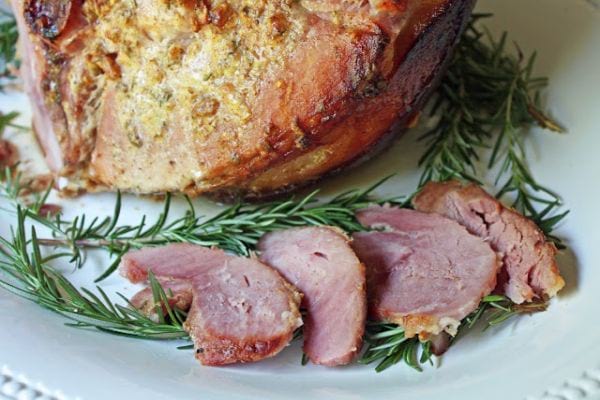 Ham is another fabulous choice for either holiday. Unfortunately, many of the glazing and cooking options add a ton of sugar. Save the sweets for dessert, and opt for a low-carb cooking method.
This juicy ham gets its flavor from mustard and fresh rosemary with no added sugar – even from fruit juice. Grab a smoked ham, and this is super simple to make.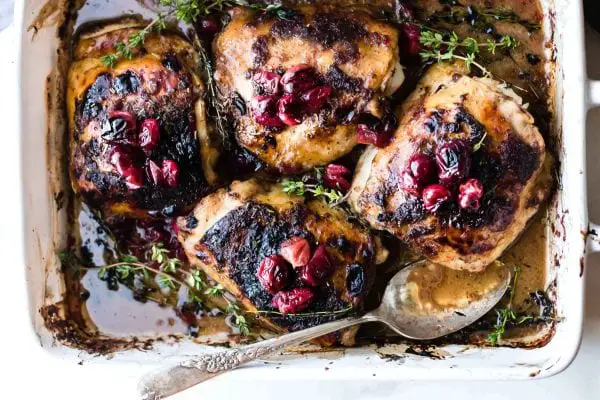 You know how many pans it takes to curate a holiday dinner, so with open arms, we welcome a one-pan entree that guests will love.
It's a humble way to do a protein dish without the fuss of cooking a whole bird, infusing classic holiday flavors with seasonal cranberries and tangy balsamic for a sweet marinade that turns into a thick sauce without much additional effort.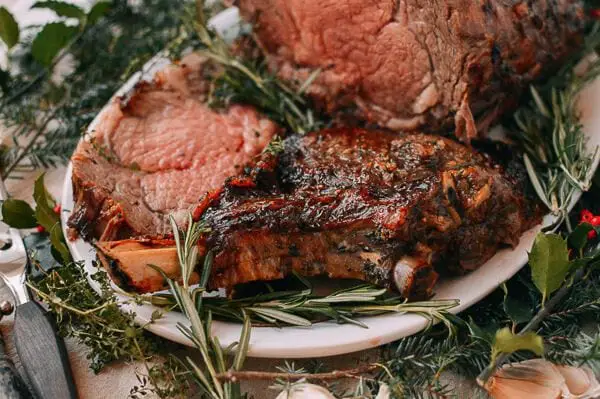 Perhaps you like the finer things in life, and you also like treating your guests. There's no better time to show your loved ones just how much you love them than during the holidays, and a perfectly roasted standing rib rack ought to do the trick.
All you need is a good marinade and a good roasting technique, and the layer of fat on top does the basting and flavoring for you.
The Happy Body Formula team wishes you and yours a happy and healthy holiday season! We hope you found some inspiration for all your cooking endeavours. 
Pin it for later from here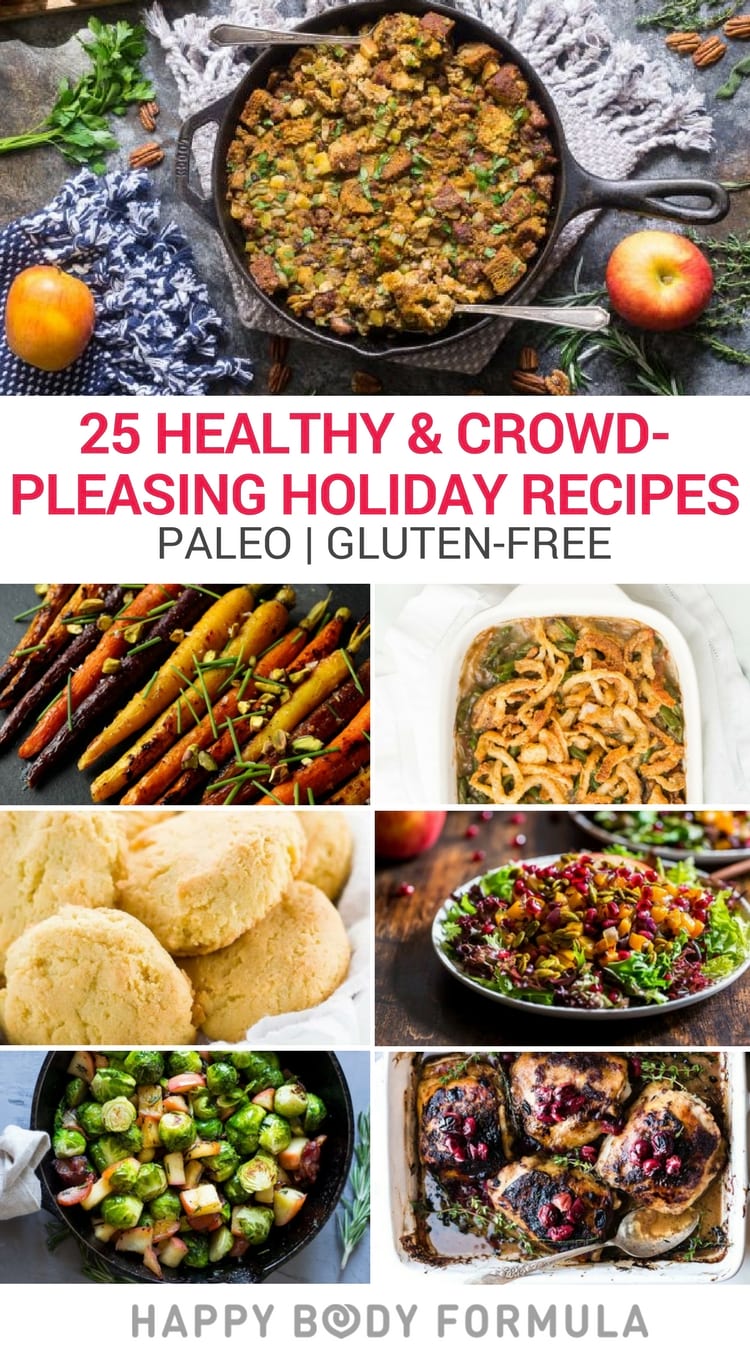 Music, mountains, dogs, travel, food and friends.