Sweet, sweet summertime. The sun comes up, the temperature rises and our tastebuds begin to crave fresh seasonal foods. We steer clear of hearty soups, stews and roasts in favor of lighter fare.
Seafood, BBQ meats, green salads and the occasional scoop of ice cream. Juicy summer berries, tropical flavors, summer squash and greens in abundance – we can often head to the garden for a little dinner inspiration.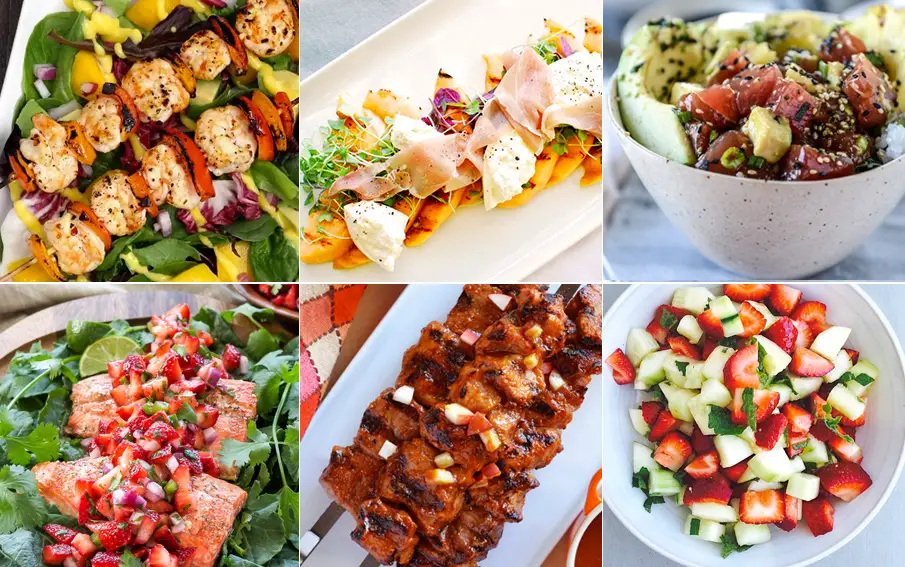 Today, we're rounding up 20 of our favorite summer meals. These warm-weather dishes are healthy and suitable for every taste.
Whether you're dining al fresco on your own or hosting summer parties, you'll find some healthy dishes to add into rotation for the season. Pin for later from here.
Seafood summer meals
Nothing quite says summer like fresh, wild-caught seafood. From tuna to prawns – cooked to grilled – we've got plenty of fresh and light ideas for a protein-packed meal to keep you fuelled up on the sunniest of days.
Grilled shrimp & mango salad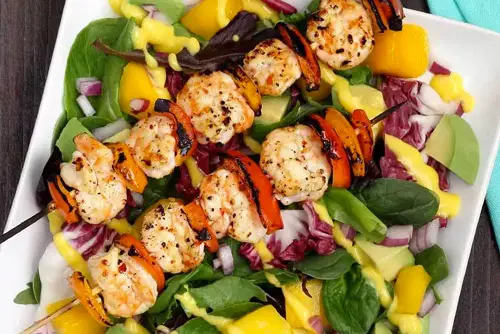 Mango and shrimp is an underappreciated combination, but you'll quickly make this a summertime staple. Ripe mangoes in season and shrimp on the BBQ means this salad is quick, easy and totally satisfying. Get the scoop on this salad from Paleo Newbie.
Bay scallop ceviche with mandarin oranges
Ceviche can make you feel a little fancy, so it's a great dish to whip up at the end of a long week. Enjoy this citrusy seafood toss-up whilst dining al fresco for the best results. Get the deets on this delicious dish from Meatified.
Ahi poke bowls with pineapple & avocado
If you can swing a splurge, sushi-grade sashimi should be at the top of your grocery list. Known as the Hawaiian staple, these poke bowls pack in a rainbow of nutrition with sweet pineapple and creamy avocado for a loaded salad you won't be able to get enough of. Get the recipe at How Sweet Eats.
Grilled salmon with strawberry-jalapeño salsa
Salmon is always a good choice. It's even better when you've got some salsa to pile up on top. Spicy jalapeño lends the strawberries a nice kick that pairs exceptionally well with a little smoke from the grill. This dish is one for the books; get it here from Recipe Runner.
Summer salads
Nothing is easier to make than a salad, and gone are the days of iceberg lettuce piled high with lacklustre toppings. While summer tends to steer us away from slaving over a hot stove, we need healthy options that require minimal heat. These colourful salads fully embrace in-season produce.
Halloumi, asparagus & strawberry salad
Raw asparagus, fresh basil and crispy fried halloumi? It doesn't get much better than this. Sliced strawberries bring in a pop of colour and sweetness. This dish has an uncanny simplicity to it while being far-from-boring. Get the recipe from Well Nourished.
Strawberry mint salad
Fresh herbs are a huge component to making meals truly stand out, and this is especially true when the herb garden is in full bloom. Mint grows like a weed, so we've got to put it to use somehow. Try this fruity salad from AIP Lifestyle.
Grilled cantaloupe & burrata salad with prosciutto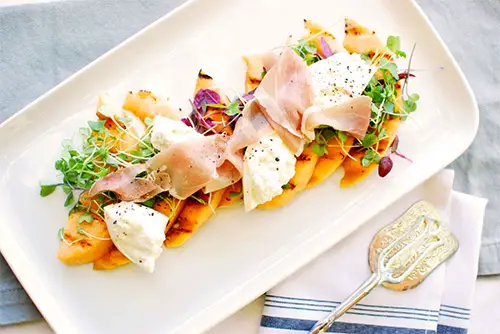 With just five ingredients, you can whip this dish up quicker than you can eat it. With the glorious toss-up of prosciutto, fresh melon and a bit of burrata cheese over micro greens, this humble dish is dressed to impress. Snag this recipe at Nourish RDs.
Sweet summer salad with lemon-honey chicken
Throwing chicken on a bed of greens is good enough in a pinch, but the dressing for this bowl takes things up a notch. With a stellar lineup of ingredients including dates and summery peach slices, you'll be blown away by the explosion of yumminess in this recipe from Perchance to Cook.
On the BBQ
While many hot meals and meats can easily be taken outside to get your grill on, these dishes are truly meant for the open flame. Summertime dinners are meant to be infused with that smokey flavour and served on a stick.
Peachy pork-a-bobs
Peaches and pork come together for this skewered delight. This recipe actually uses pork shoulder which is often reserved for pulled pork, but this is the exception!
Sweet and savory, you'll get juicy bits of peach with every bite and the BBQ sauce recipe is sweetened with the fruit. Get full instructions from Nom Nom Paleo.
Grilled BBQ short ribs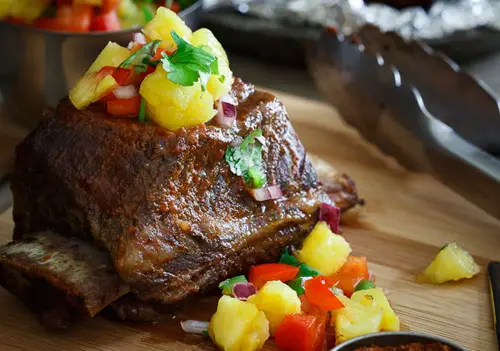 Fire up the grill and throw on some short ribs. A long, slow cook will give you fall-off-the-bone meat that's worth the wait. Oh, and don't skip the grilled pineapple salsa! Find the scoop on this meaty magic from Running to the Kitchen.
Marinated summer veggies & sausage
Sometimes, it's all about the veg. With a big enough BBQ, you could prep veggies and sides for the entire week in a flash. With a tasty marinade that will please the tastebuds and hearty sausage, this is a great option for weeknight dinners. Get the deets at Whole and Heavenly Oven.
Cilantro-lime grilled watermelon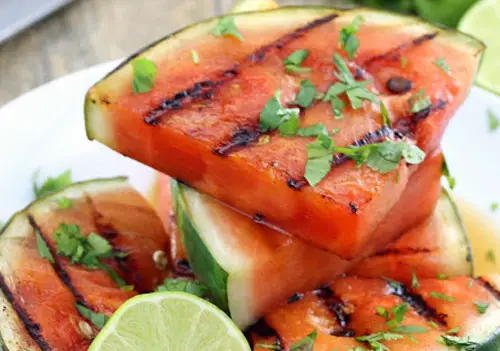 Fresh coriander (aka cilantro) and lime? Yes, please! This combo isn't just great for a guac. By the way, if you haven't grilled up some juicy watermelon slices, DO IT! Get this insanely simple recipe from The Stay at Home Chef.
Grilled pineapple burger with curry cashew cream
Sure, burgers are a huge hit in the summertime – there's no denying that! It's easy enough to slap it on a bun with some ketchup and mustard, but we like to think outside the box here.
This recipe includes thick slices of grilled pineapple and a creamy cashew topping for a unique spin on the BBQ staple. Get the full recipe from Food Faith Fitness.
Perfect summer veggies
Sometimes, the main dish figures itself out. The real question is, "What to serve on the side?" These dishes make great choices for meat-free Monday, a quick snack or scrumptious party dishes to take to summer potlucks.
Garlic & herb butter grilled radishes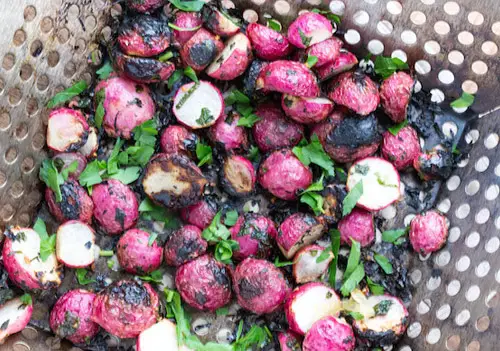 Radishes are a farmer's market staple in the summer, but they're sorely undervalued. While raw radishes are more popular in salads and whatnot, their taste can throw some off.
A good char on the outside from the grill takes down the bitterness and spiciness. Test out this grilling method from Greens 'n' Chocolate.
Grilled lemon butter asparagus
Butter and lemon are all you need to get something quick, healthy and green on the table in a flash. With a flavour that is fresh and zesty, these veggies won't disappoint. Find the recipe here from the Cookie Rookie.
Baked sweet potato fries with avocado dipping sauce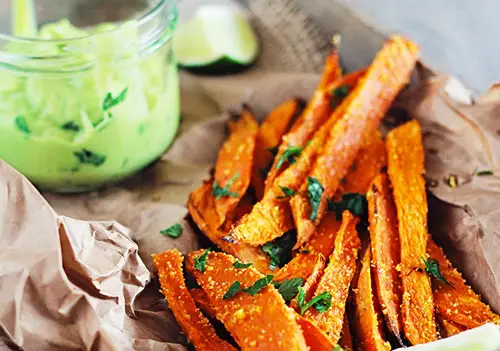 You know what pairs exceptionally well with a burger? Fries, of course! This time, we're keeping it a bit healthier. Opting for sweet potato puts you ahead of the curve.
The lovely avocado dip packing in loads of fresh herbs is the cherry on top. Find out more at Detoxdiy
Sweet treats
Summer has us craving a certain kind of treat beyond chocolate and vanilla. We're talking about fresh, ripe fruit straight from the farmer's market and ice cream, of course. So, let's talk berries, stone fruit and triple-scoops.
Quick & easy peach sorbet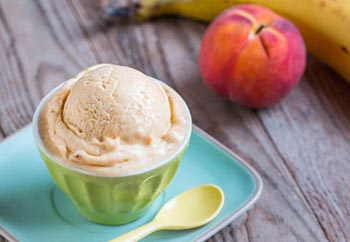 Ice cream? Check. Fresh peaches? you got it. This combines two of summertime's most classic joys in one without the hassle of obscure ingredients. Get this three-ingredient recipe from Rubies and Radishes.
No-bake key lime pie shooters
Bottoms up! These shooters are as tasty as they are fun to share with friends, and they make the perfect light dessert to beat the heat with. Grab this recipe from Meghan Birt.
Blackberry & blueberry cobbler
If ice cream and key lime aren't calling your name, an ooey-gooey baked good might just do the trick instead. Berries grow in abundance all summer. Pick 'em fresh and whip up this simple cobbler from Bakerita.
Kiwi pops
Popsicles might bring you back to childhood, waiting patiently to hear the sounds of the ice cream truck coming down the street in your neighborhood.
These pops ditch the ice altogether and opt for fresh fruit dipped in chocolate. Bite into this super fun combo from Lexi's Clean Kitchen.
Share your summer staple recipes with us below!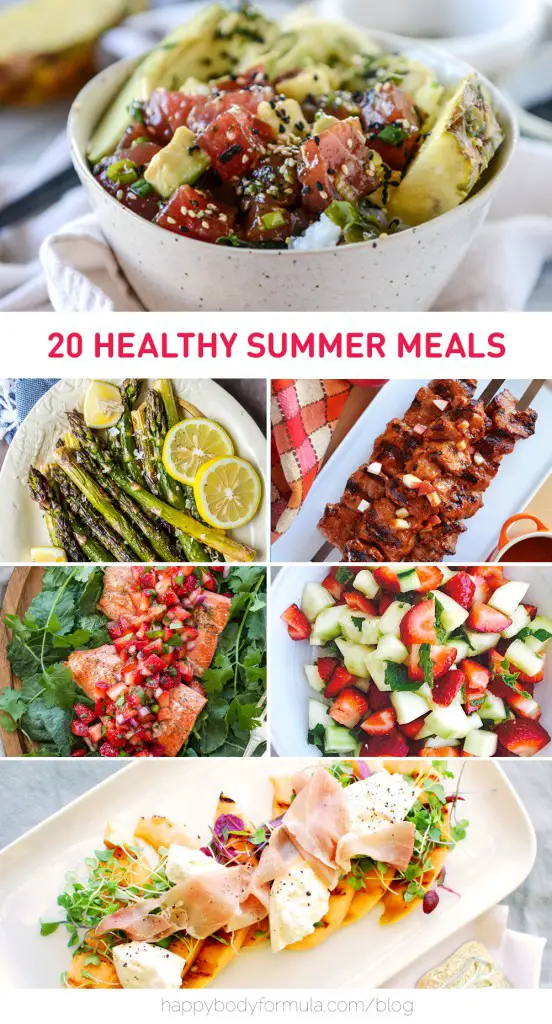 Looking for a way to prep your meals ahead of time? Check out the 7 Day Make Ahead Meal Plan. 3 hours of batch-cooking + 5 days of healthy eats!
Music, mountains, dogs, travel, food and friends.