Today's round up is all about making tasty and (mostly) guilt-free ice cream and sorbet recipes using a high performance blender like the Vitamix. We believe healthy eating includes dessert sometimes, and at that rate, it's all about finding clean options.
---
We know that many of you own this wonderful machine so we searched around to find the most appealing Vitamix ice cream recipes on the web. Of course, we'd also like to encourage you to make up your own recipes, but it's good to learn the ropes and the framework. That way, the sky is the limit.
If you want power, the Vitamix is a necessary kitchen gadget. It's expensive, sure, but it's a fantastic investment if you can swing it. It blends soups effortlessly, processes foods without a hitch, makes delicious smoothies you won't even know there are kale in and… it makes ice cream! Its blending abilities are untouchable.
We have lots of healthy options including paleo Vitamix ice cream, no shortage dairy-free ideas, vegan recipes, raw warm-weather treats and more that you can simply make in your blender. It's nothing short of a modern day miracle. Let's get drooling!
Fruity Vitamix Ice Cream and Sorbet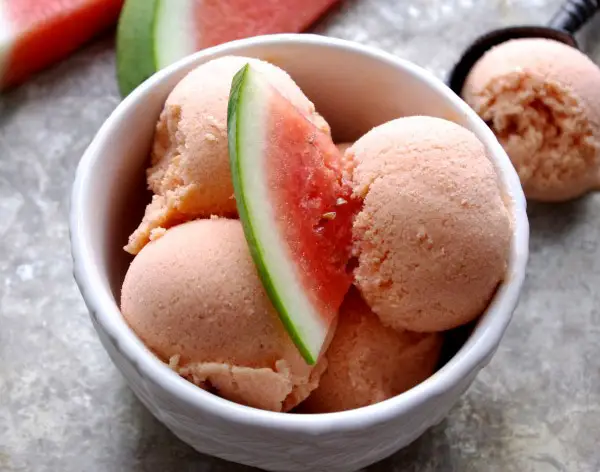 Watermelon Coconut Ice Cream from Nutritionist in The Kitchen (vegan, gf, paleo, dairy-free)
Watermelon is THE summertime staple. It's good and juicy on its own, but it's especially refreshing in ice cream form. It's full of healthy vitamins, and it's one of the most hydrating foods, so this is a justifiable indulgence on the hottest days that won't weigh you down. Top with fresh watermelon chunks for the best results or sprinkle with a hint of sea salt.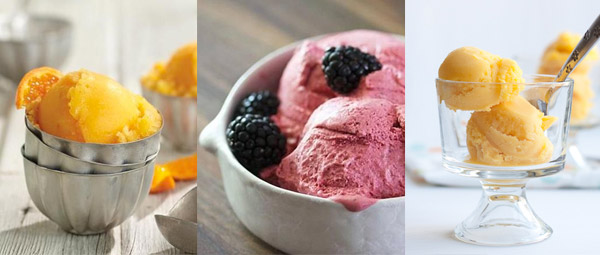 Orange Sorbet from Raw Blend (vegan, raw, dairy-free)
Get your citrus ON with this vibrant, sunshine-y sorbet. It's jam-packed with vitamin C so you can feel good about eating it – y'know, for the immune system! Who wants a cold in the summer? With just three ingredients, we're pretty pumped about this one. Sorbet might even be easier to make than ice cream.
Raw Berry Delight from Raw Blend (raw, vegan, dairy free, paleo)
If berries are your thing, this ice cream is a great idea. Those fresh, summetime farmer's market berries need to go to good use anyways. You know how many you end up with for just a few dollars! It's sweetened with dates, and the small touch of cinnamon adds some big flavour in the scoop.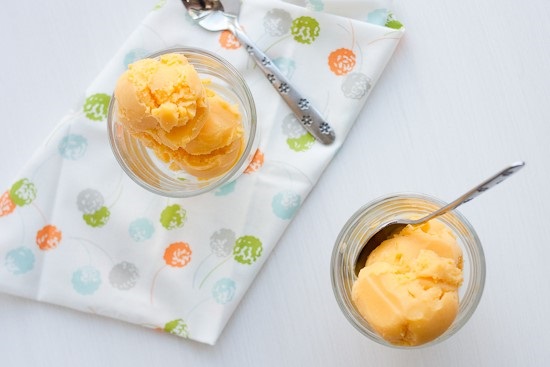 5-Minute Mango Sorbet from Perry's Plate (raw, vegan, dairy-free, paleo)
You had me at "ice cream in 5 minutes." It's easier than going to the grocery store, and it's certainly healthier. Mango is delectable, juicy and sweet when it's in-season, so it makes an ice cream that takes on many of the same qualities.
Pineapple Coconut Ice Cream from Super Healthy Kids (dairy-free)
If you like pina coladas… well, you'll probably love this. This is made for some good ol' poolside indulgence.
The Classic Flavours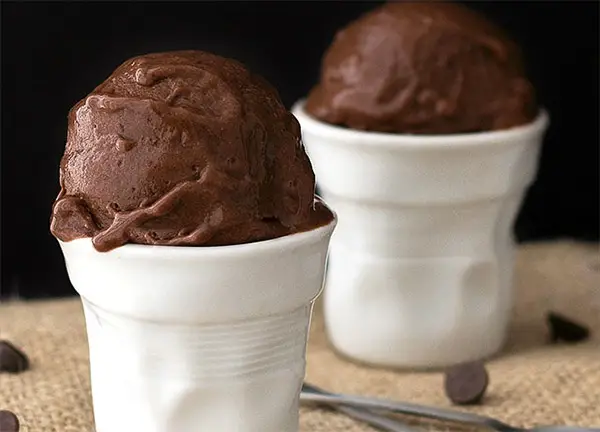 Chocolate Banana Ice Cream from As Easy As Apple Pie (raw, vegan, paleo, dairy-free, gf)
Chocolate and banana go together like peanut butter and jelly. Maybe even better, actually. This Vitamix chocolate ice cream recipe contains just two ingredients – can you guess what they are? Bonus: you probably have them handy right now.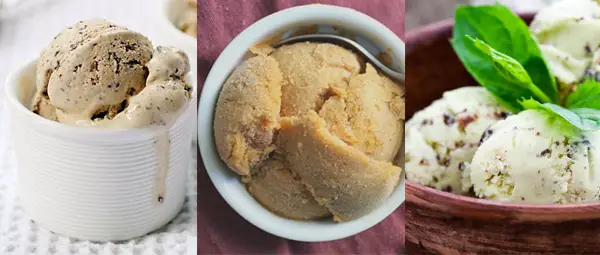 Coconut Chocolate Chip Ice Cream from Elana's Pantry (paleo, dairy-free, vegan, gf)
This ice cream boasts eggs and coconut milk for both healthy fats and protein. I mean, you could even have dessert before dinner or call this a meal altogether (we won't tell anyone!). Plus… coconut and chocolate? Yes, please.
Pumpkin Pie Ice Cream from Vegetarian Ventures (vegan, dairy-free, paleo, gf)
Even during the off-season, those cravings for pumpkin spice hit hard. If the weather isn't exactly sweaters and boots yet, this cool treat is totally acceptable year-round. Pair up with a fresh sprinkle of cinnamon and nutmeg, your favourite crunchy nuts or homemade granola.
Clean Mint Choc Chip Ice Cream from Blender Babes (vegan, raw, paleo, gf, dairy-free)
Raise your hand if mint chocolate chip is your FAVOURITE. It wouldn't be an ice cream recipe roundup without a variation of the stuff. This is dairy-free, sugar-free and totally good for you. Dig in.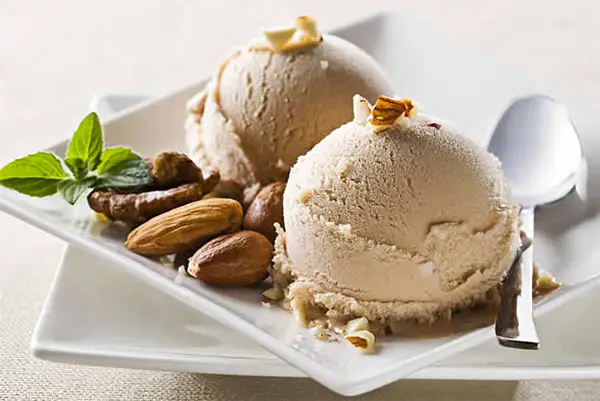 Dairy-Free Hazelnut Ice Cream from Blender Babes (dairy free, gf, vegetarian)
Hazelnuts are one of the healthiest nuts, and they're pretty delicious. Slightly buttery with great crunch and flavour that just asks to be turned into dessert, this dairy-free ice cream is perfect. Plus, it's just three ingredients and it's easy considering the secret to the taste is flavored coffee creamer! We like this one from Nutpods which is also sugar-free.
Seemingly Naughty But Nice Vitamix Ice Cream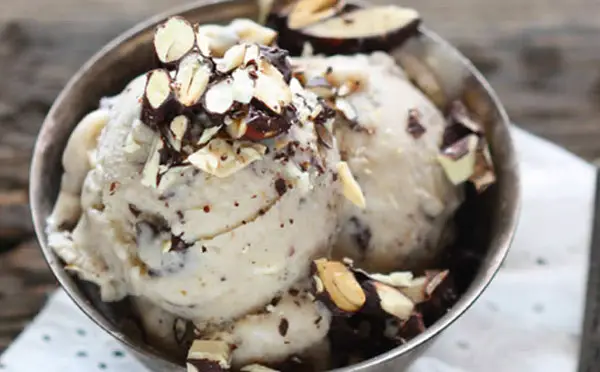 Paleo Swiss Almond Ice Cream from Blender Babes (dairy-free, gf, paleo, vegan)
This stuff is totally off the chain. The base contains a creamy blend of coconut milk and ooey-gooey dates, lending their natural sweetness as nature's candy. It's topped off with salted, chocolate-covered almonds for a little crunch – basically, the best dessert flavour explosion known to man. Who could complain about extra chocolate?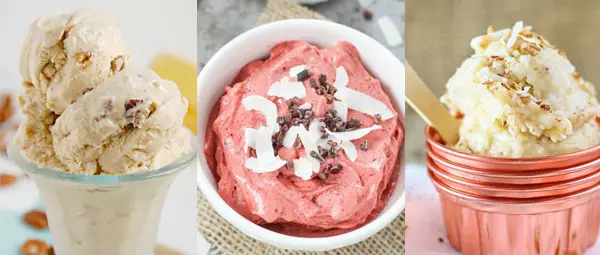 Caramelized Banana Pecan Paleo Ice Cream from My Natural Family (paleo, vegan, dairy-free, gf)
Bananas are sweet enough, but caramelised? It. Gets. REAL. The process brings out all of those natural sugars to make this ice cream feel ultra indulgent. You won't even know it's healthy. Paired with pecans, this ice cream is going to feel rich and sometimes, that's just what the craving calls for.
Cherry Coconut Ice Cream from The Casual Craftlete (paleo, vegan, raw, gf, dairy-free)
Frozen cherries are a beautiful fruit to use while making Vitamix ice cream. Their texture is fantastic, you can get them year-round at perfect ripeness and the colour is just stunning. Paired with coconut, this recipe is a winner.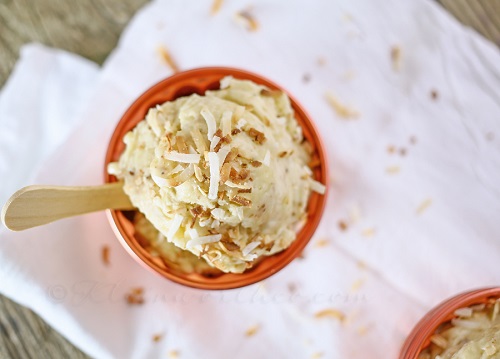 Toasted Coconut Banana Ice Cream from Klein Worth Co (paleo, vegan, dairy-free, gf)
Put the banana in the coconut and mix it all up! A little bit tropical and a whole lot of tasty. We love the addition of toasted coconut here, which makes all the difference. What is your favourite ice cream topping?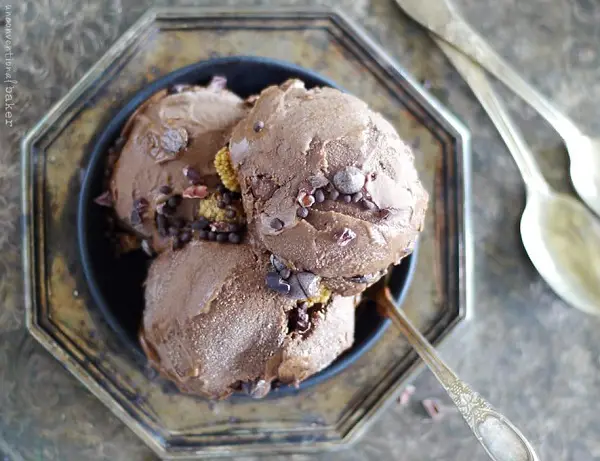 Raw No-Churn Sachertorte Ice Cream by Unconventional Baker (raw, vegan, paleo, dairy-free)
Sachertorte a.k.a. apricot and chocolate may seem like an odd combo, but believe us – it's not! It's delicious… that's what it is. If you're looking for something unique, here's your scoop.
Something Different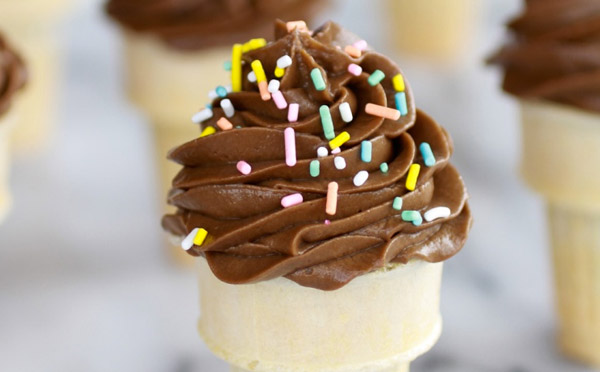 Creamy Avocado Chocolate Soft Serve from Half Baked Harvest (gf, can be made vegan and paleo)
You think avocados don't belong in your ice cream? Think again! You won't even know that's what it's made of. Their healthy fats lend flavour and that buttery goodness that makes this soft-serve possible. This has to one of the healthiest Vitamix chocolate ice cream recipes you can make.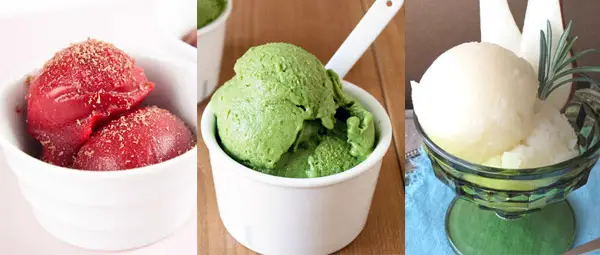 Cherry Zinfandel Sorbet from Blender Babes (vegan, paleo, gf, dairy-free)
Naughty and nice? We dig it. If you feel like combining your evening glass of wine with dessert because you deserve it, this is the jam. You know what they say – double the wine, double the fun. Serve this one up for a special occasion. It has anniversary dinner written all over it.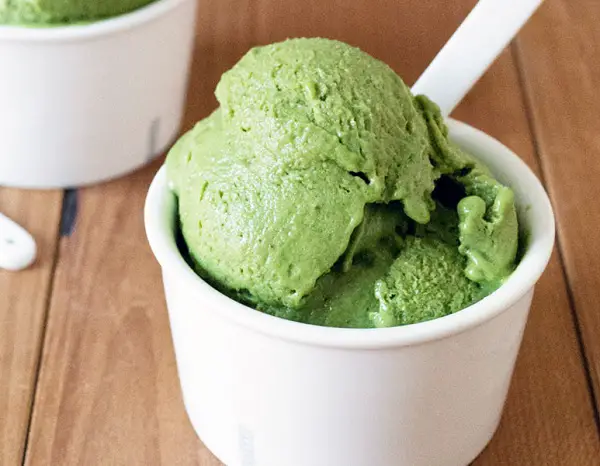 Matcha Green Tea Banana Ice Cream from Oh How Civilized (vegetarian, gf)
Matcha is an amazing-for-you green tea blend with loads of health benefits and antioxidants PLUS a natural energy boost, so it's no surprise we're advocates for adding it to your dessert! This one could even be a healthy afternoon pick-me-up.
Rosemary Pear Sorbet from Empowered Sustenance (paleo, vegan, dairy-free, gf, AIP)
Fresh herbs are often underestimated in sweet dishes, but the subtle sweetness from pear with a burst of very fresh flavour from rosemary is something you can't knock until you try. It's the perfect autumnal mix when the fruit comes in season, but you can still pick from the herb garden. We love this one to serve at a dinner party.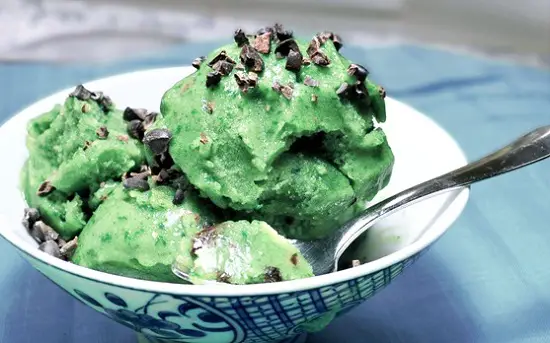 Spinach & Mint Ice Cream from Chocolate Covered Katie (raw, vegan, paleo, gf, dairy-free)
Spoiler: you won't know there are veggies in here! Instead of artificial colouring found in many mint ice creams, this one has got that au naturale thing going on with a healthy handful of spinach – plus all those vitamins, minerals and fibre! Consider this green smoothie status in our books.
How to choose a Vitamix blender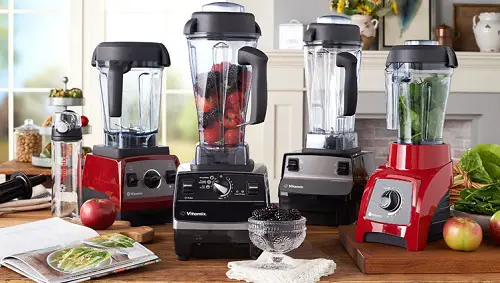 In the market for a new blender? Perhaps you're looking for the culinary convenience of making ice cream in 5 minutes. I mean, this is a matter of quality of life here! Healthy dessert is on the table in no time, and it goes far beyond that.
It will come in handy if you're doing our 30-day program or our 7-Day Eat Better Challenge, and it's one of the top gadgets we recommend for easy meal prep and healthy living. If you need a bit more horsepower behind the machine that is you in the kitchen, we've got the low down on a few different models.
SPLURGE: The Vitamix G-Series 780 Home Blender with Touchscreen Control Panel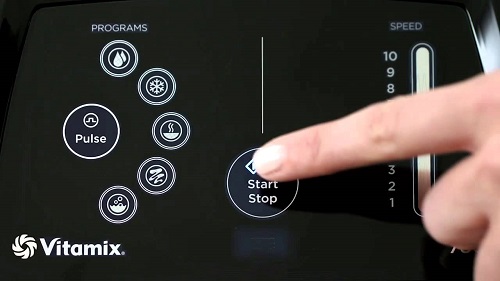 If you like tech as much as you like food, this is gadget-worthy with its sleek display. It's got 110v voltage for high-speed potential, it's relatively quiet, it won't leave bits of kale in your green smoothies or green ice cream and it's beautiful to use and look at with that LED touchscreen! It contains five program settings, so it will undoubtedly meet (and exceed) ALL of your needs.
EVERYDAY USE: Vitamix 7500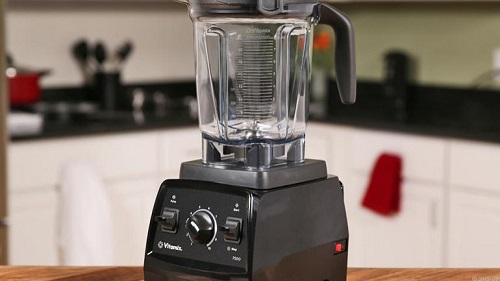 This one's major selling point is the fully adjustable dial, allowing you to program your blend beyond speed. You can easily switch the dial up a notch to customise your blending experience – something you never even knew you wanted. It also has a pulse feature for chunky salsas, soups and even ice cream if that's your style. The 64 oz. size is perfect for cooking needs and easy storage, fitting under most counters in cabinets.
BLENDING ON A BUDGET: Vitamix 5300 Certified Refurbished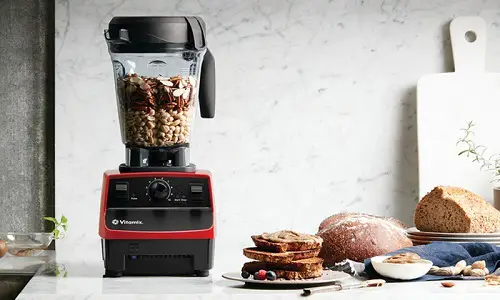 Refurbished gadgets are the way to go if you want to get your blend on but you don't want to dish out big bucks. You could opt for a cheaper blender overall, but if your heart is set on the Vitamix, this is one of the best deals you can snag. It has many of the same features as the 7500 with both variable speed control and the pulse feature, and it has the same size container.
We hope you've found a Vitamix ice cream recipe in this roundup that you're excited to try! We believe that occasional healthy treats are a fantastic way to sustain a healthy diet and lifestyle – we even include a few in our 30-day program to keep you on track. Choose wisely. Tell us in the comments what your favorite flavor is!
Music, mountains, dogs, travel, food and friends.