Ah, spring is in the air! Easter means a new season has arrived along with the notorious bunny toting candy and colorful eggs. We can all look forward to time spent with family and of course, food.
Unfortunately, there's also plenty of temptation; Cadbury creme eggs, anyone?! The ingredients on the packages of most Easter favorites are rather unfortunate, though.
Kids and adults alike deserve some healthy sweets during any holiday, though, so we've got a roundup of classic Easter dessert recipes from chocolate eggs to carrot cake!
Cuckoo for carrot cake!
Peter Cottontail can be spotted with a carrot in hand, nibbling away. Me? Well, I can be spotted wherever the carrot cake is being made.
These cakes are gluten-free while many are also grain- and sugar-free for healthier indulgence.
1. Paleo carrot cake from Fresh Planet Flavor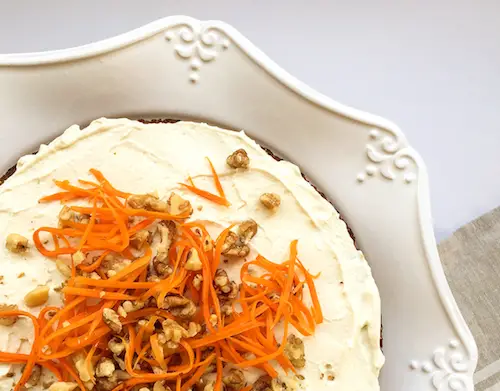 This cake is packing heat with carrots, apples and orange in the mix! It's like a fruitcake with a twist. Raisins, dates and walnuts bring the texture to the next level while adding natural sweetness.
Seriously – the ingredients list on this one is beyond impressive, and it deserves a spot in your belly after the ham. Get the recipe from Fresh Planet Flavor.
This gluten-free cake is a perfect way to keep the whole family nourished this holiday.
3. Grain-free carrot cake from A Calculated Whisk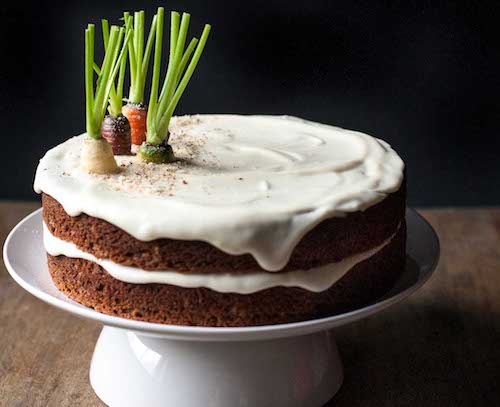 If you want dessert and a center-piece all in one, you'll take cues from this lovely grain-free carrot cake! It will be a huge hit amongst the kids, too, especially with some rainbow carrots to celebrate spring's bloom.
The base is a nutty mixture of almond and hazelnut meal giving it a unique spin. Get the recipe from A Calculated Whisk.
If you want an excuse to eat cake for breakfast, I think turning it into bread is good enough.
5. Curry carrot cake from The Primal Desire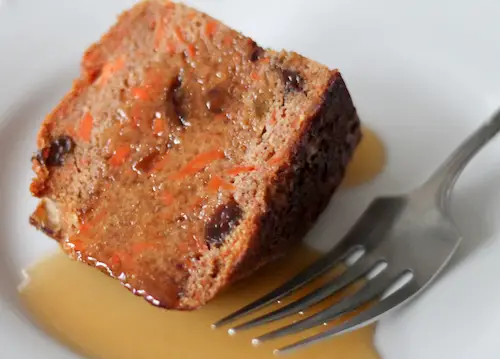 Who puts curry in their dessert?! Well, it's not as absurd as you might think. Garam masala has warm and spicy tones that complement this maple-glazed slice perfectly well.
Get the recipe from The Primal Desire.
Double up on the veggies in this fun and innovative recipe!
7. Raw carrot cake batter bites from The Natural Nurturer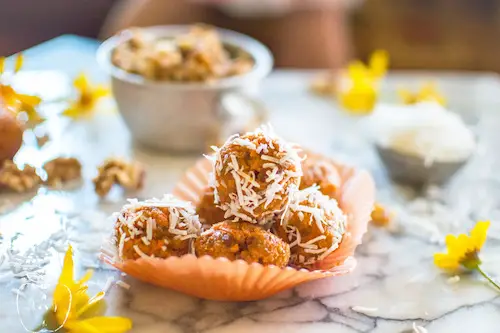 This "cake" doesn't even need to be baked. Plus, we all know the batter and licking the spoon are the best parts of baking! Skip the less fun step and opt for these Easter-friendly truffles instead.
Get the recipe from The Natural Nurturer.
Double the veggies, double the fun. Also, double the health! These nutritious muffins are perfect to get in the Easter spirit for a nice addition to any meal during the day without feeling too rich!
Chocolate eggs, bunnies and more
Easter is notorious for egg-shaped chocolates. Filled with peanut butter, caramel, marshmallow and other surprises, the pastel wrappers are appealing in and of themselves.
Oh, and don't get me started on the oversized milk chocolate bunnies! Let's keep it lower in sugar this year with some healthy, Easter basket-worthy alternatives.
9. No-bake Easter nests from Whole New Mom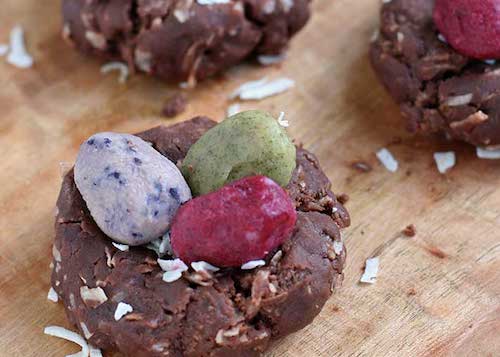 These guys are the perfect healthy treat, and they don't require baking, candy moulds or any fuss at all! These cute little nests are AIP, low-carb and vegan so all the guests can dig into them.
You'll also want to get your hands on the next recipe for the fudge eggs in the centre! Get the recipe from Whole New Mom.
10. Naturally colored dairy-free fudge from

Whole New Mom
These make the perfect healthy pastel eggs for those ooey, gooey, chewy chocolate nests!
11. Paleo creme eggs from Happy Body Formula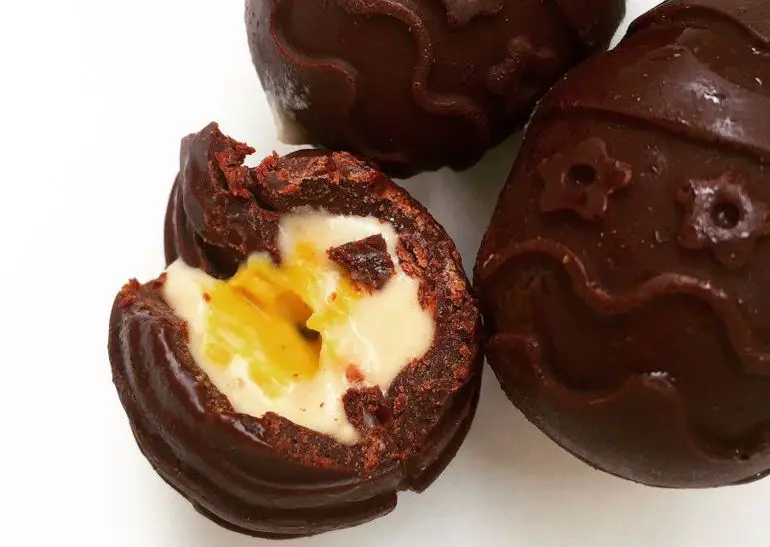 This recipe is a labour of love, but it's totally worth it if you love those Cadbury cremes as much as I do! This will be a joy to pack up with the kids for a holiday party at school or treat them to on Easter morning.
Get the recipe on the blog.
12. No-bake chocolate-covered cookie dough eggs from
The Big Man's World
Cookie dough should be a food group. This is a fact. Cover it in chocolate? Too much of a good thing just doesn't apply on Easter.
13. Samoa fudge bombs from Beauty and the Foodie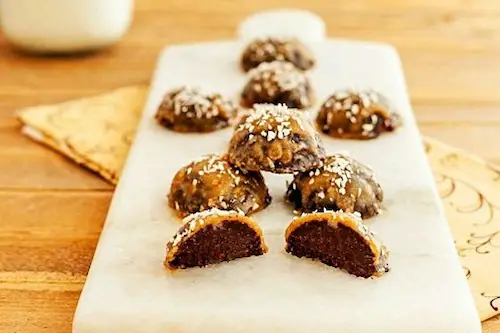 Easter also signifies the onslaught of Girl Scout cookies. They are a guilty pleasure, and you know those boxes never last quite as long as you'd like them to!
Instead of setting yourself up for overindulgence, DIY your Samoas the healthy way. They're even fudgier! Plus, they're loaded with healthy fats. Get the recipe from Beauty and the Foodie.
14. Chocolate caramel Easter eggs from
The Pretty Bee
These eggs are vegan and paleo-friendly, refined sugar-free and only require FOUR ingredients! Keep it simple.
15. Paleo carrot cake truffles from Living Healthy With Chocolate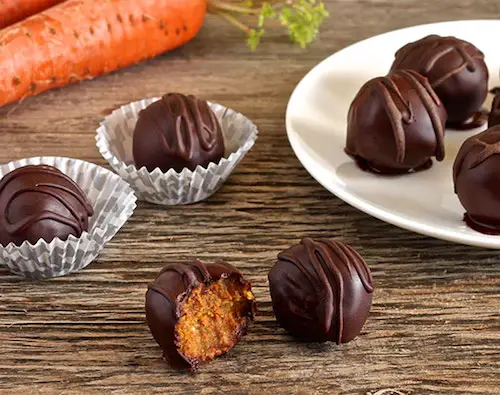 I didn't know if this belonged in the carrot cake category but considering they're contained in a luscious chocolate shell, they ended up further on down the list.
For the best of both worlds, you should make these paleo-friendly bites! Get the recipe from Living Healthy With Chocolate.
16. Healthy 4-ingredient Reese's eggs from Ambitious Kitchen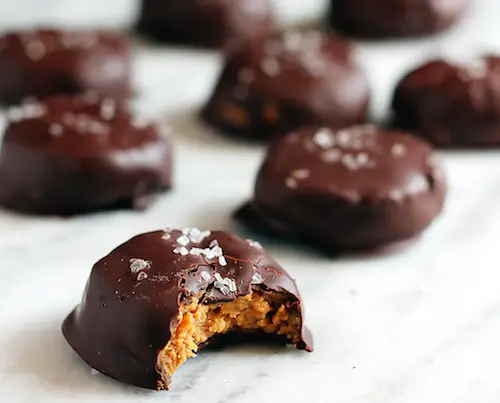 Missing Reese's eggs? I know I am! Don't sell yourself short and go the season without one. Make these instead. With another 4-ingredient recipe, you can definitely manage to make these healthy bites.
You could even substitute peanut butter for almond butter, cashew butter or coconut manna. Get the recipe from Ambitious Kitchen.
Fruit frenzy!
Spring and summer bring a bounty of produce including ripe, juicy, antioxidant-rich berries and zesty citrus. Why not embrace the change by making cakes, panna cotta, tarts and more?
17. Healthy no-bake berry cheesecake tart from Recipes to Nourish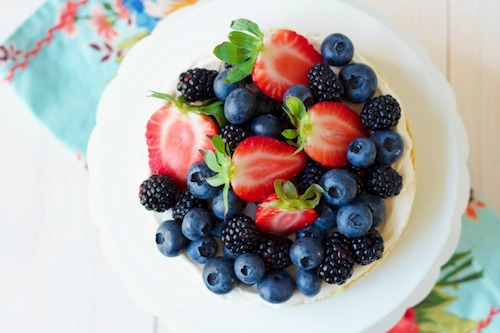 Look at this tart just brimming with berries! The base feels like cheesecake, so you can be certain it will please a crowd. This recipe does have dairy but comes with a dairy-free option.
Plus, the no-bake ease can help take away from the holiday cooking stress. Get the details from Recipes to Nourish.
18. Coconut & berry cream pies from Comfort Bites
Individual pies are a fun way to celebrate, and you'll love the naturally vibrant Easter-themed colours in these!
19. Paleo lemon bars from What Great Grandma Ate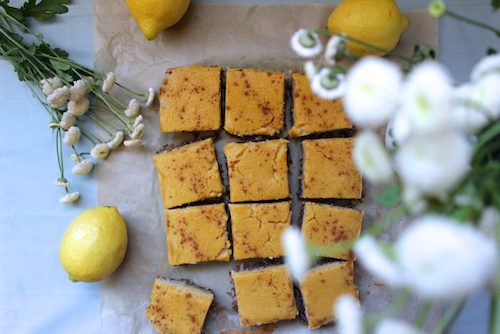 When life gives you lemons, make lemon bars. These treats are fresh and light, perfect for pairing with coffee or tea after a heavy holiday dinner. Get the recipe from What Great Grandma Ate.
What pairs exceptionally well with sweet citrus? Chocolate? You got it! This decadent slice is perfectly juicy.
21. Strawberries & cream tart from Delicious Obsessions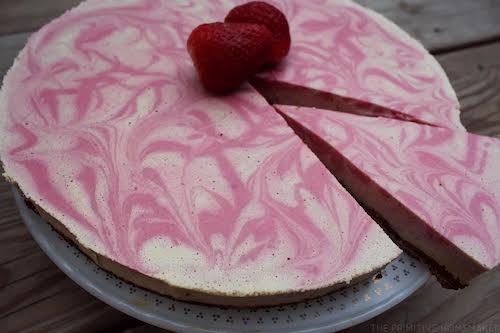 This tart features the dreamiest swirls your Easter party has ever seen. Just make it and marvel. Get the recipe from Delicious Obsessions.
Smooth and velvety, this is the kind of stuff dreams are MADE of. Pair it with grain-free scones, layer it in your carrot cake for a little extra zest or top off Easter breakfast yoghurt with a generous dollop.
23. Grain-free lemon cake with whipped cream frosting from A Calculated Whisk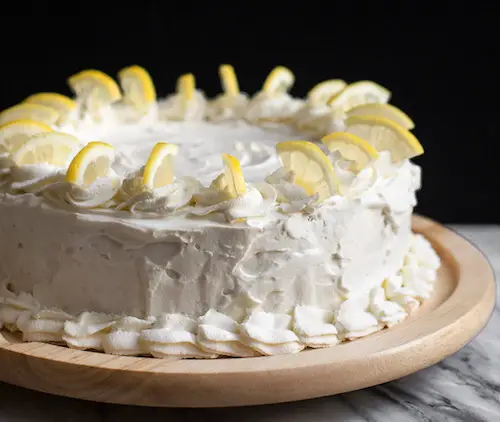 Sometimes, you just want to do it up big for the people you love. This cake is a true expression of affection, especially with that thick layer of whipped cream! Its sweet and sour citrus notes make for a perfectly decadent slice of Easter day heaven.
Get the recipe from A Calculated Whisk.
24. Dairy-free coconut panna cotta from Whole New Mom
These citrus cups are a fun way to dig into dessert, quite literally. It's elegant while using simple and inexpensive ingredients so you can wow your guests without putting in loads of effort.
It's a win during the holidays – right?
25. Banana bunny breakfast muffins from The Castaway Kitchen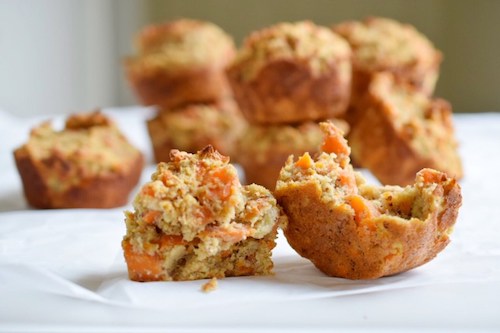 If leaving treats out for the Easter bunny was a tradition, these would be his first choice. Santa likes cookies, and the bunny likes carrot muffins. It just makes sense. Maybe you like muffins too.
If so, this is the perfect sweet breaky bite. It just makes sense Get this delectable recipe from The Castaway Kitchen.
Coconut confections
Here come Peter Cottontail, hopping down the bunny trail! Coconut is an Easter delight because it has the ability to turn your dessert treats into a little bunny tail. It's cute and it's tasty if you're a fan.
It pairs well with fruit, honey, chocolate, caramel and everything else under the sun so… here are some coco-nutty ideas for you!
26. Coconut honey joys from Eat Drink Paleo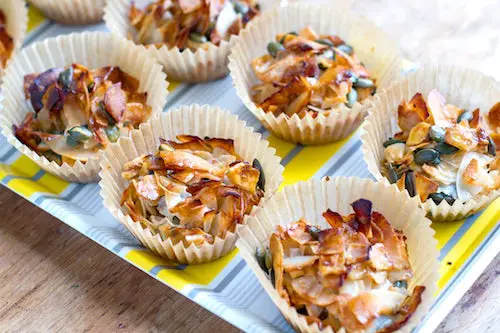 This mix of corn flakes, sugar and butter just got a healthy twist. These are SO simple to make with coconut chips instead, and they offer up tasty cups of crunchy, honey-infused goodness.
This is a really easy treat to whip up for a holiday event. Get the recipe from Eat Drink Paleo.
27. Coconut no-bake "bunny tail" cookies from Whole New Mom
These grain-free treats bring together the magical concoction of coconut cream, crunchy dessicated coconut on the outside and a sweet chocolate drizzle.
28. Raspberry coconut macaroons from Meaningful Eats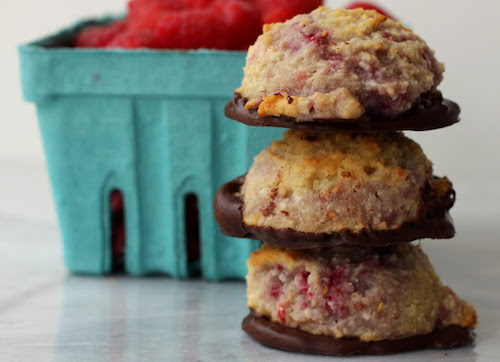 Who doesn't love macaroons? With each bite, you get a dose of tasty coconut and fresh raspberry, plus the chocolate dip on the bottom is perfectly decadent for an awesome trio of healthy indulgence!
Get the recipe from Meaningful Eats.
This recipe uses a blend of coconut flour and almond flour to make the dough. Hot cross buns are basically an Easter thing, so if you're going to take a stab at a healthy recipe for them, this is the time to do it!
30. Homemade marshmallow peeps from The Things We'll Make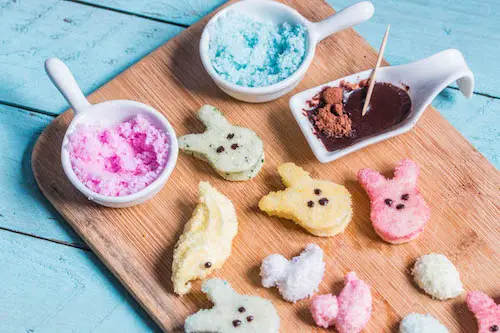 You love 'em or you hate 'em, but these naturally coloured, naturally sweetened, coconut dipped peeps are a classic Easter basket surprise. If anything, they'll get you in the spirit! Get the recipe from The Things We'll Make.
What is your favourite Easter treat? Let us know in the comments below!
Share image on Pinterest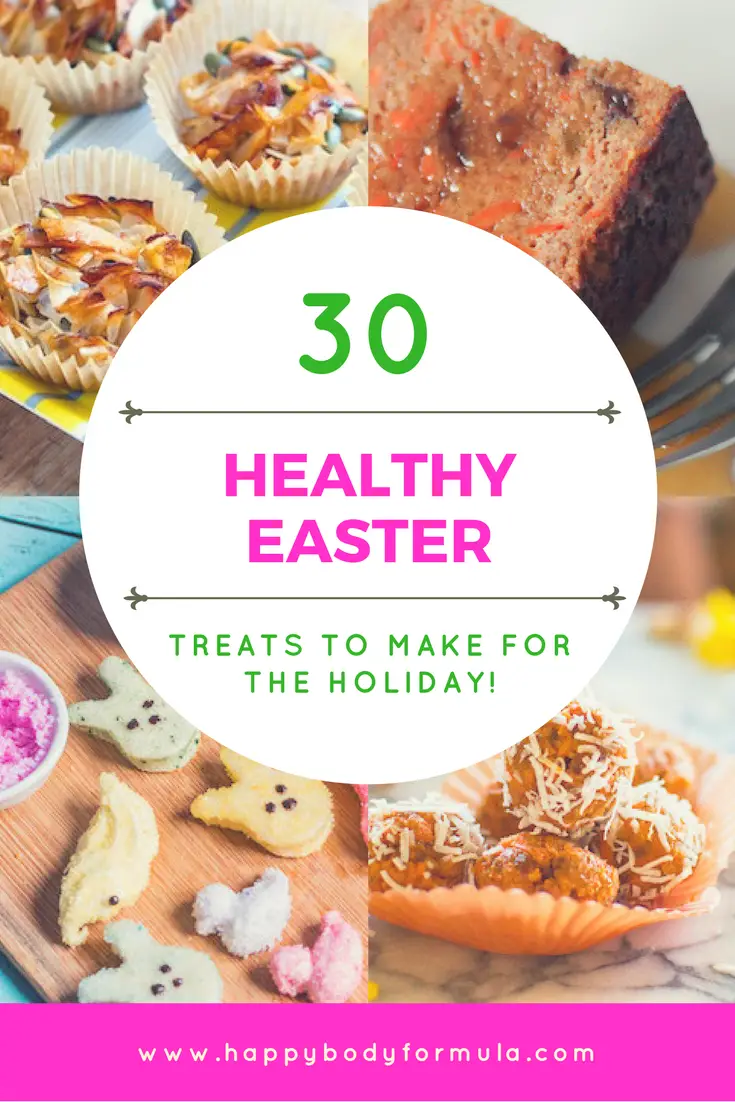 Music, mountains, dogs, travel, food and friends.