Who loves cleaning? Okay, maybe I'm alone in that, but I'm sure there are some other neat freaks and DIY gurus out there who can get on board with nerding out on natural cleaning products.
Whether or not cleaning piques your enthusiasm, there's no denying it's a necessary part – or necessary evil – of life, and we're not going to get out of doing it.
With that said, it's time to take a healthier approach!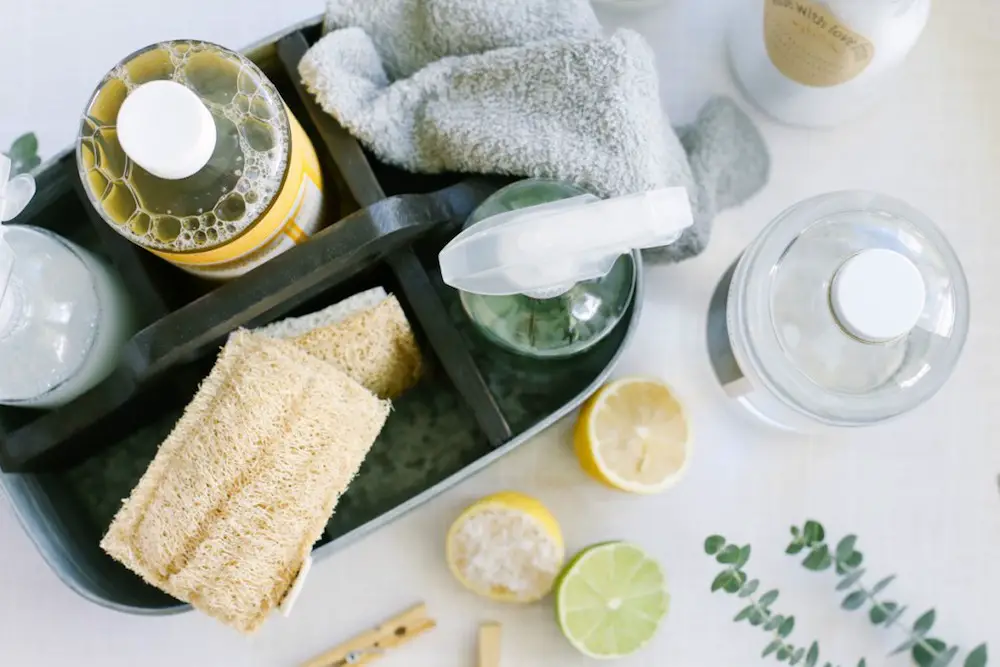 If you're versed in clean eating, you know the importance of reading your labels. Cleaning products and household supplies hold the same rule, but it gets a little bit more difficult.
Like with food, marketers have found creative ways to make you think their cleaning product is organic and all-natural, but it's much more difficult to identify ingredients as 'good' or 'bad.'
Besides; many cleaning products aren't required to disclose exactly what's going inside, and that's what counts. We're out in the aisles of our grocery store judging a book by its cover and hoping for the best. I think we can do better.
Moreover, these products are expensive, and the ingredients? They're pretty cheap. Instead of buying something you aren't even sure of, we're sharing some of our favorite staple recipes to make at home for pennies on the dollar.
Keeping your house neat, tidy and non-toxic has never been easier or more economical.
DIY laundry detergent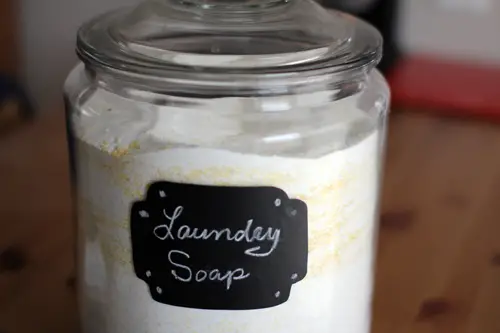 Laundry soap is something we should pay extra attention to. In the end, we're wearing and sleeping on the chemicals in our laundry detergent! It's not required for detergent labels to contain all of the ingredients, so you end up with a big bottle of "fresh air" scented, alarmingly blue mystery juice… and it's supposed to clean your clothes.
You're basically getting a mix of petrochemicals and synthetic fragrances – even with unscented varieties. Some of the chemicals found in detergents, fabric softeners and dryer sheets are designed to stick in your clothes, so there are residual chemicals coming in contact with skin over and over.
Finally, these chemicals contribute to air pollution in conjunction with your washer and dryer, meaning you're also breathing them in. Instead, make this simple recipe below.
Ingredients:
Use 1/8 cup per load.
Multi-surface cleaning spray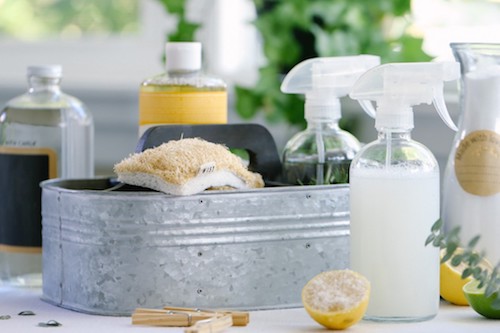 Here's your one-stop shop for all your surface cleaning needs. This is a recipe you might want to make a double batch of or fill up a few bottles with at a time.
The natural cleaning sprays at the store have a tendency not to work very well, and even if they do, the price can get a little crazy! If you're cleaning a big house, tidying up after the kids or need cleaning supplies for both home and business, you know how quickly the spray goes!
Stretch your budget and your bottle with this simple, all-natural recipe.
Ingredients:
1 tsp borax
1/2 tsp washing soda
1 tsp liquid castile soap (again, I recommend Dr. Bronner's)
Essential oils of choice
Glass spray bottle
Get the full recipe from Wellness Mama, or check out this all-purpose solution from Live Simply.
Fabric softener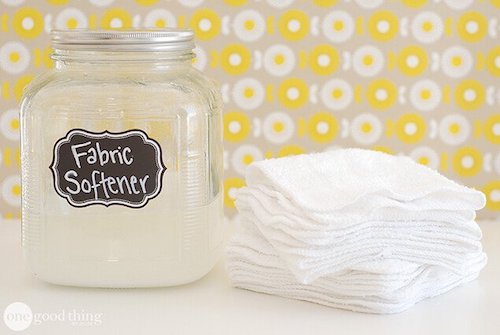 Fabric softener and dryer sheets are arguably more toxic than detergent itself, so if you're going to go full-on DIY with your laundry, this step is key!
Seriously – if you've ever opened a box of dryer sheets, the strong scent nearly knocks your socks off. That fresh mountain breeze scent? The real deal smells nothing like the chemical-laden "wonder" sheet.
Once again, it's time to strip down and get to the bottom of this mystery by avoiding it altogether and taking the homemade route. Fabric softener can reduce the breathability of certain clothing like athletic wear, and they can stain your clothing.
Ingredients for fabric softener:
1 gallon white vinegar
30-40 drops of essential oils of choice
Use 1/2 cup per load during the rinse cycle. High-efficiency machines will work well with around 1/4 cup. Increase either measurement for large/heavy-duty loads.
Ingredients for dryer sheets:
Cotton cloth (small square)
3-5 drops of essential oils
You can use cut-outs from old t-shirts or pillowcases/sheets for your cotton squares. Simply let some oils soak in and toss a square in with your next load while drying.
Can you tell DIY cleaning is all about the essential oils?!
Floor cleaner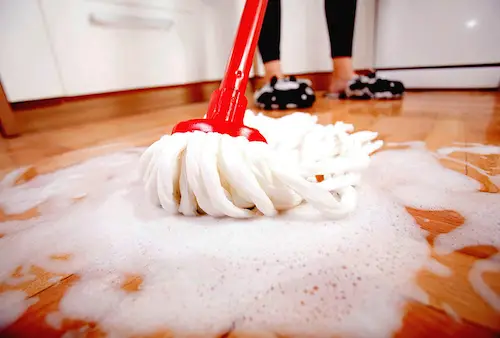 Everyone's favorite chore – mopping the floors! If you're lucky enough to have hardwood floors, or unlucky enough to be putting off FINALLY scrubbing the bathroom floors (okay, I don't always love to clean), it's time to throw away that bottle of Pine-Sol and get down to business with something a bit more natural.
Lemon has a lovely, energizing scent to it that nearly screams, "I just cleaned my floors!" but by now you know… there's an essential oil for that.
Ingredients for hardwood floor cleaner:
1/2 cup white vinegar
1 gallon of warm water
2-3 drops essential oils (opt for a fresh lemon scent!)
You can use acidic vinegar on hardwood floors if you use enough water, so don't skimp on the water ratio in this recipe!
To clean other material floors, simply mix up the ratio; 3 tbsp. of vinegar to 16 oz. of water and 1-2 drops of essential oils will work well. You can use this cleaner with a mop or microfibre cloth.
Dishwashing liquid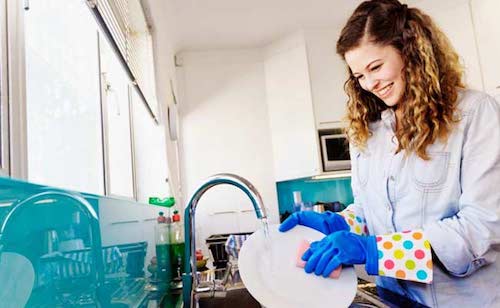 You are what you eat, so if you're putting some effort into meal prepping healthy eats every week and doing your best to be consistent with dietary changes, you should probably watch what you're washing your dishes with.
The strange and undoubtedly artificial colors of the dishwashing soaps at the store should be enough to make you wonder what the heck is in that stuff. Instead of wondering, make your own and know for sure.
Ingredients:
1 1/2 cups boiling water
1/4 cup grated dry castile soap
1/4 cup liquid castile soap
1 tablespoon (plus up to 1 teaspoon additional) washing soda
1/2 teaspoon non-GMO glycerin
15-40 drops essential oil (citrus scents help to cut grease)
Read the full recipe from Mommypotamus
Do you make your own cleaning products at home? Share your favourite DIY ideas with us below! We hope you enjoyed these ideas. Cheers to a happy, healthy & non-toxic home!
Music, mountains, dogs, travel, food and friends.