The holiday season is the most wonderful time of the year, and I like to attribute that to two things: presents and cookies. Okay, I suppose now that I no longer believe in Santa, spending time with loved ones and giving gifts rather than receiving them take precedence.
Regardless, cookies and presents are a nice touch – there's simply no denying it. We all have that one family member whose baking is superior to all and whose desserts seem irresistible.
Let me remind you that you've got the power!
Whether you're implementing that 80/20 mentality during the holiday festivities this year, or you're keeping it clean, these gluten-free paleo Christmas cookies will keep you on track and you won't be missing out on much.
These healthy recipes turn all your holly jolly favorites into sweet treats you can feel good about eating one of each.
https://happybodyformula.com/wp-content/uploads/2016/11/paleo-christmas-cookies-pin.jpg
Almond butter buckeyes
When I think of Christmas cookies, I think of buckeye truffles. Specifically, I think of hoarding plenty for myself to snack on throughout the festivities as they always run out far too quickly.
I also think of the absurd amount of sugar I end up consuming with these innocent-looking treats alone. These treats packs in the healthy fats with coconut butter and almond butter with a dark chocolate shell.
Get the recipe from Seasonal and Savory.
Almond thumbprint cookies with cherry jam
If you're a fan preserving the harvest, you've probably got a whole lot of jam jarred up in the pantry. You might even be putting a bow on all those perfectly labelled jars and serving 'em up as DIY Christmas gifts.
Let your homemaking abilities shine in your Christmas cookies with this almond thumbprint recipe. You can use the cherry jam recipe below or sub it out for your other favorite variety.
Get the recipe from Detoxinista.
Hot cocoa cookies
What?! These paleo Christmas cookies hit the spot. They're cute, sorta fancy, and they encompass all of the things that make a piping hot mug of hot chocolate good. You don't even need marshmallows, and you won't be missing out on them.
The whipped cream frosting will be the "cherry on top" these fluffy, fudgy pillows of deliciousness. These will be everyone's new favorite holiday party favor.
Get the recipe from Fit Foodie Finds.
Big & chewy paleo gingerbread cookies
We couldn't leave a little gingersnap recipe out of the paleo Christmas cookies list. Molasses and ginger come together for that classic flavour without all of the refined sugar and wheat this recipe generally calls for.
You can shape these like normal cookies or turn them into big and chewy gingerbread men – it's up to you. Just make sure to save a few for Santa, I hear these are his favorite.
Get the recipe from Paleo Running Momma.
Chocolate peppermint coconut macaroons
Nothing says Christmas quite like peppermints. How about skipping candy canes in favor of these good-for-you macaroons? They're grain-free and vegan-friendly, so even the most sensitive Santa Claus will be pleased to find a plate of these.
Get the recipe from My Natural Family.
Dark chocolate-dipped almond & cranberry biscotti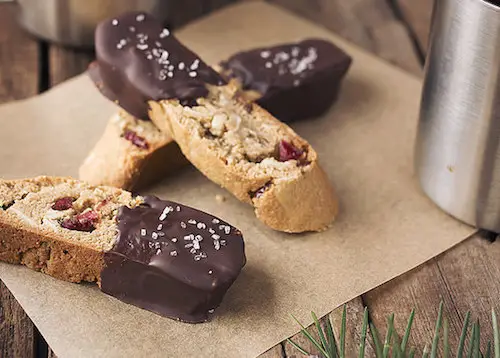 The holiday dinner always includes coffee afterwards. Whether or not you add a little booze to your mug is up to you, but you should definitely include some paleo Christmas cookies in your post-feast cuppa.
These chocolate-covered biscotti will make the perfect little dipper for your dark roast, or you can bag them up for your guests to take home with you.
Get the recipe from Tasty Yummies.
Christmas Cucidati (Italian fig cookies)
These cookies are almost a variation of fruit cake. Almost. I grew up in an Italian family, so these chewy delights were a mainstay on the cookie tray, but never seemed to contain quite enough filling.
This recipe doesn't skimp on the good stuff though – a variety of dried fruits and orange jam give this its texture and taste. Get the recipe from The Spunky Coconut.
Grain-free chocolate pizzelles
Ah, yet another Italian cookie tray staple – the pizzelle. If you don't have a press to make these, you can bet your Italian grandmother does. It's probably as old as she is, but still works like a charm.
Borrow it for your baking extravaganza to make these almond flour pizzelles. If biscotties aren't your jam, these cookies also pair exceptionally well with java. Get the recipe from A Clean Bake.
German marzipan Christmas cookies
One of the simpler paleo Christmas cookies are these German-inspired bites using marzipan, a sweet almond paste that couldn't be easier to make. These are dense, moist, and chewy.
The flavor is best for the nut-lovers at the party. This batch is fun because of how many variations of almond you use, so if the pantry is stocked, consider them made.
Get the recipe from The Clean Dish.
Peppermint chocolate crinkle cookies
These cookies have three distinct parts to them that make them one of the best paleo Christmas cookies – the subtle peppermint flavor, the moist and chewy goodness reminiscent of cookie dough, and the sugary coating.
This variation opts for a coconut sugar dusting instead of powdered sugar, but you can get a similar texture if you grind your sugar down into finer granules and sift it. The more you know.
Get the recipe from The Healthy Maven.
Grain-free pumpkin snickerdoodles
These little gems aren't just paleo Christmas cookies – Snickerdoodles are a hit year-round. No holiday cookie tray is complete without these gems though, and a little pumpkin spice will be welcomed in a crowd of chocolate chips and sprinkles.
My personal recommendation? More cinnamon. Get the recipe from Wholesomelicious.
Paleo macadamia chocolate cookies
Macadamia nuts are amongst the healthiest for you, so why not toss a few in the cookie batter and call it a day? Their creamy texture is amazing in baked goods, and your guests will love these biscotti-like treats.
Add some white chocolate chips if you're feeling a little crazy (or want to add a touch more sweetness). Get the recipe from Eat Drink Paleo.
The BEST chocolate chip cookies (paleo, vegan)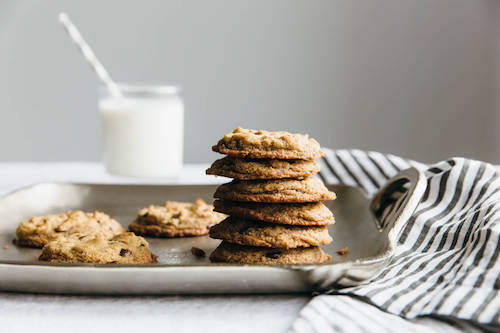 The best of the best? You better believe it. No dairy or grains to be found in these guys, but they are as dippable as that store bought dough you're snagging in a pinch and they're rather simple to make anyways.
Make it happen! You can get the recipe for these guys at Downshiftology.
Here's to a happy, healthy holiday full of cookies and joy. Don't forget to save some for Santa.
Music, mountains, dogs, travel, food and friends.