This massaged collard greens salad with cooked prawns and delicious cashew butter satay sauce is a nutritional gem, and a great meal for both lunch and dinner. It's low in carbohydrates, high in fibre and full of beneficial antioxidants and minerals.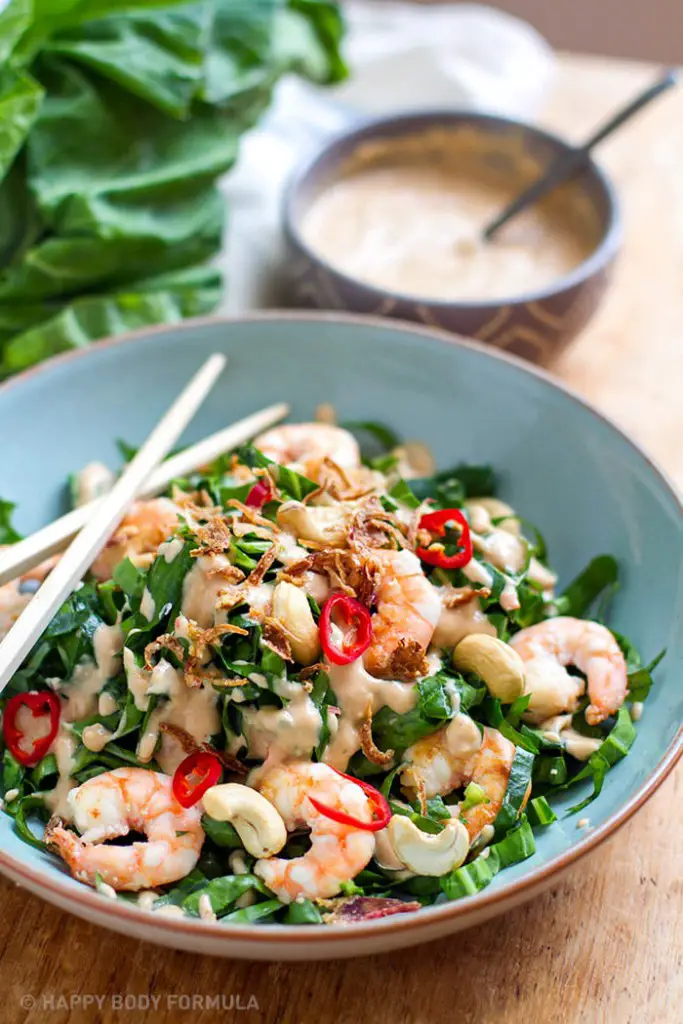 Collard greens are some of the most nutrient-dense cruciferous vegetables – with high amounts of vitamins A, K, and C as well calcium, iron and fibre – and can help to lower cholesterol, protect against cancer, support detoxification processes of the body, and boost your immune system.
Prawns are a great source of protein, rich in beneficial minerals and omega-3 fatty acids. For those of you avoiding seafood, grilled chicken or tempeh can be used instead. Anything protein-based is great to make this a more satiating meal.
Instead of using peanut butter, we opted for healthier cashew butter as the base of our Asian-inspired sauce. This recipe makes a bigger batch than you need for the salad, but it keeps well and pairs nicely with any grilled meat or seafood, or over veggies and salads. Store it in an airtight container for up to 1 week.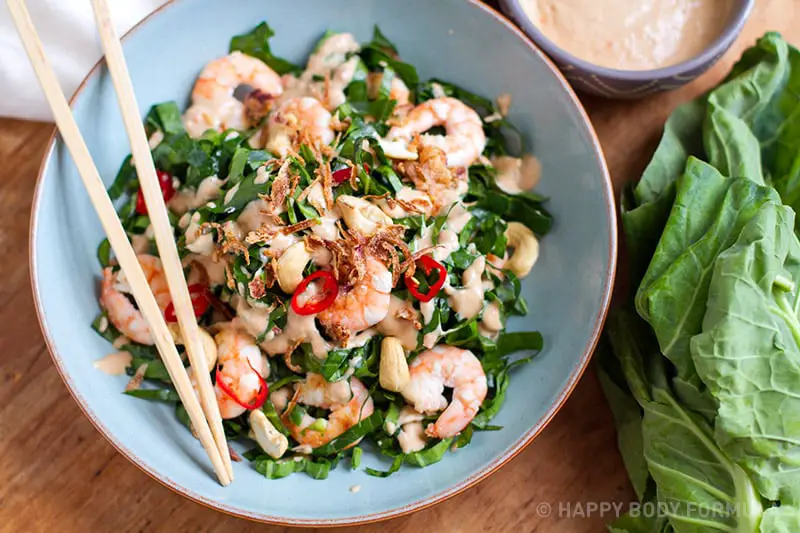 Cook's notes: Other greens such as shredded green cabbage, brussels sprouts, massaged kale,  fresh spinach or chard can be used instead of collard greens. You can shred or slice carrots, radishes, peppers or cucumbers for extra flavor and texture. Almond or other non-peanut nut butter can be used instead of cashew butter.

Prawn & Collard Greens Salad with Cashew Satay Sauce
Ingredients
5-6 large collard greens leaves
Juice of ½ lemon
¼ teaspoon salt
150 g cooked or raw peeled prawns (about 7-8 per person)
For the sauce
½ small red onion, finely diced
1 small knob of ginger, peeled and diced (about 1 heaped teaspoon)
1 large clove garlic, finely diced
⅓ long red chilli, sliced
1 teaspoon coconut oil
2 tablespoons cashew butter (almond butter can also be used)
2-3 tablespoons coconut milk (if it's thick, use two and if it's thin, use 3)
½ cup water
2 tablespoons lemon juice
2 tablespoons tamari sauce (gluten-free soy sauce)
1 teaspoon fish sauce
½ teaspoon salt
1 tablespoon honey
Extra cashew nuts, sliced chili and fried shallots for garnish (optional)
Instructions
Cut away the hard stem from the green leaves. Slice the leaves thinly and set aside in a bowl or on a chopping board. Sprinkle with a little salt and juice of half a lemon. Massage the greens with your hands for 10-20 seconds, then move to a salad bowl and set aside. This process softens the fibres in the leaves.
Make the sauce. Heat coconut oil in a small saucepan over medium heat. Add onion, ginger, garlic and chilli and stir through. Cook for a minute and a half, until slightly softened.
Add the cashew butter and the rest of ingredients and stir through over medium heat for a minute, until well dissolved. Transfer the mixture to a blender or use an immersion stick blender, and puree until smooth. Transfer back to the saucepan and place over medium-low heat. Cook for 2 and ½ minutes, stirring continuously, or at least every 10 seconds, as the mixture will start to thicken and caramelise on the bottom of the pot. Stirring it the whole time allows you to incorporate the sticky, caramelised part from the bottom of the pot back into the sauce, thus adding more depth and flavour.
Remove from heat and transfer to a side bowl.
If using raw prawns, pan-fry them in a little coconut oil for a minute or so on each side. If using cooked prawns, continue to the next step.
Add 4-5 tablespoons of the sauce to the greens and add the prawns. Toss together and serve with a few extra cashew nuts, sliced chilli and fried shallots over the top. Drizzle with a little more sauce if you like, and serve extra on the side.
Make it tonight!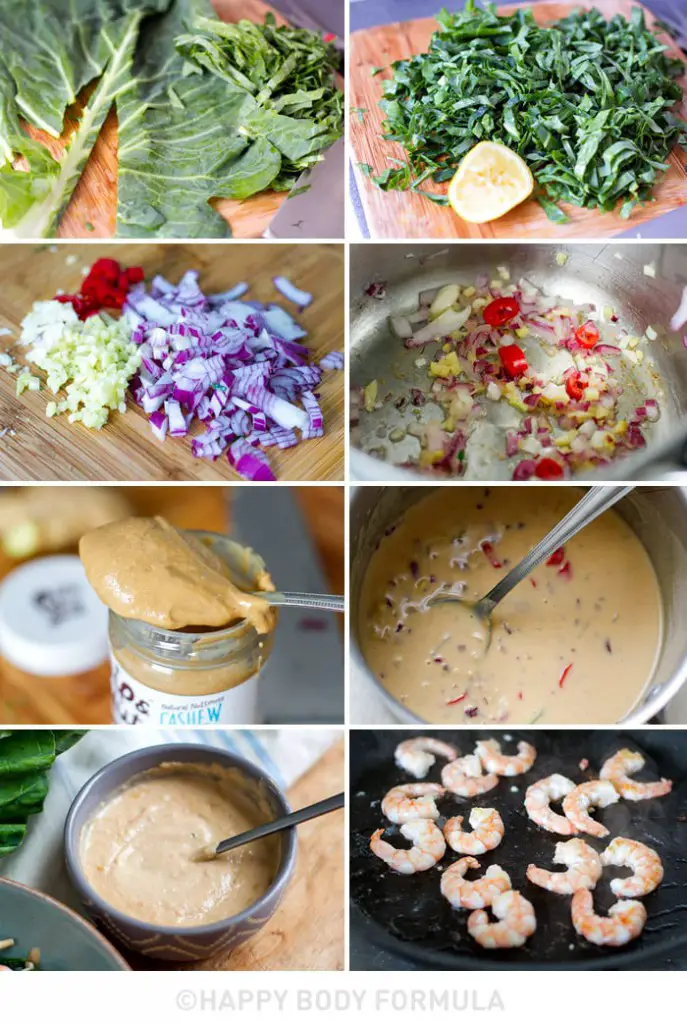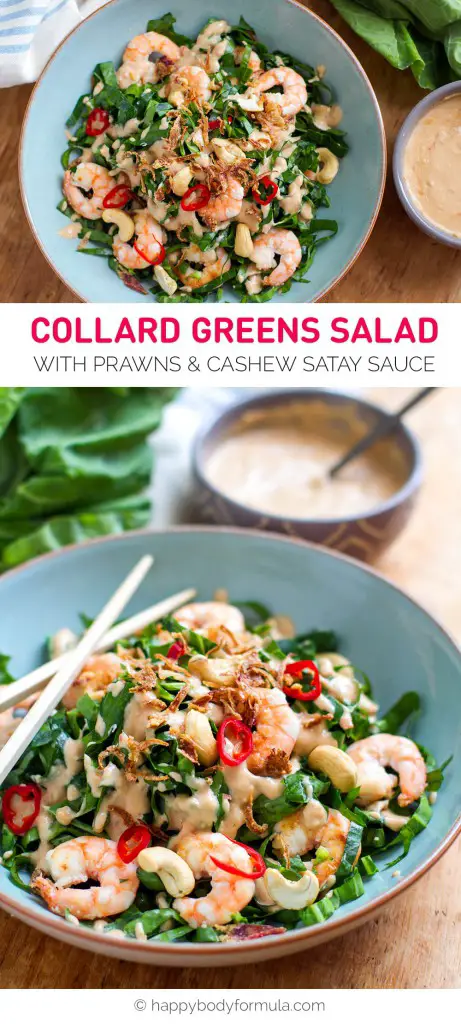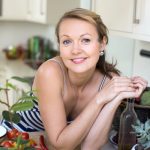 Internationally published author and blogger, Irena Macri, Eat Drink Paleo is a go-to stop for paleo recipes, healthy cooking and natural living.