There are few things as comforting as a bowl of delicious soup. When fall and winter hit, soup is often on rotation. It's easy to make, it comes in all forms and flavour profiles, and you can make big batches of soup to freeze for later. It's the gift that keeps on giving, and often, it's even more delicious the next day. It's a blank canvas for brothy deliciousness, loading in the protein, veggies, and spices for a tasty spoonful. Plus, soup is a great immune-boosting food to keep you healthy during the winter months.
Today, we're sharing the best keto soup recipes for all your low-carb needs. Learn to make all of the classics without the carbs from nutrient-dense, veggie-packed side dishes to soups that are hearty enough for a full meal.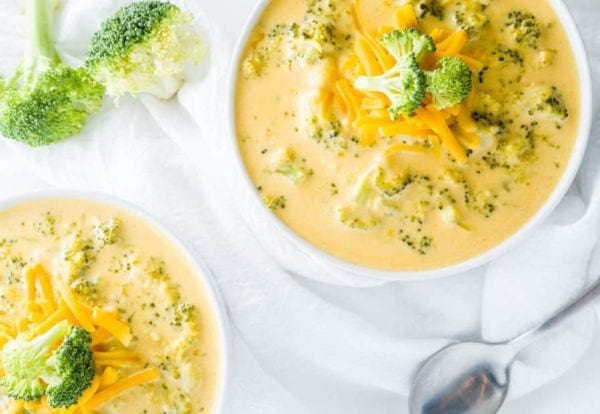 Broccoli cheese soup hardly needs to be tweaked to make it a low carb soup! There are two main components at work here: broccoli and cheese. This soup has just five ingredients, and you can make it in 20 minutes. I guess you'll probably be missing out on the bread bowl, but if you're feeling up to a little extra effort, a slice of crispy bacon crumbled on top will make up for it.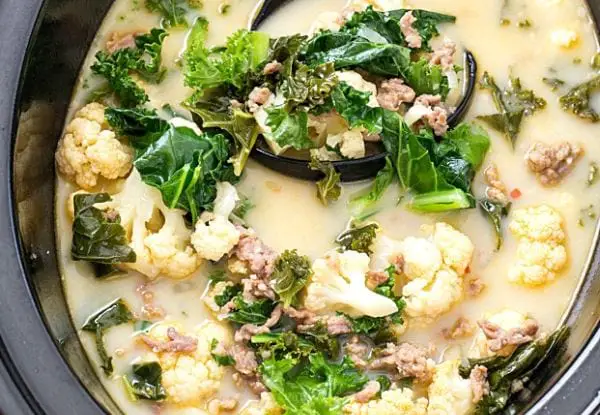 The Olive Garden is no place for someone doing keto. The endless supply of breadsticks that magically appears on the table when it's empty is tempting to say the least. Instead, try your hand at an Olive Garden classic at home. This creamy Zuppa Toscana is jam-packed with delicious Italian sausage, cauliflower, and kale for a low-carb treat that constitutes as a meal on its own.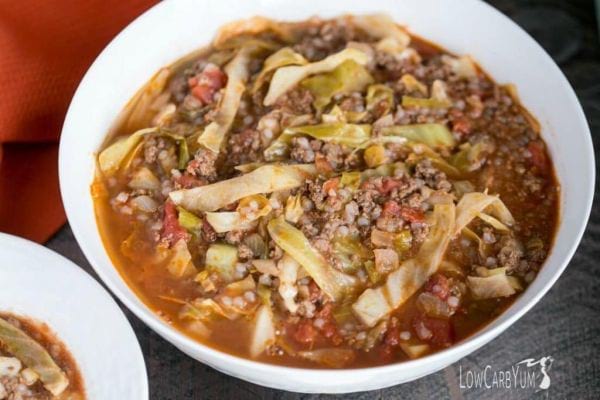 Stuffed cabbage sans rice is the perfect easy keto meal, but doing it "unstuffed" is even simpler. Of course we can get on board with that! This soup takes ground beef, tomato sauce, and cabbage and just cooks it altogether. It has the same taste with slightly less effort, and the leftovers? They're going to be good!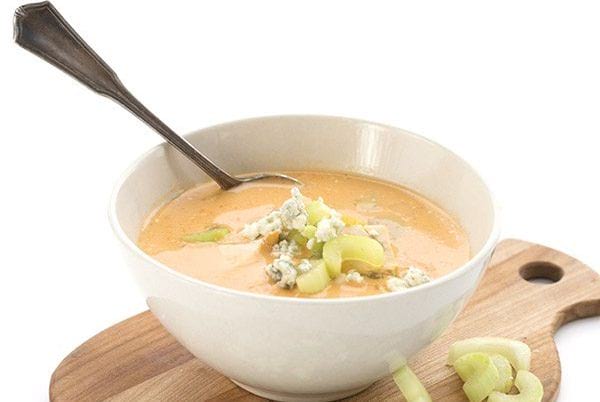 If you like buffalo chicken dip (and who doesn't?), you'll LOVE this soup. Cream cheese, buffalo sauce, and chicken are all you need to recreate that flavour. Add some broth and heavy whipping cream, and all of a sudden, it's a delicious soup. Top off with fresh celery and bleu cheese to cool it down a bit.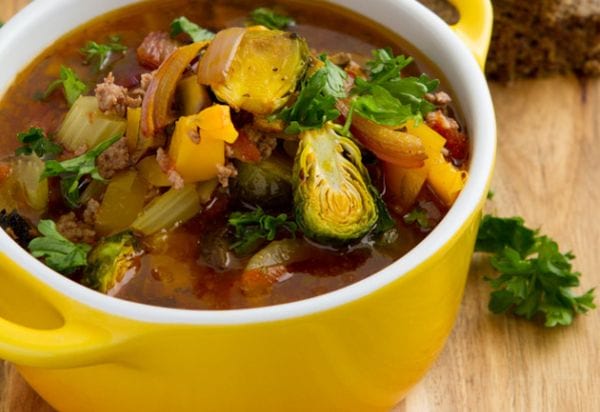 A fat bomb is simply an easy and edible way of loading up on healthy fats all at once. It's essential for the low-carb'er to keep energy up, as fat is the main fuel source. This is the perfect lunch to tide you over until dinner, or break your fast with midday. This is the perfect blend of healthy fats and fibrous veggies with a taste reminiscent of hamburger. Your body and mind will be thanking you!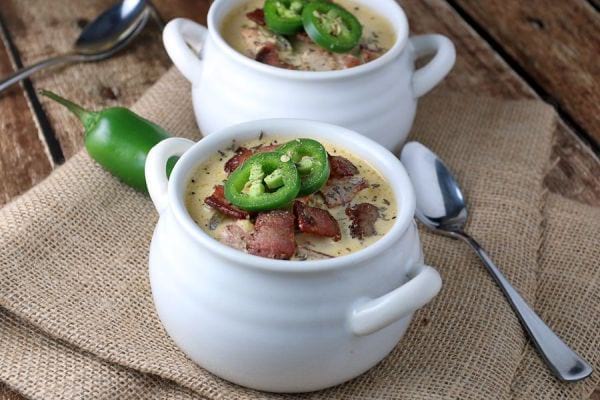 When there's bacon and cheese involved, you know it will be a good time. This recipe really puts both the meat and the grease to good use, both lending their smoky and deliciously fatty flavour to this keto soup! The long list of spices really work well together, and the jalapeno, of course, gives it a kick.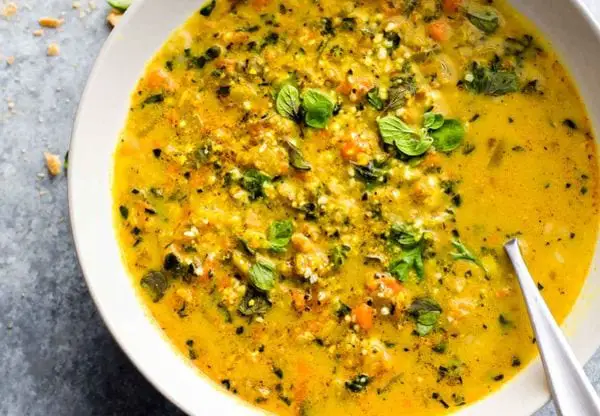 Rice is out of the picture for keto soup recipes, so you end up slightly limited. After all, rice is a pretty typical ingredient in soups, and it adds a ton of texture! This curried blend boasts a base of riced cauliflower instead. It will easily take on any veggies you toss in it, but the recipe suggests carrots and kale. This recipe is also dairy-free.
8. Keto gumbo from That's Low Carb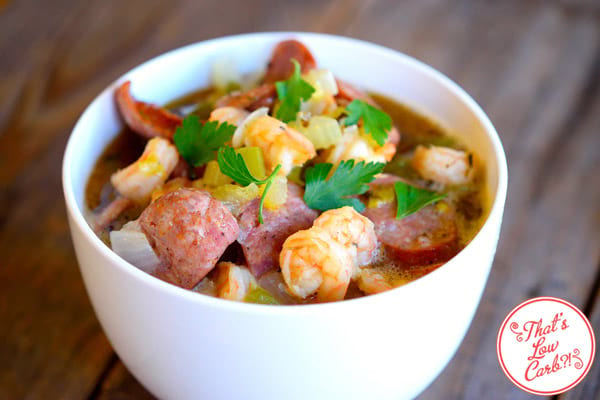 Gumbo is often an all-day affair, getting your ingredients ready and letting it simmer. Plus, the list of ingredients is a long one! Just sourcing them all can be the toughest part of it all. This recipe simplifies things, focusing on the bare essentials for getting that classic Southern flavour in place… in just 20-30 minutes! You begin with a standard Southern mirepoix of green pepper, onion, and celery, adding in Andouille sausage and shrimp. The rest is easy, and voila – you've got yourself a meal.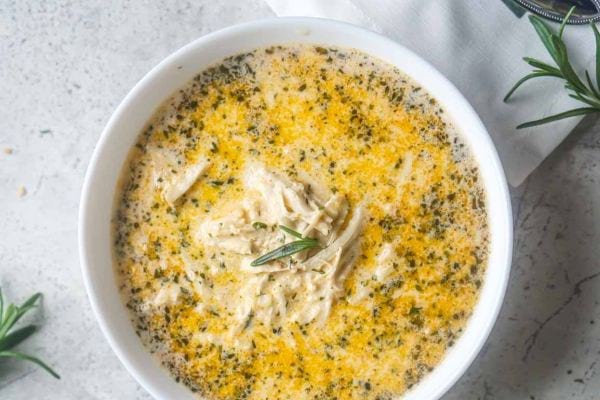 Garlic and chicken are always a match made in heaven. This time, it's a match made in soup heaven. Having some pre-cooked shredded chicken handy is a meal prep trick that makes adding protein to any soup recipe simple, and this dish is a great example. The base is a keto eater's dream – cheese, cream cheese, heavy cream, broth, and butter. With that list of ingredients, how could this not be amazing?!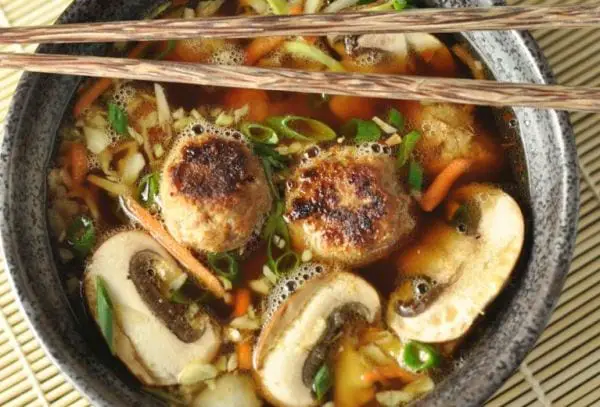 Wonton soup is a must on the Chinese takeaway order, but it's not keto-friendly. How can you make it work? This recipe, of course. It takes all those flavours you love minus the wontons, and turns it into something that will satisfy those cravings in short order. With garlic-ginger pork meatballs and flavourful broth, strewn with mushrooms, carrots, and cabbage, you'll feel great about eating this. You won't have to worry about any sneaky sugar – almost a guarantee with Chinese food!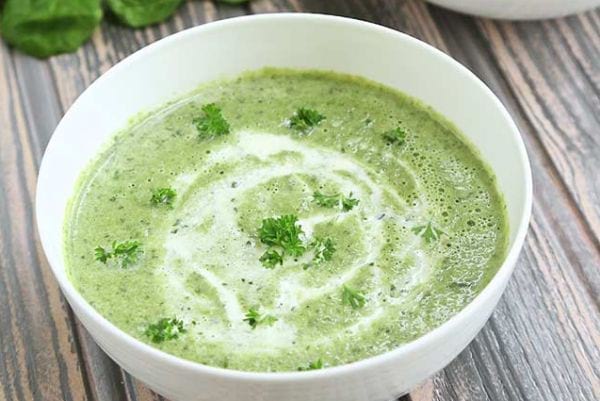 Here's a little something for the summer months, because soup shouldn't just be limited to fall and winter! This green blend loads up on super foods like watercress and spinach, giving you a serious nutrient boost. It's made creamy with cauliflower, and it tastes great chilled.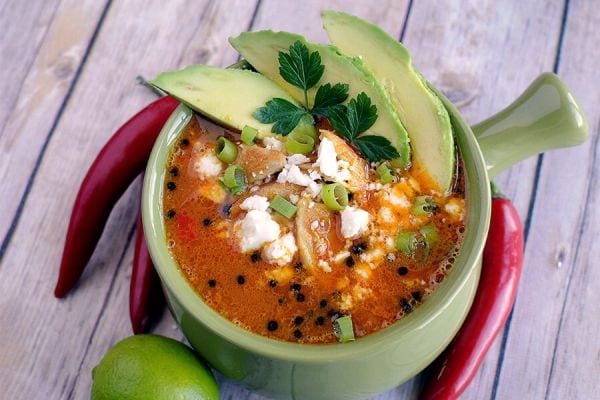 Spicy and savoury, this chili-type soup is packed with deep heat from hot chili peppers. Don't worry – the crumbles of queso fresco and slices of avocado on top will cool it down for you. Tender and buttery chicken thighs stand in for the beans in this chili. The base is rich and flavourful, and you won't be missing out! This soup comes in at just 6.5 net carbs per serving, so eat up!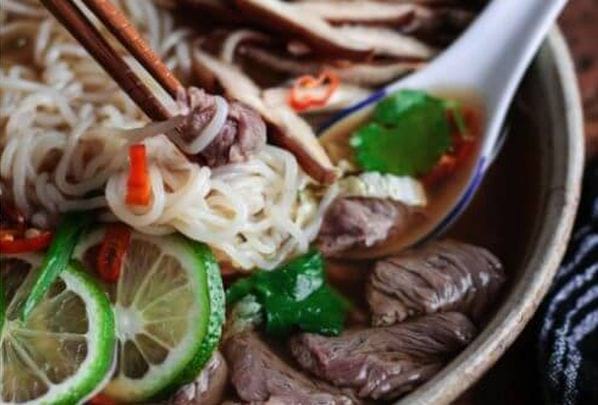 This soup reminds me a little of pho, tender sliced beef loaded into a big bowl of broth and garnished with cabbage, shiitake mushrooms, scallions, hot chili, and lime. The broth includes just as much prep as the soup itself – if not more. That's the secret to a good soup! In place of regular noodles, you can use carb-free shirataki noodles.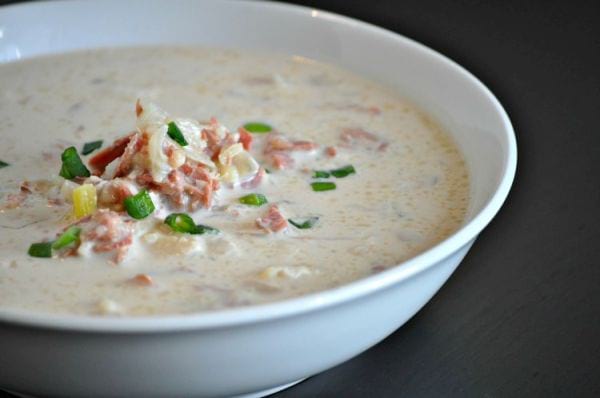 Take your favourite sandwich and turn it into soup. This rule almost always works – right? It certainly does with this reuben soup. It's loaded with corned beef, sauerkraut, caraway seeds, and Swiss cheese, not skipping a beat. Besides the bread, of course, but you won't miss it much!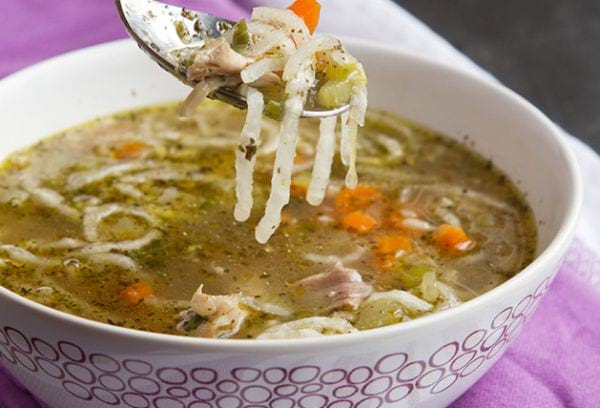 How could we leave you without a classic chicken noodle soup recipe? This keto soup doesn't use noodles or zoodles – instead, it's made with low-carb daikon radish, made into noodles using a spiralizer. Otherwise, it's just your regular chicken soup. This one is perfect for any night of the week, but it's especially good for fighting a cold or flu with.
Pin it for later from here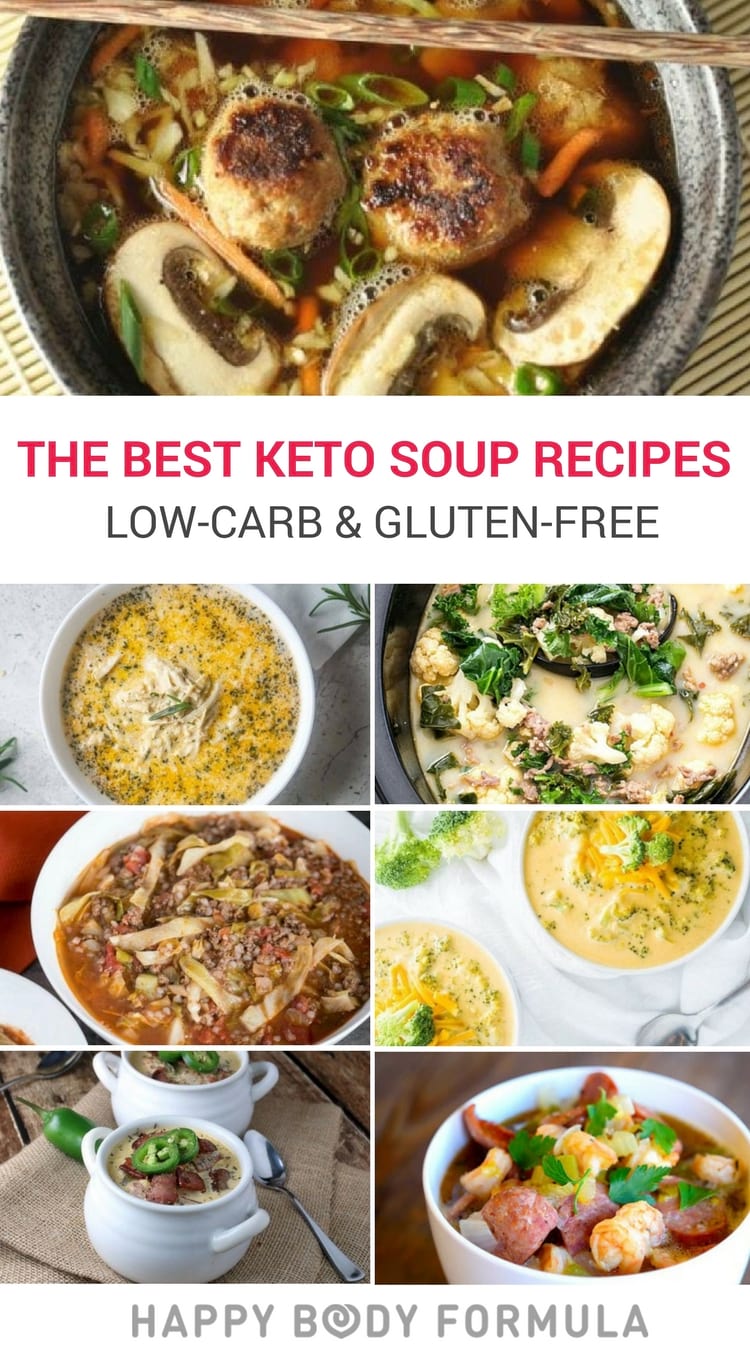 Music, mountains, dogs, travel, food and friends.