Meatloaf is either something you either love or hate. There isn't much middle ground when it comes to this food. Even more likely is that your love or hatred for this dish stems from somewhere.
Everyone grew up with a meatloaf recipe that they ate over and over. If you're leaning towards the side of general dislike, don't stop reading yet!
Meatloaf is what you make of it; it might just be that you've been chowing down on a rather bland recipe. It doesn't help that the classic dish is loaded with bread, and spread thick with sugary ketchup.
Rest assured – we've got a paleo meatloaf recipe that will mimic your grandma's with grain-free "bread crumbs" and tons of innovative twists for those who want to step outside the box. Bonus?
Lots of recipes for homemade, sugar-free ketchup! Get ready to add a whole slew of ideas to your batch-cooking routine.
Meatloaf cupcakes with sweet potato frosting
If this isn't a feast for the eyes, then I don't know what is. Not everyone likes the idea of meatloaf, but I think I speak for us all when I say that everyone likes the idea of cupcakes.
If your grandmother's classic meatloaf recipe isn't quite cutting it for the kids, this one just might get 'em to eat their dinner (and ask for seconds!) Whipped sweet potatoes will add a luxurious layer of "frosting" that rivals buttercream. Get the recipe from Wellness Mama.
Bacon chorizo chipotle-smothered meatloaf
Smothered? Count me in. There's something about food such a description that alludes to the utmost comfort and heartiness which is clearly present in this loaf.
We've got a half and half toss-up with beef and chorizo for a smoky base. It's wrapped in bacon and drizzled with chipotle mayo. This meatloaf recipe is a solid dinner plan if you want to spice things up – literally. Get the recipe from Paleomg.
Slow cooker breakfast meatloaf
Two things make this meatloaf recipe a winner: the hands-off approach and the fact that it will be ready for breakfast, the meal in which it's meant for.
Pork and maple syrup join forces with a long list of spices to make this loaf resemble a classic breakfast sausage. All you're responsible for in the AM? Frying up an egg to throw on top. Get the recipe from Meatified.
French pâté meatloaf
Ooh la la. This French-inspired loaf (oxymoron?) might be the fanciest of the loaves on our list today. Hidden ingredient? Liver, of course! Pâté is traditional French cuisine, but it's one of the most nutrient-dense foods you can consume on the paleo diet.
Luckily, it's tucked away in warm spices, juicy ground beef, creamy coconut, and crispy bacon. Nobody will ever guess they're eating liver! Get the recipe from The Nourished Caveman.
Rolled meatloaf
This isn't your mom's meatloaf; rather, it is a treasure trove of good stuff. If you're a meat and potatoes kinda guy (or gal), this is bound to appease your tastebuds!
It's packed with nutrient-dense, autumnal veggies like sweet potato, roasted brussels sprouts and mushrooms with a generous wrap of bacon. It takes some time and patience to get this one ready to serve, but it is oh so worth it. Get the drool-worthy recipe from The Healthy Foodie.
Paleo meatloaf with apple
Extra apples? This slightly-sweet paleo meatloaf recipe features shredded apples for an awesome texture and flavor. Use coconut aminos to bring in that salt and umami flavor, and top it off with an amazing ketchup recipe which is included.
Otherwise, this recipe is pretty straight-forward. Try a side of cauliflower mash to serve. Get the recipe from A Whole New Twist.
Bobotie (South African curried meatloaf)
Behold, the holy grail of "alternative" meatloaf recipes. Seriously, this will feel more like eating curry with its outstanding list of ingredients.
The spices turn this dish into a legitimate curry, and the treats are packed on the inside – black tea-soaked apricots and raisins will complement the beef and lamb combination brilliantly. Top this aromatic dish with sliced almonds for crunch-factor and presentation. Get the recipe from Grok Grub.
Avocado-stuffed chorizo meatloaf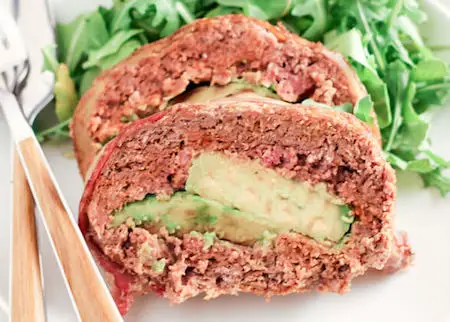 The name and the photo say it all. Yes, this meatloaf has a hidden center filled with our favorite fat, the avocado. But what about bacon, you say? The outer layer is covered in our second favorite fat, don't worry.
Beef and chorizo are the dynamic duo in this hearty dish. Save this one for a special occasion and serve with fresh salad to lighten up this robust main course. Get the recipe from Wicked Spatula.
Apple & sage elk meatloaf
This recipe is perfect for the AIP'er or someone with a minimalistic, rustic approach to the food they serve. It's the only contender that uses elk meat which makes it extra special.
The spices used – just sage and salt – are minimal while packing huge flavor. The true stars of this loaf, though? Tart Granny Smith apple and bacon bits dusted throughout. So much texture! Get the recipe from A Squirrel in the Kitchen.
Stuffed chicken parmesan meatloaf
If low-carb is your jam, this meatloaf is your kitchen calling, I promise! Chicken parmesan is a fantastic low-carb meal, and this loaf encompasses all of it's comfy, cozy, cheesy amazing-ness in every single slice.
It's perfect to pair up with a simple salad. You'll love cutting into this and watching the mix of parmesan, mozzarella and ricotta ooze out. Get the recipe from Peace, Love and Low Carb.
So, what's your classic meatloaf recipe? Have you adapted that family heirloom dish to a paleo approach? Share your best tips or recipes with us below.
Share this roundup on Pinterest.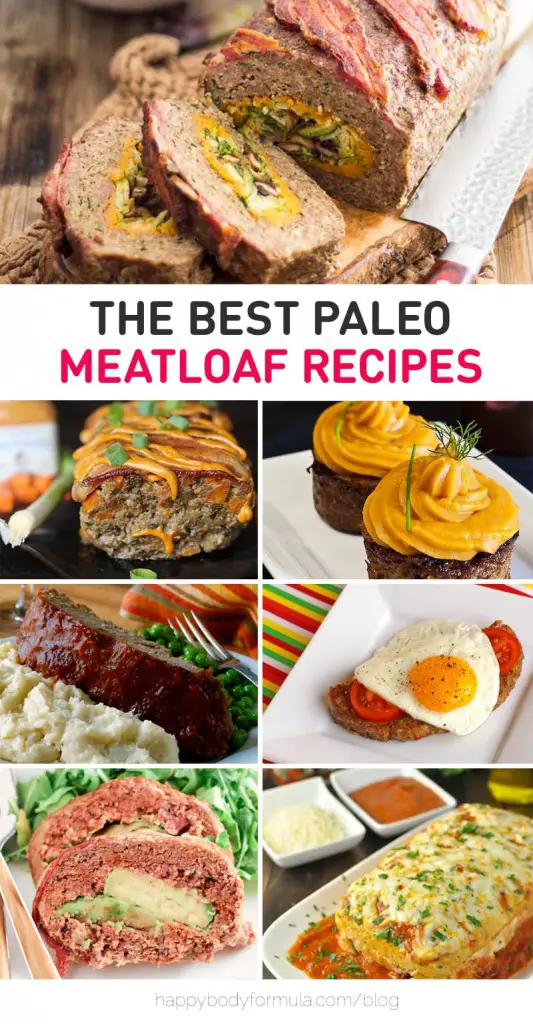 Music, mountains, dogs, travel, food and friends.