How to find the perfect paleo bar
All right, folks. I did the dirty work for you. You have officially been let off the hook for not having to eat ALL THE PROTEIN BARS. I mean, unless you want to.
As far as a task goes, my taste test wasn't what you would consider daunting; it was more like a good excuse to eat tasty things whilst sitting in traffic, feeling a little hungry after my workouts and late-night snacking.
I would recommend it to anyone who wants to have a little fun while having easy, on-the-go paleo protein bar options.
If you're unsure of where to begin, I've pretty much outlined the pros and cons of all these paleo bars so you don't have to get all ten. After all, it's much less expensive to buy one variety in bulk!
The only standards that each paleo protein bar had to meet were the following: more than 6 grams of protein per serving and strictly paleo ingredients. The market is growing, and there are a lot of choices when you are searching for a paleo protein bar.
Let me guide you in making the best choice! These are all good additions to some phases of the 30-day Happy Body Formula program or our 7-Day Make Ahead Meal Plan.
You can find most of these bars on Amazon or ThriveMarket. Both websites have the best prices around, and they have a great selection of other paleo goodies as well.
1. RxBars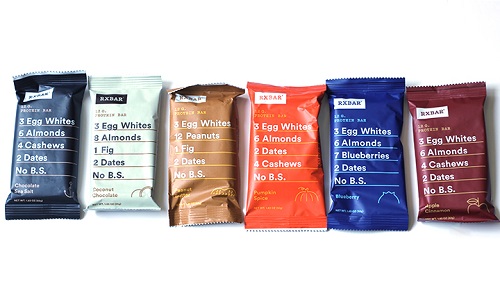 Upon opening the package, I was instantly excited to eat this one. I first tried the blueberry flavor, and the smell of real berries was intoxicating!
The aroma gave me the impression that this bar would be particularly sweet, but I was pleasantly surprised when I took my first bite.
The texture is the right in the middle of crunchy and chewy. The main ingredient is dates, but I believe that the egg white protein made it a bit more solid than the average fruit bar.
I found it to be a suitable meal replacement if necessary, and I felt full for about three hours after eating it. Lastly, it has a solid sugar to protein content ratio.
I've since eaten many RxBars, and I quite enjoy most of the flavors. These are also a good option for Whole30 protein bars if used in moderation.
These are my go-to bar, and I generally pack them for hikes. The taste, texture, ingredients and nutrition can't be matched. 10/10 – these might be the best paleo protein bars on the market. Purchase the RxBar variety pack here.
Ingredients: Dates, Egg Whites, Almonds, Figs, Blueberries (Apple Juice Concentrate), Natural Blueberry Flavour.
2. PaleoKrunch Bar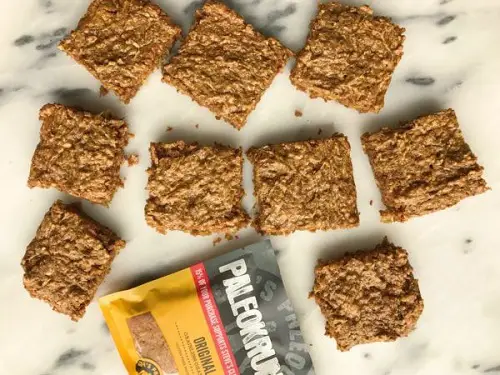 During my initial purchases, I made it a point to choose as wide of a flavor variety as possible. I was delighted when I found a pumpkin bar.
This bar was close to a granola texture which I love, and this company also makes grain-free granola in case cereal is more your jam. Its base is made up of mostly nuts and seeds, so the sugar content was nice and low.
This bar gave me good energy without the risk of an insulin spike or a sugar high, which I feel is more likely with fruit-based bars. The stand-out feature in the Krunch bar was the aromatic mix of spices.
It tasted cosy like autumn, and being able to indulge in that pumpkin spice awesomeness year-round for a protein boost is a good feeling. Bonus: real pumpkin used in the making! Purchase the pumpkin PaleoKrunch bar here.
Ingredients: Raw Almonds, Shredded Coconut, Raw Pumpkin Seeds, Raw Sunflower Seeds, Coconut Oil, Honey, Pumpkin, Baking Soda, Vanilla, Cinnamon, Ginger, Nutmeg, Cloves.
3. EPIC Bars
This is one of the few bars I tried that I see in stores often – even convenience stores and big chain grocers. First of all, I tried the lamb bar initially; the currant and mint is a beautiful flavor profile against the slightly game-y flavour of lamb. In jerky form, though, the smokiness is prominent.
I've since tried all of the EPIC flavors I have come across with mixed reviews, but most are positive with salmon coming in at the bottom of the list.
The texture of this jerky is unlike the traditional jerky I consumed pre-paleo; these bars are moist and chewy with drier varieties depending on the meat (i.e. lean meats like turkey and chicken).
Overall, these are such great real food staples to have on hand, especially during the HBF program! The protein content is naturally high because, well, it's made of meat!
I was satisfied for awhile with this one, although I wouldn't consider it a good meal replacement as it is lower in calories than most bars. I do bring these on outdoor adventures as the energy is very sustainable in between meals, and the portability is a plus. The nutritional facts below are for the lamb bar. Purchase the EPIC Bar variety pack here.

Ingredients: Organic Lamb, Organic Currants, Sea Salt, Lactic Acid*, Celery Powder, Spices (Marjoram, Basil, Oregano, Rosemary, Red Pepper, Black Pepper), Sesame Seeds, Dehydrated Spearmint Leaves, Dehydrated Lemon Peel. *Not From Milk
4. Paleo Simplified Bar
Ah, yet another fall flavor I was very excited to try – pecan pie! I'm a sucker for dessert, and I like those fall flavors above all (besides maybe chocolate). The texture of this paleo protein bar was good, resembling that of a brownie.
This bar felt the most indulgent of them all. The nutty flavor of the hemp protein that Paleo Simplified uses in their bars complemented the pecan taste very well. In fact, it tasted a lot like a crustless pie.
I also love that they sneak spirulina into the mix for a chlorophyll boost! This bar boasts a protein content on the lower end of the spectrum, so it merely satisfied my sweet tooth rather than providing satiety. Hey, I'm not complaining. Sometimes, that's all you need.
I also love that they sneak super food spirulina into the mix for a chlorophyll boost! This bar boasts a protein content on the lower end of the spectrum, so it merely satisfied my sweet tooth rather than providing satiety.
Hey – I'm not complaining. Sometimes, that's all you need. It is what it says it is – an energy bar. Buy the variety pack featuring pecan, chocolate coconut and fruit/nut here.
Ingredients: Dates, Pecans, Hemp Protein, Goji Berries, Coconut, Unrefined Coconut Oil, Pure Vanilla Extract, Dried Spirulina.
5. Tanka Bar
It's the battle of the jerkies! Between this and the EPIC bar, I can't choose a clear favorite. The flavor profile in this buffalo bar is much more notably citrus which pairs exceptionally well with the lean meat.
It's slightly sweet but satisfies the need for a savory snack. The small portion and low-calorie content make this a fantastic choice for a snack when you don't want to spoil your dinner, but you start getting ravenous.
Considering how tiny this bar is, the protein content is very substantial! Once again, I definitely prefer an animal protein source because I know this is what the body is going to absorb and convert to energy the best.
The only downside to this for some people may be that the ingredients blatantly contain trace amounts of sugar, so it's not Whole30-compliant, and would only fit into the Happy Body Formula program during later phases. Purchase the Tanka bar variety pack here.

Ingredients: Buffalo, Dried Cranberries (Cranberries, Sugar), Dried Apples, Sea Salt, Encapsulated Lactic Acid, Celery Juice, Black Pepper, Cane Crystals, Dehydrated Orange Peel, Spices, Cinnamon, Onion, Garlic Powder.
6. Keep It Real Seed & Nut Paleo Protein Bar
Mmm, yummy. This recipe from Keep It Real is based on a "no-grainola," so the texture is spot on. Bonus: they also make grain-free granola! It's sweet, nutty, and quite delicious.
The whiff of cinnamon you get upon opening the package is mouth-watering. This bar is also nut-free despite mocking granola, so those of you with sensitivities – rejoice!
The variety of ingredients gives this an entirely different nutrient complex than the rest of the bars, containing some of the healthiest nuts and seeds for you like flaxseed for an omega-3 fatty acid boost and pumpkin seeds.
It is a filling, just-sweet-enough treat. This paleo protein bar brand was easily one of the best and most delicious options. Purchase the Keep It Real bars here.
Ingredients: Organic seeds (flax, pumpkin, sunflower, sesame), almonds, honey, organic coconut oil, vanilla, cinnamon, salt.
7. Paleo Eats Bar
With three flavours I love to choose from, I had high hopes. Coconut cacao, chai or coffee bean? I had this one after a workout when I was unexpectedly starving with a little time left until dinner.
It definitely id the trick! The bar is pretty filling as it is. The downside to this variety is that there are four different sources of sugar. Yikes! It also contains the longest list of ingredients overall which is generally a bad sign.
Between both the fat and sugar content, using this bar as a source of protein may not be the best bet. It is a nice compliant snack for later phases of the Happy Body Formula program and daily life if you find yourself needing a pick-me-up. Regardless, it was utterly delicious albeit a little too sugary. Get the three flavour sample pack here.
Ingredients: Organic Coconut, Organic Almonds, Raw Honey, Organic Extra Virgin Coconut Oil, Chocolate Chips (70% Chocolate, Organic Cane Sugar, Organic Chocolate Liquor [Non-Alcoholic], Non-Dairy Organic Cocoa Butter & Organic Vanilla), Organic Dates, Organic Sunflower Seeds (Raw, Shelled), Organic Raw Cacao Powder, Milled Organic Flax Seed, Organic Maple Syrup, Organic Vanilla Extract, Pure Almond Extract, Himalayan Pink Sea Salt.
8. Exo Bar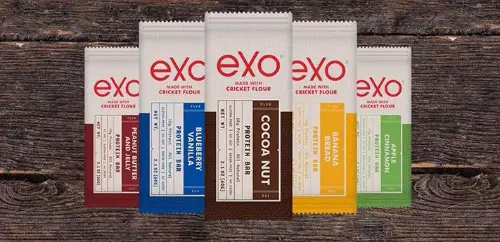 This one was exciting – I got my first taste of crickets! Yep, that's where the protein comes from. Insect protein is fantastic for you in terms of how your body uses it, and it's highly sustainable in terms of animal protein.
I was so impressed with how tasty the Exo bar was. The texture and taste reminded me a lot of an apple pie Larabar, which IS paleo-friendly, but lacks the protein you get in this option.
I ate this paleo protein bar in addition to my breakfast one morning, and it supplemented my protein intake well with a little carbohydrate action. The taste was on the sweet side, but the cinnamon took it down a notch.
Fun fact: if you have a shellfish allergy, you may also be allergic to crickets! Oh, and I swear you won't even know you're eating bugs. These are one of the best paleo bars both nutrition-wise and taste-wise.
All flavors are compliant besides peanut butter and jelly. Get the Exo Bar variety pack here.
Ingredients: Almonds, Plum Paste (Plum Juice Concentrate, Plums), Apricots, Apple Paste (Apple Juice Concentrate, Apple Puree Concentrate), Cricket Flour (Acheta Domesticus), Honey, Apples, Ground Flaxseeds, Coconut, Vanilla Extract, Spices, Sea Salt.
Hopefully, now you have an easier time choosing a paleo protein bar. Share this article with your paleo friends who might be looking for the best high-protein, real food bars on the market. Let us know which one is your favourite, or the bar you're most looking forward to trying!
Music, mountains, dogs, travel, food and friends.