Learn how to eat like a celeb! Okay, maybe that's a little too much pressure. Celebrities are showing up on the big screen and getting their photos snapped by the paparazzi everyday, so the heat is ON.
Of course, it's part of their career and livelihood to keep a fit physique, so working out with trainers for long hours and having healthy food sometimes prepared for them is all in the name of the game (and the budget).
While the average person doesn't need to dedicate themselves so fully to diet, it's interesting to know how many celebrities have adapted the Happy Body mentality – or rather the real food or paleo approach – over the years since its rise.
It's a pretty safe bet. Here are some of the stars who've cut dairy and grains to up the veggies and the protein.
Jessica Biel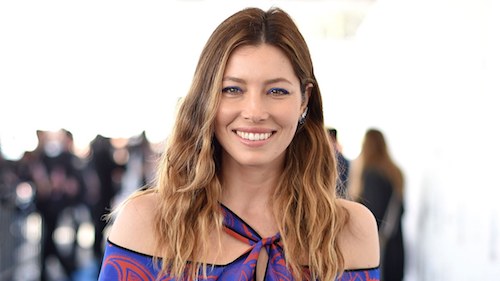 Jessica Biel is someone whose mentality we admire because she's all about balance, quite like we are. We like any "diet" that caters to the individual's needs with some attention to detail.
Biel admits she feels much better without gluten or dairy, attributing these eliminations to better energy, digestion and feeling better overall in an interview with the Los Angeles Times.
She's a big fan of paleo pancakes (and so is her 1-year-old son!), fresh squeezed juice, quinoa bowls, veggie burgers and fresh fish. Avoiding gluten for her seems to mean divvying up protein intake between plants and animals which we love – it means sustainability, and it works for some people! It also means flexibility.
She's emphasised the important of veggies in her diet – especially fermented foods – saying, "Fermented veggies and probiotics are also great for my skin and digestion. I also drink green tea, and I slip in veggies like beets and zucchini into cakes and fudge."
Megan Fox
Remember Megan Fox's first post-pregnancy weight drop? It was admirable to say the least. While celebrities face a bit more pressure to return to their pre-baby bodies, we can't help but get curious about the approach!
Some people might follow a crash diet protocol, but Fox's secret? Cutting dairy was the big thing.
She's now had three pregnancies, and she's outspoken about her diet especially during her pregnancies!
She ensures proper nutrition while eating for two – changing it each trimester with different needs – combined with a moderate workout schedule which has notoriously lead her to moderate weight gain during pregnancy, easy loss after and happy, healthy babies!
While she's not deeming it "paleo" or not, we know she's loving on her veggies and protein combos while ditching the carbs and dairy products.
Matthew McConaughey
Matthew McConaughey is known for transforming for his roles. Evidently, he's a pro at both cutting down and getting ripped and packing on the pounds for a role, showing his dedication to acting.
What about his dedication to diet?
He dropped nearly 50 pounds for Dallas Buyers Club in 2013, relying on these generous portions of protein and veggies while indulging in small breakfasts and wine at night. Ah, yes!
The stars are just like us, implementing some balance and winding down after a long day. Most recently, he had to pack on pounds for a role though, which means plenty of junk food and beer.
This was just McConaughey's more extreme diets for rapid weight loss and gain, including intense workouts (or not working out at all); regularly, he cuts grains from the diet.
Perhaps it's safe to say most celebrity diets don't always remain consistent! It's what you do MOST of the time that matters, and McConaughey says, "I have a job where I like to look good and be as healthy as possible."
Anne Hathaway
Anne Hathaway once followed a vegan diet only to convert to a more paleo-style diet after feeling a bit weak, hungry and drained of energy. She made headlines for her Les Miserables role and the lettuce diet which is as extreme and unhealthy as it sounds.
Yikes! She dropped weight quickly but she also felt horrendous.
If you know anything about HBF's nutrition philosophy, you know sticking to the "diet" or rather, the lifestyle, and constantly feeling fueled are some of the key reasons we focus on sustainable animal products and healthy fats – especially animal fats!
She began including fish in the diet on a low-carb protocol and has since began including more variety in animal proteins.
Gisele Bundchen
Gisele and hubs Tom Brady are well known for their diet. The model and athlete combo might just suggest that staying in tip-top shape is SUPER important to them both.
Plus, they have a pretty awesome personal chef who has spilled many of the details of what they're cooking up for the couple behind the scenes.
80% of the diet is made up of fresh, organic vegetables while the remaining 20% is made up of whole grains or pseudograins like buckwheat and quinoa.
They also include pastured and grass-fed meats for a protein boost. The couple is definitely avoiding white foods like flour and sugar, MSG, coffee and all caffeine plus the big one for many celebs – dairy!
They're passing on healthy habits to the kiddos too with nutrient-dense snacks like organic fruit leather and additions of super foods like spirulina. Check out more about their daily diet here.
Kim Kardashian
Of course a Kardashian ended up on the list. Kim's curves are enviable, so naturally, we're curious about what she's eating to keep her body healthy and fuelled!
We know she's dabbled with a low-carb approach; she's done Atkins or a ketogenic approach during and after pregnancy which she claims meets all nutritional requirements. It probably helps to shed the post-baby weight, too.
Breakfast might be an omelette, lunch might be a chicken salad and dinner might be zoodles with sausage. We're pretty familiar with this kind of menu!
Considering her low-carb approach, Kim does include quite a bit of dairy because healthy fats are important (and it's freakin' tasty).
Oh, and she eats around 1,800 calories per day! We hate to see so many popular celebrity diets focusing on a severe and unmanageable calorie deficit, so knowing Kim eats a healthy amount for her body type, lifestyle and activity levels is awesome!
Gwyneth Paltrow
Okay, her diet is a little controversial and she doesn't get cut much slack with just how religious she is about her eating habits, but we think she's on to something.
At the root of it all, we agree with her dietary standards and she certainly believes in the power of real food, quality food and preparing it from scratch.
We will see loads of fish and veggies in Gwyneth's diet, unsurprisingly. We might see veggie omelettes (with quail eggs – not chicken eggs, which she is sensitive to), wild-caught smoked salmon, super food sardines, and avocado toast using gluten-free bread.
The constants are that she always avoids gluten and dairy much like most real food or paleo regimes, because she knows they don't settle well with her.
You can read more about Gwyneth's diet and learn to eat more like her with her cookbook, IT'S ALL GOOD, focused on recipes that will make you look AND feel good.
Kobe Bryant
It's refreshing to see athletes following a real food diet. You know these guys are eating a TON to fuel long days of practice and perform their best at games while keeping cut and muscular.
Naturally, it makes the most sense to fuel an active lifestyle with the best quality stuff possible! Kobe has it going on, and the paleo diet might be the secret to his on-court magic.
First and foremost, he's an all work and no play kinda guy with a strict no junk food rule. Sure, we like our 80/20, but some people do better with some hard and fast guidelines to abide by.
He follows a custom paleo diet and mostly relies on lean protein, so we can deduce that perhaps he has a bit less fat on his plate.
In any case, he goes light on the carbs which prove that even active people don't need to "carb load" if they become more adapted to using other sources of macronutrient fuel!
We hope you enjoyed this article! The real food approach is becoming more and more popular, and it's great to see people from all walks of life take a holistic approach to nutrition, feeling good and staying fit.
Music, mountains, dogs, travel, food and friends.