Lettuce wraps are no longer "diet food," and we think you'll see that pretty clearly by the end of this roundup. Ditching wheat and other grains can be tough, especially because it limits our sandwich and wrap options.
Fear not! Where there's a will, there's a way. Enter lettuce. While it's not as sturdy as your standard wrap, it provides a base for us to stack and load awesome, nutritious foods into.
The wrap is merely a vehicle; it's what's on the inside that truly counts. When it comes to our lettuce wraps, we're big fans of an Asian twist.
Crunchy, pickled veggies and flavorful, marinated protein just pair well with crunchy, leafy greens. Here are our favorite, healthy Asian lettuce wrap recipes.
1. Turkey curry meatball wraps with Asian slaw from Heather Christo
You can jazz up meatballs in any which way, but tossing one into a gorgeous cup of leafy greenery atop a bed of Asian slaw has to be one of the best. The curry flavor in the protein pairs well with crunchy, crispy veggies.
The meat itself has red pepper and jalapeños tucked in there for a burst of gusto and a pop of colour. Not only is this meal tasty, but the presentation is exceptional. Get the recipe from Heather Christo.
2. P.F. Chang's chicken lettuce wraps from The Domestic Man
If you've ever eaten at P.F. Chang's, you've probably had their infamous chicken lettuce wraps. No doubt, they are delicious, but they are loaded with unhealthy ingredients.
This perfect recreation of the classic dish is restaurant-worthy, but it's served with grain-free sweet potato noodles for a nourishing spin. The sauce is also without wheat and sugar – score! Get the recipe from The Domestic Man.
3. Asian steak lettuce wraps from Shared Appetite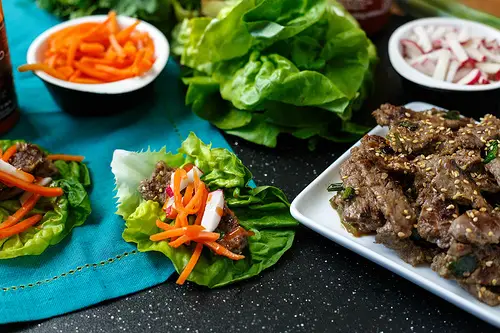 Build your own lettuce wrap with this gorgeous spread! Asian steak is marinated in a soy sauce and rice vinegar liquid with fresh ginger, garlic, onion and pears, bringing in some fresh flavor and subtle sweetness.
You don't want to skip out on the toppings either, including quick pickled carrots. Get the recipe from Shared Appetite.
4. Asian crispy shrimp lettuce wraps from The Charming Detroiter
Crispy fried shrimp, vibrant pickled veggies and fresh greens? It's a dream come true. The fresh ground chili paste gives this dish plenty of kick with a nutty depth of flavor from sesame oil.
The hoisin sauce brings in a touch of sweetness, and you've got the ultimate balance of Asian-inspired flavor with these wraps. You could sub out shrimp for other fish or poultry, too. Get the recipe from The Charming Detroiter.
5. Chicken lettuce wrap chopped salad from Skinnytaste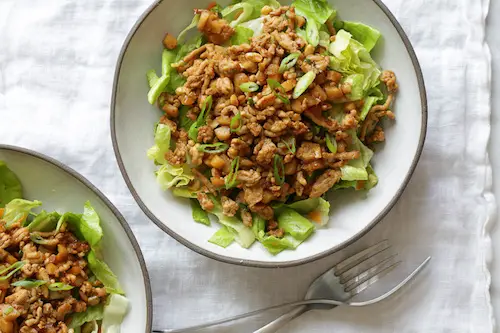 Okay, so maybe these aren't lettuce wraps, but they're inspired by lettuce wraps, so it counts. Consider it deconstructed. This recipe is a chopped salad remix of those P.F. Chang's wraps for a main dish that is dressed to impress, delicious to eat and easy to prep and pack for later.
Maybe you're just a salads > sandwich kind of person. Plus, the Asian dressing is great for a variety of dishes! Get the recipe from Skinnytaste.
6. Grilled salmon, pineapple and rice lettuce cups from Half Baked Harvest
Lettuce cups ain't "diet food" when you do them up like this. Gorgeous grilled salmon filets with an Asian spin, browned and caramelized pineapple and rice are piled high on these cups for one satisfying main dish.
You could use cauliflower rice on the bottom if you're avoiding grains. Just don't skip the honey glaze – arguably the best part! Get the recipe from Half Baked Harvest.
7. Vegan bulgogi lettuce wraps from Making Thyme for Health
Bulgogi is typically made from beef marinated in an Asian sauce, but this recipe is 100% meat-free (and you won't even miss it). The star of the show is undoubtedly the gochujang a.k.a. Korean BBQ sauce.
Believe it when we say you're going to want seconds and thirds. If you're an omnivore, you can swap out tofu for any other meat. Get the recipe from Making Thyme for Health.
8. Smoked pulled pork lettuce wraps with Asian sauce from Vindulge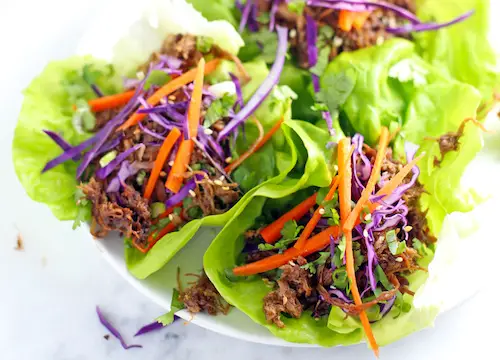 Pulled pork is the jam in every which way, but we love them piled high in lettuce cups with a colorful slaw, providing plenty of crunch to buffer that tender awesomeness from the meat.
These are served with an Asian dipping (or drizzling) sauce with notes both sweet and savory. Get the recipe from Vindulge.
9. Mu Shu jackfruit lettuce wraps from Fat Free Vegan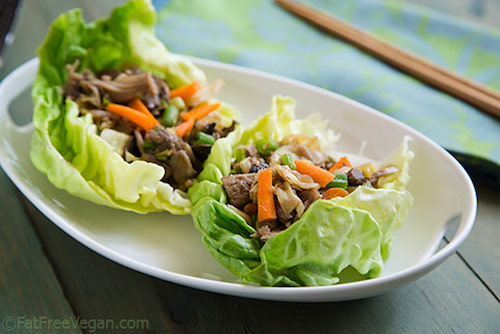 Did you know jackfruit is often used as a meat replacement? Its texture lends itself well to soaking up sauces like BBQ or an Asian blend like in this lettuce wrap recipe.
You can often find it canned – just look for a product without syrup or added sugar. The fruit lends itself well to a slightly sweet recipe. You can see more of our favorite jackfruit dishes here. Get the recipe from Fat Free Vegan.
10. Korean beef lettuce wraps from The Complete Savorist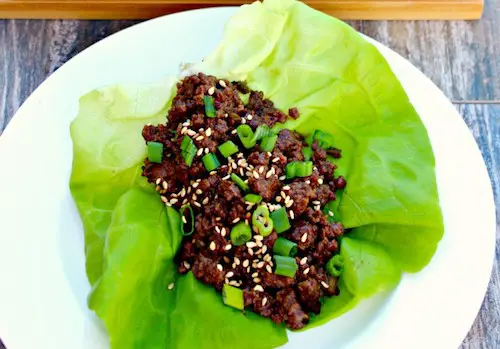 This beef is a great meal prep recipe to dig into throughout the week. It's budget-friendly and quick to make for healthy lunches, dinners and breakfasts if you're feeling crazy.
The Korean flavor is unmistakable and authentic without much fuss. Get the recipe from The Complete Savorist.
What's your go-to lettuce wrap combo? Tell us below! If you liked these recipes and are looking forward to putting some in the rotation, share our roundup! Share on Pinterest from here.
Music, mountains, dogs, travel, food and friends.