You might have seen jackfruit gaining some traction recently. If you're not in the loop, here's what you should know, including some delicious jackfruit recipes that will surprise and intrigue you.
---
The jackfruit is the largest tree fruit in the world. If you're lucky, you could get a fruit that weighs up to 100 pounds. Yeah, this stuff is no joke! This crop isn't as popular as it should be, though.
Despite easy growth maintenance, large quantities, and loads of nutrition, people aren't utilizing the crop as well as they are corn and wheat crops.
It's believed that jackfruit could solve hunger in regions who suffer from food insecurity. As of now, its popularity is growing in the vegan community as a meat substitute.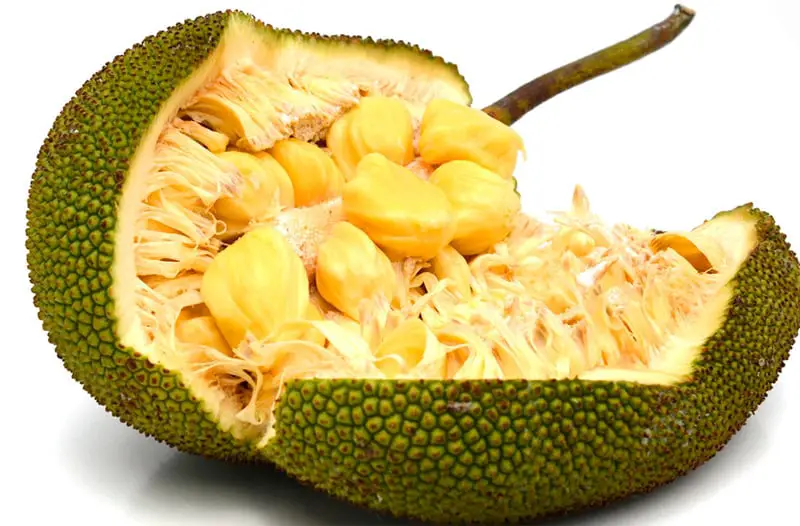 At first glance, the fruit might not seem like much. In fact, you may be put off by its slightly pungent smell (although much milder than durian fruit) and hard-to-crack shell. It's not exactly pretty.
These factors are worth moving past, though. Jackfruit is rich with protein, potassium and vitamin B, and it's pretty low-carb for a fruit. Despite its strange aroma, the taste is quite sweet and easily eaten raw, dried, or cooked in a savory dish. Jackfruit tacos anyone? We'll get there…
We've got quite a few amazing recipes that feature jackfruit for you to test out. That is, if you can get your hands on it. If you're on the hunt, you should first check out your local Asian market.
That's where you might find it fresh. Otherwise, it could get difficult. Trader Joe's does sell freeze-dried jackfruit, and the most common product will probably be in a can doused in syrup so you'll want to avoid the added sugar.
For a quick snack, you can also purchase dried jackfruit which is soft, chewy, and sweet.
You can often order canned jackfruit online if you're really itching to make one of these dishes, and we bet you will be! If you're lucky enough to stumble upon this fun fruit, here are a few ideas.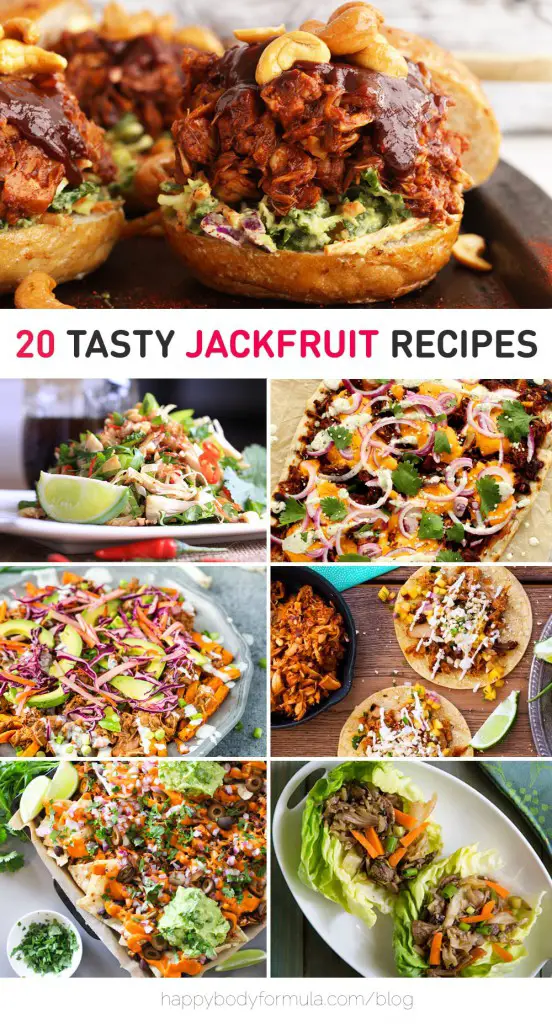 First and foremost, you should read this handy dandy guide to preparing and eating a jackfruit from Baker Gal. It's a little complicated, but the process is fruitful – no pun intended.
You might wonder how jackfruit could possibly mimic a barbecue pulled pork dish, but you will be pleasantly surprised. Throw a pile on a gluten free bun with some avocado slaw and crunchy cashews, and you have a texture and taste explosion. I recommend KC Natural BBQ sauce sweetened with molasses and maple syrup.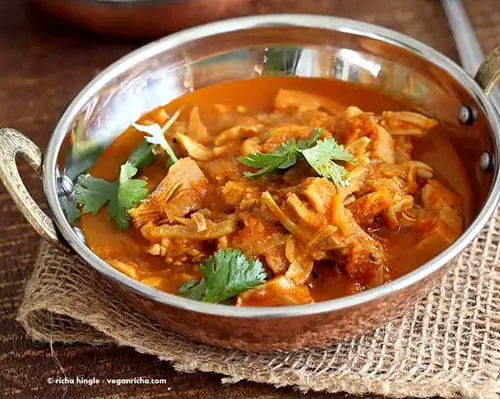 Curry is all about the sauce, so the jackfruit lends a nice texture and sweetness that tastes really good smothered in a creamy, aromatic, liquid. If you're looking for a way to do meatless Monday in style, this is the jam. Serve it over cauliflower rice or quinoa.
You might be noticing a trend here; jackfruit is seldom paired with meat. Rather, it's used as the meat. This offers up a versatile dish that will please the herbivores and omnivores in your life.
These crab cakes make it easy to avoid the price of real crab and using imitation crab altogether, so if you're on a budget, consider making this recipe from In Johanna's Kitchen.
Maple cinnamon delicata squash salad with jackfruit bacon
Not only can jackfruit disguise itself as one amazing BBQ dish, but it occasionally masquerades as bacon. Smoky and sweet make this the perfect addition to this warm, veggie packed salad from Sweet Simple Vegan.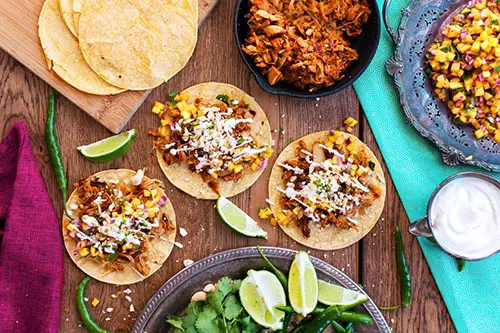 If you can make a barbecue pork, you can bet that jackfruit makes a mean carnitas substitution. These vegan tacos are the perfect example.
They're topped off with a luscious avocado crema with a little spicy mango salsa. Not feeling corn tortillas? Opt for lettuce wraps or a taco bowl instead. If you're keeping carbs low, try these low-carb soft taco tortillas.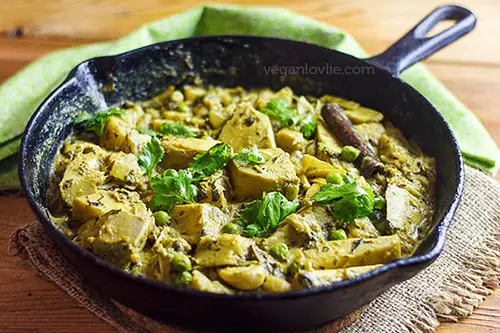 Yeah, yeah. We're going to see quite a bit of curry here, but this one is a green curry with loads of fresh mint and coriander, so we're switching things up a bit. This recipe recommends a bit of cucumber raita on the side to cool things down.
Jackfruit tuna melt sandwich
This unique takes the road less traveled, using jackfruit as a fish substitute. Serve this up on gluten-free bread if wheat isn't your jam, or pack it up in collard greens for a quick and easy wrap.
This would be an awesome dish to prep at the beginning of the week. Read the recipe at Keepin It Kind.
Jackfruit Biryani
This one-pot recipe turns a standard Biryani dish, which is primarily characterised as a rice dish. You can opt to use cauliflower rice instead if you're going against the grain. Otherwise, if your spice cabinet is full, you've got this one covered. Get the details at Archana's Kitchen.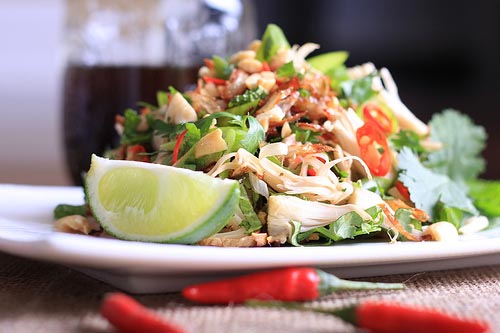 Looking for something simple? Well, look no further. This recipe comes together in a flash and it boasts an ingredient list suitable for the minimalist cook. If you're avoiding peanuts, try crushing up some cashews or pistachios instead in this recipe.
If you're looking for lighter fare, these lettuce wraps are the way to go. They're a super veggie-centric lunch with a bit of Asian flare.
Jackfruit and kimchi BLT sliders
These mini sandwiches are a fresh pop of flavour and nourishment with healthy jackfruit and a probiotic boost from one of our favourite fermented foods, kimchi!
Skip the buns if you're skipping wheat and serve these in lettuce cups instead. Find out all about this maple jackfruit bacon from Vedged Out.
Jackfruit custard strawberry parfait
Jackfruit is a fruit, so despite its tendency to be prepared as a main savoury dish, it does lend itself well to dessert. This four ingredient smoothie with a creamy jackfruit custard base proves the point. Easy, refreshing and delicious. Get the inside scoop from My Healthy Dish.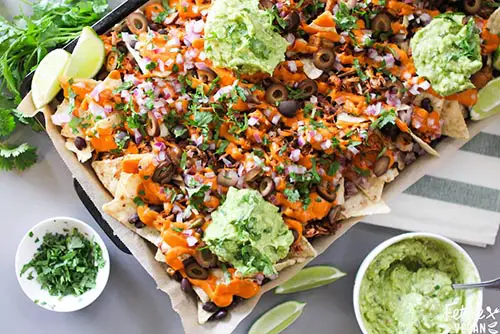 Okay, now we're talking. Tacos are fun and all, but nachos are much easier to share, and that's half the fun of food. This dish is all dressed up with somewhere to go.
Opt for organic corn tortilla chips for a splurge, and make your own queso at home with quality dairy to replicate this recipe.
Grilled BBQ jackfruit pizza with hemp seed cheddar from Blissful Basil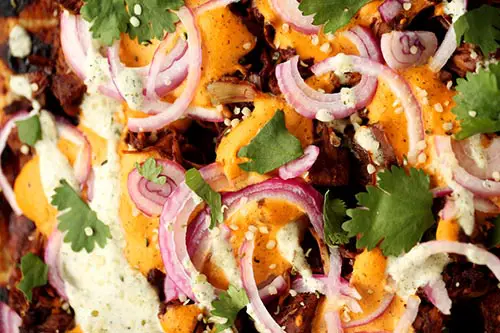 If you want to get a little involved in the kitchen, or you're just looking for a better-for-you pizza recipe, this jackfruit recipe is the jam. A BBQ "meat" and a delicious dairy-free cheese recipe to boot?
Yes, please! You can sub your favorite paleo pizza crust if you're gluten-free with for this amazing pie from Blissful Basil.
Indian spiced pumpkin and jackfruit chili
Here's another warm and cozy dish to curl up on the couch with. This autumn-inspired recipe includes a hearty mix of pumpkin and jackfruit – no beans necessary! The secret ingredient? Root beer. Try this chili out from Edible Feast.
Turon with plantains and jackfruit
Ever had spring rolls for dessert? This is evidently a traditional Filipino dish that incorporates sweet plantains and jackfruit making for a starchy and delicious combo.
Oh, and there's some sugar involved, but this recipe keeps it clean with coconut sugar. Get the sweet scoop from Living Food Love.
Buffalo jackfruit spinach dip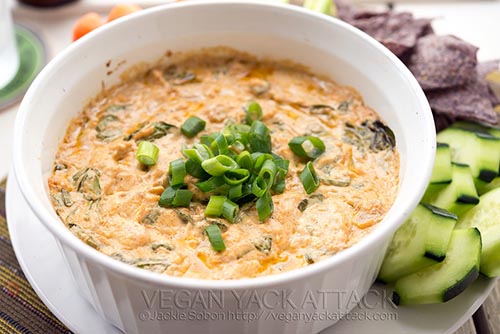 This recipe uses dairy substitutes, but you could opt for the real deal if you so desire. Either way, you're in for a treat. This appetizer is just begging for a quick dip. Watch this bowl disappear. Find the recipe at Vegan Yak Attack.
Loaded sweet potato fries with BBQ jackfruit & slaw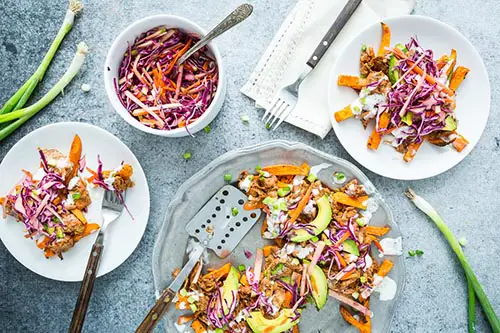 This one is truly a stunner, and you'd be crazy not to make this healthy version of loaded fries. With sweet potatoes as the base, it's topped off with a pile of barbecued jackfruit and a red cabbage and apple slaw. Sweet and savoury, this dish will NOT last long. Get in on the goodness from Keepin It Kind.
Jackfruit reuben dip
Another popular jackfruit substitution? Reuben meat! Apparently, you can whip up a lovely corned jackfruit just like beef. Don't forget the kraut!
This recipe includes the Thousand Island dressing, the jackfruit recipe, and a dairy free Swiss cheese from In Johnna's Kitchen.
Chakka payasam aka jackfruit pudding
Here's for more of the sweet stuff. This simple dish incorporates coconut milk and cashews to give it that creamy texture you're after when whipping up a sweet pudding. It uses a few obscure ingredients, but if you're up for the challenge, you should check out this jackfruit dessert from Zesty South Indian Kitchen.
We hope you have luck on your search for some jackfruit! What recipe are you dying to try? Share with us below!
Music, mountains, dogs, travel, food and friends.