Yoghurt is generally associated with sweet dishes. It's used for parfaits – layered with fruit, granola, nuts, and seeds.
It's a good addition to healthy desserts in place of ice cream, lending its creamy texture without the sugar and with a boost of protein. It also makes a great baking ingredient in place of eggs or other heavy ingredients.
It's also ubiquitously disguised as a health food, but the market is rather convoluted. Plain yoghurt is a highly nutritious fermented food, though.
Without any added sugar or sugary ingredients, yoghurt has a lot of potential in both sweet and savory cuisine.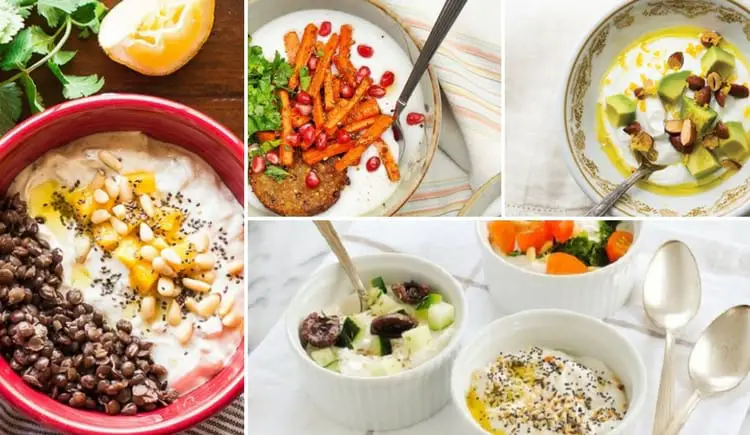 In terms of savory dishes, you're most likely to find it in Indian cuisine. It cools down spicy foods and adds a bit of tang to something with lots of rich, warm spices.
With the Greek yoghurt health food boom, and additions to the market shelves like dairy-free coconut yoghurt for those who avoid it entirely, though, the doors of possibility have truly opened up.
Here are some savory yoghurt bowl ideas for your sugar-free fix. All recipes containing dairy yoghurt can be substituted with coconut yoghurt or almond milk yoghurt.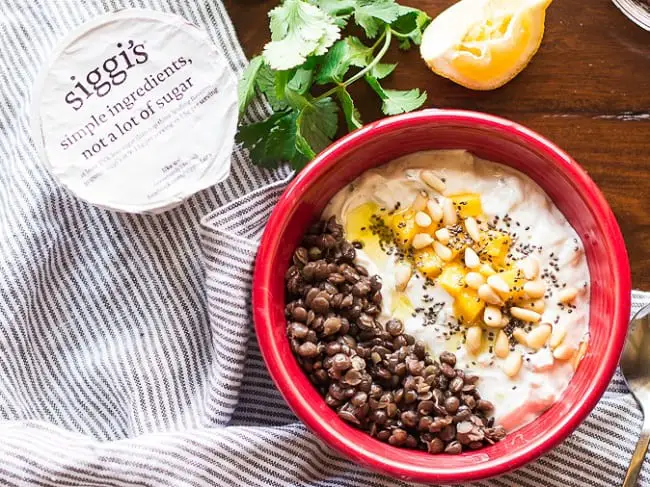 Mediterranean cuisine is another that really embraces yoghurt as a savory addition to a dish. It pairs well with classic flavors of the Mediterranean – lemon, cucumber, cumin, olive oil.
You can build a bowl much like you would a sweet yoghurt bowl. Crunchy veggies, warm spices, some bulk from cooked lentils of your choice, something sweet like diced mango or dried cranberries, and pine nuts will make it happen.
These make for a great breakfast, snack, or mason jar lunch.
More Mediterranean inspiration: Savoury yoghurt bowl ideas from Lentil.org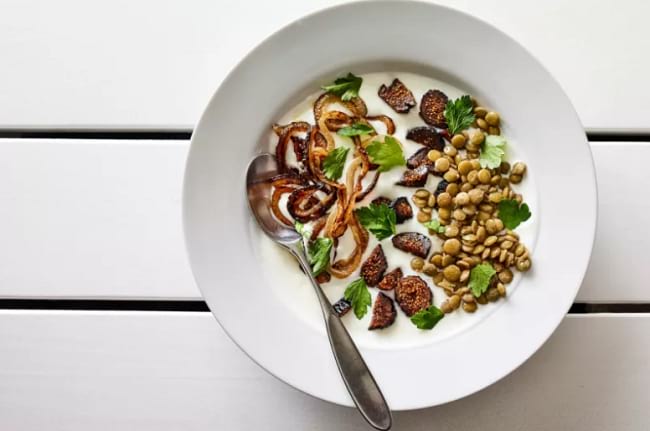 We had to toss in a little extra Mediterranean flair. The blend of cooked and dried ingredients in this really brings home the BIG flavor potential in a good yoghurt bowl.
The caramelized onions pair brilliantly with chewy, ultra-sweet dried figs and tender French lentils. Top this off with parsley sprigs for the best results.
With all of these Mediterranean-inspired ideas, you can really get to customizing your own bowl with your favorite ingredients. Best of all, they're mostly comprised of pantry staples!
More inspiration: Savoury yoghurt three ways from Joy of Kosher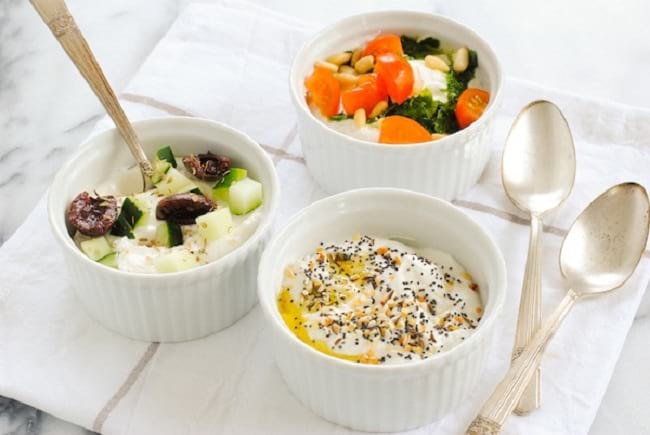 No matter your taste, you'll find something here. Turn your yoghurt bowl into an everything bagel with the right seasonings (and without the blood sugar spike from all that bread!), kick it Greek-style with olives and oregano, or add in some pesto and tomatoes for a caprese salad yoghurt.
You can add other toppings, too. Everything bagel pairs well with smoked salmon… wink wink.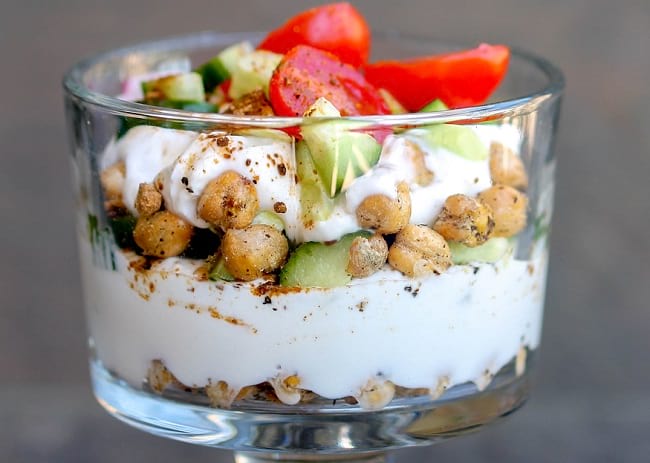 Layer it up! Every bite of this is jam-packed with goodness and plant protein from tasty roasted chickpeas, fresh and crunchy veggies, and a spicy, tangy chaat masala which you can make at home, or purchase at an Indian market or online.
We like this one! This unique blend contains asafoetida, bishop's weed, coriander, chili, clove, dry mango, ginger, and tons more. Spice up your life (or just your yoghurt).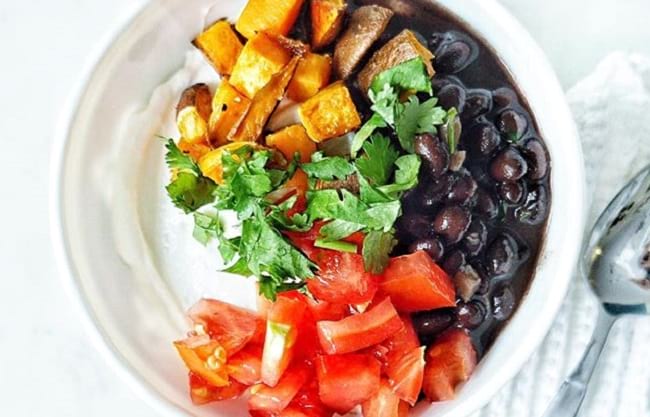 This savory yoghurt bowl takes on a Mexican flavor profile. It's a great "burrito" bowl with an unusual yoghurt base, but hey – it works. It works really well, in fact.
Add some roasted sweet potatoes, black beans, chopped tomato, and cilantro to it for a complete meal. This makes an easy-to-prep vegetarian lunch that's packed with protein and nutrients.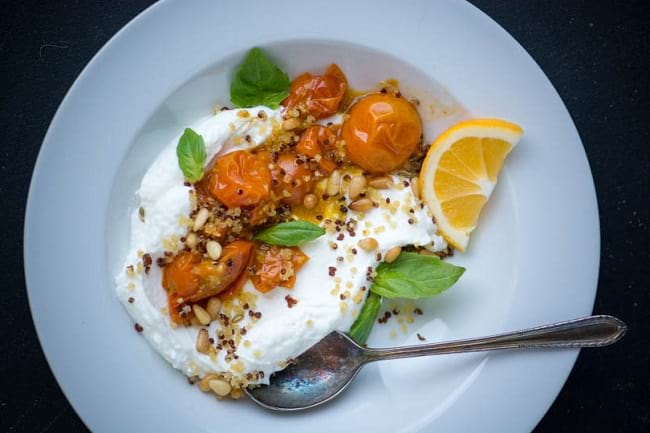 How about some savory yoghurt and savory granola? We're into it. This classic combo just took a nice spin and the collaboration is a good one.
Roasted tomatoes in olive oil blistered throughout, and a crispy granola featuring gluten-free quinoa and millet grain including lemon zest, pine nuts, and fennel seed for a flavor pop, you'll love all the texture that comes into play with this recipe.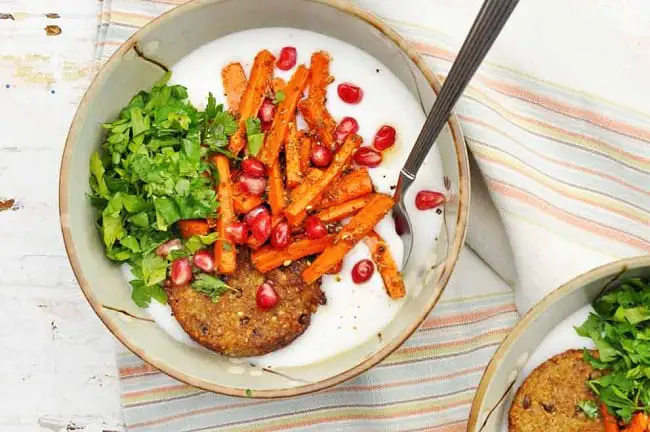 Breakfast is all fun and games until you get sick of eggs. Get your protein fix in with this yoghurt bowl!
Add some sausage to the mix, some pomegranate arils for a touch of tartness, and roasted sweet potato or carrots for your breakfast hash fix. Some greens and herbs will balance things out.
This recipe uses coconut yoghurt which is rich and creamy just like Greek yoghurt. Prep the ingredients the night before for easy assembly, and use your favorite pre-cooked sausage to reduce cooking times.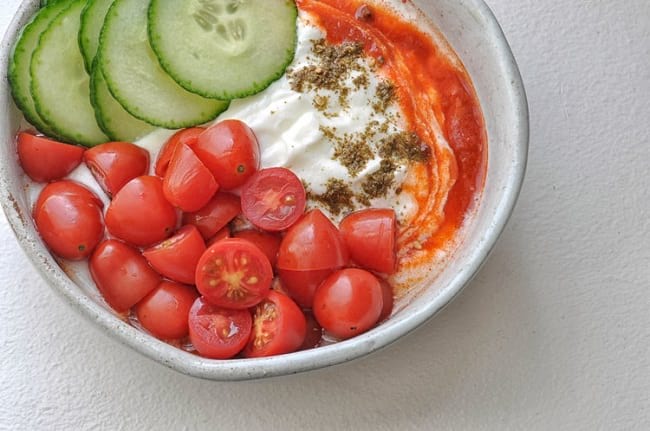 You simply can't go wrong with harissa and za'atar. If you're not familiar, harissa is a Moroccan red pepper sauce containing both red chili pepper and sweet pepper.
It's spicy!!! You can make your own, or buy it here. Za'atar, on the other hand, is a blend of Middle Eastern spices including oregano, basil, and thyme. Top off with raw, fresh veggies of your choice, or perhaps some additional roasted red peppers.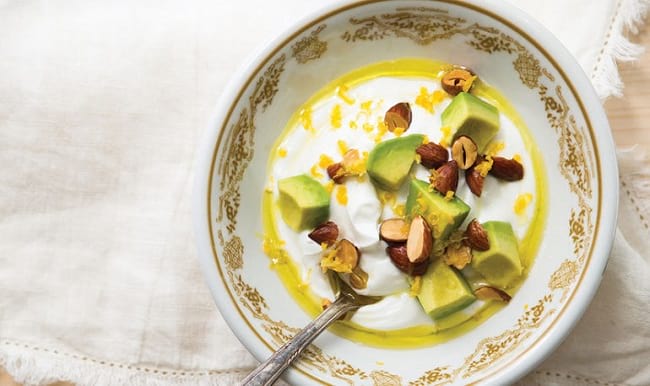 Avocado goes with everything. We see it work alongside chocolate for decadent and healthy, grain-free desserts, and it's a nice breakfast staple to spread on sweet potato toast or pair up with eggs.
It also works nice chopped up into a yoghurt bowl with Meyer lemon, olive oil, and slivered almonds.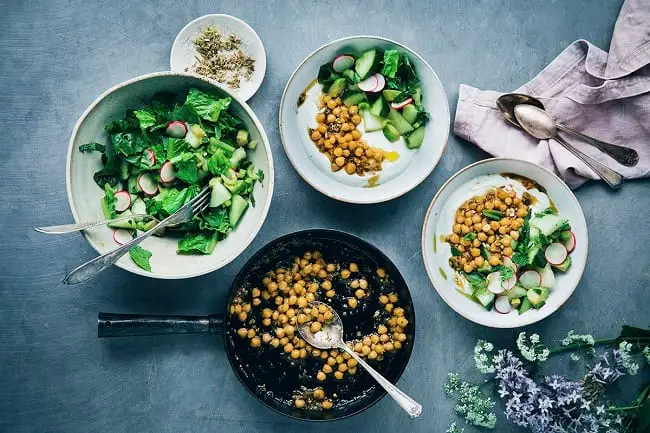 Nothing says "health" like putting salad in your yoghurt. This features roasted chick peas for some additional protein with lots of warming spices, and a cucumber-melon salad boasting other good green things like celery, onion, mint, avocado, romaine, and radishes. Swoon.
We hope you're more inspired to experiment with new and exciting, savory yoghurt creations now. For more savory breakfast ideas, check out our favorite breakfast bowls.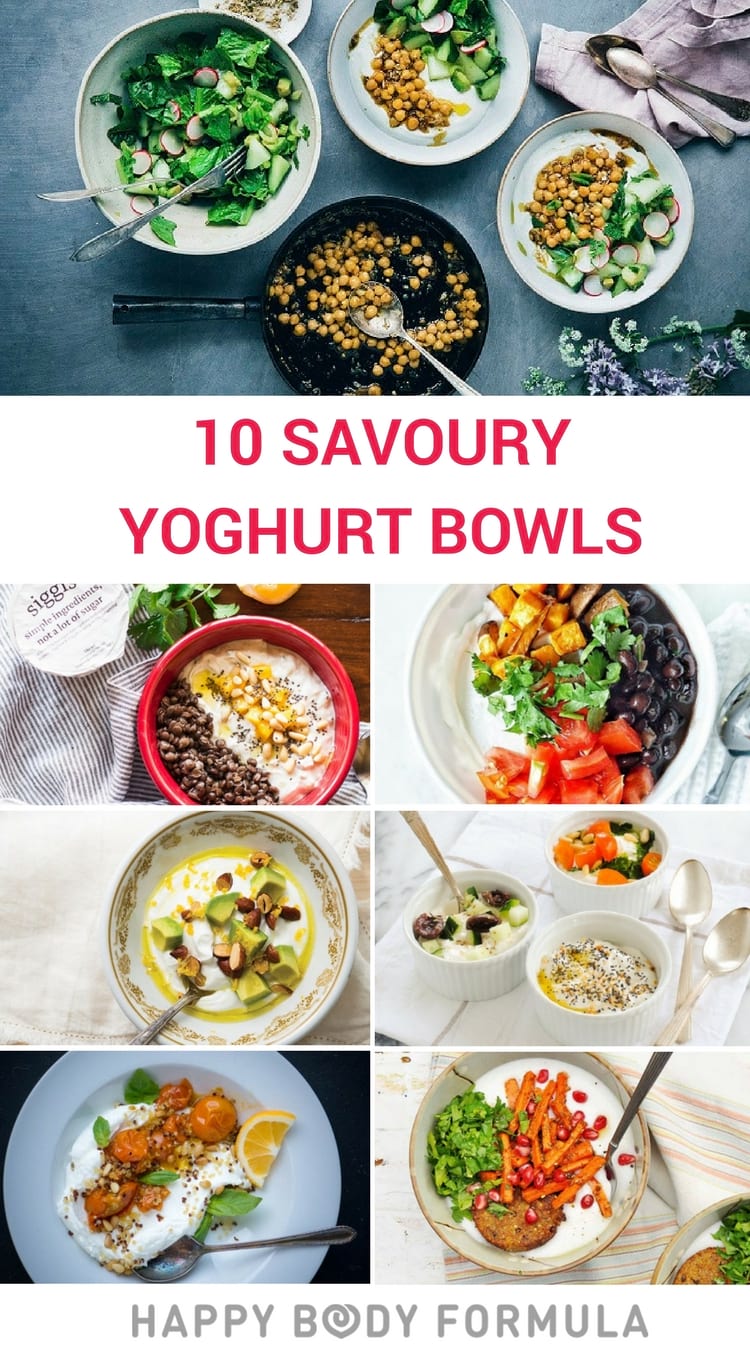 Music, mountains, dogs, travel, food and friends.