Breakfast bowls aren't just limited to oatmeal! While some of us prefer to start the day off sweet, we prefer to kick off the morning with something piping hot, full of flavor, and full of veggies.
A bowl is the perfect canvas to make some magic happen. It's a simple formula to whip up a recipe that combines healthy fats, protein, green veggies and maybe a little starch.
After all, breakfast is the most important meal of the day, and you really want to place some emphasis satiation and nutrients.
These breakfast bowls are nourishing, inventive and unique, so you won't get bored combining the same foods over and over. Plus, it's not just eggs you'll see here!
Finally, it's so easy to prep some of these ingredients ahead of time and just put an egg on it (and/or avocado slices) when the time comes. Make your morning simple – and tasty – again!
1. Crispy plantain and egg breakfast bowls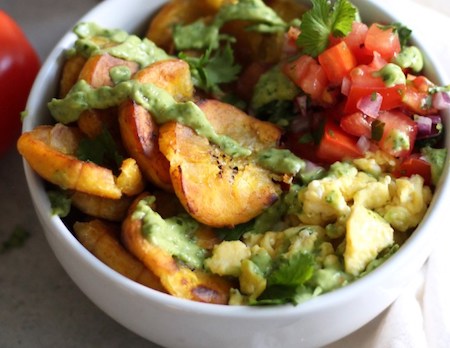 Plantain hash is the new potato hash – trust us! This bowl incorporates freshly fried plantain chips for a slightly sweet crunch. The base is made of eggs for plenty of protein, plus you'll love the avocado chimichurri sauce combined with pico de gallo as the cherry on top.
Get the recipe from Spices in my DNA.
2. Taco breakfast bowls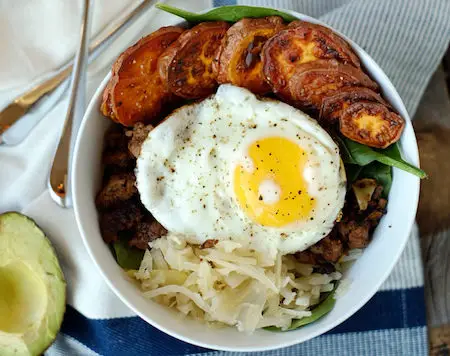 We're all about tacos for breakfast, or any meal when it comes down to it. This bowl is simple and easy with an emphasis on leftovers, so whip up some roasted sweet potato rounds for your 'nachos' and some taco meat early in the week to make brekky an effortless yet delicious affair.
Get the recipe from Real Simple Good.
3. Coconut quinoa sardine bowl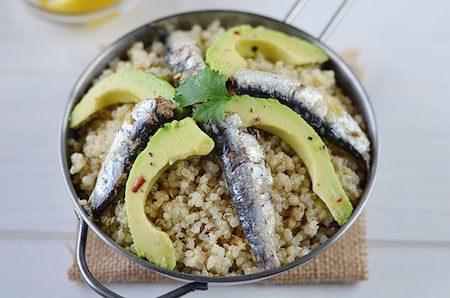 If you're going for healthy, we can't see a better way to pack in some nutrients before noon than with sardines! The quinoa base offers up extra protein on top of the seafood, and these little sardines are packed with vitamin D and omega-3s.
There are just five ingredients making up this balanced meal, it's budget-friendly and the prep is minimal. Get the recipe from Natural Fit Foodie.
4. Smoked salmon breakfast bowls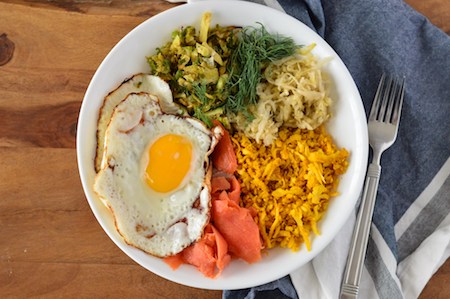 Sticking with the seafood theme, is there anyone who doesn't love some smoked salmon in the morning? Forgo the bagel in favor of healthy, turmeric-spiced cauliflower rice, and toss in an egg and some fermented veggies or whatever you've got lying around in the fridge!
Get the recipe from Real Food With Dana.
5. Chorizo and potato breakfast bowl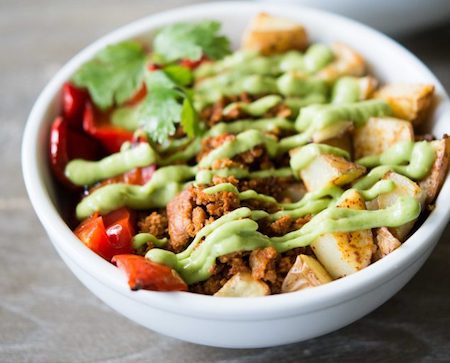 Chorizo is a spicy way to begin the day, and it's truly a breakfast staple. Standing alongside potatoes in this hearty bowl, you'll definitely have enough food to tide you over for those extra hungry mornings.
This recipe was written to be doubled or tripled, so get your meal prep ON. The best part is arguably the avocado tomatillo drizzle! Get the recipe from Fed and Fit.
6. Breakfast burrito bowl with spiced butternut squash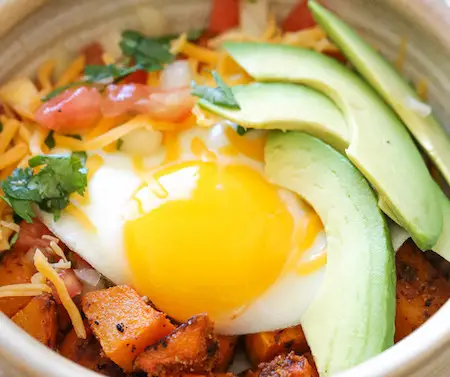 In the same way that we highly encourage tacos for breakfast, we're also a fan of the burrito bowl. Like, big time! This recipe uses a base of butternut squash in place of your typical hash.
If you've got a craving for Mexican food straight out of bed, this is the breakfast bowl for you. Get the recipe from Skinny Taste.
7. Five-ingredient egg-free shakshuka bowls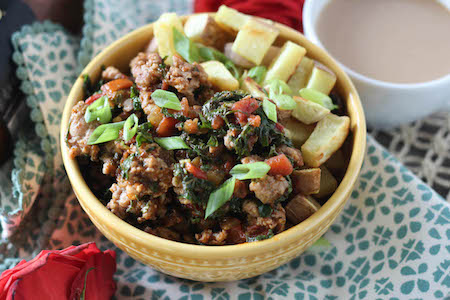 While most of our bowls include eggs, this egg-free dish is a good alternative if you're just over it, or if you've run out of eggs. This bowl is so quick to put together with a pre-made, tomato-based Shakshuka sauce, and it's only five ingredients!
Toss some kale in there to up the nutrients. Oh, and if you REALLY want to put an egg on it, we don't mind. Get the recipe from Paleomg.
8. Savoury teff porridge breakfast bowl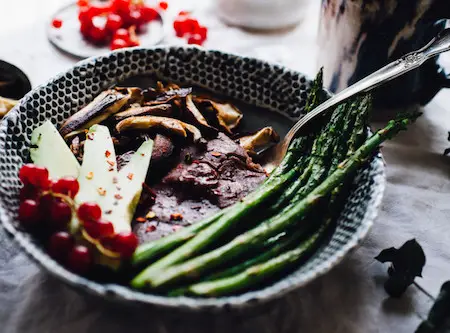 Teff is a nutritious gluten-free grain, boasting calcium, magnesium and selenium to name a few, so we can get on board with having a bit for brekky. Cooking it with a bit of white miso ups the nutrient game and the taste.
The rest of the bowl is loaded with veggies of which shiitake and asparagus are highly recommended. Get the recipe from Will Frolic For Food.
9. Miso veggie breakfast bowl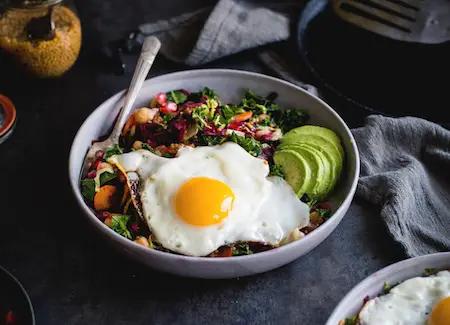 We love fermented soy like miso for its good bacteria, enzymes and B-vitamins in particular. Even in small quantities, it adds both flavor and massive nutrition to a breakfast bowl with a generous base of veggies from beets to crunchy crucifers.
Top it with an egg and avocado to get the full effect, and start your day with a whole lot of umami. Get the recipe from Reclaiming Provincial.
10. AIP breakfast bowl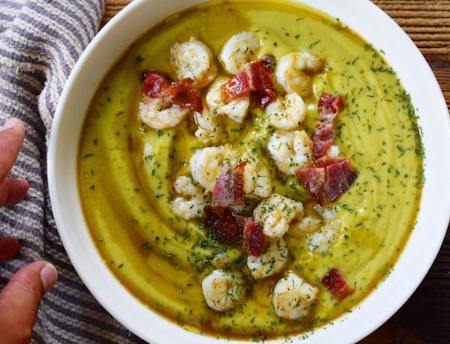 AIP-friendly breakfast bowls can be hard to come by as many contain eggs, grains or both, but this one? Nope – it does it up right, and anyone could fall in love with this cosy mashup of deliciousness.
The base is made of cauliflower and broccoli, and the protein and healthy fats come in on top with some shrimp and bacon. Ready to redefine breakfast? Get the recipe from The Castaway Kitchen.
11. Grain-free savoury porridge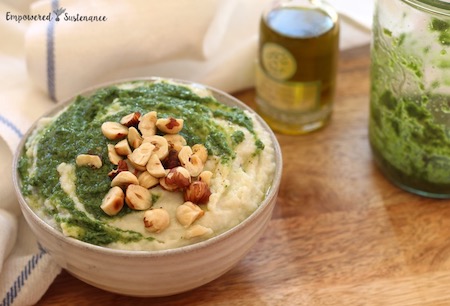 Porridge often contains two things: grains and sweet flavors. This breakfast bowl is breaking boundaries as it is both grain-free and savory, making it an interesting switch from your usual morning meal.
The cauliflower base is packed with protein from grass-fed collagen and healthy fats from coconut milk, plus it's topped with a thick spread of pesto and hazelnuts to serve. Get the recipe from Empowered Sustenance.
12. Turkish-style spicy, savoury breakfast bowls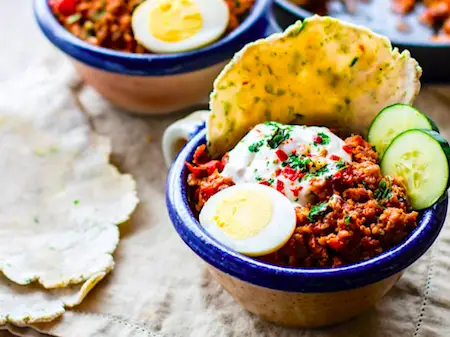 These Turkish-style bowls have a hearty base of Italian sausage, and they're mixed up with dried apricots and green chiles for a seriously unique flavor complex reminiscent of classic Turkish cuisine.
Top these guys off with a little yoghurt sauce or coconut yoghurt if you don't do dairy. Boom – you're golden! Get the recipe from Primal Palate.
What recipes are you looking forward to trying? Have your own signature breakfast bowl? Share with us below!
Share this round up on Pinterest from here.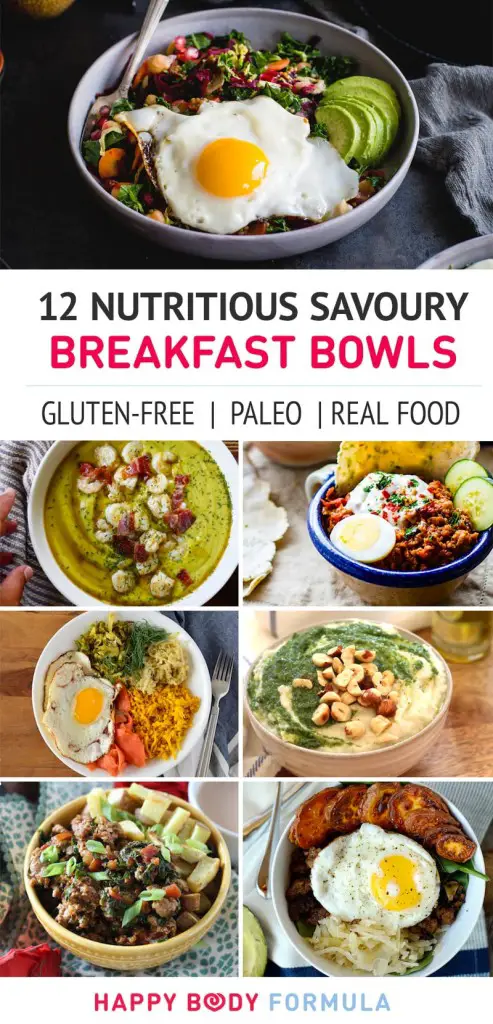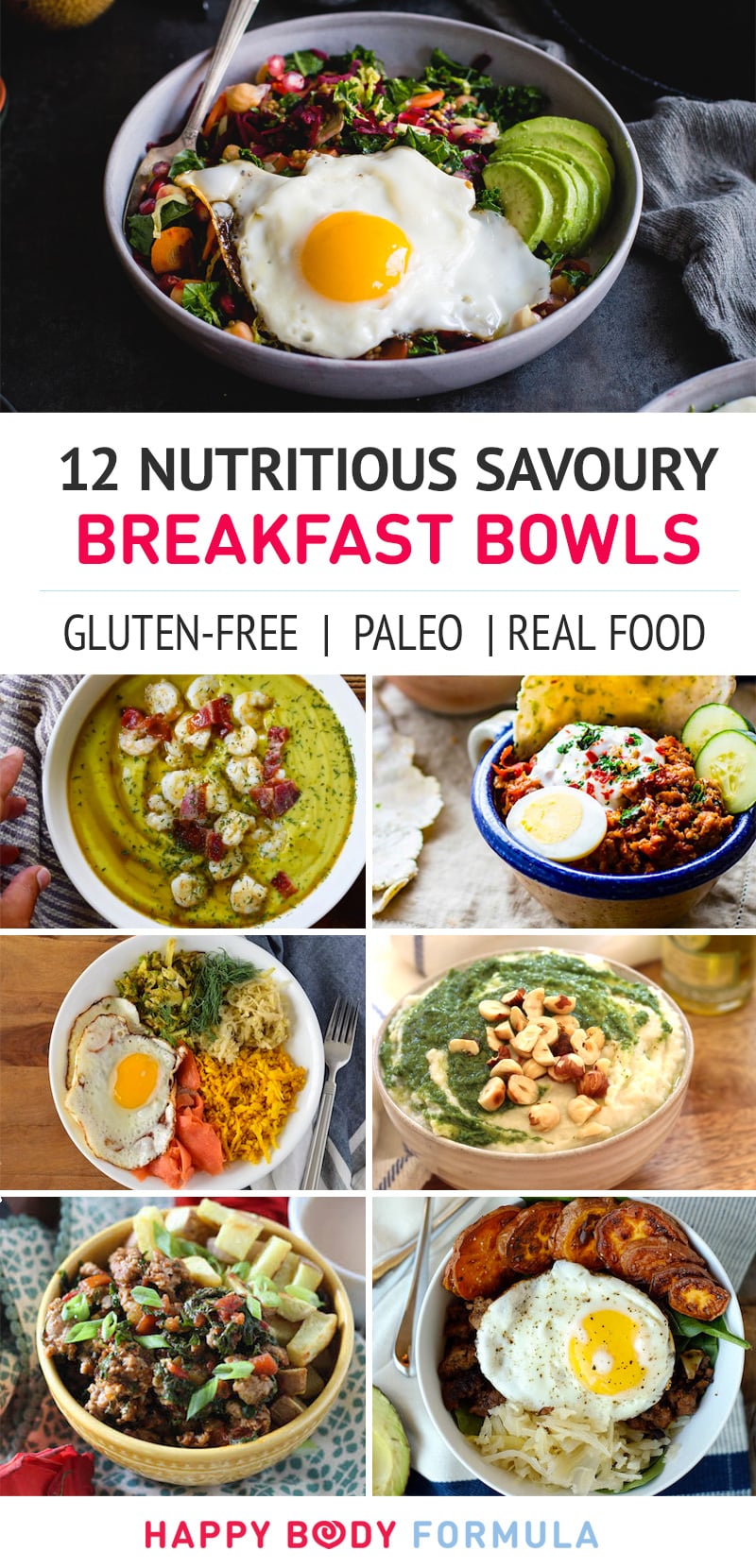 Music, mountains, dogs, travel, food and friends.