Kelp noodles are a great alternative to regular noodles or pasta as they are gluten-free, egg-free, low in calories, contain virtually no carbohydrates, and are high in iodine which helps with healthy thyroid function for healthy hormones.
The noodles are made from kelp, which is a type of large, brown seaweed, although they don't actually resemble or taste like seaweed at all. They are crunchy glass noodles with neutral, bland taste that can take on other flavours really well.
Another cool thing about these noodles is that they require no cooking – simply soak them in water, rinse and toss through with a zesty dressing or drop in a hot, tasty broth.
Kelp noodles are popular with raw, vegan, and paleo foodies… and we love cooking with kelp too! That's why we wanted to curate some of the yummiest looking recipes using sea kelp noodles in this post.
You can easily use them to meal prep for the week, and they're compliant with our 30-day program – score!
Finally, kelp noodles are incredibly nutritious. Read up on the amazing benefits of seaweed.
We hope you enjoy them!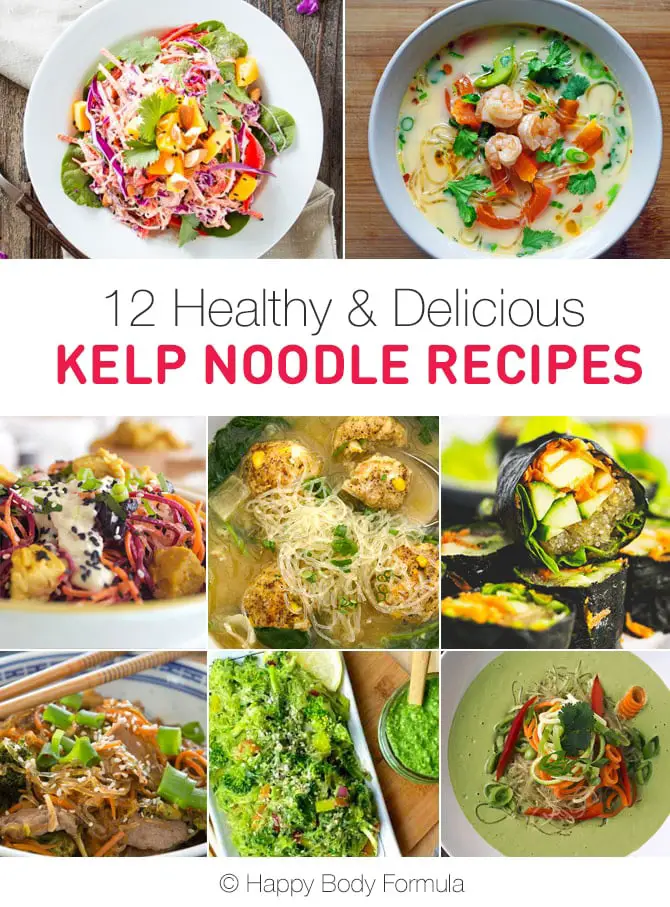 We're going to kick off with this colourful salad that is full of nutrients and flavour.
Rainbow Kelp Noodle Salad with Lemon Almond & Ginger Dressing by Keeping it Kind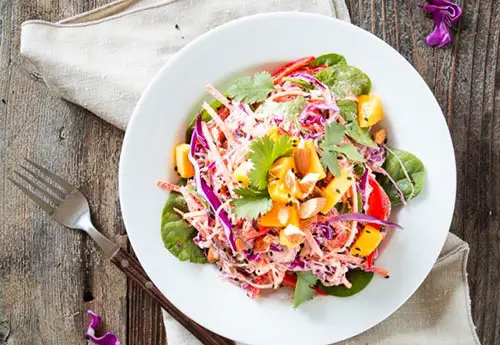 Kelp Noodles with Almond & Ginger Dressing  from Glow Kitchen
This similar but slightly simpler recipe for a salad is by Aylin Erman from the Glow Kitchen (she also contributes to The Greatist website). We love the simplicity and zesty flavours in this recipe. Bonus – no cooking required! Raw, vegan, paleo and gluten-free.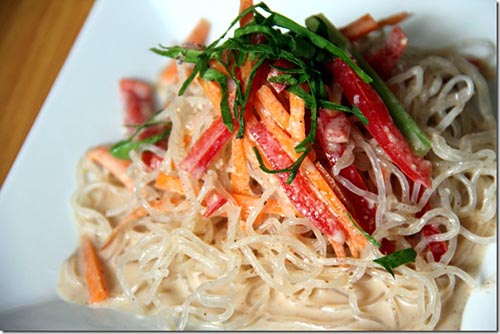 Raw Kelp Noodles with Garlic Kale Pesto by Rawmanda
We love how fresh and flavourful this recipe looks. With the addition of kale and broccoli, this is a great way to get your daily greens, plus the pesto is a great condiment that you can use in other dishes. Raw, vegan, gluten free and paleo-friendly.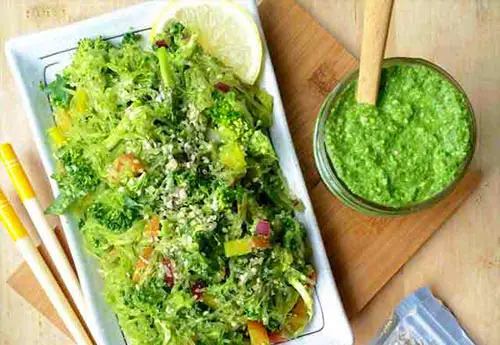 Raw Kelp Noodles with Maple Orange from Tales of A Kitchen
This tasty looking salad is full of rainbow colours and crunchy textures, which we love. And although we're not fans of many processed soy products, tempeh is ok in our books in moderation because it falls in the 'fermented soy' category and thus contains fewer anti-nutrients.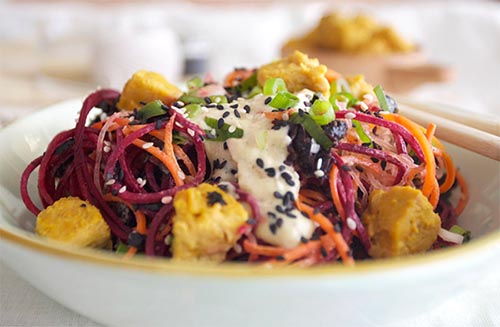 Korean Beef & Vegetable Kelp Noodle Bowl from The Primal Palate
Quick, easy and filling dinner anyone? This recipe is low-carb, high in protein, and full of veggies for a solid micronutrient fix. This dish hits ALL the notes!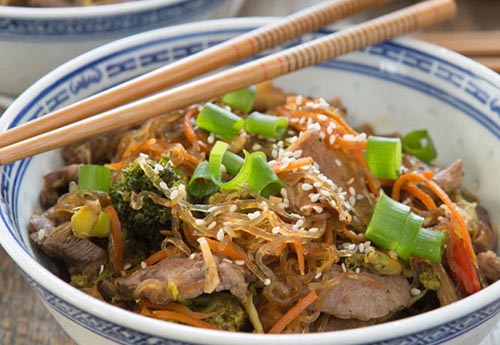 Kelp Noodle Pad Thai from Let's Regale
Once again, this recipe requires no actual cooking so it's simple and fast. We love the addition of almond butter in the sauce for those extra healthy fats and the zesty Thai flavors.
Peanuts can be replaced with crushed almonds or cashews and you could easily add chicken or shrimp to this dish. Raw, vegan, gluten-free and paleo-friendly.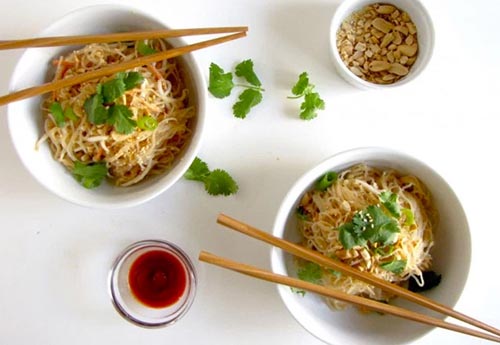 Paleo Kelp Ramen Soup from The Paleo Cupboard
For something a little warm and hearty, we love this ramen soup recipe. Pork can be substituted with other meat or seafood, or mushrooms and tempeh for the vegetarians.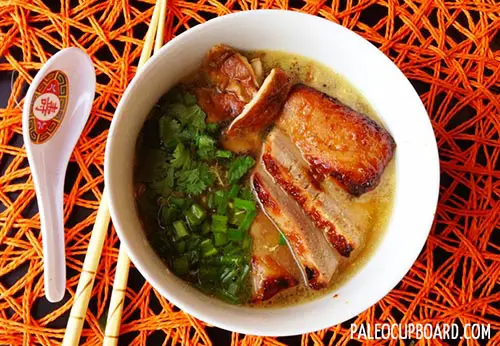 Coconut Soup with Kelp Noodles & Shrimp from Cooking Weekends
Gerlinde of Cooking Weekends used kelp noodles in this lovely coconut based soup with great success.
She says they retained their crunchy texture and didn't get mushy which is ideal considering the texture and taste of kelp noodles can throw some people off. In a broth this delicious, you shouldn't even notice it!
Chilled Green Curry Kelp Noodle Bowl from Tasty Yummies
Here is another curry soup inspired dish that we like the look of. It's gluten-free and vegan-friendly, and it's a great dish to store in the fridge if you're following a make ahead meal plan.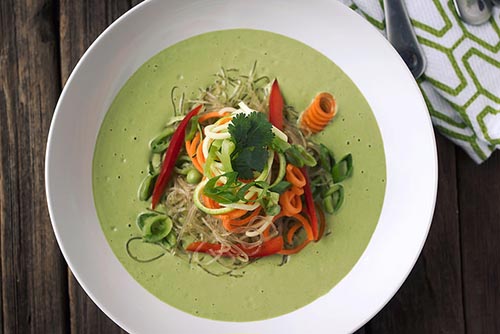 Wedding Soup with Turkey Meatballs & Kelp Noodles from Going Cavewoman
A lot of kelp noodles recipes seem to be centered around Asian flavors and that's why we love this idea for a soup that is inspired by Italian-American kitchen.
This 'wedding' soup with turkey meatballs is a great example of how you can incorporate these kelp noodles in classic soup dishes.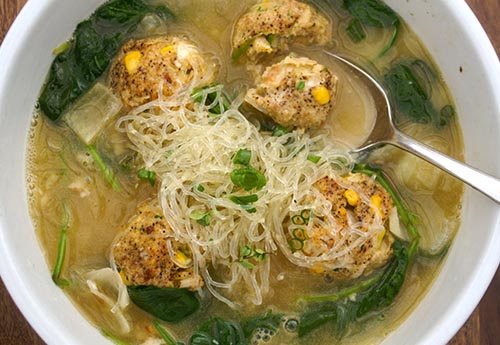 Stir-fried kelp noodles with beef and broccoli from Nom Nom Paleo
Classic beef and broccoli just got easy, and we're not talking takeout. This recipe uses quick-to-make ingredients like ground beef instead of sliced beef in a bed of veggie-infused kelp noodles.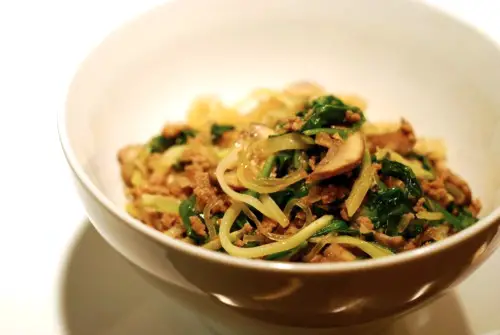 Shrimp and Kelp Noodle Spring Rolls with Almond-Tamarind Dipping Sauce from Thrive Market
If you love Vietnamese spring rolls with shrimp, then you will love these. Kelp noodles are a fabulous addition to Happy Body Formula's spring roll recipe which you can find in our 30-day program meal plan.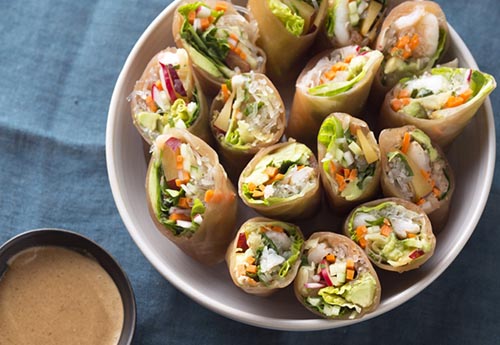 Still have questions about kelp?
Let's learn a bit more about this grain-free noodle replacement! Hopefully, we can answer all your burning questions in this brief Q&A!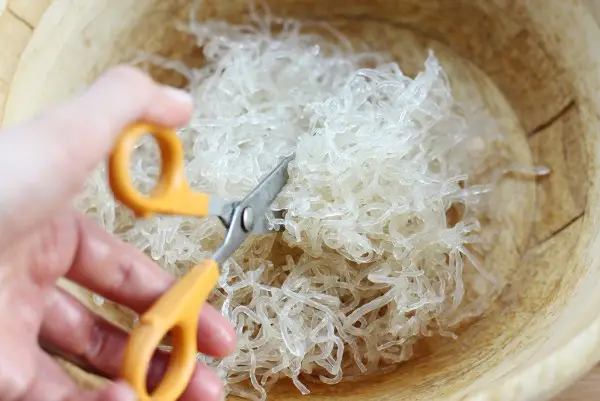 Q: Are kelp noodles raw?
A: Yes! In their natural state, kelp noodles are raw. Some recipes might call for cooking them though, to increase flavour or flavour absorbency rate of other ingredients used in the dish. At the end of the day, it's a matter of personal taste preference.
Q: Are kelp noodles refrigerated?
A: Nope! They're shelf-stable for around six months while retaining all their freshness (and nutrients), and that's just about all you need to know about how to store kelp noodles. Keep them in a cool, dry place to maximise freshness.
Q: Are kelp noodles processed?
A: They should not be. They are raw and not denatured in their natural form. When seeking out a good product, search for a noodle with simple ingredients – namely, kelp! Additional ingredients like water or sodium alginate – a salt derived from the seaweed – are fine. The sodium alginate actually helps remove heavy metals from the body.
Q: Are kelp noodles low-carb?
A: Yes. They're very low-calorie with only 6 calories per 4 ounces! This means there's not a lot of room for carbs to sneak in. While they contain around 1 gram per 4 ounces, this is a "net carb," basically meaning it doesn't count because it's actually fibre. They are a great keto-friendly noodle alternative.
Q: What do kelp noodles taste like?
A: These crunchy noodles are mostly neutral with a bland taste that can take on other flavours really well. You don't want to eat them on their own! If you don't like seaweed, don't worry – they don't have a fishy taste.
Q: Are kelp noodles a vegetable?
A: Technically, yes – they're a sea vegetable!
Q: Are kelp noodles paleo, gluten-free, vegan, Whole30, keto and AIP?
A: YES! A resounding yes. Kelp noodles are basically compliant with any real food approach you take to food. They're allergen-friendly and nightshade-free, so they're good for the autoimmune protocol. Whether you're a plant-based eater or simply avoiding grains, kelp noodles are a wonderfully convenient and versatile pantry staple.
Where to buy kelp noodles
If you don't have any luck sourcing kelp noodles locally, you can always purchase them online. We recommend Sea Tangle kelp noodles which you can easily stock up on with Amazon. This brand contains just three ingredients – kelp, water and sodium alginate.
Where are kelp noodles sold?
If you're in a large metropolitan area or a town with a specialty store, Asian food market, or health food store like Whole Foods, you should be in luck! Ask your retailer if they stock them in case you can't find them.
You can often find them in the Asian food section. It's worth taking a look at your regular grocer or co-op if they have a large selection as kelp noodles are gaining traction even beyond clean eaters.
Have you tried kelp noodles? What's you favorite way to prepare them? Tell us in the comments below. And of course, don't forget to share with friends and followers.
Music, mountains, dogs, travel, food and friends.