The office lunch has a reputation for being rather sad, for lack of a better word. How often do you really look over at your co-worker's lunch with envy in your eyes?
Many people find packing their lunch in the first place to be a rare occasion, and instead opt for takeout. The options then dwindle down to even more lackluster choices, and we're not always leaning towards healthier fare.
Sandwiches, pizza, pasta and other carb-heavy foods adorn our desks – a place we don't even take the time to really enjoy what we're eating!
While the 9-week Happy Body Formula program offers a complete lunch survival guide from home to your favorite restaurants, we wanted to spark some creativity with some fresh and innovative ideas for the lunch rut.
We want to revolutionize the "office meal," so we have 15 healthy, nourishing and enviable meals for you to add to your prep routine. These meals are simple to make ahead of time, and they'll help you prevent that dreadful, 2 p.m. slump with energizing and satiating ingredients to keep you fueled up throughout the work day.
https://happybodyformula.com/wp-content/uploads/2016/12/15-healthy-office-lunches-493×1024.jpg
1. Warm chicken & avocado salad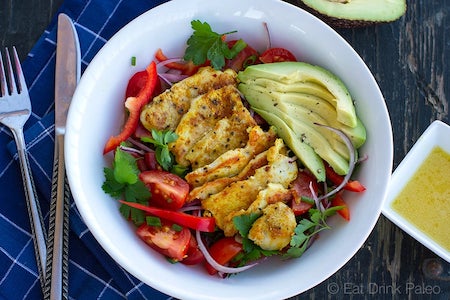 Salads don't suck when they're packed full of warm chicken, fresh sliced avocado, tasty Moroccan spices and a slightly sweet Dijon and lemon dressing.
This dish is loaded with vitamins, protein, and healthy fats to keep you pushing through the work day. Get the recipe from Eat Drink Paleo.
2. Ground beef taco bowls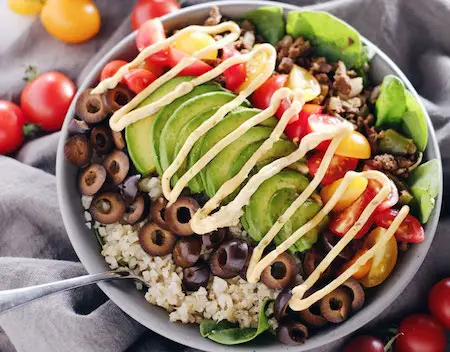 If you find yourself dipping out of the work place on the hunt for tacos or a burrito everyday, save yourself the trouble and DIY it. This grain-free bowl features a base of cauliflower rice, and it's easily topped off with raw ingredients and pre-cooked protein.
You could even add seafood, chicken or shredded pork to mix things up. Beats paying extra for guac everyday (we're looking at you, Chipotle). Get the recipe from Real Simple Good.
3. Kelp noodle pot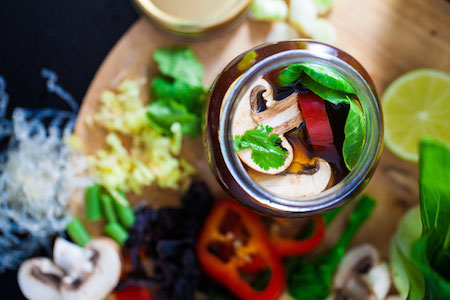 What if we told you that you could DIY your own instant soup? Skip the excessive amounts of sodium, unnatural flavors and MSG. Instead, opt for healthy kelp noodles with the added benefits of seaweed and tasty veggies.
Fresh ginger and herbs, citrus and miso will bring this pot to life with just a bit of hot water when it's time for lunch. Get the recipe from Deliciously Ella.
4. Paleo mason jar salads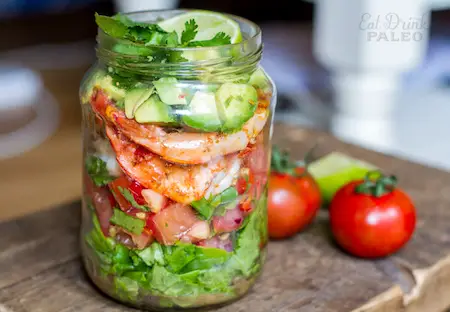 Mason jar salads don't only look pretty cool, they taste pretty fantastic too. It's all about strategic layering with these guys. You want your protein on the bottom so it doesn't weigh down on the lighter ingredients and moving on upwards with harder veggies on the bottom and salad leaves on the top.
Pro-tip: leave the dressing on the side so it doesn't get soggy, and serve on a plate or bowl at lunch. You can avoid wasting plastic and trash by using glass, too. Get some more inspiration with a few recipes from Eat Drink Paleo.
5. Deconstructed paleo sushi bowl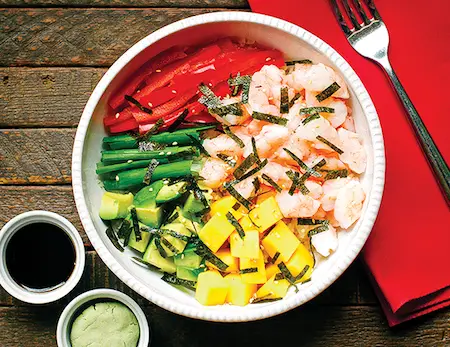 Sushi is a wildly popular lunch option, and for good reason. Instead of loading up on rice, fried tempura and that delicious-but-mysterious spicy sauce, you can take the 'bowl' route like we did for our burrito above and feel good about what you're chowing down on.
Get the recipe from Mel Joulwan.
6. Quinoa chickpea buddha bowl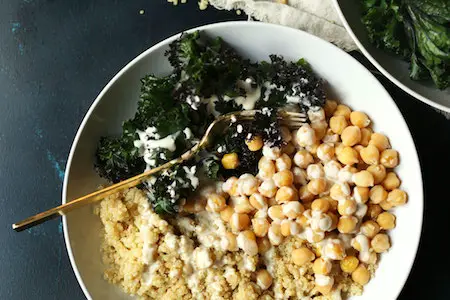 This meatless dish is loaded with plant protein, healthy fats from the creamy tahini dressing, and loads of nutrients from the kale. Cook up a big batch of chickpeas and quinoa at the beginning of the week to use in your bowls, and add different veggies/leftovers throughout the week for variety.
Get the recipe from Minimalist Baker.
7. Spicy shrimp & avocado lettuce wraps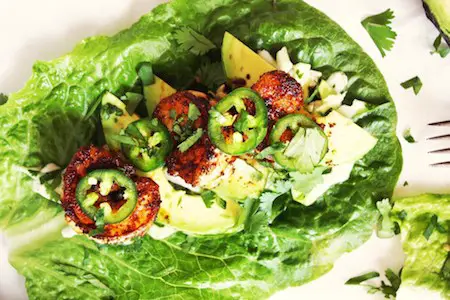 Lettuce wraps are a fantastic lunch to bring to work with you. You can assemble the sides, the lettuce, the protein and the dressing when you sit down to eat which should help you slow down and savor the moment in your busy day a little bit more!
These shrimp boats are super flavorful and nutrient-dense with tasty slaw and a spicy kick. Get the recipe from The Garlic Diaries.
8. Burger bowl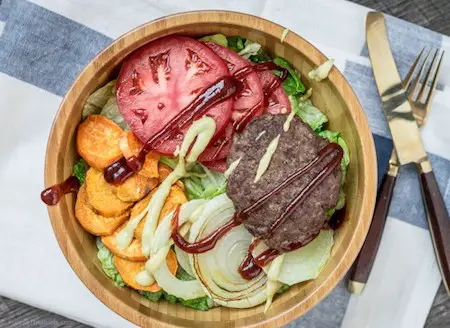 Burgers are pretty standard lunch fare. Skip the bun and toss your burger on a big plate of greens. Forgo the fries in favor of sweet potato rounds. Proceed with toppings and condiments as usual.
This bowl is easily built, budget-friendly and it will definitely hit the fast-food craving! Get the recipe from Follow the Ruels.
9. Buffalo chicken breakfast casserole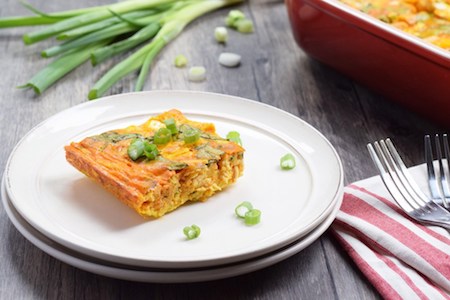 Who says breakfast can't be what's for lunch? We're not fans of 'following the rules' around here, so this spicy breakfast bake is the perfect one-stop shop for a nourishing and super filling lunch!
It tastes great hot or cold, and it hits all the notes in terms of great texture, adequate protein, green foods and healthy fats. Get the recipe from Living Loving Paleo.
10. Paleo tuna salad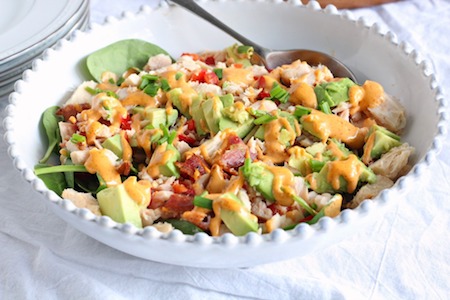 This isn't your average tuna salad. In the middle of the workday, you deserve something a little extra special. This protein-packed dish includes smoky bacon, creamy avocado and spicy chipotle aioli.
How could you not look forward to eating it? The real struggle will be avoiding it until it's finally time for lunch break! If you like this idea, check out this baked salmon loaf which packs up nicely. Get the recipe from Paleo Running Momma.
11. California turkey & bacon lettuce wraps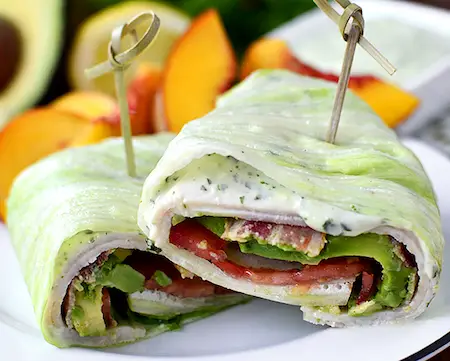 These are simple to make if you have some cooked bacon and mayo on hand. Otherwise, it comes together with natural deli meat, sliced avocado and tomato to make an awesome wrap – no bread required.
These are handheld, so if you're an on-the-go kind of lunch-eater sometimes, consider this tasty recipe your go-to. Get the recipe from Iowa Girl Eats.
12. Cuban sandwich bowls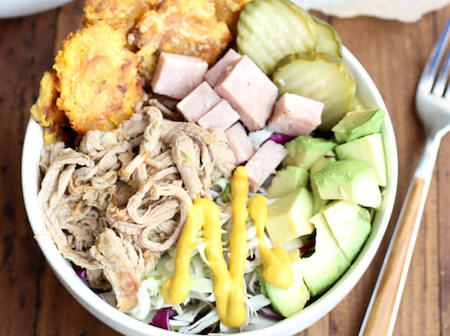 Making a salad might atcually be easier than making a sandwich, and we certainly think it's the healthier of the two. This jam-packed bowl features crispy plantain chips, real pickles, pork loin and mojo sauce.
Drizzle it off with some mustard and you've got those awesome Cuban flavors for a unique spin on salad… because sandwich bowls are different! Get the recipe from Wicked Spatula.
13. Avocado & tuna salad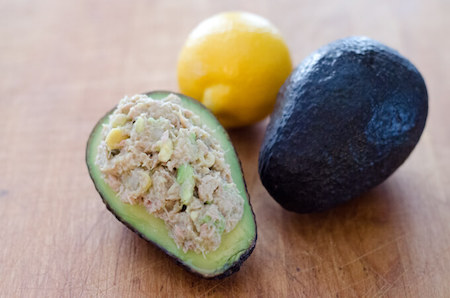 Tinned fish and avocado are a lunchtime match made in heaven. They require no prep and minimal assembly whilse boasting big nutrition, healthy fats, a protein punch and tons of flavor, texture and more.
Plus, you don't technically need a bowl for these since the avocado serves multiple purposes. You could also use salmon, sardines or mackerel. Get the recipe from Cook Eat Paleo.
14. Broccoli salad with cashew cream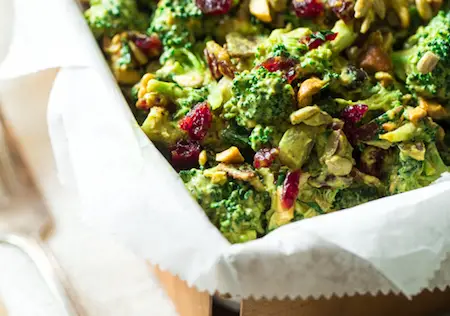 This is broccoli salad with a twist! It has that same creaminess brought in without the dairy, plus a bit of spice from the curry powder.
It's packed with green goodness from the broccoli with a touch of smoke using crispy (real) bacon bits and sweetness from dried cranberries. You could add diced chicken or turkey to this, and it would taste awesome too. Get the recipe from Whole Yum.
15. Bento lunches in a box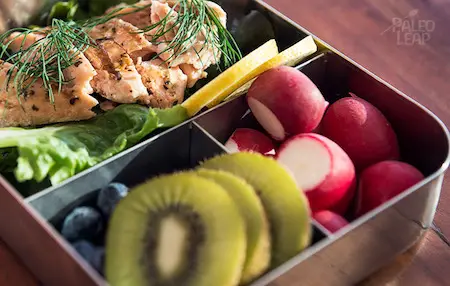 From mason jar lunches to bento boxes, we like all things compact and portable. Once again, these are an environmentally-friendly choice with dividers to help you portion properly and keep your food from touching.
The combinations are endless, but the formatting lends itself well to choosing a palm-sized protein portion, some veggies and/or fruit on the side, and a bit of healthy fat. The best part about lunch is balance!
Get this idea and more from Paleo Leap.
Our free 7-day meal plan features five days worth of lunches (plus breakfasts and dinners!) packed into just three hours of prep if you need more healthy, packable ideas.
Music, mountains, dogs, travel, food and friends.