Today's roundup is all about pumpkin spice. The obsession is real, and for a good reason. Pumpkin spice indicates the changing of the seasons as we wave goodbye to summer produce and long, sunny days in the northern hemisphere.
Don't worry, you can easily modify these to spring the spring produce.
While there may be new pumpkin flavored products popping up everywhere, it's so nice to make the real deal at home. As the trend grows, the autumn inspired processed food market does too.
We're focusing on healthy, nourishing eats that feature real pumpkin and none of the junk or refined sugar.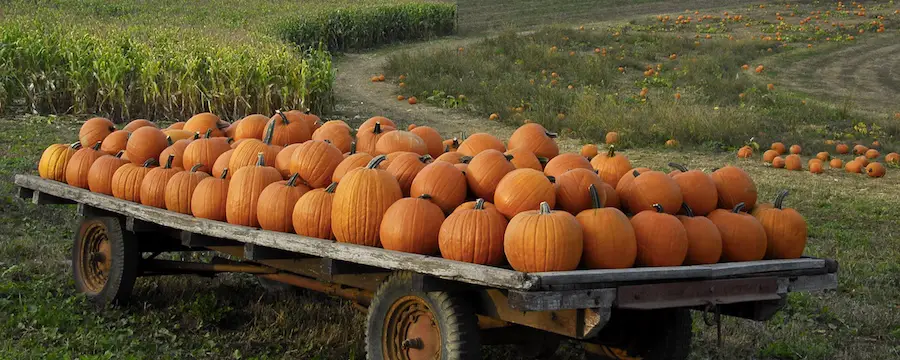 Break out your favourite flannel, strap up your boots and take a seat around the bonfire – we are ready to celebrate Autumn in delicious style.
Chocolate whoopie pies with pumpkin spice filling
What's better than pumpkin spice? Chocolate and pumpkin spice together, of course. These whoopie pies are ooey-gooey goodness with a creamy centre, and they're nut-free.
These are the perfect treat to get a little spooky with this Halloween. Get the recipe from Elana's Pantry.
No-bake pumpkin spice latte bites
The pumpkin spice latte is the quintessential sign that fall is here. Starbucks lovers, rejoice! Unfortunately, it's not exactly good for you. These bite-sized treats require minimal prep work, and they embody all that is good about the classic fall drink.
Get the deets on these treats from The Big Man's World.
Pumpkin spice protein muffins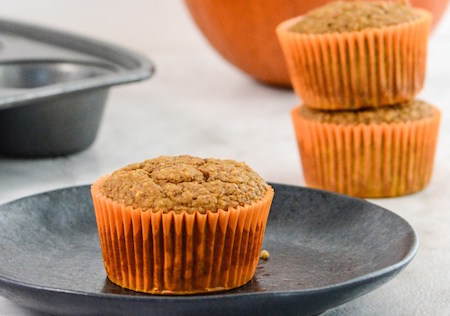 Looking for a post-workout, pumpkin spice snack? Look no further. These muffins pack in a serious dose of protein with Greek yoghurt and protein powder for a super healthy indulgence you can feel good about.
Get the recipe from A Healthy Life for Me.
Healthy pumpkin pie
This pumpkin pie boasts some seriously nourishing ingredients including teff flour in the crust, with a thick filling of pumpkin-infused coconut cream and eggs which boost the healthy fats and protein in this guy. This is a slice worthy of Thanksgiving.
Snag the recipe at The Holistic Ingredient.
Paleo pumpkin pancakes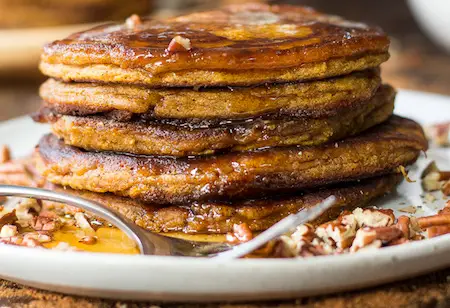 This fluffy stack is grain-free, using coconut flour and tapioca starch for that perfect pancake blend of chewy on the inside and crispy on the edges.
Chopped nuts and a healthy dose of maple syrup encompass everything that tastes like fall. Get the recipe from Paleo Running Momma.
No sweetener pumpkin cacao brownies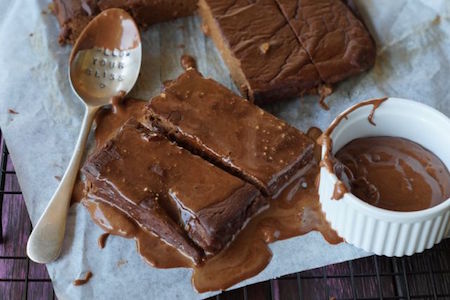 No sweetener, you say? Pumpkin is just sweet enough to swing it in this indulgent, fudgy brownie recipe. The simple list of ingredients will make it easy to soothe your chocolate cravings in a flash. The best part?
The optional chocolate sauce smothered on top. Get the recipe from The Merrymaker Sisters.
Homemade pumpkin spice coffee creamer
Sometimes, the best part of waking up is pumpkin spice in your cup. Forgo the long lines at the coffee shop and blood sugar spike and instead, opt for whipping up a batch of this tasty coffee creamer to spice up your morning cuppa.
Get the recipe from The Natural Nurturer.
Ginger pumpkin pie chia pudding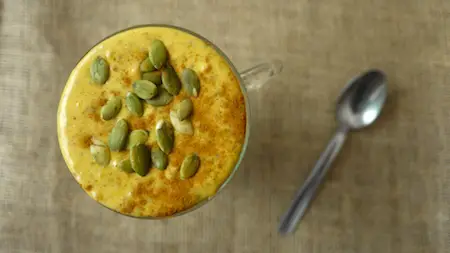 Chia pudding is a simple breakfast staple that's easy to make the night before, and it makes you kinda, sorta look forward to waking up the next day.
Take it to the next level with some pumpkin spice action, and you've got something good going on. Get the recipe for this antioxidant-rich breaky from What Great Grandma Ate.
Grain-free pumpkin granola
The fall season brings on a slew of pumpkin-y cereals and granolas to indulge in. Unfortunately, most contain loads of grains and sugar. For those of you who like to avoid one or both, this granola will hit the spot.
Get this nutty, vegan and paleo-friendly recipe from Carrie on Living.
Spiced pumpkin cider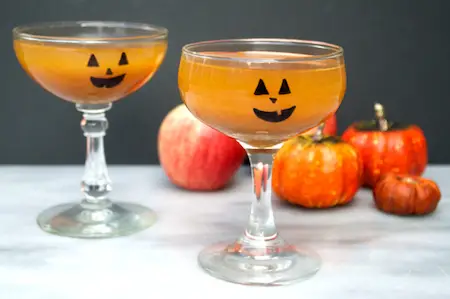 Besides pumpkin spice, Autumn is all about apples! Check out our favorite healthy apple crisp recipes. Warm apple cider is a staple, so why not switch things up with a glass of spiced pumpkin cider instead? Serve this up at a festive fall party – spiked or not.
Get the scoop on this brew from Plaid and Paleo.
Creamy pumpkin spice latte
Okay, you didn't think we'd leave out the actual latte of the season, did you? This creamy, better-for-you rendition of the Starbucks staple makes it easy to get your fix.
A blend of coconut milk, warm spices, real pumpkin and coconut sugar are the perfect liquid treat. Oh, and don't forget the whipped cream. Get the recipe from Delicious Obsessions.
Coconut cream pumpkin quinoa porridge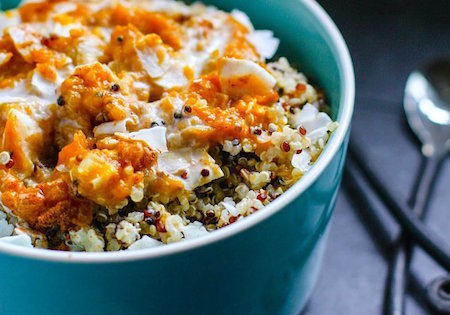 There's nothing like a piping hot bowl of oats in the morning to warm your bones during the colder months. This porridge uses protein-heavy, fibre-rich quinoa instead with a creamy coconut milk base and real pumpkin to boot.
Throw this in the breakfast rotation. Get the recipe from Cotter Crunch.
Buckwheat pumpkin bread
You can't go all season without a slice of moist, chewy, melt-in-your-mouth pumpkin bread. This rendition features buckwheat – technically a seed and not a grain – for a healthy twist.
Check out this simple-to-make, foolproof recipe from Detoxinista.
Pumpkin cake with cinnamon-vanilla frosting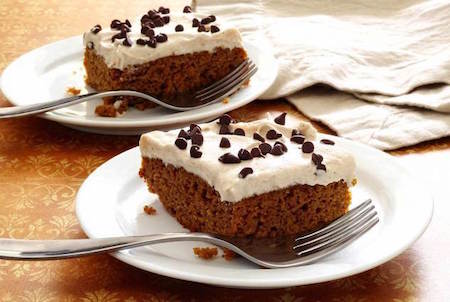 Autumn's arrival has us saying, "Let them eat cake!" And not just any cake – grain-free, refined sugar-free, pumpkin spice cake. Don't forget the frosting infused with aromatic vanilla bean and warm cinnamon. Oh, and the chocolate chips because chocolate is good.
Get baking with this gorgeous recipe from Paleo Newbie.
Pumpkin caramel bars
Sure, chocolate and cinnamon pair up nicely with pumpkin, but where's the caramel? These bars contain ooey-gooey goodness in every last bite. Nut or seed butter lends itself well to create that classic caramel texture and taste the healthy way.
Get the recipe from Paleo in PDX.
Pumpkin spice ice cream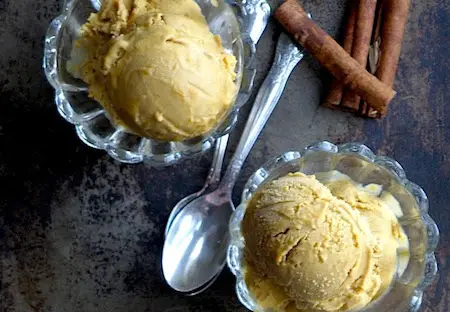 Sometimes, you just can't choose between seasons. Or maybe, the warm weather is lingering around a little longer than you can take, and you need something in-between to satisfy the need for pumpkin spice everything. Sound familiar? This ice cream is for you then.
Get the recipe for this frozen treat from A Calculated Whisk.
Pumpkin spice cranberry no-bake cookies
Ah, yet another fall foodie staple – cranberries! Hello, Thanksgiving. These cookies don't need to be limited to the holidays, though. They require minimal prep and no baking, so you can make them anytime.
Pack a few for snacks on-the-go, or use them for quick energy during a brisk Autumn hike. Get the scoop at Get Inspired Everyday.
Pumpkin pie butter chocolate cups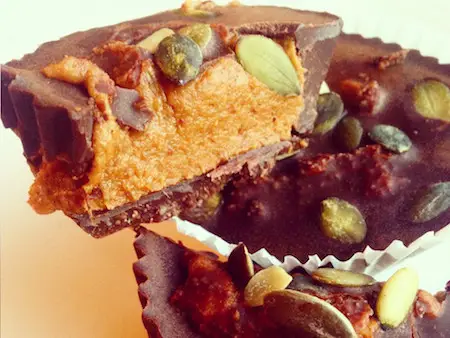 Let's get serious here, because this recipe is super serious. What could be more brilliant than combining pumpkin spice and peanut butter cups? Nothing at all.
A rich almond butter and pumpkin center, crunchy pepitas, and homemade milk chocolate is all you need for some seriously tasty fall bliss. Get this recipe from Greens of the Stone Age.
Pumpkin souffle
This dish is a little less sweet than most of our contenders today, so it makes a super nutritious and filling breakfast meal. Souffle is mostly made of eggs, so it packs in long-lasting energy with healthy protein and fats.
Besides, souffle is an easy way to get all the good aspects of pancakes without having to keep it together. Get the recipe from Primally Inspired.
Paleo pumpkin blondies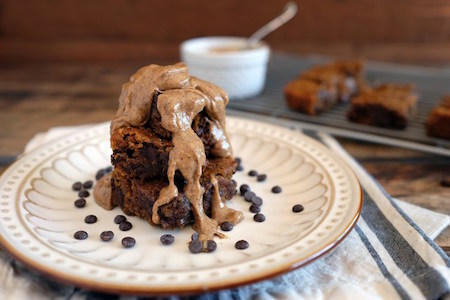 Let's end things with this glorious stack of blondies. Yes – a stack. Because when they're healthy, you can eat more than one, right? Top 'em off with a spoonful of almond butter and watch it melt.
Are you drooling yet? Get the recipe for these squares from Real Simple Good.
So, what do you think? Is pumpkin spice worth the hype? Comment below with the recipes you're most excited to make this season!
Music, mountains, dogs, travel, food and friends.