How often do you aspire to bake something a tad bit sweet – but still healthy – only to be disappointed by the effort and ingredients you have to put in?
The sweet tooth simply isn't as easy to address when you've transitioned to eating no refined sugar since there's nothing readily available at your fingertips, for most of us anyways.
Even if you are ready to get to work in the kitchen, some of the dairy-free, gluten-free, sugar-free treat recipes can be intimidating. The paleo apple crisp, though? Not so much.
The ingredients are minimal, and it's a one-dish affair. This recipe traditionally features a crust, which is omitted in the ones on the list below.
The crumb is typically comprised of flour, sugar, and a bunch of other stuff you aren't eating anymore, but these recipe mavens have found a way around it.
We've gathered up a slew of the most delectable and healthy apple crisp recipes from around the web for anyone and everyone who wants dessert after dinner or a crowd-pleasing holiday dish (when the time comes, of course – no rush!)
 Want more warm and comforting meals?
5-Minute Spiced Quinoa & Coconut Porridge
Lemon & Herb Chicken Potato Casserole
Chorizo & Vegetable StewShare on Pinterest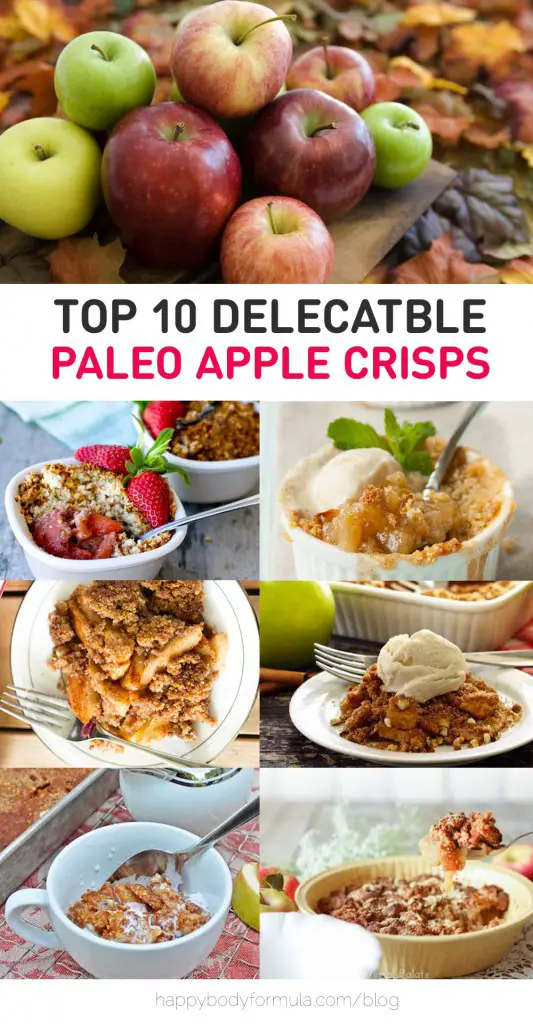 1. Eat Drink Paleo's Apple & Strawberry Crumble
This is all the joy of pie without the hassle of making the crust. This crumble is served up single-serving size in individual ramekins, but you could always opt to use a larger baking dish instead.
Strawberries and apples are the featured dynamic duo, making for an interesting flavor combination with a subtle, just-sweet-enough taste. Shredded coconut, macadamias and dates lend loads of texture to dig into.
Get the full recipe from Eat Drink Paleo here
2. My Natural Family's Paleo Apple Crisp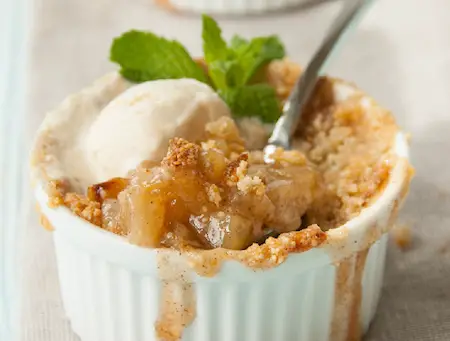 Not an apple pie enthusiast? Maybe you just haven't had the right recipe yet. Perhaps, you're more of a crisp or crumble type of person. In that case, this recipe is for you.
With its caramelized apples and slightly crispy outside, this dessert has plenty to offer up at your next BBQ or family gathering. It's made with wholesome, real-food ingredients that everyone can feel good about eating.
Get the full recipe from My Natural Family here
3. Grass Fed Girl's Paleo Cinnamon Apple Crisp
Here's a unique recipe with a refreshing and tart flavor complex. She uses green apples like Granny Smith and takes down the sour profile with a bit of honey as the sweetener.
The best part of this recipe for the primal people out there who tolerate dairy is the easy as pie (or crisp!) directions to making your own whipping cream.
Don't worry, there's a coconut milk adaptation too if you aren't yet familiar with the creamy goodness. You could use either/or for countless desserts or just plain fruit.
Get the full recipe from Grass Fed Girl here
4. So Let's Hang Out's Apple-Pear Crisp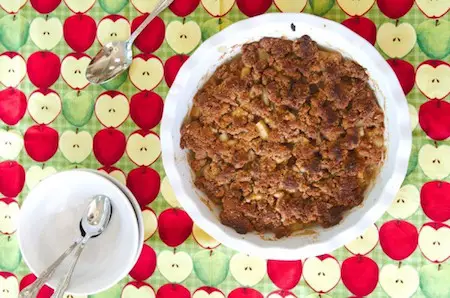 There is hardly a better way to enhance an apple dessert than by adding an equally crisp fruit such as pear. With nearly just as many varieties as the apple, you can fine-tune the taste with the seasons or just plain ol' personal preference.
This crisp packs in the nutrition with grass-fed gelatin as a thickener. Sweeten this dish with some local maple syrup, and dessert is on the table. This is the ideal recipe for the fall when you're stuck in a pumpkin rut by using the best that autumn has to offer.
Get the full recipe from So Let's Hang Out here
5. Paleo Running Momma's Maple Pecan Apple Crisp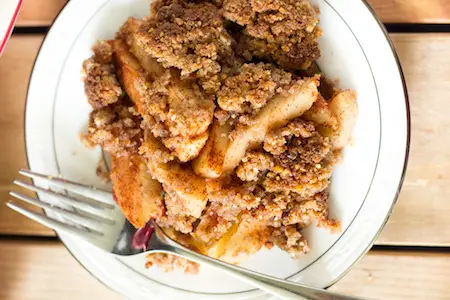 This one is a simple fix for a night when you just want to cozy up with something warm and sweet. This vegan-friendly recipe features warm spices like nutmeg and ginger with a swig of maple syrup to kick up the comfort just a notch.
This crumble couldn't be simpler, and if you have apples on hand, you probably have the rest of the ingredients lying around somewhere!
Get the full recipe from Paleo Running Momma here
6. Real Food Liz's 10-Minute Paleo Apple Crisp
Ten minutes, you say? I think I can do that. Better than its simplicity is the tiny fraction of time that lies between you cooking this and you eating this.
Break out the ramekin and whip this up for an afternoon-pick-me-up. You can use your favorite homemade paleo granola recipe, or you can use Cinnamon Paleo Krunch (this one is all about minimal prep!)
A quick granola hack is just roasting some of your favorite nuts and chopping them up. This recipe is easy to make with what you already have handy.
Get the full recipe from Real Food Liz here
7. Paleo Newbie's Paleo Apple Crisp
This apple crisp adaptation is brilliant because it provides the recipe for that gorgeous little scoop of perfection that tops any classic apple crisp – ice cream!
Whipped coconut cream is a totally fine option, but here's the opportunity to out-do yourself; nothing will pair better with the gooey goodness beneath than this vanilla cinnamon ice cream. Seriously – just imagine it melting slowly with each bite. *Drools.*
Get the full recipe from Paleo Newbie here
8. The Paleo Mom's Apple Crisp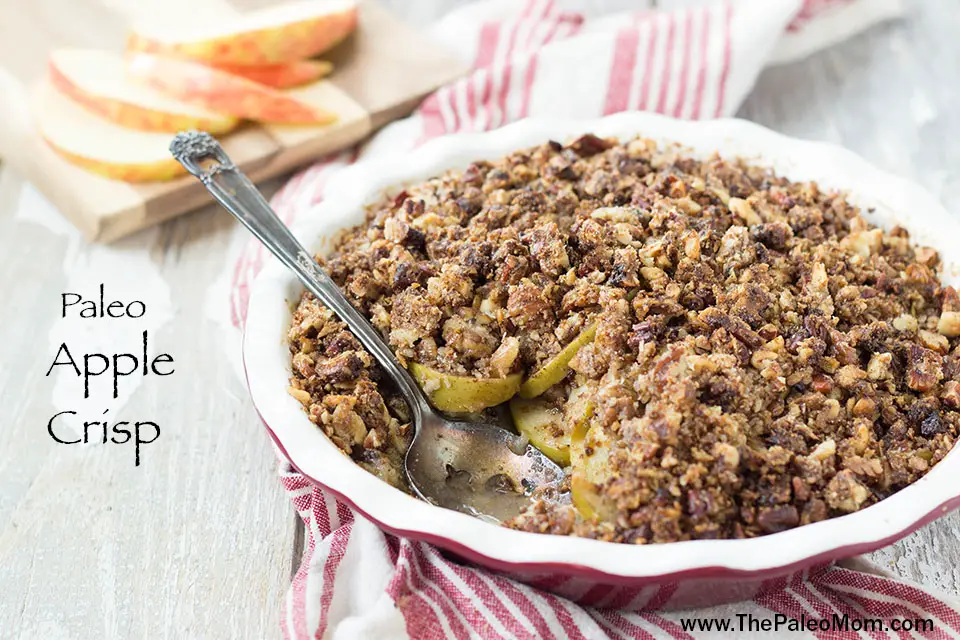 This was the first paleo dessert recipe that The Paleo Mom ever tried to recreate, and it took her nearly a year to make it perfect. Consider this your staple apple recipe for when the season hits.
She recommends using a blend of Fuji, Crispin, and Rome apples for the best taste. Her secret to the perfect flavor is muscovado sugar which has a hint of molasses flavor. Its mineral content is also high because it is unrefined. Get the recipe here.
9. The Freckled Foodie's Paleo Apple Crisp
The finished product of this dessert is much like a cereal, topped with almond milk or coconut milk (your choice!) for a meal that can easily double as breakfast porridge. If you miss oatmeal, this one's for you!
This recipe is unique because the crisp includes both almond meal and toasted sunflower seeds. It's important to mix up your seeds and nuts for the best balance of nutrients or recognizing potential sensitivities.
Get the full recipe from The Freckled Foodie here
10. Primal Palate's Paleo Apple Crisp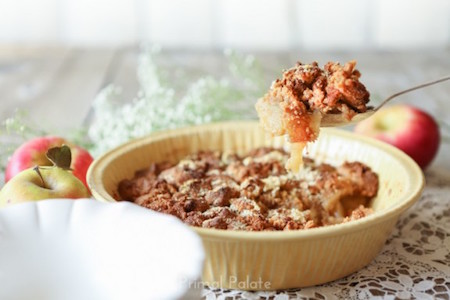 The secret to this captivating crisp is grass-fed butter. As a replacement, it's recommended to use sustainably sourced palm oil which you can find here if you don't tolerate dairy well.
Moving on, the crunchy top is comprised of a blend of coconut flour and blanched almond flour. If you don't care much for coconut flour, you can substitute a similar gluten-free option with great results.
Get the full recipe from Primal Palate here
What's your favorite way to use up Autumn's bounty of apples? Share your recipes with us!
Music, mountains, dogs, travel, food and friends.