Kids are notoriously picky eaters. If you've overhauled your own eating habits, you've hopefully let some of your good influence bleed into the kids' meals, too, but most parents are aware this is no easy feat.
From weird texture to the ultimate reluctance to green vegetables, kids tend to have far more hang-ups regarding their food than adults do. No doubt, one of the most important meals to address is lunch.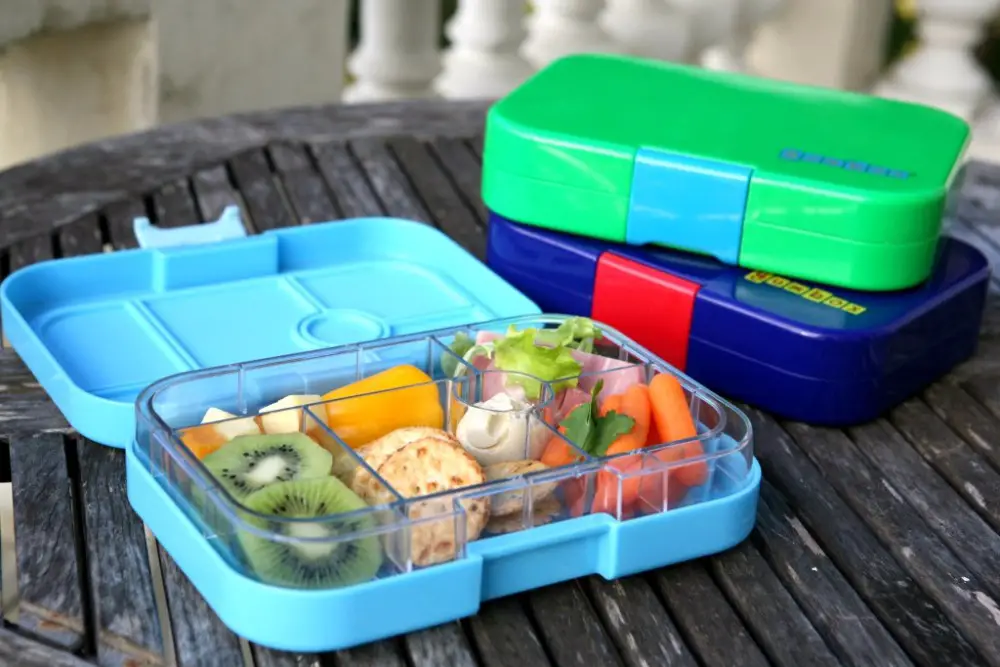 If you're sending the kids off to school, their options are hit or miss, and some of these schools consider pizza a 'vegetable.'
Mid-day at school, any growing boy or girl needs some nutrient-dense food with sustaining energy to keep their brains and bodies sharp for everything from gym class soccer games to number-crunching in math class.
If you're running out of healthy ideas the kids will actually like for lunch, we've got you covered in our roundup.
Eat your veggies
Perhaps the toughest hurdle to jump is this one. Veggies don't resonate with every kid's palate, and even then, you might have a fickle one on your hands.
Maybe they like broccoli one day and not the next, or maybe they will only eat carrots now despite eating other veggies last week. In that case, it's time to get creative with some fun, veggie-heavy, portable and pack-able recipes the kiddos will enjoy day after day.
Grain-free cauliflower & broccoli biscuits
Biscuits are one of the best ways you can get the kids to eat their veggies with enthusiasm. These grain-free bites are loaded with cruciferous crunch from both broccoli and cauliflower.
Get the recipe from The Natural Nurturer. Alternatively, check out Irena's low-carb, nut-free cauliflower hash browns below.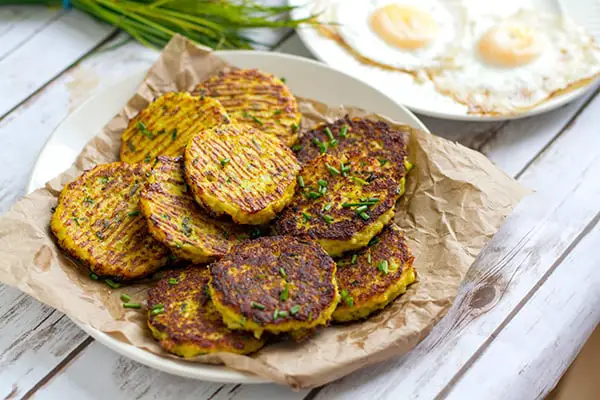 Beetroot, walnut, & prune dip
If the kids aren't keen on turning up the beet, this is a good way to turn them on to it. This dip is slightly sweet from the earthy veggie mixed with prunes, and the walnuts add a bit more texture.
It's full of good-for-you foods and antioxidants, and the kids will love the taste with some seed crackers or veggies to dip into it if they can get past the vibrant color! Get the recipe from Eat Drink Paleo.
Classic vegetable soup
It's great to have some thermos recipes handy for the cooler months, and simply as a way to mix things up. Plus, soup is one of the best ways to get more veggies into the diet.
A classic vegetable soup made from scratch beats the canned versions and tastes far better anyways. Finally, this recipe comes together in just 20 minutes and you can make a big batch to freeze some for future school lunch packing.
Get the recipe from Raising Generation Nourished.
Spinach & sweet potato bombs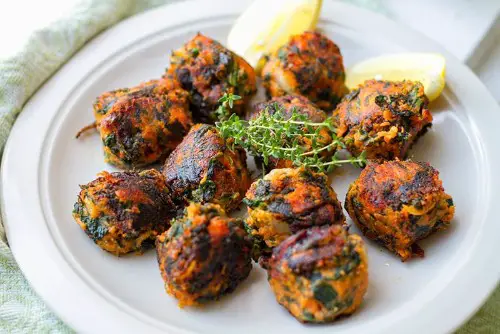 Give the little ones a reason to ask for MORE greens! These slightly sweet and dough-y balls pack in loads of vitamins from both sweet potato and spinach, and they're slightly crispy on the outside from a light pan-frying.
They'll be asking for seconds for sure! Get the recipe from Eat Drink Paleo.
Broccoli "cheese" sticks
These are grain-free, pumped up with nutritious broccoli, and made "cheesy" without the dairy using nutritional yeast. If the kids are missing breadsticks, these are the answer!
Pack them up with some homemade sauce to dip, or consider them a perfectly suitable veggie serving on the side of any main dish. Get the recipe from Physical Kitchness.
Zucchini bites
Zucchini, cheese, and oats are just about all you need for these guys! This makes them a fantastic crunchy "chip" packed with fibre, healthy fats, and veggies. Try to eat just one!
The kids will devour these. They're fabulous for dipping or topping with guacamole. Get the recipe from Healthy Little Foodies.
Protein & main meal ideas
A balanced meal needs a little bit of everything, of course. You want to give the kids something that really fills them up and helps them grow.
Protein is one of the most important quotas to meet in a child's diet because their bodies are doing a lot of work in getting taller and stronger. Kids are highly inclined to snack, so it's good to find main dishes they will clear their plates of.
Here are some ideas we like (and so will the kiddos!).
Nut-free paleo chicken nuggets
This recipe certainly beats the lunch room chicken nuggets, breaded and fried and baked from frozen. Better yet, these are great to pack if you can't pack nuts with the kids.
Oh, and they're delicious, packed with herbalicious flavor. Get the recipe from The Castaway Kitchen.
Garden veggie & herb meatballs
These meatballs are perfect finger food. Grass-fed beef is an undercover super food we love, and it will keep the kids going all day.
Plus, we've got some hidden veggies in here to up the nutrient profile and keep the little ones chowing down on those healthy plant foods. Get the recipe from Savory Lotus.
Instant & smooth chocolate chia pudding
Plant protein is the way to go with this chia pudding. The blended texture will be more palateable for kids who might find the gummy texture of full soaked seeds a little weird.
Oh, and of course they'll adore the chocolate. It's also full of healthy, rich fats from coconut milk so this is a nice way to sneak in some nutrient-rich energy with dessert for lunch. Get the recipe from The Natural Nurturer.
Protein banana breakfast muffins
There's nothing wrong with disguising a healthy dose of protein in a banana bread-inspired muffin. These bites are nutrient-dense with healthy ingredients like collagen, coconut flour, sorghum, almond flour, and more.
Get the recipe from Raising Generation Nourished.
Chicken veggie poppers
Protein AND veggies all in one bite? This is a parents' dream! These are fantastic for packing up in the lunchbox with a tasty dipping sauce – this recipe includes a gorgeous and creamy aioli to boost healthy fats.
Get the recipe from Paleo Paparazzi.
Paleo protein meusli bars
If the kids aren't feeling a full-on savory meal, offering up a little something sweet in its place with a good blend of macronutrients is crucial!
You can make a big batch that will last a few weeks, and unlike store-bought granola bars, you can feel great knowing about the awesome ingredients hiding out in these including almonds, Brazil nuts for a selenium boost, healthy pumpkin seeds, naturally sweet dates, and sesame seeds – the list goes ON!
Get the recipe from Eat Drink Paleo.
Italian lettuce wraps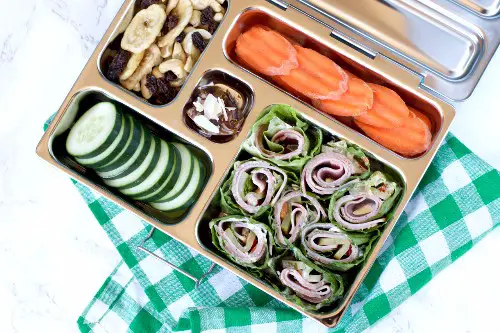 These fit perfectly into a lunchbox meal. They're an easy no-cook option to toss together for the kids when you just can't and need something easy and nourishing.
Having some good quality deli meats, cheeses, and veggies on hand to wrap up is all you need for this one. Get the recipe from Plaid & Paleo.
Nut-free mini paleo pizzas
Every kid loves pizza. This is a fact. Unfortunately, the school cafeteria's pies are probably coming from frozen, loaded with grains and processed ingredients, and aren't going very heavy on protein or healthy fats.
These crusts are grain-free and nut-free so they're totally allergen-friendly, and you can top them off to your kid's liking. Get the recipe from Eat Drink Paleo.
Snack smart
If you can't quite convince the kids that eating balanced meals three times a day is important yet they're always reaching for something to snack on, maube it's just time to step up the healthy munchies game.
Give them a little something to look forward to with these options.
Toasted coconut chips
Coconut chips are super tasty, but they can cost a pretty penny at the store. What's the secret? It's pretty simple. The kids will love these, plus they're refined sugar-free and satiating.
This recipe is low-carb, so you can feel good about easing the sweet tooth with these. Get the recipe from Whole New Mom.
Sweet 'n' spicy nuts
Nuts are a highly snack-able way to boost healthy fats to keep the brain and body on the same page. If you've got a kid with a spicy, crunchy, or salty tooth on your hands, this mix is great to make a big batch of and portion out at the beginning of the week.
Get the recipe from Wilderness Family Naturals.
Chia honey power bars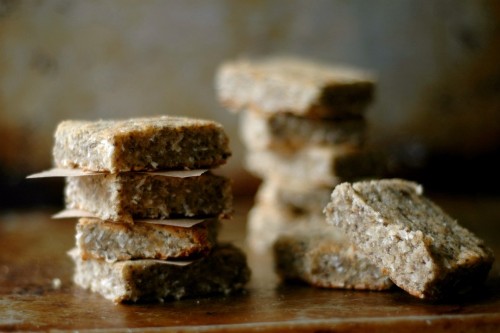 These are great for tiding the kids over until lunch or as a side. You know they need a boost of energy for gym class! These bars are loaded with tasty ingredients like good-for-you chia seeds, nuts, avocado oil, collagen, and coconut for that long-lasting endurance.
Get the recipe from Raising Generation Nourished.
Zesty nacho kale chips
Ditch potatoes for kale, and your kid is going to be that kid, but one bite into these nacho-inspired chips and every fourth grader is going to be on board the kale train, eager for leafy greens.
Sunbutter, tahini, nutritional yeast, sesame oil, coconut aminos and more come together for a gorgeous array of nutritious ingredients that pack in SERIOUS flavor.
Make a big batch – bet you can't eat just one! Get the recipe from Delicious Obsessions.
Paleo gummies (three flavours!)
Fruit snacks are such a common commodity at school. In vending machines, served with lunch, or handed out at sports games and parties, you're bound to see them floating around.
The nutrition facts aren't what you'd call impressive though; a tiny bag packs a load of sugar. Despite boasting "real fruit," your average fruit snack is just candy in disguise. This recipe uses gut-friendly collagen and simple, real ingredients without all the added sugar.
Get the recipe from Bakerita.
Tiger nut trail mix
This mix is fabulous for those with a peanut allergy. It steps outside of the box using tiger nuts – a type of resistant starch with prebiotics – cashews, and brazil nuts for a hit of selenium to nourish the growing young ones!
Plus, there's some chocolate in the mix. Get the recipe from Today In Dietzville.
Roasted chickpeas (six ways!)
Any picky eater will get on board with one of these delicious recipes. C'mon – what kid doesn't love ranch?! Roasted chick peas are easy to make in big batches, store, and dish out throughout the week.
They're crunchy, flavorful, satisfying, and packed up with fibre and plant protein. Get the recipe from This Grandma Is Fun.
Sweet potato chips
Chips are another thing that float around pretty freely in schools, and they're definitely not disguising themselves as a "health food." Let's change the game though!
These two-ingredient chips are made with good-for-you vitamin-rich sweet potato and fried in coconut oil to boost healthy fats, compared to the usual hydrogenated, refined oils found in a pack of crisps. Get the recipe from Healy Eats Real.
Sweet treats
If you're going to keep your kids on track with eating healthy, you need to implement some balance. If they don't get their sweets from you, they're going to find them elsewhere.
Besides, what's the fun in being a kid if you don't get dessert sometimes? These treats are refined sugar-free and grain-free for a healthy spin on some classics.
Low-carb snickerdoodle cookie dough balls
Cinnamon sugar in every bite, but they're low-carb? Instead of sending the kids' blood sugar rising after lunch just because their teachers have to put up with it doesn't mean you should.
These ingredients are ones you can feel good about with loads of healthy fats that will keep them going far past lunch from a delicious blend of coconut and almond butter. Get the recipe from Whole New Mom.
Carrot raisin no-bake treats
Baking is fine and dandy, but when you don't have time, these simple 5-ingredient no-bake carrot and raisin bites are the perfect treat to whip up.
They're a simple blend of coconut oil, coconut, carrot, and raisins so they're just slightly sweet. Plus, they use ingredients we usually have on-hand for lunch packing emergencies! Get the recipe from Traditional Cooking School.
Flourless chocolate chip banana breakfast cookies
These cookies aren't just limited to breakfast. They're soft and chewy just like your favourite classic chocolate chip cookie recipe, boasting fibre from flaxseed meal, natural sweetness from bananas and honey, and a dense, moist dough made possible by rich nut butter.
Pack one of these up for a pleasant, chocolate chip-dotted surprise! Get the recipe from The Natural Nurturer.
Tropical raw bliss balls
Bliss balls are basically a concoction of dates or other dried fruits – in this case, pineapple and mango – nuts, seeds, coconut, and whatever other goodness you want to toss in there.
They require no baking at all, and can take on any flavor you want. This tropical rendition is fabulous any time, but especially when the weather warms up. Get the recipe on the blog.
Almond butter & jelly bars
Peanut butter and jelly sandwiches are undoubtedly a lunch box staple. These bars hit all the notes without any peanuts, grains, dairy, or added sugar, so they're the winner in OUR books.
Besides, the kids will agree… cookie bars > sandwiches. Get the recipe from Paleo Running Momma.
Bread and buns
Kids and adults love sandwiches. It's the perfect way to load up on goodies in a perfectly portable way, making them the perfect contender for the lunch box.
Ditch whole-wheat enriched bread for these grain-free and gluten-free alternatives.
Plantain sandwich rounds
With just two ingredients, these plantain rounds are free of grains and loaded with healthy starch – plantains – to keep the kiddos fueled all day long.
Pack up leftover burgers, veggie sandwiches, almond butter and jam, or organic deli meats and cheese in the middle. Who could complain about this lunch? Get the recipe from Delicious Obsessions.
Stuffed sweet potato buns
These grain-free buns are stuffed with goodies quite like a stromboli or calzone. Heck, you could even throw some pizza toppings in there to make it complete.
The bun itself is full of sweet potato, coconut flour, and gelatine for a balance of fibre, protein, healthy fats, and more. You can easily freeze these and pop 'em out of the freezer for the lunchbox the night before, making a variety to accommodate the kids' ever-changing taste buds.
Get the recipe from The Castaway Kitchen.
Grain-free sandwich bread
This is yet another great grain-free option for a bread replacement. Load these low-carb slices up with veggies, your favourite spreads, some protein, or nut butters.
This bread is perfect for baking a loaf of, freezing, and taking out to easily assemble tasty sandwiches. Get the recipe from Living Healthy With Chocolate.
What's on the inside counts, but so does what is on the outside! You can get more ideas from Grass Fed Girl here, and check out our guide to safe food storage and non-toxic tupperware to pack those healthy lunches in.
Let us and fellow parents know what your go-to lunchbox ideas are in the comments below.
Share this roundup on Pinterest!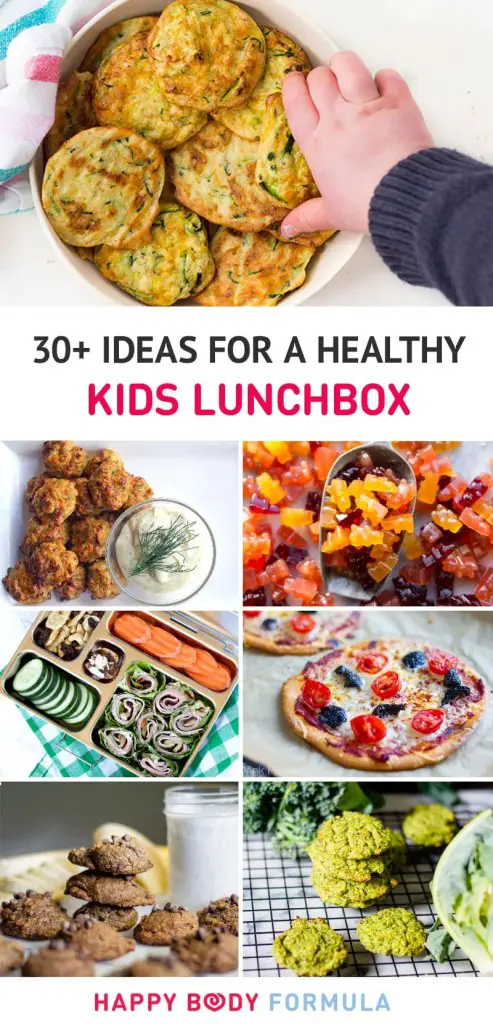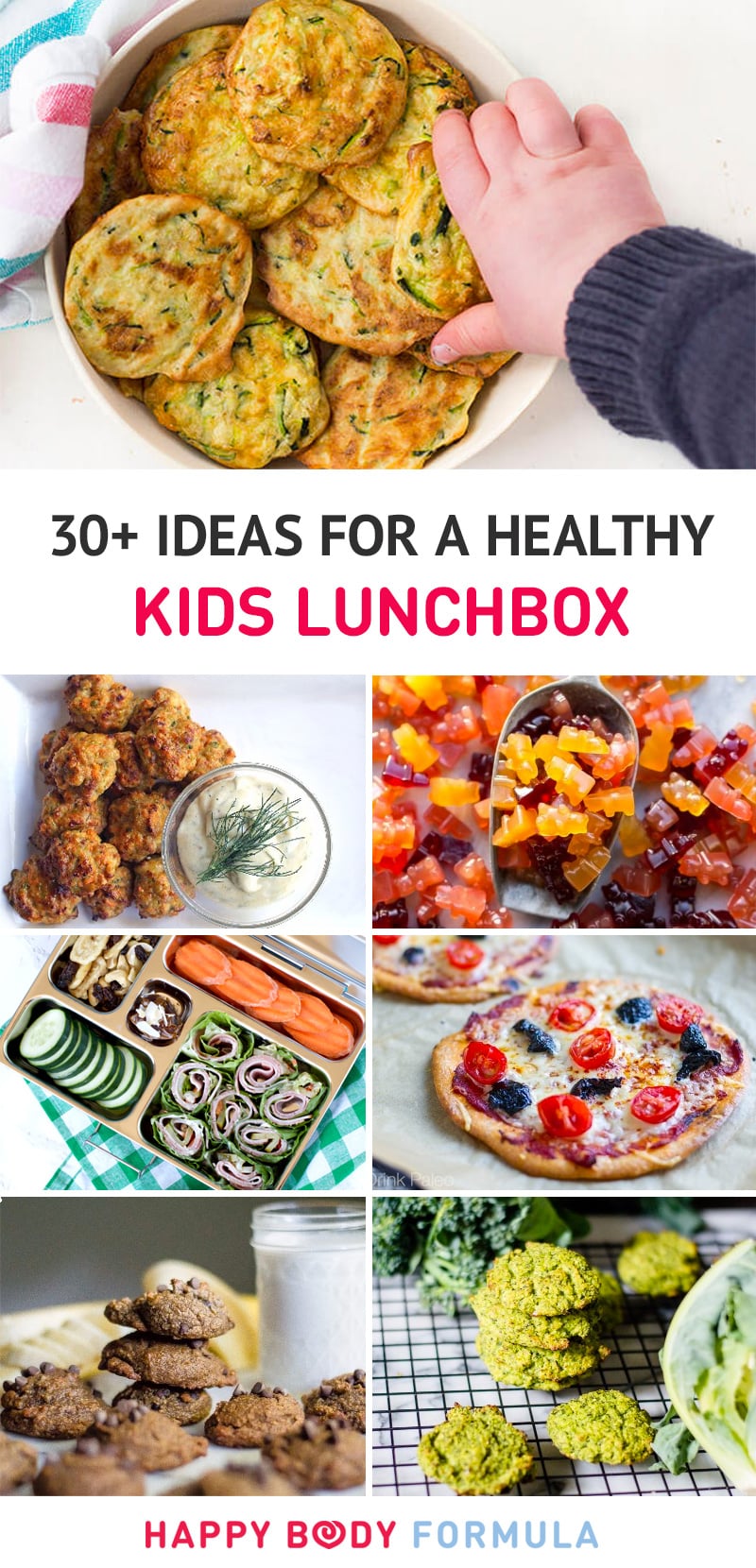 Music, mountains, dogs, travel, food and friends.