You know when you go out for an innocent Mexican food meal with the best intentions, and they're destroyed within moments of the chips and salsa being delivered to the table.
Cursing yourself, "I didn't ask for this!," you promise to only have one or two before the entire thing is gone. There's no denying that tortilla chips are the real deal GOOD stuff, but we just want a healthier way.
While most tortilla chips are made of corn making them gluten-free, they're often still fried and contain refined oils. Plus, corn can be tough on the digestive system for some who want to avoid it completely.
Fortunately, whipping up a heaping plate of paleo nachos isn't too difficult to do with a little creativity and the right ingredients. Here are some clever ideas for paleo tortilla chips.
1. Sweet potato chips
When it comes to making chips or fries, sweet potatoes are always at the top of the list. They're a lifesaver at the end of the day, and we love their versatility and taste.
Sweet potatoes come in many different varieties, so you can really start off with a base of your own. Purple nachos, anyone? You can slice them into fries, bake them into thick chips, or use a mandoline slicer for crispy, thin chips.
Sweet potatoes are loaded with vitamin C and vitamin A, and they're great for people on all kinds of diets whether you're paleo, vegan, or following the autoimmune protocol.
They provide a boost of quick energy from a healthy carbohydrate source, and they're much easier to digest than standard corn tortilla chips.
Load them up with your favorite meats, some guac, olives, and other garnishes. Here is some inspiration to get started no matter what you're craving!
Try these recipes: 
2. Plantain chips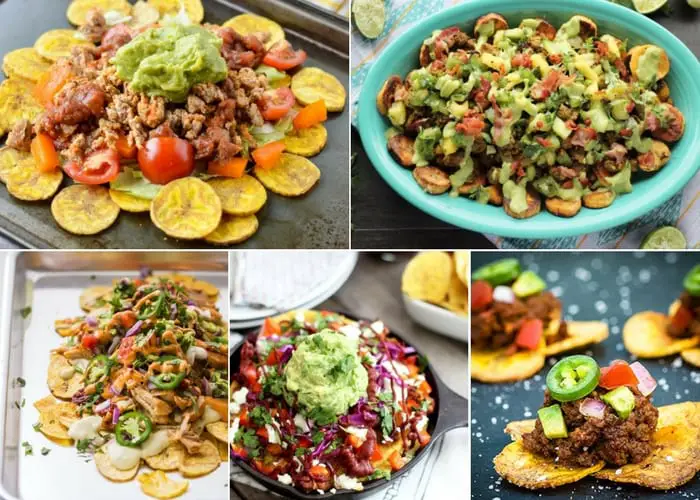 Oh, plantains. How we love thee! Plantains are much like a banana with a few key differences, and they can be used in a wide variety of both sweet and savory dishes.
The main difference between the plantain and the banana is their starch and sugar content. A plantain is much starchier, and a banana is much more fructose-based.
With both, this depends on ripeness. For plantain nachos, you want to choose a very starchy plantain so look for green plantains at the store.
Plantains are rich in fibre, vitamin A, vitamin C, and potassium making them a healthy alternative to corn chips. They're also a good source of resistant starch – an important, gut-friendly prebiotic.
You can also control what type of oil you fry them in while making nachos at home. We recommend coconut oil or avocado oil. Another bonus is you can often find good quality plantain chips at the store to top off with your favorite nacho garnishes.
Try these recipes:
3. Cassava chips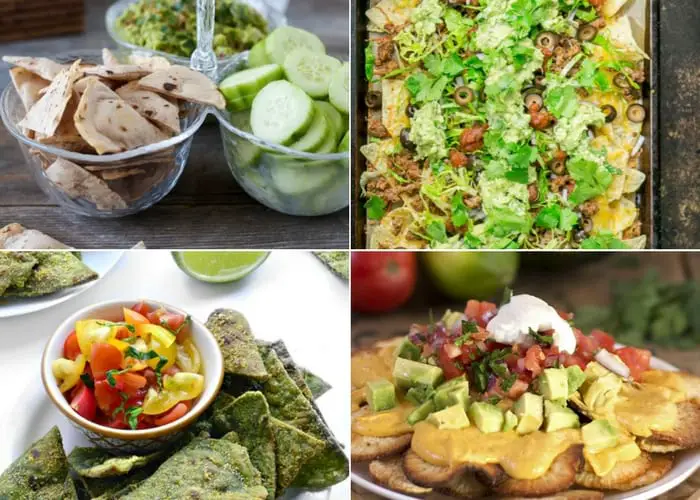 Cassava is a great choice for grain-free dough. Thus, it makes a nice flour substitute for tortilla chips.  It's easy to use for baking desserts, or using to make pancakes or waffles (not just nachos!).
This starch is made from yuca root which can also be used. It's one of the best gluten-free flours to use because it acts quite like wheat flour, often meaning you can replace it in recipes 1:1.
Plus, it tastes pretty similar. It's also lower in calories than most grain-free flours, meaning its glycemic load is reduced despite it being a starch.
You can also buy cassava chips already made! These Siete paleo tortilla chips are amazing and addictive. They taste like the real thing, if not a little better!
Try these recipes:
4. Low-carb nachos
If you want to go the extra mile and put in some more effort, making a seed and nut chip is to use as the base will work well.
These will provide you with that crunchy goodness you crave, resembling something quite similar to traditional nachos. Better yet, seed and nut chips can be made pretty low-carb and keto-friendly, unlike our friendly starches above.
Seeds and nuts provide a good source of protein, fat, vitamins, and minerals. Soaking and sprouting them ahead of time will also give you a leg up, increasing your body's ability to digest them.
Bonus: you can flavor them however you'd like. Here are some recipes to get started with. Once you find a good seed and nut chip you like, you can make so much more than just nachos!
They make a great snack any time. Other inventive ideas include pork rinds and "fathead" dough, bell peppers, zucchini, and straight up cheese.
Try these recipes:
5. Dessert nachos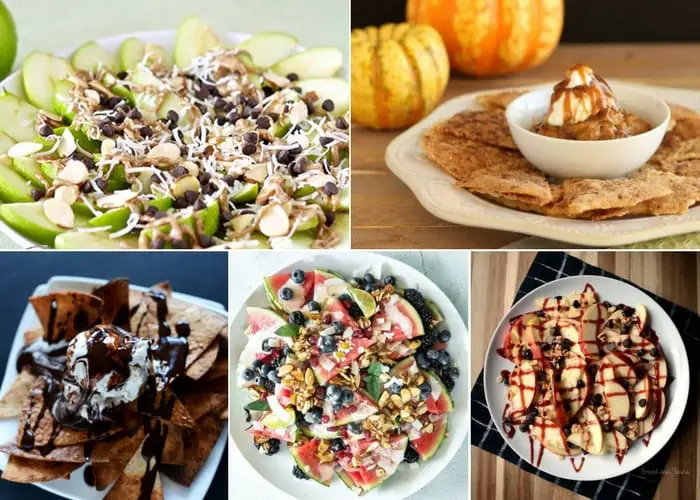 Did someone say dessert? Yes, please. Once you finish up something savoury, that quiet need for something sweet kicks in. Dessert nachos are a real thing.
Think about it – when you choose the toppings, anything can be dessert. We quite like this idea for entertaining, healthy, kid-friendly after-school snacks, or a simple sweets craving.
You can use fruit like sliced apple as the base, and top it all off with chocolate, seeds, nuts – whatever your heart desires.
A good grain-free granola could bring some crunch to the mix, or you could keep it simple with a honey drizzle. Here are some sweet paleo nacho ideas to get inspired.
Try these recipes:
Get your nacho on! Whether you're sticking to paleo, low-carb, or you're craving sweets, there are so many ways to make the magic happen without tortilla chips.
Let us know which recipe you're most excited to try!
Music, mountains, dogs, travel, food and friends.