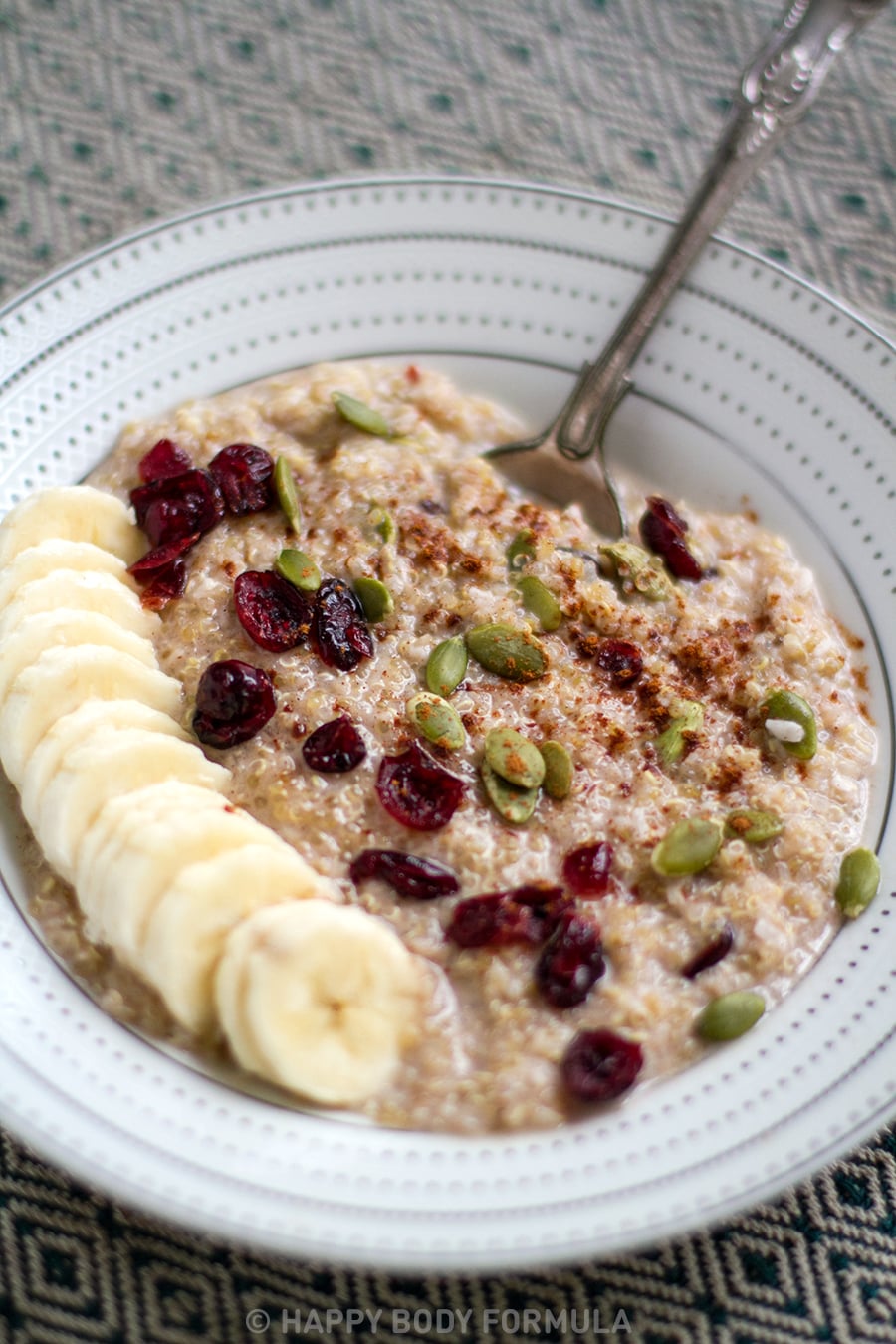 This porridge is a wonderful alternative to morning oats. Quinoa packs a decent amount of protein and loads of fibre. It is a slow type of carbohydrate, which means it will release energy gradually. You can read more about the benefits here.
Spiced with cinnamon and cardamom, this quick breaky resembles a cup of warm chai tea. Coconut milk is full of healthy medium chain saturated fatty acids (MCFAs) – in particular, lauric acid – which is converted in the body into a highly beneficial compound called monolaurin.
It has antiviral and antibacterial properties, and it may help protect the body from infections and viruses.
Add sliced banana or berries depending on your carbohydrate needs. Sliced pear or mango also goes well with these flavours.
Now, we call it a 5-minute porridge because we're using pre-cooked quinoa. What we recommend is that you cook a batch of quinoa and freeze it in smaller portions for whenever you need it.
Simply defrost a portion overnight and use it the next morning. It freezes really well and will last for a couple of months in the freezer.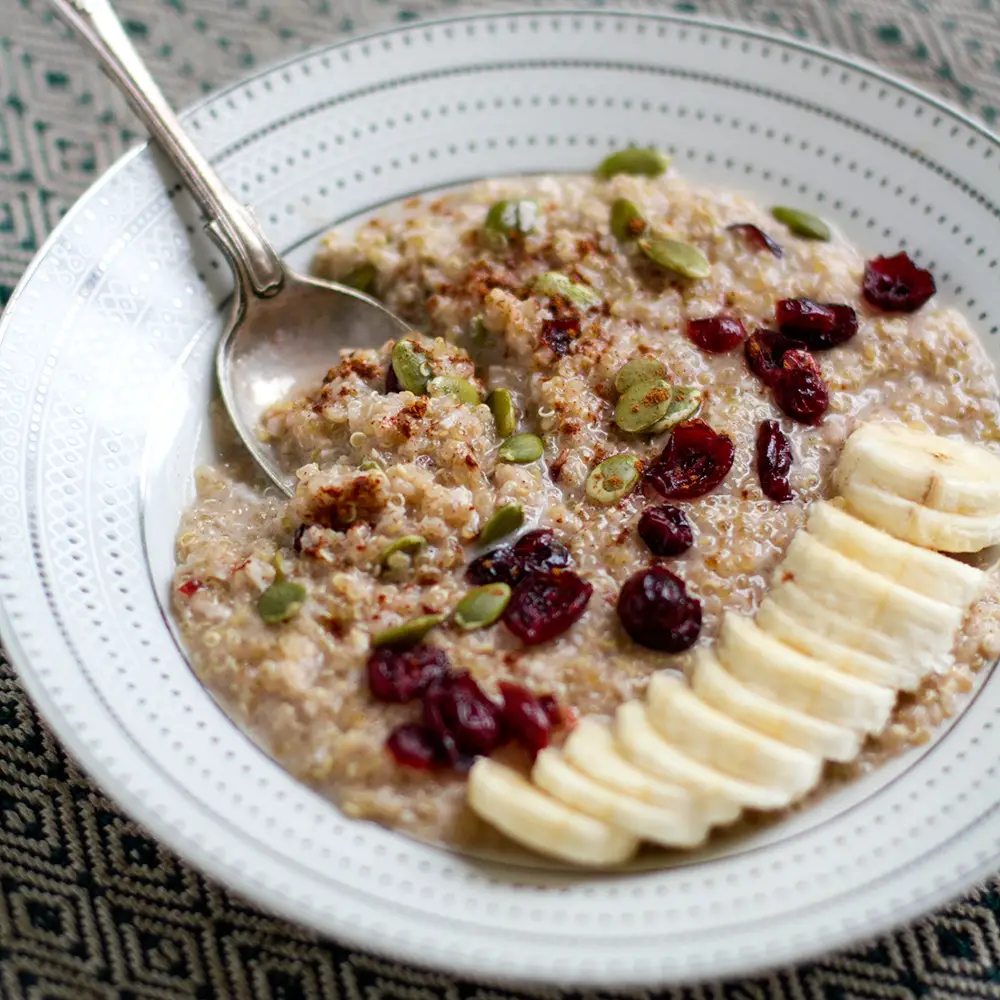 How to cook quinoa for the porridge
Soak the quinoa for 3-4 hours in a bowl of water (twice as much) and a generous pinch of salt. This will denature some of the antinutrient compounds such as phytic acid and lectins.
Strain and rinse pre-soaked quinoa well and add to a medium pot. Fill the pot with twice as much cold water. Bring to a boil and cook for 12 minutes.
Strain and rinse under cold water, then let it sit in the sieve for 10-20 minutes to remove any excess liquid. Freeze in ziplock bags in single or double portions (1/2 cup per serving).
Alternatively, you can buy some pre-cooked white quinoa, but beware of what else is added to the packet such as rapeseed oil, salt and preservatives.
5-Minute Spiced Quinoa Coconut Porridge
Ingredients
½ cup tightly packed cooked quinoa (white, ideally)
1 tablespoon desiccated coconut (unsweetened)
½ cup coconut milk (full fat, 60% coconut, mix the tin well)
¼ teaspoon cinnamon
pinch of nutmeg
4-5 pods of cardamom or ¼ teaspoon powder
1 tablespoon honey
small handful dried cranberries
small handful pumpkin seeds
½ banana or ½ cup berries
Instructions
Combine quinoa, shredded coconut and coconut milk in a small pot and place over medium-high heat. Add the spices, pumpkin and cranberries and stir through. Bring to boil and cook for 1 minute on simmer, stirring frequently. Remove from heat and serve with sliced banana or berries.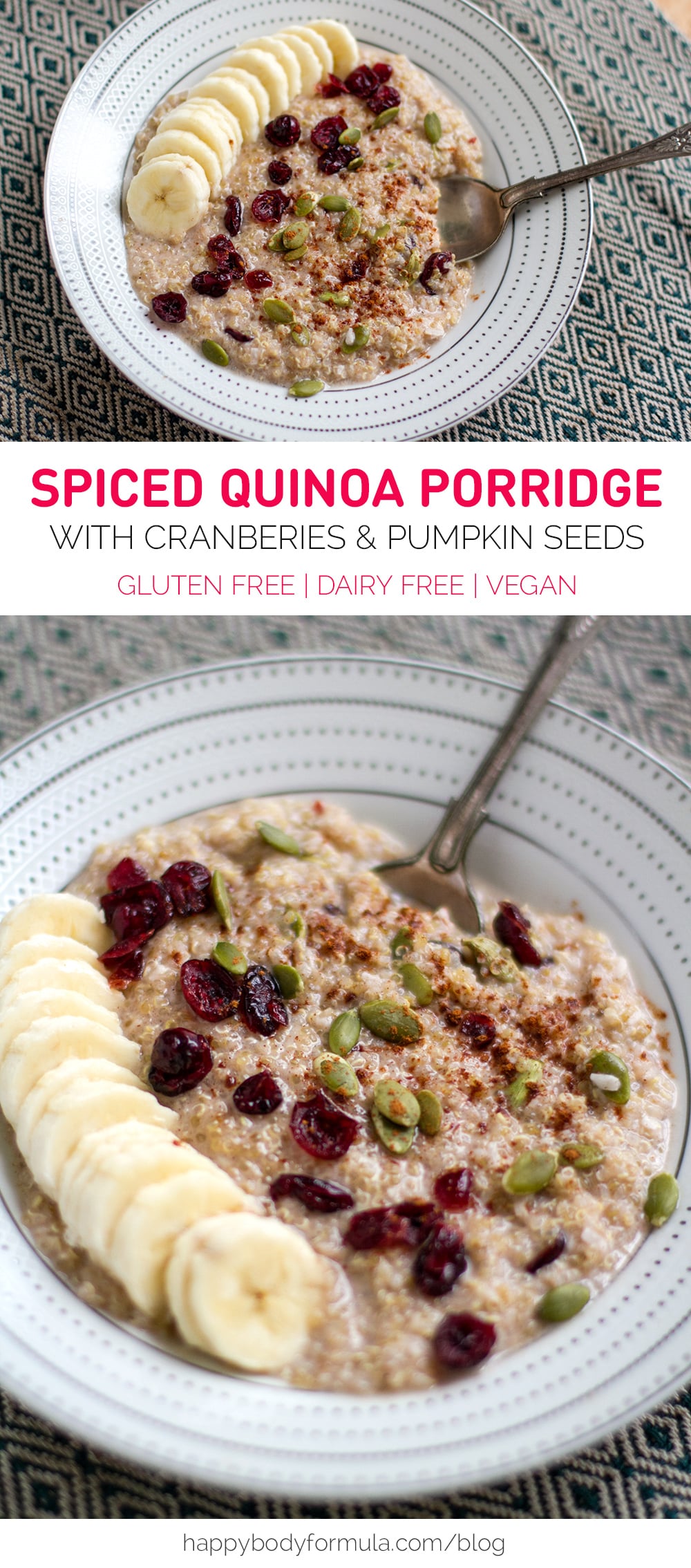 Music, mountains, dogs, travel, food and friends.