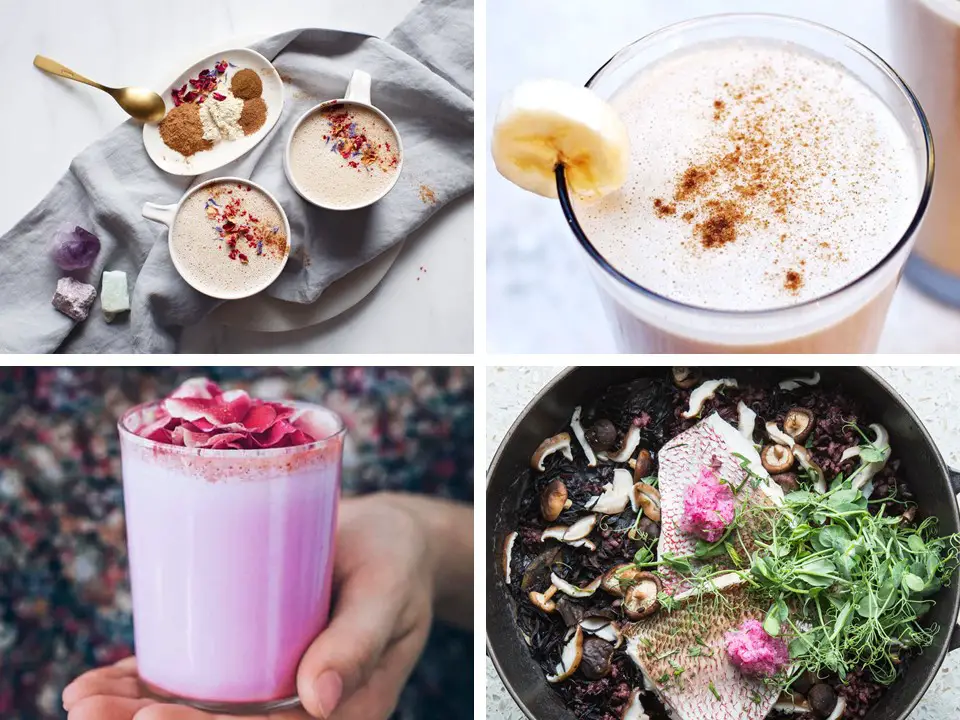 Ashwagandha isn't just the latest health fad. With a wide range of impressive health benefits, this supplement is here to stay. Also known as Indian ginseng, this medicinal herb has been used in Ayurvedic and Chinese medicine for thousands of years, particularly due to its adaptogen properties.
As an adaptogen, Ashwagandha has the ability to help our bodies effectively manage stress. Furthermore, the herb is also celebrated for its anti-inflammatory and antibacterial properties.
If that's not good enough, check out some of the other health benefits Ashwagandha offers:
Controls blood sugar levels
Fights cancer and reduces the side-effects of chemotherapy
Strengthens the heart muscles and controls cholesterol
Relieves stress
Reduces anxiety and depression
Increases fertility in men
Improves muscular strength
Stimulates the thyroid gland
Boosts immunity
Can increase red and white blood cell counts
Prevents seizures and convulsions
Fights cataract diseases
There are many ways to introduce Ashwagandha into your daily diet, including supplements in the form of pills, tea, or powder. To mix things up though, why not include the medicinal herb in some delicious recipes that you can enjoy throughout the day?
The good news is that we've rounded-up not one, but 15 stress-busting recipes using Ashwagandha. The best part?
They taste as good as they look too!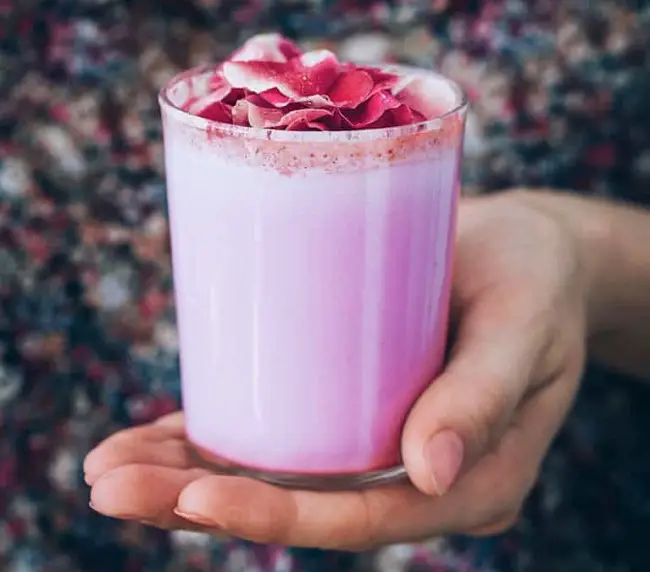 1. PINK MIDNIGHT MILK FROM HELLO GLOW
This adaptogenic Midnight Milk is made with a combination of ashwagandha, schisandra berries, and rose petals to help relax your mind and ease you into a restful sleep.
Thankfully, you only have to gather up all those ingredients once to make a big batch of Midnight Milk powder which is then stirred into warm milk. One batch makes a whopping 60 servings of milk!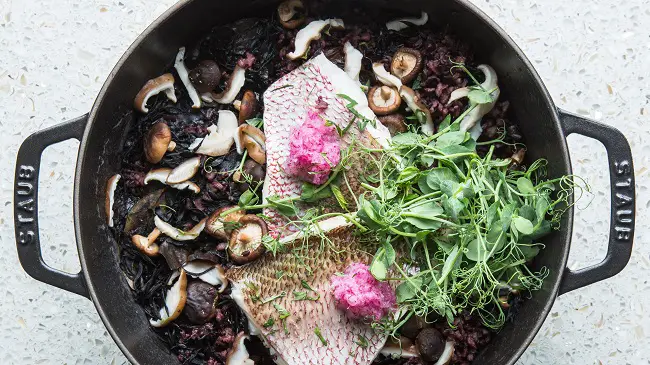 2. STEAMED FISH WITH ASHWAGANDHA FROM HEALTHYISH
The chef uses whole dried ashwagandha root in this clay pot dinner, but if that's too hard to find, she recommends using the herb in powder form instead.
This delicious fish has many health benefits as it is, but with the addition of Ashwagandha, you can enjoy a boost in many areas of your health, especially stress, anxiety, and mood.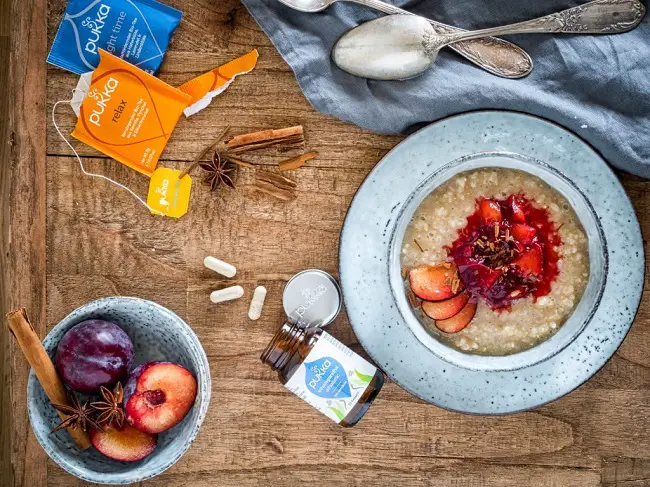 3. ANTI-STRESS AYURVEDA PORRIDGE WITH PUKKA HERBS FROM PLANTIFUL SKIES
Could there be a better way to start the day than with this anti-stress porridge containing Ashwagandha?
This naturally sweet Mochi rice is perfect for breakfast, plus the combination of plum, cinnamon, star anise, cardamom and a pinch of salt makes this Ayurvedic porridge irresistibly delicious!
You could also add your favorite fruit on top, like blueberries, strawberries, and more.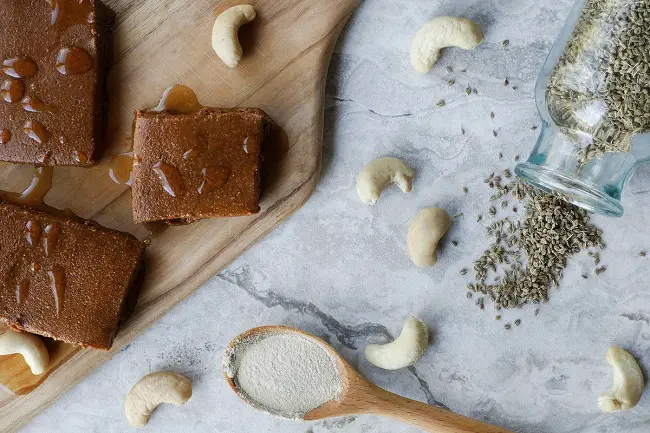 4. HOMEMADE ENERGY BARS WITH ADAPTOGENS FROM MOUNTAIN ROSE HERBS
Energy bars are easy to come by these days, but have you ever looked at the sugar content in them? While they might taste delicious and claim to have healthy nutrients in them, they often don't contain enough health benefits to truly make a difference.
This is where this tasty recipe for homemade energy bars with Ashwaghandha comes in handy. With added ingredients like maca powder, ajwain seeds, cardamom powder, cashews, and more, your body and mind will soon be reaping the rewards.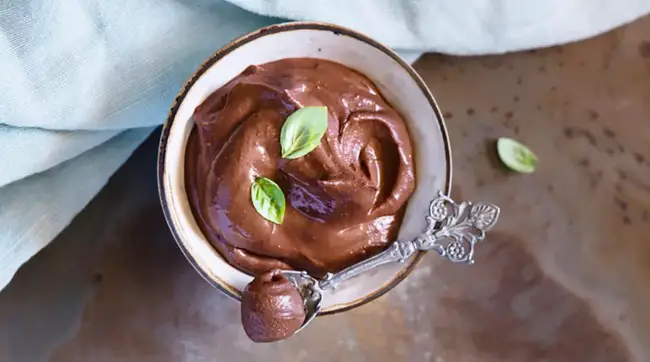 5. ADAPTOGENIC CHOCOLATE MOUSSE FOR BEAUTIFUL SKIN FROM MIND BODY GREEN
We all get chocolate cravings from time-to-time, so why not turn that desire into an opportunity to fill your body with stress-busting nutrients such as Ashwagandha?
This adaptogenic chocolate mousse also contains antioxidant-rich cacao, anti-inflammatory chaga, and pearl powder (a Chinese supplement packed with minerals and amino acids for glowing skin). A mouth-watering dessert that's also insanely good for you? Sign us up!
6. CACAO ASHWAGANDHA ALMONDS FROM CALI ZONA
These wonderful Cacao Ashwagandha Almonds are not only good for you, but they are also seriously addictive! Along with Ashwagandha, they also contain maple syrup, coconut sugar, and cacao.
Plus, these almonds take just minutes to whip-up, meaning you'll have a delicious and healthy snack ready in no time at all.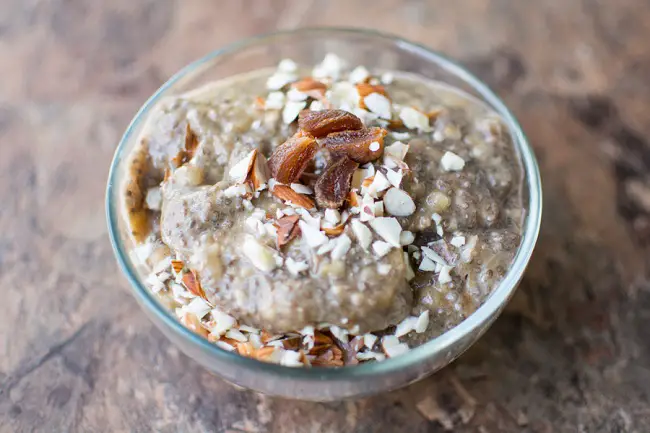 7. STRESS-REDUCING APRICOT ALMOND CHIA PORRIDGE FROM EDIBLY EDUCATED
This recipe combines Aswaghanda, Maca and Lucuma with dried apricots, coconut milk and almonds for a filling, nutritious adaptogenic dish.
It's a wonderful way to start your morning, or even to have as a mid-afternoon snack when those sweet cravings hit. Despite its delicious taste, this dish is incredibly good for your mind, body, and spirit.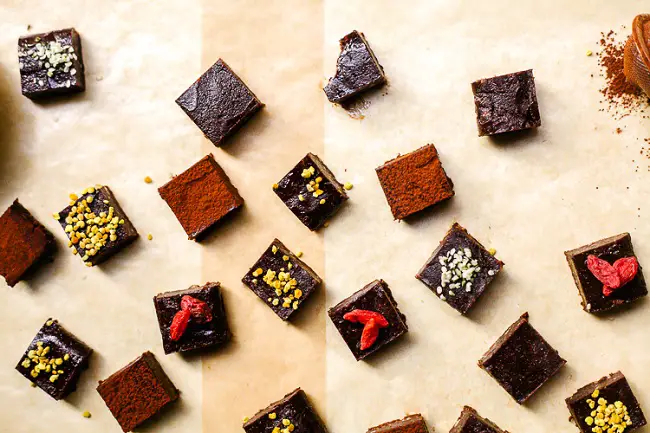 8. RAW ADAPTOGEN FUDGE WITH ASHWAGANDHA FROM WHOLEHEARTED EATS
Who doesn't love a soft and silky fudge recipe? The only thing that can make a scrumptious dessert like this better is if it has added health benefits from medicinal herbs such as Ashwagandha – which is exactly what this recipe offers!
It also features ingredients such as Medjool dates, nut butter, cacao, maca powder, and more.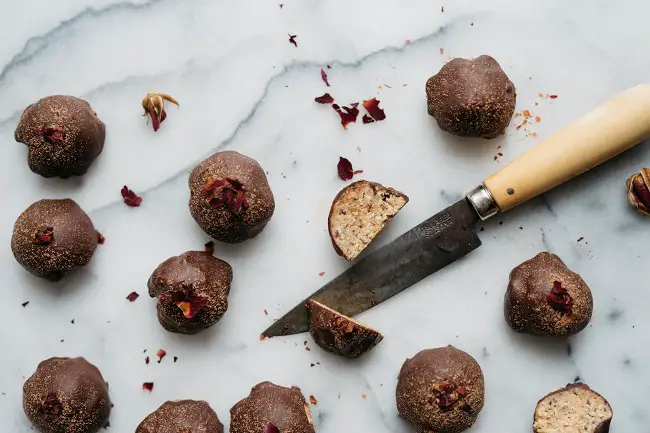 9. ALMOND-CASHEW & CHIA BALANCE BALLS FROM DOLLY AND OATMEAL
Although these balls are completely grain-free and made from primarily nuts and seeds, they taste like cookie dough!
Inside, you'll find additional goodness such as almonds, cashews, chia seeds, maca powder, Ashwagandha, reishi, pitted dates, and so much more. Plus, they're tasty enough for your kids to enjoy (even though they contain no artificial sugars!)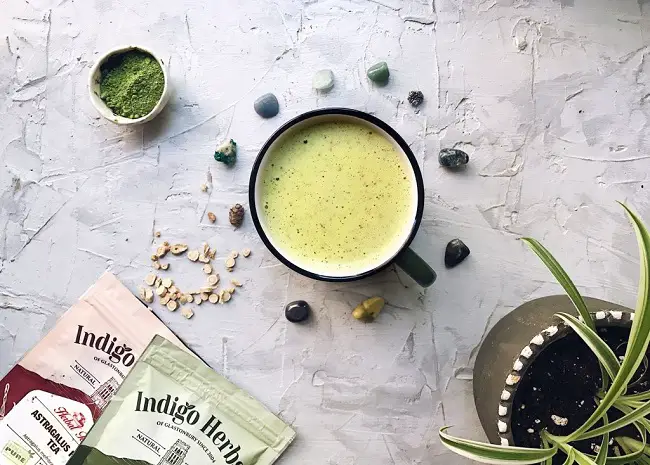 10. MAGICAL ADAPTOGENIC MATCHA LATTE RECIPE FROM BREAKFAST CRIMINALS
If you're a fan of matcha lattes, then you'll love this version that contains additional health properties through the inclusion of adaptogens, such as Ashwagandha.
It also features other ingredients such as Astragalus Tea, maca, matcha, coconut manna, grass-fed collagen peptides, and more. Sounds intriguing!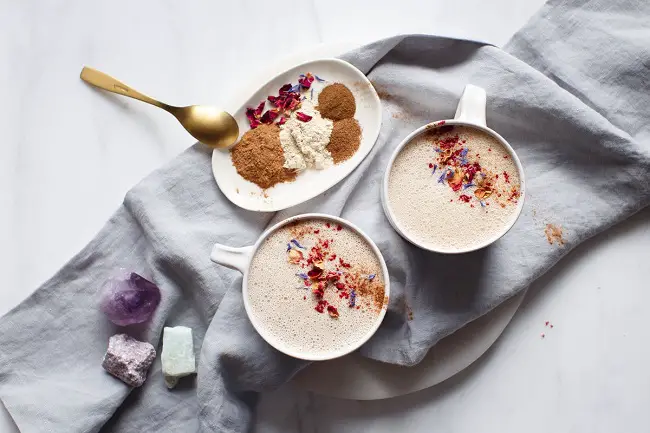 This Ashwagandha Sleep Tonic is a modern twist on a classic Ayurvedic remedy. You'll find some aromatic spices have been added to the traditional mix, including cinnamon, clove and nutmeg, half a vanilla bean, a pinch of sea salt and a whole Medjool date to sweeten.
Instead of the usual dairy milk, this recipe also uses almond milk, making it appropriate for vegans too. After drinking this warm sleep tonic, you'll have a restful sleep and wake feeling refreshed.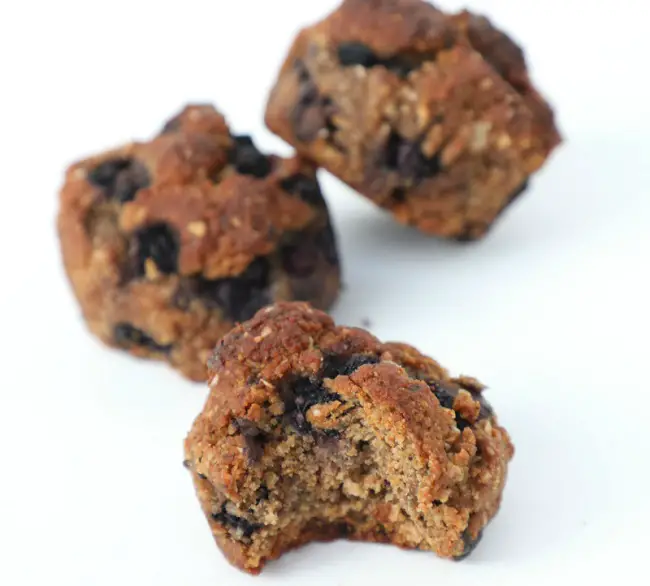 12. ASHWAGANDHA APHRODISIAC MUFFINS FROM ORGANIC OLIVIA
Have you ever heard of a health-boosting, stress-busting muffin that also lifts your libido? This recipe is exactly that, as it also utilizes Ashwagandha for its aphrodisiac qualities.
Additional ingredients include coconut oil, honey, vanilla extract, apple cider vinegar, blueberries, and chocolate chips.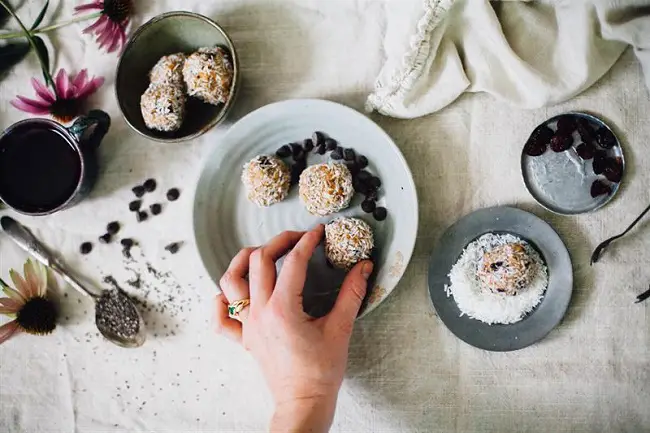 Don't waste your time with sugary snacks. If you're truly on a health kick, you'll spend some extra time making your own healthy treats, such as these nut butter balls.
With nutritional ingredients such as Ashwagandha, dried fruit, cacao nibs, chia seed, cinnamon, and more, they'll give you an instant boost in energy that doesn't just satisfy your tastebuds, but also lasts all day.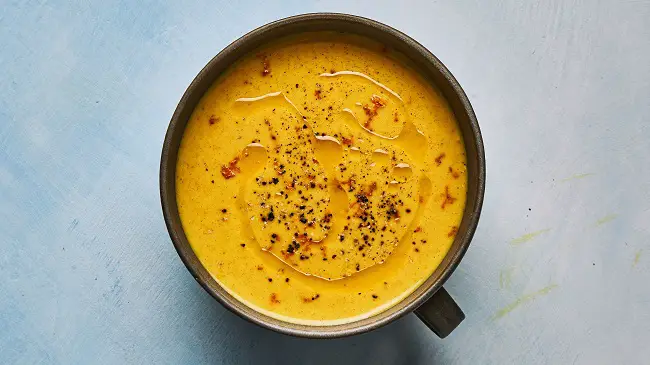 If you're after a more traditional Moon Milk recipe utilizing Ashwagandha, then this is for you.
Containing beneficial ingredients such as nutmeg (a natural sleep aid), cinnamon, turmeric, cardamom, ginger, honey, and of course, Ashwagandha, it'll soon have you hopping off to the land of nod – just without the heavy hangover that less-natural sleep aids give you.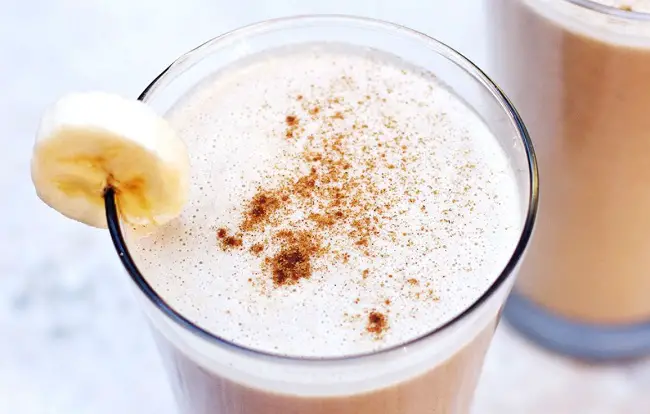 15. ASHWAGANDHA BANANA SMOOTHIE FROM LEARNING HERBS
This yummy treat is a great way to share the nourishing and supportive qualities of Ashwagandha. After all, who doesn't love a creamy, satisfying banana smoothie?
Not only does it take just minutes to make, but it also includes ingredients such as almond milk, Greek yoghurt, coconut oil, cinnamon, and honey, giving you a boost in energy, as well as a boost in your physical, mental, and emotional health.
Final Thoughts
There you have it – 15 stress-busting recipes using Ashwagandha that aren't just incredibly good for you, but surprisingly tasty too.
Remember, this ancient medicinal herb doesn't just have antibacterial and anti-inflammatory properties; it also assists with a whole range of health benefits, including controlling blood sugar levels, strengthening the heart, keeping cholesterol in check, boosting immunity, and more.
Perhaps what Ashwagandha is most famous for, however, is its stress-reducing properties, as well as the positive effects it has on both anxiety and depression.
Thanks to supplements such as Ashwagandha, along with the recipes featured above, putting your health first has never been easier.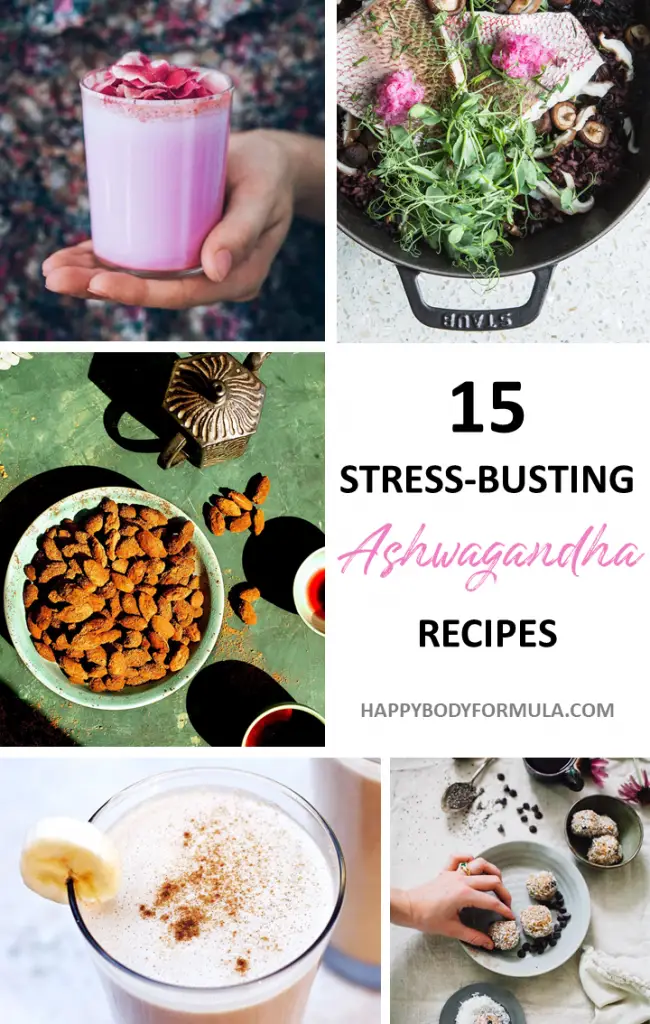 Melanie Clarke is the founder of Whim Online Magazine, an online magazine based in Australia that has a strong focus on whimsical + dreamy photography, as well as art and fashion content.