If the weather is looking anything but pleasant outside, why not stay in and have your very own self-care day or night? While we've delved into self-care practices on the blog here before, today we're going to look at the best self-care DIYs to help you relax, refresh, and rejuvenate.
Among this list of 30 self-care DIYs, you'll find everything from face serums and scrubs, to lip balms, hair masks, bath bombs, and so much more. Trust us – there's a lot to cover when it comes to looking after your hair, face, and body with natural, homemade products.
Ready to experience a self-care day or night at home? Here are the top 30 DIYs you need to know!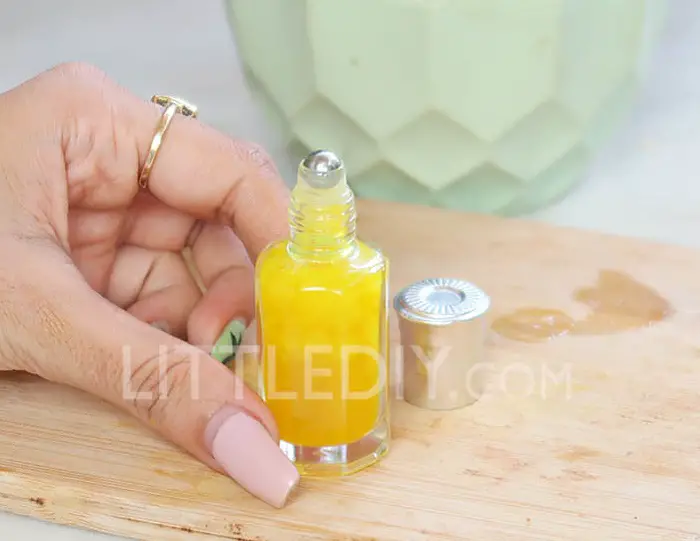 1. TURMERIC ROLL-ON EYE SERUM FROM LITTLE DIY
This DIY turmeric roll-on eye serum reduces dark circles, fine lines, and puffiness. Because it contains the powerful ingredient of turmeric, it gradually brightens your undereye area each day. Other ingredients include sweet almond oil and pure aloe gel. Roll the serum under each eye from the inner corner to the outer corner twice with mild pressure. Apply each morning and evening or whenever necessary throughout the day!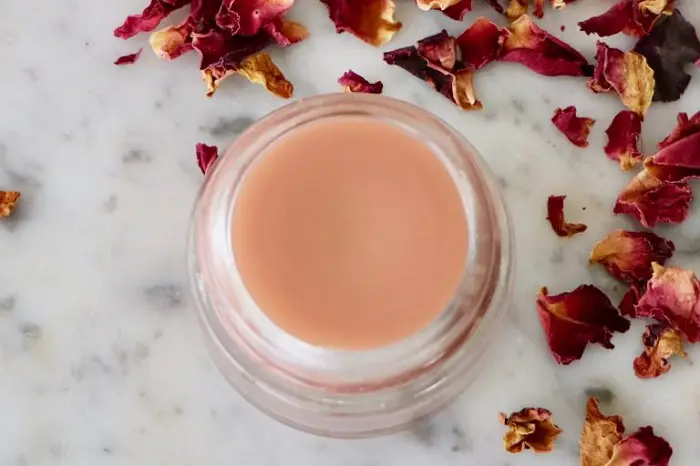 2. DIY PRETTY PETALS ROSE PERFUME BALM FROM BIOME
This DIY perfume balm is a beautiful, simple, and low-tox way to create a personal fragrance without harmful synthetic chemicals and fake smells. This one uses a combination of essential oils including rose geranium, ylang ylang, frankincense, bergamot, and patchouli, but you could use a range of different essential oils to suit your preference. Other ingredients include dried rose petals, jojoba oil, shea butter, candelilla wax, rosehip oil, and Australian pink clay.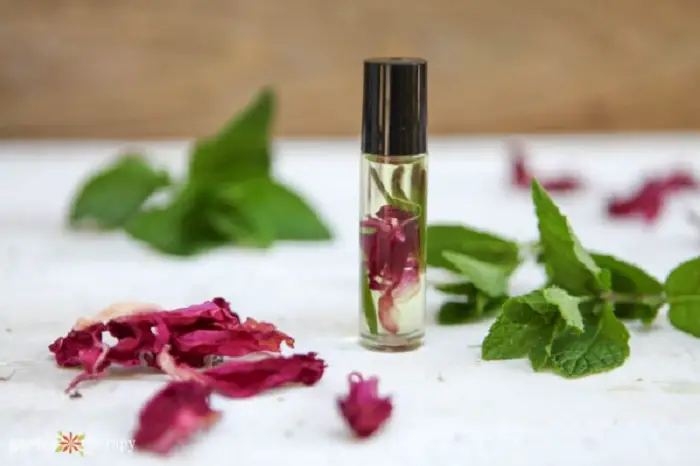 3. DIY BOTANICAL PERFUME RECIPE FROM GARDEN THERAPY
By replacing lab-created fragrances with naturally occurring essential oils, you'll not only smell good but you'll feel pretty good too. This is why this tutorial for botanical perfume belongs on your self-care list, as it allows you to participate in a creative and mindful activity (making perfume), whilst reaping the aromatherapeutic rewards. Suggested essential oil blends include patchouli and bergamot; geranium, ylang ylang, and lavender; frankincense, jasmine, and orange; and cedarwood, lavender, and tangerine.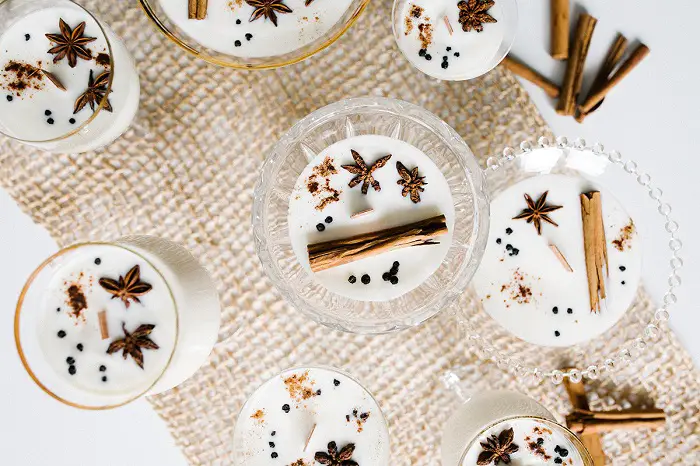 4. EGGNOG SOY WAX CANDLE DIY WITH ESSENTIAL OILS FROM JOJOTASTIC
To begin your DIY soy wax candle project, start by rounding up a bunch of vintage glassware in different shapes, sizes and height. A thrift store is a great place to find these! Then, follow this tutorial to create these incredible eggnog soy wax candles. Ingredients include soy wax, vanilla essential oil, cinnamon essential oil, nutmeg essential oil, wood wicks, and bulk spices (for topping).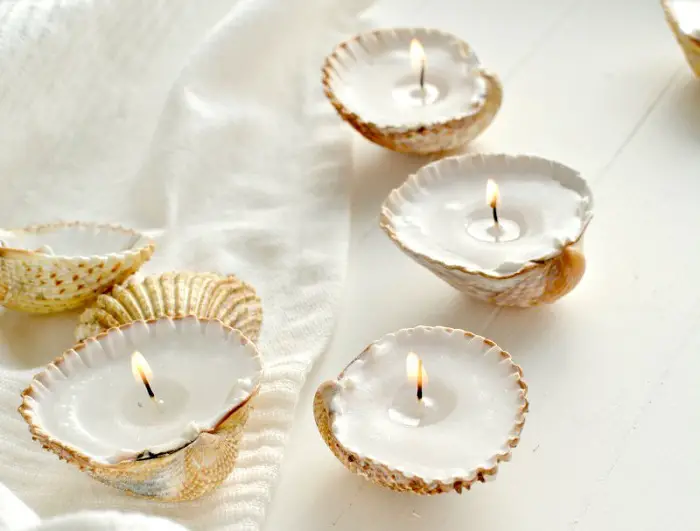 5. DIY HANDMADE SHELL CANDLES FROM BURKATRON
Aren't these little shell candles stunning? They're not just great to help you relax during a self-care regime, but are also incredibly fun and easy to make, giving you another project to pass the time on a rainy day. Mix some essential oils into your melted wax to give these beauties the power of aromatherapy too. They also make the most wonderful gifts for loved ones!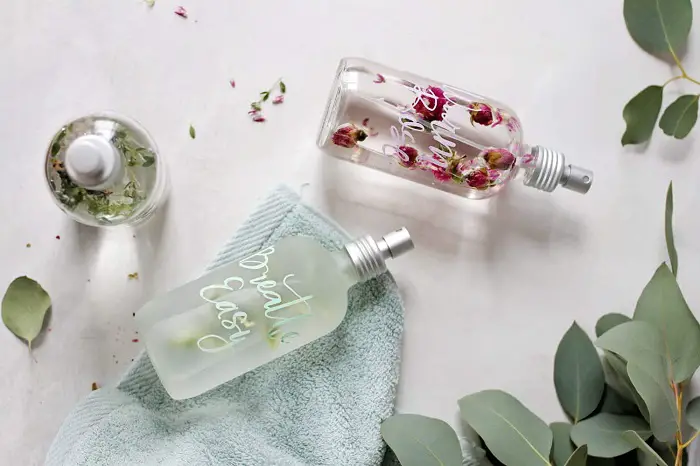 6. DIY AROMATHERAPY SHOWER SPRAYS FROM HELLO GLOW
These DIY aromatherapy shower sprays help you to create your own spa vibe from the comfort of your bathroom. Unlike some room sprays you're used to; these are meant to be sprayed in the shower where the oils can mix with the steam and create a relaxing steam room effect. The aromatherapy is said to help relax the mind, calm the body and boost the immune system – everything you'd want from a successful self-care ritual!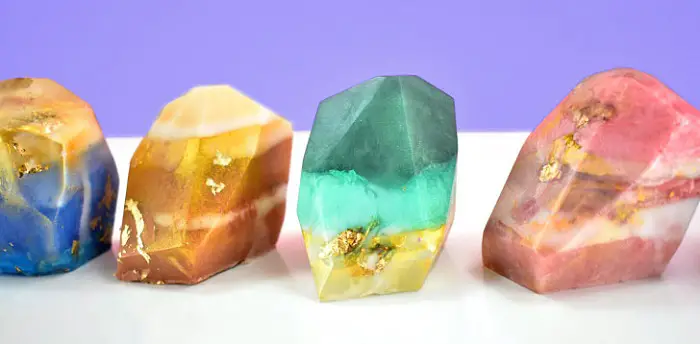 These gorgeous gemstone soaps might look difficult to make, but trust us, they're easier than you think! Not only do you get to have fun creating these little works of art, but you're also left with a sweet-smelling and pretty soap to use during your self-care day or night – lather up in the bath and enjoy the aromas of your favorite essential oils. Add some loose gold leaf for an ultra-luxe look!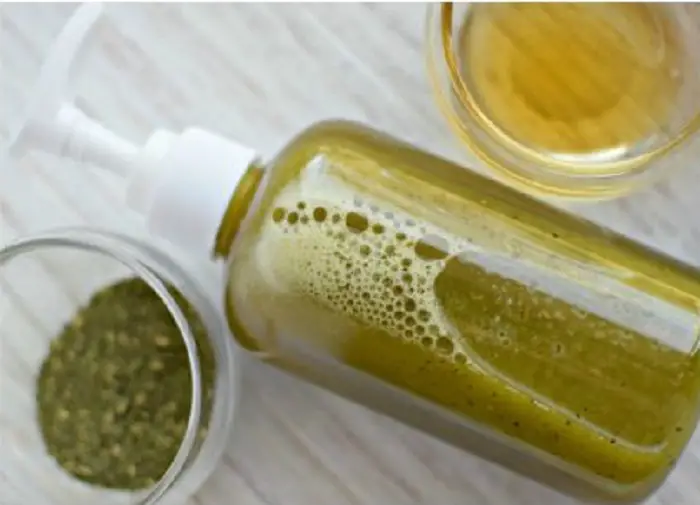 8. ALL-NATURAL HONEY MATCHA FACE WASH FROM SWEET NATURE'S BEAUTY
Using all-natural ingredients for healthy skin is the only way to go, which is why this DIY honey matcha face wash uses ingredients such as honey, avocado oil, castile soap, matcha, and tea tree essential oil. The tutorial also recommends other essential oil combinations depending on skin type. Dry skin can benefit from cedarwood, myrhh, sandalwood, geranium, and Roman or German chamomile, while oily skin will prefer lemon, lime, sweet orange, bergamot, and cypress.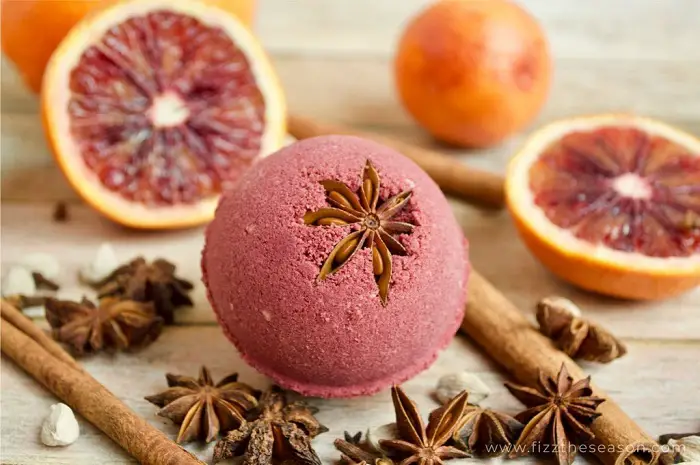 9. DIY MULLED WINE BATH BOMBS FROM FIZZ THE SEASON
These DIY mulled wine bath bombs smell amazing and leave your skin feeling silky smooth. It uses ingredients such as baking soda, citric acid, kaolin clay, corn-starch, poysorbate 80, grapeseed oil, shea butter, essential oils (cabernet neroli and harvest spice fragrance oils with some sweet orange essential oil are recommended to give it a mulled wine smell), red and purple mica, star anise, and witch hazel.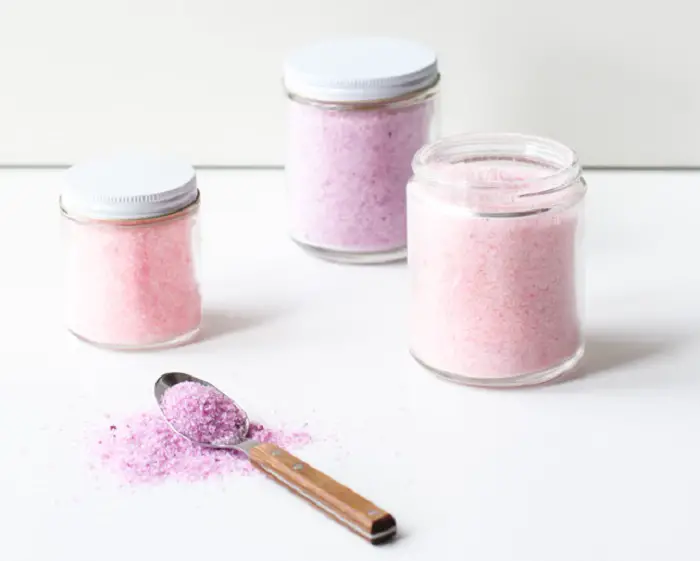 10. DIY BATH SALTS FROM MUMTASTIC
Did you know you can make bath salts using supplies you probably already have in your house? Bath salts form the basis of any self-care day and are perfect for helping you relax and rejuvenate. All you'll need is Epsom salt, food coloring, plastic sandwich bags, glass jars, a large mixing bowl, spoon or whisk, baking soda, coarse sea salt, and a combination of your favorite essential oils. Store these by the bathtub for when your sore muscles need a long, hot soak.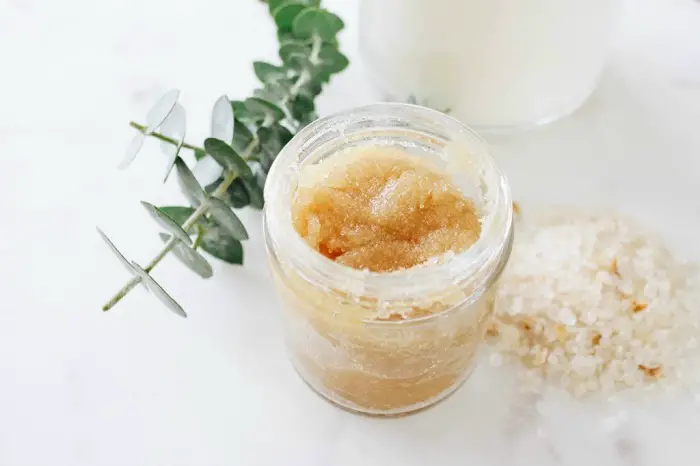 11. HONEY AND SUGAR LIP SCRUB FROM DAILY AHH
This honey and sugar lip scrub is a genius way to cure dry, damaged lips and is perfect to add to your self-care regime. You probably already have the ingredients in your pantry, as all you need is some sugar and honey. Too easy! If you want some extra softness, you can also add in coconut or jojoba oil.
Give your hot bath the added therapeutic benefits of essential oils by making these DIY floral bath salts. This concoction contains coarse Himalayan salt, Epsom salt, coarse Dead Sea salt, baking soda, dried flowers, essential oils of your choice, and apricot kernel oil. If you're looking for relaxation and stress-relief, try a combination of oils including lavender, jasmine, patchouli, chamomile, bergamot, orange, and ylang ylang!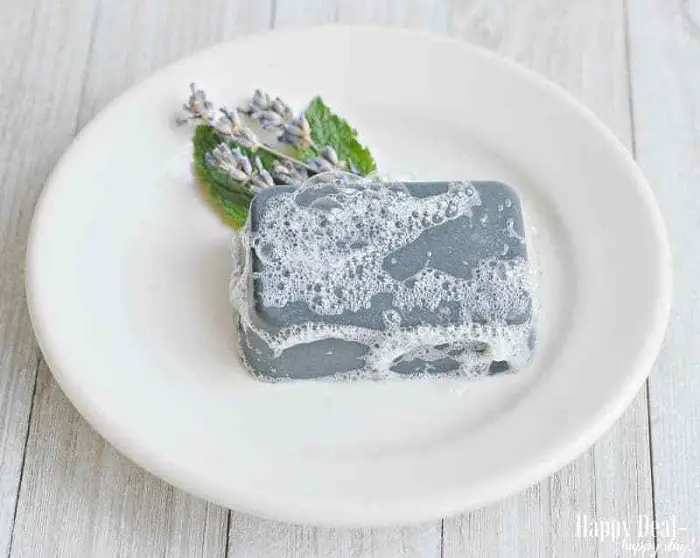 13. DIY CHARCOAL AND CLAY FACIAL BAR SOAP WITH ESSENTIAL OILS FROM HAPPY DEAL, HAPPY DAY
This is an incredibly easy way to make your own melt and pour bar soap using just three main ingredients, plus essential oils for added aromatherapy benefits.  If you suffer from mild acne, using this soap daily could be better for your skin than other harsher, store-bought products. This one uses peppermint, tea tree, and lavender essential oils and smells divine!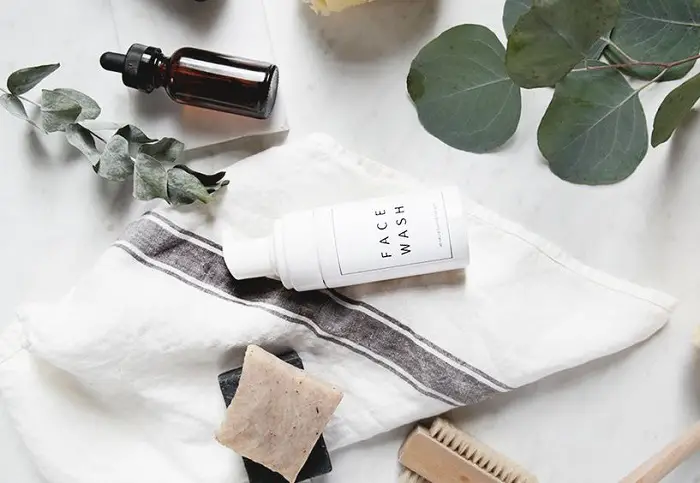 This face wash is really easy to make, smells great, and leaves your skin feeling fresh and clean. Because it uses essential oils, it's also both moisturizing and soothing for your skin. Ingredients include distilled water, liquid castile soap, rosehip oil, vitamin E oil, frankincense essential oil, and lavender essential oil. Simply mix together then pour into a small pump bottle.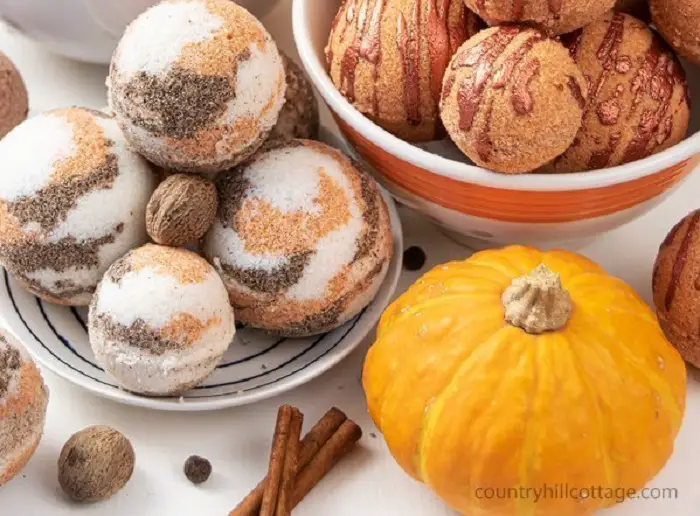 Here's not one, but three DIY bath bombs which are all inspired by fall! Learn how to make a pumpkin spice bath bomb, pumpkin spice latte bath bomb, and pumpkin pie bath bomb featuring ingredients such as baking soda, citric acid, shea butter, kaolin clay, brown mica, and essential oils such as nutmeg, ginger, clove, cardamom, and cinnamon leaf. They almost sound good enough to eat!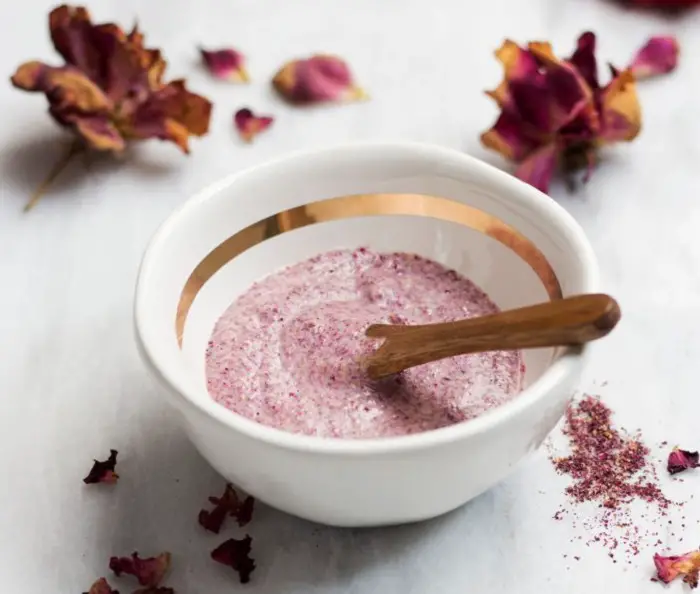 16. 2-STEP DIY PLUMPING ROSE PETAL LIP MASK FROM A LIFE ADJACENT
If you're suffering from dry and discoloured lips, you'll certainly want to add this DIY plumping rose petal lip mask to your self-care arsenal! Using ingredients such as organic sugar, avocado oil, organic rose petals, unfiltered organic honey, unsweetened yoghurt, and cayenne pepper, this 2-step DIY lip mask will exfoliate, soften, plump and smooth dry, parched lips. Make one for yourself and a friend to indulge in together!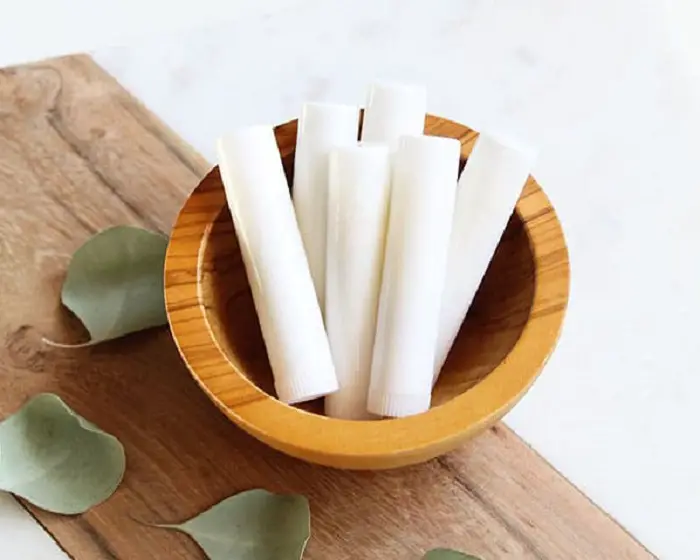 17. HOMEMADE CINNAMON AND HONEY LIP BALM FROM LIFE N' REFLECTION
Did you know you can make homemade lip balm in mere minutes to avoid irritated and chapped lips? This simple DIY requires ingredients such as shea butter, coconut oil, beeswax pellets, honey, and cinnamon leaf essential oil, giving your lips a balm that isn't just moisturizing, but incredibly nourishing too. The best part is this recipe makes 8 lip balm tubes – that's enough to last you all year!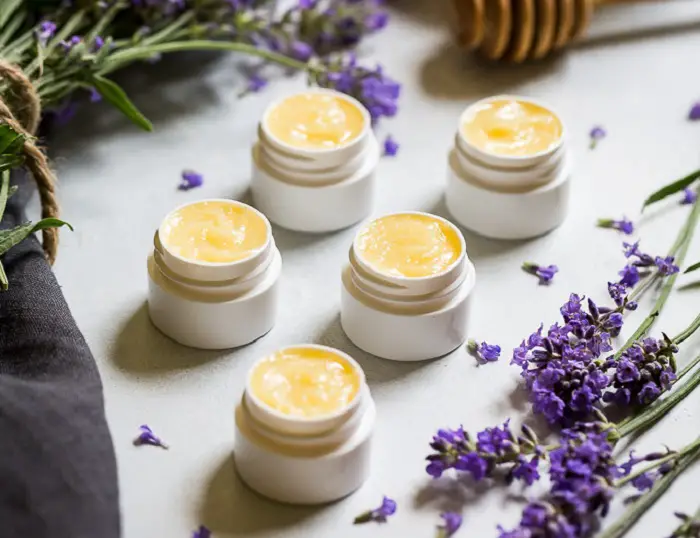 While we're on the topic of lip balm, here's another nutritious and nourishing DIY lip balm recipe for you to try next self-care day. This recipe is easy to make, as you simply melt everything together in a small saucepan, before whisking the lip balm over an ice bath until it thickens. Ingredients include coconut oil, jojoba oil, grated beeswax, honey, and lavender essential oil (or any essential oils of your choice, really!).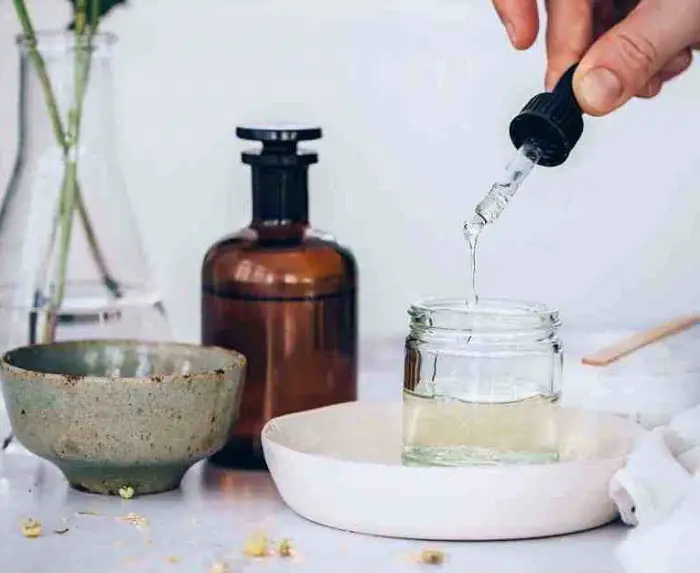 19. DIY ANTI-INFLAMMATORY MOISTURIZER FROM HELLO GLOW
It's possible to alleviate and potentially improve the effects of sensitive skin and this DIY anti-inflammatory moisturizer is a great place to start! This one uses ingredients such as sea buckthorn oil, jojoba oil, shea butter, and chamomile essential oil – all of which are packed with hydration-boosting fatty acids.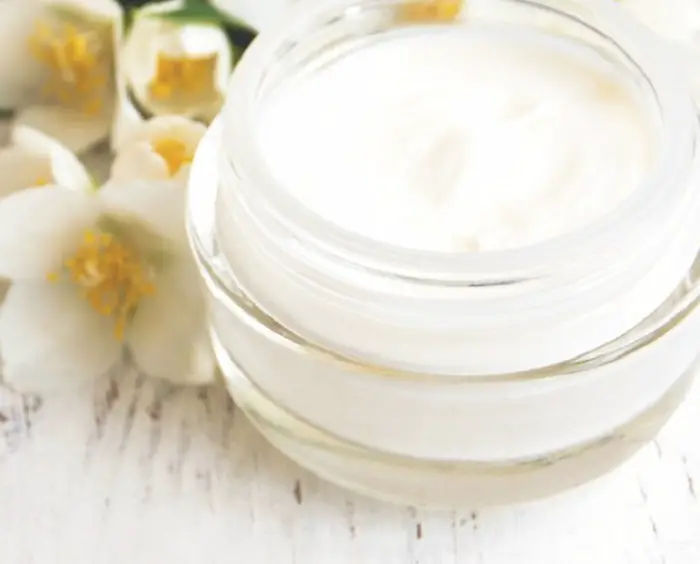 20. HOMEMADE GLYCERIN LOTION RECIPE FOR FACE & BODY FROM LITTLE HOUSE LIVING
If you're trying to avoid harmful chemicals in your beauty products, this homemade glycerin lotion recipe is the solution to many of your problems! You see, glycerin is an all-natural moisturizer for all skin types, making it the perfect ingredient to add to your self-care regime. Other ingredients include coconut oil, emulsifying wax, distilled water, and essential oils of your choice.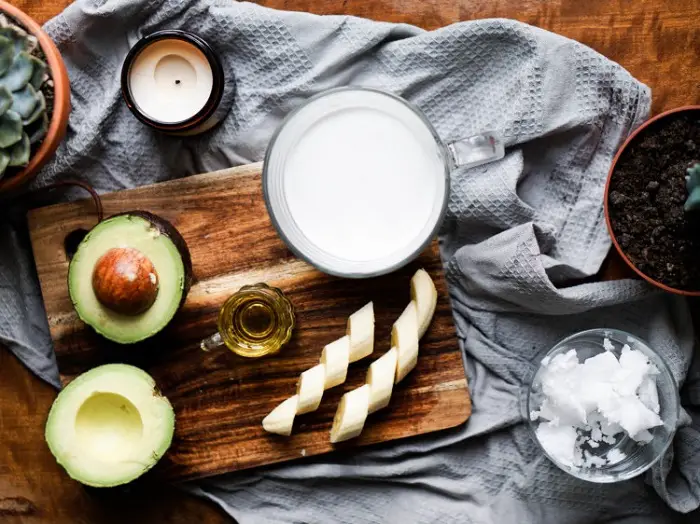 This DIY vegan hair mask is full of nutrients, antioxidants and protein to help strengthen your hair and bring back its natural bounce. It's also great for protecting your hair during hot summers as well as for adding moisture in the drier winter months. It includes nourishing ingredients such as avocado, banana, coconut milk, coconut oil, and olive oil, so you know it's completely natural and toxin-free!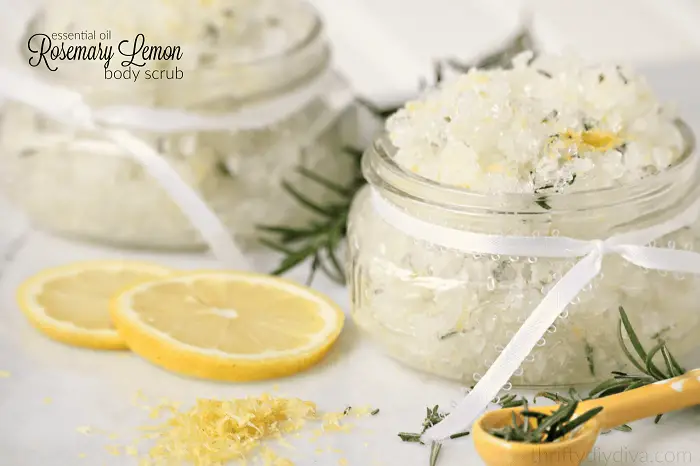 22. ESSENTIAL OIL ROSEMARY LEMON BODY SCRUB FROM THRIFTY DIY DIVA
Essential oils are good for more than just diffusers and soaps. This DIY body scrub also uses essential oils to add nourishing and beneficial effects to an already effective self-care product. To make this, you'll just need Epsom salt, rosemary sprigs, lemon essential oil, coconut oil, and lemon zest. Sounds delightful!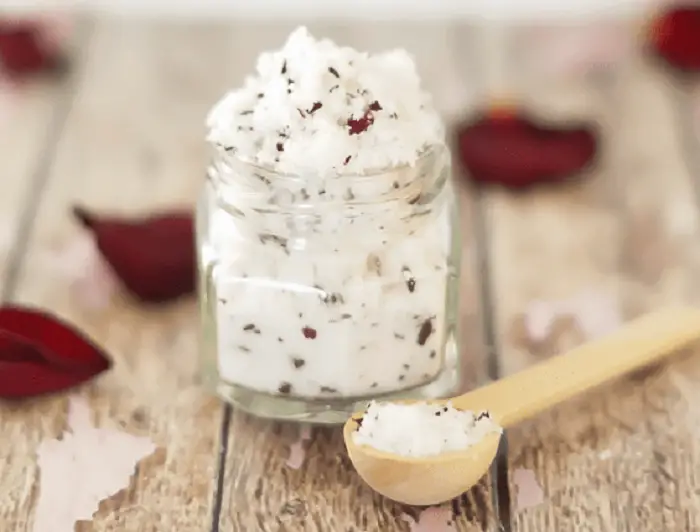 23. ROSE PETAL AND MINT LIP SCRUB FROM SIMPLY DESIGNING
Looking for smoother, more nourished lips? This rose petal and mint lip scrub will become a regular on your self-care nights – whether it's summer or winter! To make this scrub, you'll just need a bunch of ingredients you may already have at home, including castor sugar, dried rose petals, jojoba oil, and peppermint essential oil. Just place the mixture in a cute glass jar and keep it handy in times of need.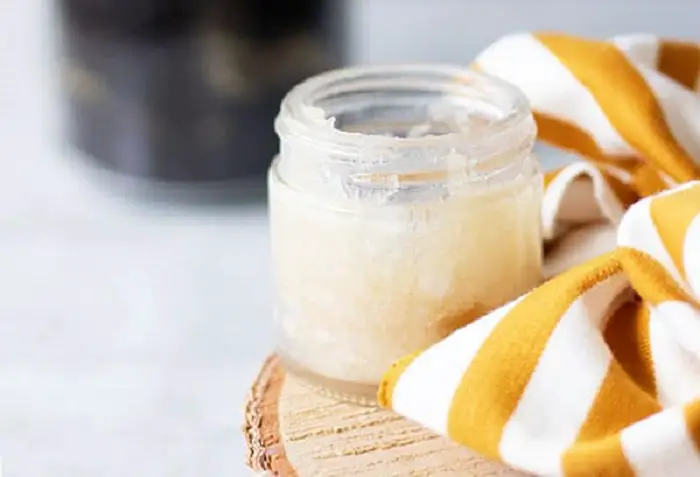 Here's something you might not have considered adding to your self-care regime: a scalp scrub. There's no doubt that you've scrubbed other parts of your body before (such as legs, arms, face, or lips), so why not scrub your scalp too to remove build-up of shampoo, conditioner, or other airborne particles? All you'll need is coconut oil, sugar, apple cider vinegar, honey, and rosemary essential oil.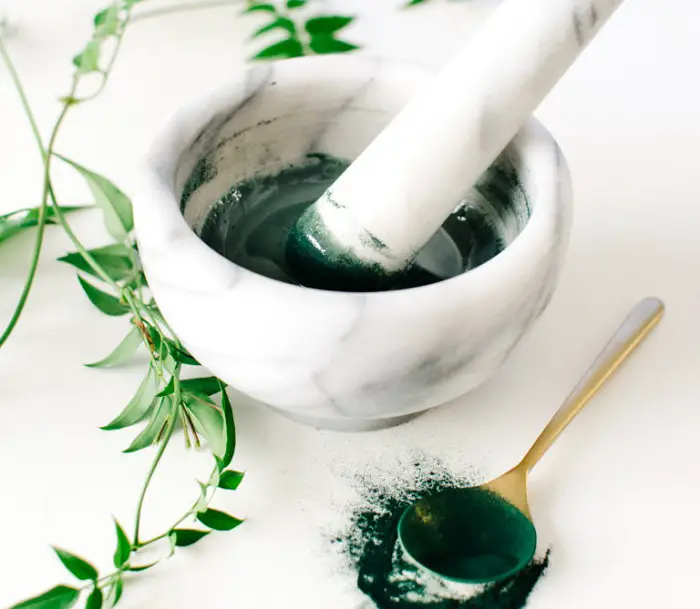 25. SPIRULINA HONEY FACE MASK FROM KALE AND CARAMEL
This DIY face mask utilizes the anti-aging powers of raw honey to boost spirulina's detoxifying, toning, inflammation calming, and softening properties. It uses just two ingredients – raw unfiltered honey and powdered spirulina (blue-green algae) to create a face mask that won't just leave you feeling like you're on a tropical island, but will work wonders for your skin too.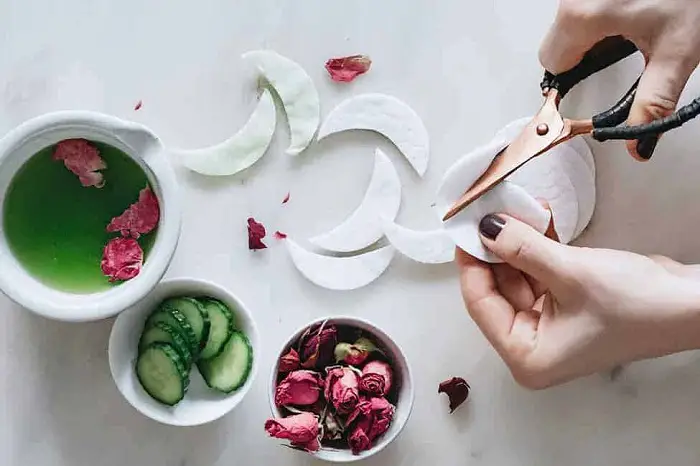 26. DIY EYE MASKS FOR UNDER-EYE PROBLEMS FROM HELLO GLOW
Did you know the skin under your eyes is actually the thinnest on your body? This is why the eye area is often the first to show signs of aging. Help prevent wrinkles, dark circles, and puffiness by trying not just one, but two of these DIY eye masks. /they both contain a whole host of nourishing and natural ingredients, leaving you feeling refreshed and rejuvenated.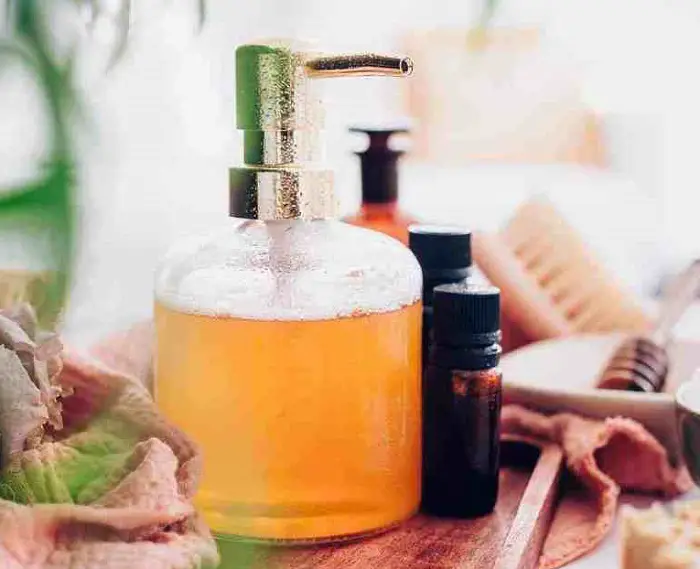 27. DIY COCONUT AND HONEY BODY WASH FROM HELLO GLOW
Honey's anti-inflammatory and antioxidant properties, as well as its soothing nature, are reasons why honey has been increasingly popular in anti-aging products and hydrating creams, washes and scrubs. That's why it's a key ingredient in this DIY body wash, along with other ingredients such as coconut oil, liquid Castille soap, vitamin E, eucalyptus essential oil, sweet orange essential oil, and  lemon or grapefruit essential oil.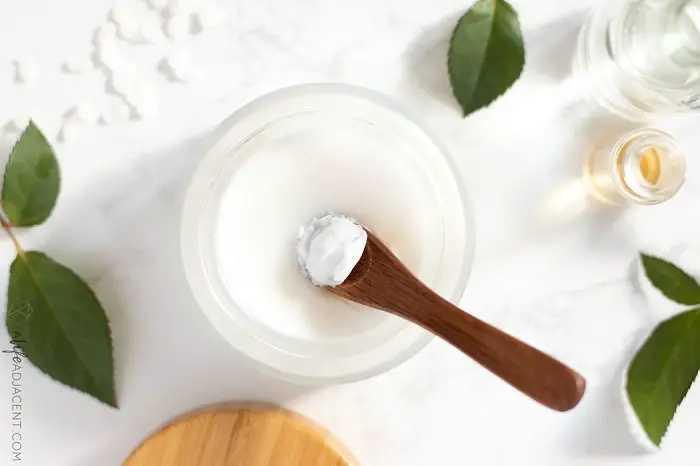 28. DIY MOISTURIZING OVERNIGHT FACE MASK FOR DRY SKIN FROM A LIFE ADJACENT
Inspired by Korean sleeping masks, this DIY overnight face mask helps prevent dry skin while you sleep. According to the post, "it forms a protective barrier that locks in moisture all night long, reducing skin water loss and helping you wake up glowing." It uses just three ingredients, including squalane oil, white beeswax pellets (cosmetic grade), and vitamin E oil (mixed tocopherols).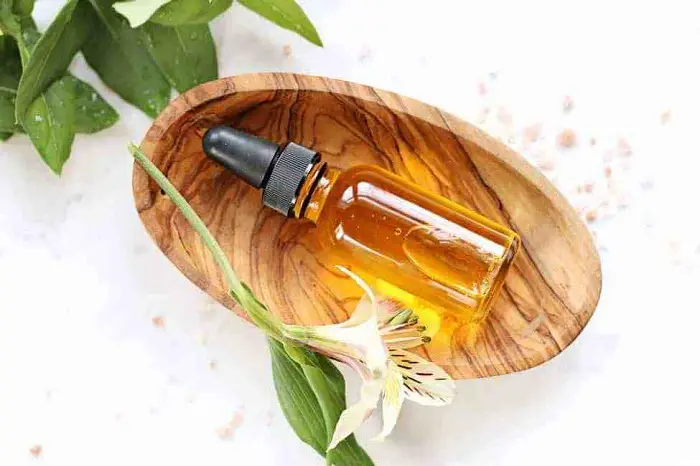 29. DIY REPAIR SERUM FOR SCARS, BURNS AND DISCOLORATION FROM HELLO GLOW
Did you know making your own serum is actually less expensive than purchasing store-bought serums? This one is loaded with antioxidants and essential fatty acids, helping to hydrate skin, rejuvenate skin cells, and reduce discoloration. Plus, ingredients such as frankincense oil to lighten dark spots and heal sun damage. It's a 'miracle' skin solution in one tiny jar!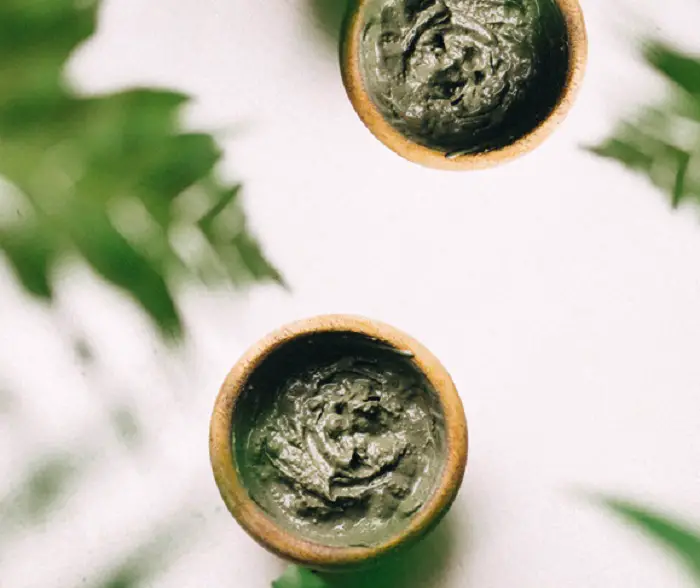 30. HOMEMADE MUD MASK RECIPE FROM FREE PEOPLE
No self-care regime is complete without a mud mask! Thankfully, you can make your own, rather than buying some for a pretty penny. This DIY mud mask uses just a few ingredients, including Fuller's earth, dead sea minerals, zeolite powder, manuka honey, rose water, tea tree oil, and warm water. It'll leave you feeling as though you've just visited the Totumo mud volcano for a spa day!
There you have it – our top 30 self-care DIYs for rainy days at home. These fun and easy DIY scrubs, lotions, masks, serums, and more are all a great way to pass the time when you don't have much else going on. Plus, they leave you feeling rejuvenated, refreshed, and refocused.
We all deserve self-care and the more regular you can make this practice, the better. Get your girlfriends around at least once a month to indulge in these DIY skin and beauty recipes, but bonus points if you can do it more regularly than that! Don't forget a great playlist, some healthy finger food, and of course, a tipple of your choice – anything to truly get you into the relaxation zone.
Which self-care DIY tutorial will you be testing out first? We'd love to hear from you in the comments section below!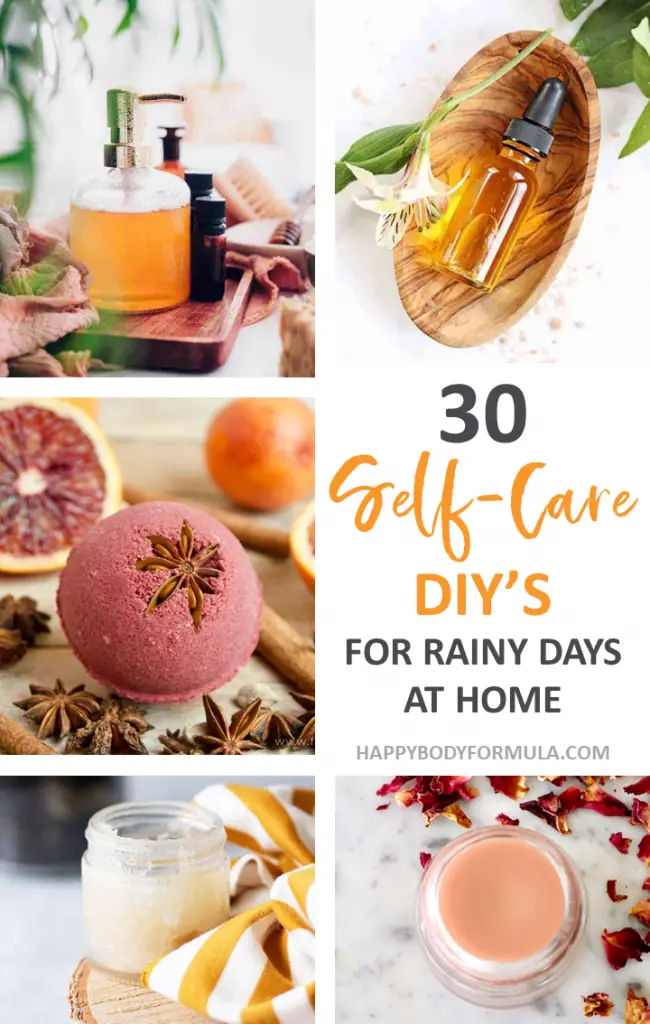 Melanie Clarke is the founder of Whim Online Magazine, an online magazine based in Australia that has a strong focus on whimsical + dreamy photography, as well as art and fashion content.