As one of the largest vitamin groups, the vitamin B family is very important to your health and wellbeing. This group comprises of 8 vitamins, each carrying their own benefits. These include:
Thiamin (vitamin B1)
Riboflavin (vitamin B2)
Niacin (vitamin B3)
Pantothenic acid (vitamin B5)
Pyridoxine (vitamin B6)
Biotin (vitamin B7)
Folic acid (vitamin B9)
Cobalamin (vitamin B12)
Many vitamin B supplements include all of these in one handy, little pill, therefore packing a seriously-good punch when it comes to your mind and body.
B-group vitamins are also naturally found in a number of popular and delicious foods. These include: wholemeal bread, dairy products, eggs, bananas, red meat, poultry, avocados, fish, legumes, dark, leafy vegetables, and more.
We've rounded-up 25 amazing health benefits of vitamin B, covering everything from stress and anxiety, to pregnancy, aging, and more.
REDUCED STRESS LEVELS
Vitamin B supplements (as well as a boost in vitamin B-rich foods) are often recommended to those suffering from increased levels of stress and anxiety. When you stress, your body is depleted of important vitamins and minerals, including vitamin B.
Vitamin B5 supports the adrenal glands, which reduces stress and anxiety levels, while vitamin B6, when paired with magnesium, can balance out anxiety that occurs in conjunction with PMS.
ASSISTS WITH DEPRESSION
While vitamins aren't a complete cure for depression, they can play a large role in helping a person to improve their condition.
Vitamin B9 (also known as folate or folic acid) and vitamin B12, for example, are beneficial in balancing our mood. This can help to boost a low mood, aiding a person in avoiding depressive slumps.
IT'S A CHILL-PILL…LITERALLY
Vitamin B6 in particular is effective at helping you to chill-out and deal with worry more effectively. Rather than letting the worries of everyday life get on top of them, those with healthier levels of vitamin B tend to take things in their stride a lot better.
FIGHTS WRINKLES AND PREMATURE AGING
Did you know that vitamin B3 can improve the elasticity of your skin? This may help to avoid any fine lines and wrinkles that come with premature aging. Aging is associated with the loss of the protein elastin, which naturally occurs as we get older.
Vitamin B3, however, exhibits mechanisms in boosting and regenerating the structural protein collagen, in turn reducing the signs of aging.
PREVENTS DARK SPOTS AND PIGMENTATION
There sure are plenty of reasons for your skin to love vitamin B. Another benefit of this vitamin group is that B12 (Cobalamin) helps to regulate the production of pigment in the skin, aiding in the prevention of dark spots and pigmentation.
BOOSTS ENERGY LEVELS
All eight B vitamins help the body convert the food you eat into glucose, which gives you energy. Compounds in the B complex are needed for the metabolism of carbohydrates, the brain's source of fuel.
If you're feeling lethargic, fatigued, or lacking concentration, then your vitamin B levels may be low.
CAN ASSIST IN THE PREVENTION OF HEART DISEASE AND STROKE
Do you have a history of heart disease or stroke in your family? Inadequate B12 or folic acid (B9) can yield blood cells unable to carry vital oxygen to the brain.
Additionally, folate (along with other B vitamins) helps break down homocysteine, an amino acid that may damage the inner walls of arteries. This damage can increase the risk of a stroke or heart attack.
CAN LOWER YOUR RISK OF COLON CANCER
Research by the the American Cancer Society found that women who had the most vitamin B6 from foods or supplements were 49% less likely to develop colon cancer.
This has led them to believe that vitamin B may play a role in lowering the risk of colorectal cancers.
THE PREVENTION OF BIRTH DEFECTS
Many prenatal supplements contain B vitamins, especially folic acid. This is because folic acid is responsible for helping to produce red blood cells which are important for both you and your growing baby.
Additionally, consuming the proper amount of folic acid reduces the risk of your baby developing neural tube birth defects, such as spina bifida.
PREVENTS HAIR LOSS
There's a reason why you'll find biotin (B7) in many hair-related beauty products. Studies link biotin deficiency with hair loss in humans, and in some cases, use it as an alternative hair-loss treatment.
B-vitamins in general also help to create red blood cells, which carry oxygen and nutrients to the scalp and hair follicles, therefore promoting hair growth.
ASSISTS WITH HEALTHY HAIR AND NAILS
If you don't suffer from hair loss, you'll be pleased to hear that vitamin B can still assist healthy hair by giving it extra strength and shine. It also speeds hair growth, giving you those long tresses that you've always dreamed of (well, eventually!).
Furthermore, the B-group vitamins have the same effects on nails, helping them to stay stronger, smoother, and quicker to grow.
ERADICATES CRACKED SKIN AROUND YOUR MOUTH
Have you ever had a pesky cut in the corner of your mouth, due to dry skin? Not only are they unsightly to look at, but these cuts can also be quite painful when talking or chewing.
Cracked skin around your mouth can indicate that your body is lacking the vitamins and minerals it needs. Amp up the vitamin B to ensure you look and feel great again.
COLD SORE PREVENTATIVE
If you're familiar with the uncomfortable tingle that comes with cold sores, then you'll be happy to hear that vitamin B can mean that this is a thing of the past.
Cold sores can be an indication that your body is lacking in B vitamins, so ensure you either start taking a supplement or fill your diet with vitamin B-rich food.
AIDS WITH DRY SKIN
Dry skin isn't just uncomfortable. It can also be a major cause of breakouts, as well as redness, flaking, and more. Vitamin B is great for improving your skin's moisture levels, as well as repairing any damage which has occurred.
Studies have also found that an increase in vitamin B12 may help to ease many of the symptoms associated with dermatitis and eczema.
BOOSTS YOUR IMMUNE SYSTEM
It comes as no surprise that if you're lacking in essential vitamins and minerals, your immune system will be weak. B-group vitamins make up one of the three most essential vitamin groups, alongside vitamin A and vitamin C.
An imbalance of any one of these groups could lead to poor health, particularly when it comes to colds, flus, and generally feeling run down.
AIDS WITH MIGRAINE PREVENTION
Studies have also shown that vitamin B (or more specifically, vitamin B2) can help prevent migraines.
Not only is it beneficial in reducing their severity and frequency, but these vitamins can also decrease migraine auras. i.e. the visual symptoms (such as flashing lights) a sufferer gets before their migraine pain.
GREAT FOR ACNE-PRONE SKIN
In some cases, acne can be caused by a deficiency in vitamin B. A deficiency in vitamin B1, for example, can cause skin hyper-sensitivity, leading to acne and swollen, red skin.
Studies have shown that Pantothenic Acid (B5) can reduce the skin's formation of oil to regulate and maintain optimum oil levels, therefore reducing the formation of acne.
Riboflavin (B2) is another important vitamin for those prone to acne, as it helps to maintain the mucus secretion of the skin, preventing acne breakouts. Vitamin B2 can also help to clear-up unsightly spots, whilst revitalizing the skin through promoting healthy cell turnover.
ASSISTS WITH THE TREATMENT OF CARPAL TUNNEL SYNDROME
Vitamin B6 (pyridoxine), can act as a natural therapeutic agent for nerve compression injuries, which is why it's often recommended as a supplement to those suffering from carpal tunnel syndrome.
Vitamin B6 deficiency is also a common finding in patients experiencing carpal tunnel syndrome, therefore it's believed the condition and vitamin are linked.
VITAL IN PREVENTING ANEMIA
Vitamin B12 is essential for building blood cells and maintaining healthy nerve cells in the body. As many as 15% of people living in the United States have a vitamin B12 deficiency, which can lead to anemia.
Vitamin B supplements are highly effective, as is eating sources of vitamin B12, such as dairy products, fish, and red meat.
DECREASES THE RISK OF DEMENTIA
Dementia is a debilitating condition caused by brain disease or injury. Sufferers experience memory disorders, including personality changes, and impaired reasoning.
Some studies suggest low vitamin B12 levels may be associated with an increased risk of dementia, therefore it's important that you keep up your healthy intake of this vitamin group.
CAN PREVENT MUSCLE CRAMPS
Many of us have experienced muscle cramps before, but what you might not know is that deficiencies of thiamine (B1), pantothenic acid (B5), and pyridoxine (B6) have been said to play a role in causing muscle cramps.
Don't let your vitamin B levels become low. Instead, take a daily supplement and boost your intake of vitamin B-rich foods.
REDUCES CATARACTS
Cataracts can occur in one or both eyes and cause impaired vision, most commonly referred to as cloudiness or opacity in the lens of the eye.
Thankfully, studies have shown a reduction in the severity and frequency of cataracts when vitamin B supplements are taken.
It found that participants with a high dietary intake of riboflavin (B2) and B12 were less likely to already have nuclear and cortical lens opacities at the beginning of the study, compared with participants with lower intakes.
GIVES YOU A GOOD NIGHT'S SLEEP
Research has shown that maintaining optimum levels of B-group vitamins (more specifically B3, B5, B6, B9 and B12) may help you achieve a good night's sleep. This is because they help regulate the body's level of tryptophan, an amino acid important for maintaining healthy sleep.
A vitamin B9 (folic acid) deficiency has also been linked to insomnia, so it's important to not allow your vitamin B levels to fall by the wayside.
BANISHES BLOATING
We've all experienced the discomfort of bloating at various points throughout our life, but did you know that vitamin B can work wonders at easing and preventing it?
Vitamin B3 (niacin) is required for the metabolism of food, gastric juice production and the secretion of bile.
All of these come together to form a vital role in the digestion of fat. A deficiency in vitamin B could cause indigestion, along with that horrible bloat that comes with it.
GETS YOUR BOWELS MOVING
Pardon the subject matter, but it is true – vitamin B is also beneficial in sending messages to the gastrointestinal system and maintaining a healthy gut. Not only does this keep your bowels regular, but it also helps to prevent diarrhea and constipation.
There you have it – 25 amazing health benefits of vitamin B! Be sure to increase your daily intake of B-complex vitamins through eating plenty of wholemeal bread, dairy products, eggs, bananas, red meat, poultry, avocados, fish, legumes, and dark, leafy vegetables.
You can also opt for a vitamin B supplement to ensure your levels of the essential vitamin stay at an optimal level.
Share on Pinterest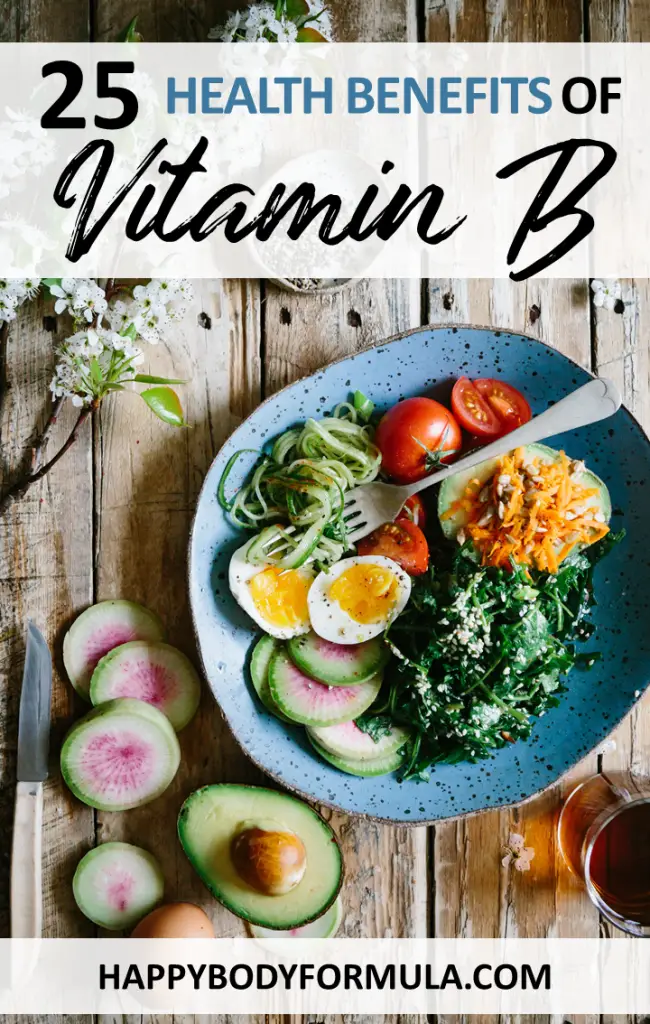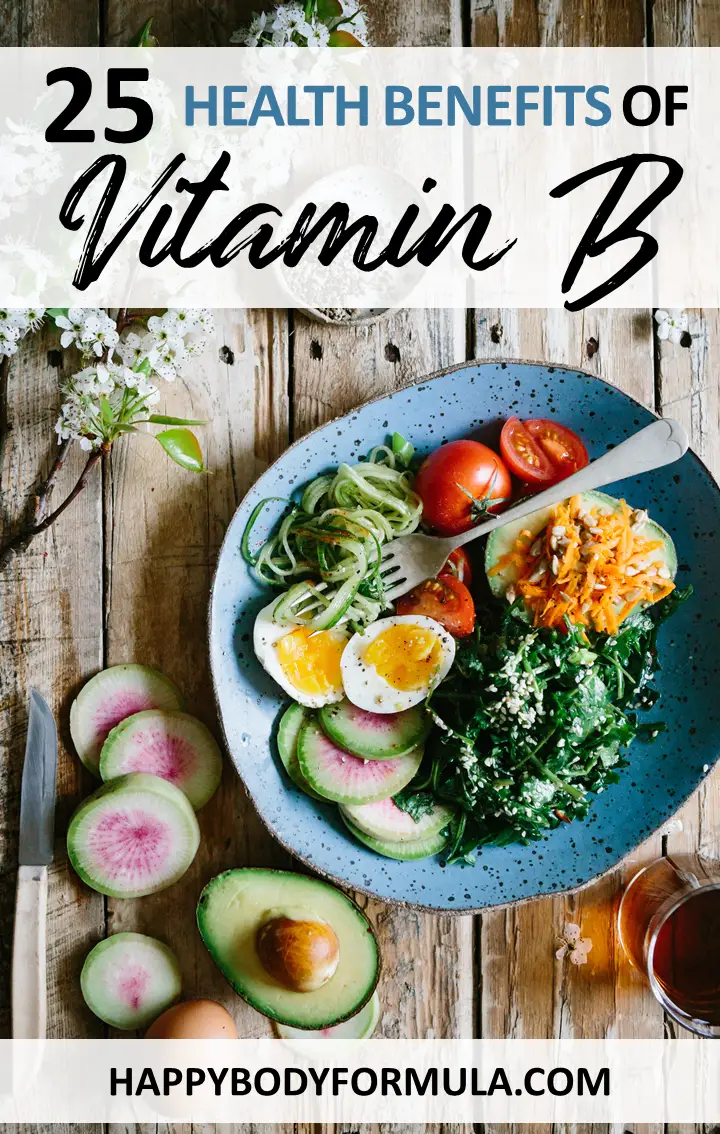 References
Green R., Miller J. Vitamin B12. In: Zempleni J., Rucker R.B., McCormick D.B., Suttie J.W., editors. Handbook of Vitamins.
Pawlak R., Parrott S.J., Raj S., Cullum-Dugan D., Lucus D. How prevalent is vitamin B12 deficiency among vegetarians?
Spector R., Johanson C.E. Vitamin transport and homeostasis in mammalian brain: Focus on vitamins B and E. 

J. Neurochem. 
Melanie Clarke is the founder of Whim Online Magazine, an online magazine based in Australia that has a strong focus on whimsical + dreamy photography, as well as art and fashion content.