As people become more health conscious, new fitness and health strategies develop and the ones that are beneficial get pushed to the spotlight. Foam rolling is one of these strategies--it has become so popular over the past decade that there are classes dedicated to the "art" of foam rolling.
Slowly rolling various body parts over a firm, foam log for pain relief has been shown to increase hip motion, flexibility, and even vertical leap.
Since the art of foam rolling has become extremely popular, so has the actual foam rollers themselves. Many companies have gotten into the business of developing foam rollers, and a lot of them come with advanced features to make them more efficient.
With so many foam rollers to choose from, it can be difficult to choose the best one. Here is a list of the top 10 best foam rollers on the market in 2021 and some pros and cons to help you decide which one could be best for you.
| | | |
| --- | --- | --- |
| Rolling With It Foam Roller | | |
| Master of Muscle Foam Roller | | |
| | | |
| Starwood Sports Foam Roller | | |
| | | |
[toc]
TriggerPoint GRID Foam Roller
---
This is a durable, high-quality foam roller that has a multi-density exterior constructed over a hollow core, and can support up to 500 lbs.
It is firm and provides a combination of a textured design and a smooth design to give a total body workout. Different versions of this foam roller with different features are available.
ProSource Sports Medicine Foam Roller
---
This foam roller is an amazing value. It features a textured design that offers two different massage areas for a true feeling of fingers and fingertips massage. The roller is firm but has a little bit of flexibility to ease stressed trigger points, improve blood flow, and relax tightened muscles.
AmazonBasics High-Density Round Foam Roller
---
This smooth foam roller helps with pain relief from sore muscles as well as balance, stability, and flexibility. It is made from molded polypropylene which makes it very durable and firm.
It is extremely lightweight, portable, and features a cool speckled design. Made in the United States.
LuxFit Foam Roller
---
This is a smooth foam roller with a cool, hip, speckled design. Made from molded polypropylene foam technology, this roller is great for sore muscle relief, core stabilization, balance, and stamina.
It is firm, made in the United States, and comes with an online instructional video. This foam roller has a density of 2 pounds per cubic foot and is heavy duty and long-lasting.
Reehut 2-in-1 Foam Roller
---
This versatile foam roller features a textured roller that measures 13" x 5.5" and a smooth roller that measures 13" x 3.8".
The smooth roller fits snugly into the textured roller for ease of portability, and a durable bag is included for transport. It comes with an 18-page E-book and uses trigger point technology to promote the myofascial release.
Enkeeo Foam Roller
---
Made from high-quality EVA, this 13" x 6" light-weight foam roller features a textured design to trigger different muscle groups and can withstand up to 500lbs despite being hollow inside.
The hollow inside can be used to store clothing, towels, or other things that may be needed at the gym, and it comes with a lightweight mesh bag for storage or travel. It is a great roller for myofascial release.
Starwood Sports Foam Roller
---
This light-weight foam roller, versatile foam roller enhances recovery and improves mobility, making it great for participants in sports of any kind.
It promotes myofascial release and has a textured design to simulate a professional massage therapist. The roller is an average size, 13" x 5.5", making it great for targeted muscle massage.
SYOURSELF Foam Roller
---
This 13" x 5.5" foam roller is ergonomically designed and made washable, high-density, eco-friendly EVA foam. It features 3D imitation finger trigger point technology, comes with a soft pack bag, and is lightweight, weighing less than two pounds.
This is a high-quality roller that won't dent or compress, even after a lengthy amount of time.
Master of Muscle Foam Roller
---
This advanced, lightweight, portable foam roller provides relief in areas such as the back, neck, knees, quads, shoulders, and more.
It is a good, average length--only 13 inches long so it can fit easily into a bag for transport and the smaller size also allows you to target specific muscle groups. It comes in a red color and e-book instructions are provided.
Rolling With It Foam Roller
---
This firm foam roller comes in three sizes for your convenience: The small, 3" x 6" roller is perfect for traveling and can fit in a carry-on bag. The medium, 18" x 6" Inch is the perfect size for lower body exercises.
The large size, 36" x 6" is the right size for all your body's needs, and best of all, Amazon Prime customers get free shipping on the larger sizes.
Which Foam Roller Should You Buy?
There are many different foam rollers available on the market, and they each come with their own specific set of pros and cons. The roller that I recommend the most from the list is the Reehut 2-in-1 Foam Roller.
This gives you the option of using a smooth roller or a textured roller. The smooth roller is also smaller in diameter than the textured roller, so this makes the system even more versatile. The rollers are sized so that they are portable, and it comes with a good quality storage bag and online instructions.
It has everything you could possibly want, and all at a good price. You can check out more information about the Reehut 2-in-1 Foam Roller here.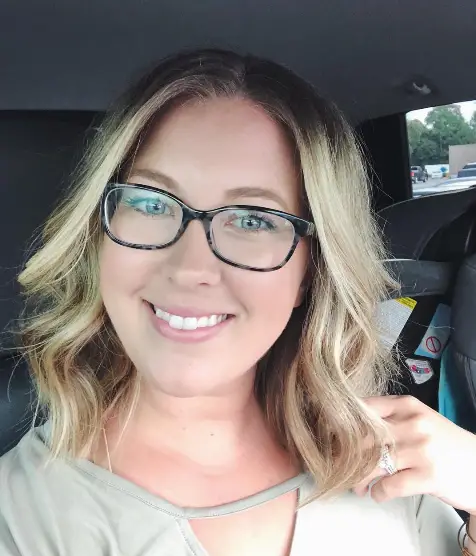 Lauren Gamble is an author, mompreneur, co-founder of Naturally Made Essentials. She is on a mission to help thousands of women across the world achieve a healthy, happy lifestyle through teaching natural health practices.