There are many products that'll help you achieve ketosis.
You can stick to your paleo, dairy-free, or keto diet without having to make sacrifices in order to achieve your ketosis goals.
You'll even gain many great benefits such as appetite control, more energy, and a healthy body that has everything it needs to be healthy and nutrient-enriched.

Many of the keto protein powders on the market are great-tasting and easily incorporated into your existing diet and lifestyle.
When choosing a keto protein powder for your needs, you'll need to decide what's most important to you and whether or not the one you're considering is going to support your diet.
You want to decide whether you want your protein powder to be enjoyed or if you want to sneak it into your diet with an unflavored version.
| | | |
| --- | --- | --- |
| Perfect Keto Collagen Powder | | |
| Kiss My Keto Protein Powder | | |
| NOW Keto Collagen Protein | | |
| BioTrust Ageless Collagen | | |
| | | |
You'll also want to pay attention to how much protein is in each serving.
It's important to choose the right keto protein powder because it'll set you up for success and will give you the energy to power through your workouts and your day so you can achieve your goal whether it's weight loss, more control over your life, or to have more energy.
Below we've reviewed the top 10 best keto protein powders on the market in 2021.
[toc]
Perfect Keto Collagen Powder
---
Contains grass-fed collagen and each serving contains 5 grams of MCT oil powder and 1.5 grams if acacia fiber which promotes gut health.
This product provides almost instant energy and delivers a good source of protein. It contains natural ingredients and is sweetened with stevia powder.

It's free from any artificial ingredients such as coloring and does not contain any artificial sweeteners or binding agents, and it's caffeine free.
It does not contain any carbs, and you can add it to your favorite beverage. You can bake with it, and it promotes healthy joints and bones as well as helps to control the appetite.

It's also available in many tantalizing flavors such as chocolate, vanilla, salted caramel, and unflavored if you prefer.
Kiss My Keto Protein Powder
---
This keto-friendly product supports a low-carb ketogenic keytone diet and also supports healthy collagen recovery and repair.
It's packed full of grass-fed bonine collagen peptides and MCT oil powder to provide your body with all the essential nutrients that it needs. MCTs are essential for energy and will help you reach ketosis.

Its unique combination of ingredients will help your body to absorb the protein that it needs and will prevent it from converting to glucose.
It won't cause your insulin to shoot up, but it will help you to stay mentally focused throughout the day. It will give you the energy boost that you need before, during and after your workout and it's easy to add to your favorite beverage or recipe.
NOW Keto Collagen Protein
---
Keto Collagen™ does not contain any artificial ingredients, and it contains only the purest MCTs that will help you to get into ketosis.
It contains grass-fed peptides and collagen peptides and will help to get you mentally sharp. It will also help you to have endurance throughout your workout and will increase your energy levels.

It is also low in carbs and zero sugars. It is perfect for a paleo or keto diet, is gluten-free and does not contain any GMOs. Many people who have used this product have also found that they had lower blood sugar and a heightened concentration.
BioTrust Ageless Collagen
---
This protein powder contains five different types of collagen for healthy hair, bones, joints, nails, and hair. It also helps with digestion and gut health.
It has 10G of bioactive collagen protein for every serving and is easily absorbed and contains tryptophan. It dissolves quickly into any of your favorite beverages.

The collagen protein in this product comes from premium sources and is free from GMOs, artificial sweeteners, colors, flavors, gluten, dairy, hormones or antibiotics.
The ingredients and the combination of ingredients in this product support healthy joints and strong fingernails.
It's a great way to get a natural boost of energy while giving your body the nutrients that it needs without having to feel guilty about eating chemical-laden ingredients.
Ketologie Keto Protein
---
This protein shake is a delicious way to fuel you through your day. It doesn't contain any carbs, sugar, or caffeine and it's satisfying.
You can mix it with water or your favorite nut milk or even coffee for a creamy and nutritious drink while still staying in ketosis.
It'll help you to stay mentally sharp and can also help to raise your blood ketone so you will have the energy to get through even your toughest workout or most demanding day.

Each serving contains 75% fat, 20% protein and less than 2% of net carbs. You can enjoy this great-tasting shake while staying keto clean since it contains ingredients such as coconut oil, and grass feed bovine collagen protein.
Zhou Nutrition Protein Powder
---
Zhou nutrition protein powder is an unflavored product that you can mix into any of the beverages and even foods that you enjoy.
It is packed full of collagen peptides to give your body what it needs to support joint health and bone strength. With continued use, it will give your skin a healthy glow and will help to restore elasticity that has been lost with age.

It contains 18 amino acids and also helps to keep your appetite under control. It promotes gut health and is also easily digested by the body. Zhou nutrition protein powder is also sourced from pasture-raised and grass-fed cattle.
GenBoost Real Good Protein
---
Real Good Protein is a keto-friendly protein powder that contains 25 grams of protein per serving. It has 120 calories and 2 grams of carbs for every serving. It contains zero sugars and only one gram of fat.

It is a great-tasting way to feed your body and to get a boost of energy. It also doesn't have the grittiness that many keto-friendly protein powders tend to have.
It doesn't contain caffeine so it won't give you the jitters and all you need to do is add a scoop to 5-6 ounces of water after your workout.
Isopure Zero Carb Protein Powder
---
Whey protein isolate provides 25g of high-quality protein per serving, and it contains absolutely no carbs. It is ideal for your post-workout go-to drink as well as at any other time of the day.
It is ideal for a keto diet as well and is gluten and lactose-free.

It is the perfect ingredient to add to your favorite recipes as well as to any beverage of your choice. It will help you to train for that marathon or to power through a very busy and long day of tasks.
It provides your body with all the nutrients, minerals, and vitamins that it needs, and when dissolved in water it is a clear milk protein, and it's free from impurities.
Ancient Nutrition Keto Protein Powder
---
Keto Protein's a powder supplement that has many benefits. It's loaded with organic bone broth oil, coconut MCTs packed full of caprylic acid and has only 3 grams of carbs.
It contains 50mg of natural caffeine to help you achieve your tip performance whether you are working out or powering through a busy day.

Keto Protein will enhance your mental clarity and will boost your metabolism. It supports healthy sexual function and hormone levels.
It contains all the ingredients that you need to stick to your keto diet, and it can be added to your favorite cold or warm beverage. Each serving of this superfood gives you a generous 15 grams of protein and only has 170 calories.
Preferred Elements Keto Collagen
---
KEYTO Collagen is no ordinary supplemental drink. It contains many powerful ingredients such as MCT Oil Powder and electrolytes to help you power through the day.
It also helps you to maintain your keytones levels so that you can stay within ketosis or stick to your low carb diet.

It is an easy and delicious way to fuel your body, will help you to reach your weight loss goals since it helps you to burn fat and it also suppresses your appetite.
It also does wonders for your hair, skin, and nails since it contains collagen protein which is an essential component to keep you looking young.
Keto Collagen makes an excellent pre-workout supplement and makes a great meal replacement.
Our #1 Recommended Keto Protein Powder
Perfect Keto Collagen Powder
---
Most keto protein powders are quite similar but if you know what you're looking for you will find that it is easier to decide on the right one for you and your lifestyle.
This article was fact checked for accuracy by Aimee McNew, MNT, a certified nutritionist. As always, this is not personal medical advice and we recommend that you talk with your doctor.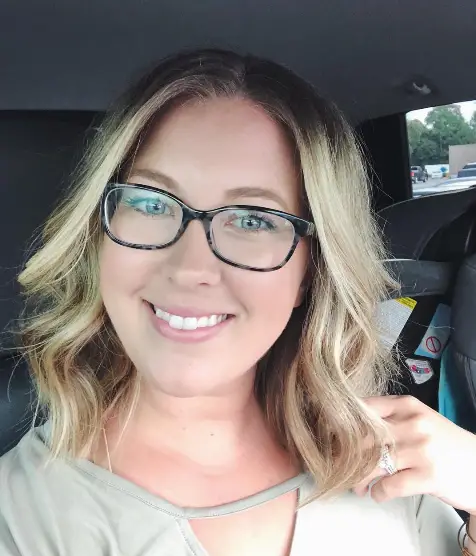 Lauren Gamble is an author, mompreneur, co-founder of Naturally Made Essentials. She is on a mission to help thousands of women across the world achieve a healthy, happy lifestyle through teaching natural health practices.