Whether you are preparing for an emergency or you're going camping, having a light source to use in the event of no electricity can keep you safe. An LED lantern does just that.
Quality LED lanterns are usually energy-efficient as many only require AA batteries to produce hours of lighting.
Another benefit about owning a quality LED lantern is that they are light in weight so they can easily be carried on a camping trip or while hiking.
There are even ones that can collapse, which makes those types easier to pack, especially if you're planning to keep your lantern in a survival kit.
Though they are useful, they are still things to keep in mind before you buy an LED lantern. For one thing, consider their overall durability.
If you're camping, you want something that can withstand the elements and are shock-resistant to hold up against drops. Also consider how easy it is to turn on as you don't want to fumble in the dark with something difficult.
To help you find the right model for your needs, we reviewed the top 10 best LED lanterns on the market in 2021.
| | | |
| --- | --- | --- |
| Etekcity 2 Pack LED Camping Lantern | | |
| Lumen 1000 LED Camping Lantern | | |
| | | |
| Hausbell 2 Pack Portable Camping Lantern | | |
| Vont 4 Pack Camping Lantern | | |
[toc]
HeroBeam LED Lantern
---
This LED lantern from HeroBeam is their V2.0 version. It can collapse, so you can keep it just about anywhere including your car. This lantern can withstand various weather conditions, in particular rain.
It runs on AA batteries, and it features a wide-angle flashlight on the base. This way, you can use the lantern standing up or hold it to light the path in front of you with the flashlight.
It's user-friendly as well as all you need to do to activate it is lift it open, revealing as much light as you need. The flashlight has a separate button.
Vont 2 Pack LED Camping Lantern
---
The Vont LED Lantern is an ideal light source for camping trips. It features a foldaway handle that can be great for carrying or hanging it up inside of a tent. The lantern offers 360º lighting so you can have light no matter which direction it faces.
Made with military-grade construction, the lantern is durable and weather-resistant. Even with that build material, it is still lightweight, compact, and collapsible o it can fit inside most backpacks with ease. Operating it in the dark is easy to do as well as it features button-free opening.
LETMY 2 Pack Camping Lantern
---
This LED lantern is not only designed to be waterproof, but it is heatproof as well. Along with the military-grade plastic and steel it's made from, the lantern is highly durable for both indoor and outdoor use.
Another great feature about this LED lantern is that it features foldable and detachable handles. This makes it easier for kids and those with arthritic hands to use.
When you purchase the lantern, 6 AA batteries are included with it so you can use it as soon as possible. With its magnetic base, it can stick to many surfaces such as the hood of your car.
AYL StarLight LED Lantern
---
The AYL StarLight LED Lantern has an output of more than 600 lumens and uses 3D batteries, granting you thousands of hours worth of light. Even better, it has three different settings: low, high, and flashing strobe.
You can use the light however you see fit all by switching a button. With its removable reflector cap, you can get either 360º lighting or focused lighting.
There's no worry about losing this in the dark in case of an abrupt power outage either thanks to the green LED indicator that's always on and ready.
MalloMe LED Camping Lantern
---
The MalloMe LED Camping Lantern is crafted with ABS plastic alloy, helping it resist damage from outdoor issues such as drops on the ground. The lantern is a compact size, making it easily portable so you can take it anywhere from home to the campgrounds. You can even hang it where you need it.
This lantern pushes out 350 lumens, and with its collapsible design, controlling the brightness is simple. You can get more than 100,000 hours of light with the lantern. It includes 12V batteries as well.
Vont Camping Lantern
---
With the Vont Camping Lantern, you can experience lighting that is warmer than most LED lanterns.
The lantern emits 350 lumens that can readily light up a small room or an entire camping tent. Its weight allows you to carry it with no difficulties, and it can fit well into a backpack for hiking purposes. Has 30 different bright led lights.
This can provide an estimate of up to 30 hours of continuous use. It has some good water-resistance as well, making it a good choice for outdoor use.
Hausbell 2 Pack Portable Camping Lantern
---
Hausbell Portable Camping Lantern is another lantern with 360º lighting. It is made using environmental-friendly materials that generally can withstand outdoor abuse from camping. There is a magnetic base that helps it stick to metallic surfaces for the likes of auto maintenance.
The extended foldaway handles are easy enough to use to the point that even kids can mange with this. Adjusting the brightness takes no time either as all that's needed is to pull out the top.
Streamlight Hand Lantern
---
This compact LED lantern provides 360º lighting that is soft and even enough to cover an entire room. Concerning its construction, it is 2-meter impact resistant tested to withstand harsh use, and it also features sturdy polycarbonate lenses.
For ease of use, this LED lantern has an ergonomic handle design that locks in position whether it is upright or stowed down. There is a battery level indicator that shows when the power is draining. Lastly, there's no worry about accidentally turning it on as it features a recessed power button.
Lumen 1000 LED Camping Lantern
---
A versatile LED lantern, the Lumen 1000 offers various lighting modes for use in different environmental situations. If you require consistent lighting, you can use it at 100% or 50%. For those in emergency situations, it features a flashing option. In its highest mode, it can run for around 40 hours.
To make it easy for you to find it in the dark in case of a power outage, for instance, there is a green LED indicator. It holds up well to outdoor use also, especially considering its water-resistant qualities.
Etekcity 2 Pack LED Camping Lantern
---
The Etekcity LED Camping Lantern can provide you with 12 consistent hours of lighting. The last four hours are generally dimmer in order to properly conserve energy. It has a military-grade exterior that protects it from physical damage, in particular that of the outdoors.
It comes with batteries pre-installed so that you can use it out of the box. The LED lantern also features foldout collapsible handles for portability, and they also allow the lantern to hang where you need it.
Which LED Lantern Should You Buy?
LED lanterns are compact, powerful sources of light when you lack electricity. They are excellent for emergency situations as well as for camping trips. It is important, however, that you have a quality LED lantern that is lightweight, versatile, and can save on energy in addition to putting out a good deal of light.
One such quality lantern from our list is the Etekcity LED Camping Lantern. This offers lighting long enough for those unexpected power outages, and it is even ideal for camping considering that it has a durable build to hold up against drops.
Have any opinions about the Etekcity LED Camping Lantern or any of the other products on our list? Let us know in the comments.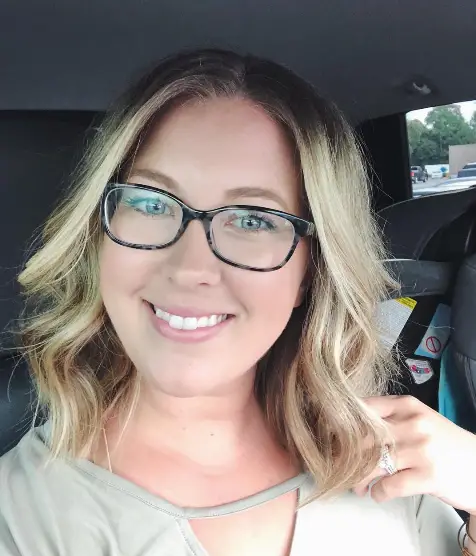 Lauren Gamble is an author, mompreneur, co-founder of Naturally Made Essentials. She is on a mission to help thousands of women across the world achieve a healthy, happy lifestyle through teaching natural health practices.