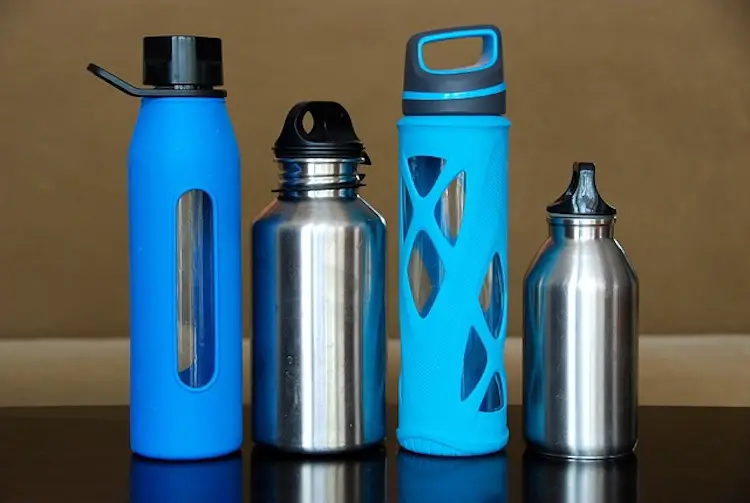 The ability to pack clean water in a safe container is something that many of us take for granted these days. In more primitive times, clean water was carried in a leather flask made from the skin of animals.
Finding clean water, and packing it around was a rather difficult process.
These days we have technologies that surpass the wildest dreams of our ancestors. Durable metals and safe drinking materials make packing water easy.
Insulated containers keep things cold or hot, regardless of the external environment. And tight fitting lids with a number of operating mechanisms make spilling drinks a rare occurrence. A good water bottle has the following characteristics.
Leak-Proof
Durable
BPA Free
Easy-to-Use
No After-Taste
Insulates
Attractive Container
Today we are going to review the top 10 best stainless steel water bottles that are currently on the market in 2020. These products are tough, safe to use, provide insulation, and are made of metal, unlike their animal skin ancestors.
Let's take a look at this lineup and see how they compare to our requirements of quality.

10. Simple Modern Summit Water Bottle
The Simple Modern Summit Water Bottle is a sweet little package. It comes in multiple sizes and in a myriad of different colors. It is constructed of stainless steel and has a copper coating that helps to provide insulation.
Copper is a poor temperature transmitter, which works in our favor here. Copper also doesn't allow bacteria to grow on it, which acts as a purifier in the sense that it doesn't support bacterial life. The paint used on these bottles is a high quality and durable powder coat that boasts 27 design and color options.
Sizes range from the smallest 10 oz. container, to a whopping 84oz. supply. This water bottle is a great package that checks well in all categories except for insulation.
Pros
Durable
Affordable
Many Color Options
Lightly Insulated
Cons
Cheap Lid
Poorly Insulated
---
9. Vibz Enterprise BPA Free Metal Water Bottle
The Vibz Enterprise is so free of BPA's, that they included this pronouncement in the title. This water bottle is a sleek and simple approach to life. It features a screw on lid that is acknowledged for being leak proof.
The exterior is nothing fancy, just the way the like it. It's metal, durable and shiny. The Vibz Enterprise is not made to turn heads. Its sole mission is to ensure that the water you pack, finds a way into your mouth, without killing you in the process. It's priced under $20, about what you'd expect to pay for a simple water mule.
Pros
Durable
BPA Free
Holds It's Water
Cons
Not a Head Turner
Cumbersome Lid Operation
Not Insulated
---
8. Sfee 17oz Double Wall Vacuum Insulated Stainless Steel Water Bottle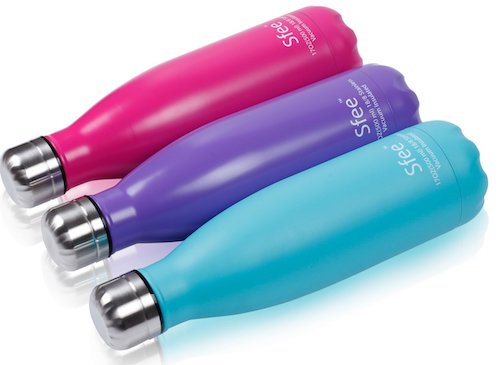 When I read the name Sfee before conducting research on this water bottle, I knew that it would be available in yoga pant colors, and have fancy technology that made the world a better place.
The Sfee is exactly that. This water bottle is well insulated. It features a double wall, vacuum seal design that prevents the transmission of temperature.
It also features an exterior foam application that helps to reign over the world of temperature and prevents your hot buttered rum from getting cold at work. This bottle is designed to keep hot things hot and cold things cold.
It is free of BPA's which is ideal and features a secure lid that prevents spills. The Sfee is a 17oz. container and sells for a very agreeable price, around $10.
---
7. Swig Savvy Vacuum Insulated Stainless Steel Water Bottle
#7 has a groovy name and holds it's own on the dance floor. The Swig Savy is made of stainless steel, is BPA free, and looks good while doing these things.
The double wall, vacuum sealed insulation boasts the ability to keep things hot for 12 hours, and cold for 24 hours. It also prevents the water bottle from 'sweating'. It features a coating on the inside of the container that repels lingering tastes.
In other words, just because beer tasted good last night, doesn't mean your water needs that flavor today. The Swig Savy really is groovy since it supplies such a good product for around $20. "Yeah Baby!"
Pros
Highly Insulated
Stainless Steel Lid
After Taste Deterrent
Cons
Pricier than Average
Not Available in Disco Colors
---
6. Futurepace Tech Best Insulated Stainless Steel Water Bottle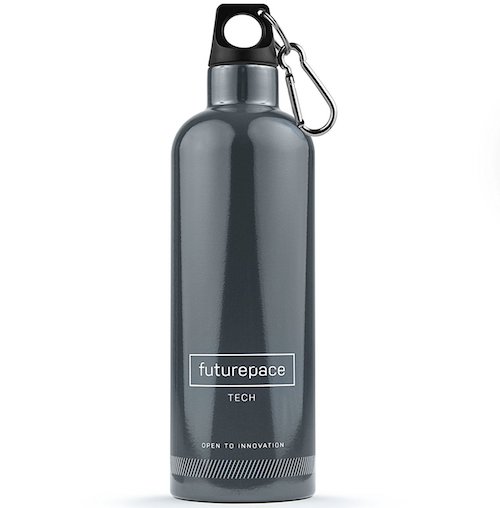 Future Tech offers us 'The Best Stainless Steel Water Bottle.' That's a bit of a lofty claim, and there is no information on what methods they have used to provide said, 'best insulation.'
That being said, the reviews are promising and the product has a good rating on Amazon.com. This product comes in a nice metallic finish though users have reported that it dents easily when dropped.
Users also report a metallic after-taste when drinking from this bottle. Overall, this bottle seems to be ideal for farmers and avoided by dance enthusiasts.
Pros
Metal Construction
BPA free
Insulated
Cons
Cheap Lid Construction
Metallic Aftertaste
---
5. GO Active Stainless Steel Double Wall Sport bottle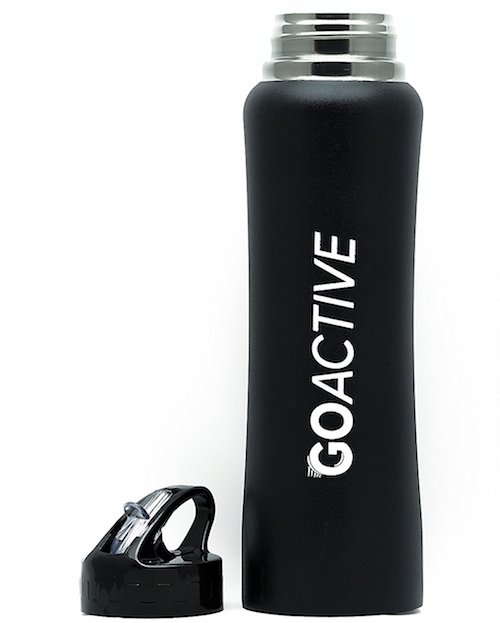 The GO Active is a well-rounded water bottle that has all the bells and whistles. It's colors are inspired by nature, which gives a hint about what environment this bottle is designed for.
The coolest feature of this water bottle is not its thermal insulation that keeps things cold for a long time. It is actually the ability to customize not only external colors but materials as well.
There are 3 choices for external materials. A rubber finish is good for fitness, powder coat is ideal for outdoors, and the diamond coat is just plain fancy. The water bottle utilizes a straw design that means there's no need to tip the bottle back.
This water bottle is one of the more serious options for those who take their water containers seriously. The Go Active retails for around $20.
Pros
Customize the External Materials
Well-Insulated
Stainless Steel
Straw Technology
Cons
More Expensive than Average
---
4. Contigo Autoseal Fit Trainer Water Bottles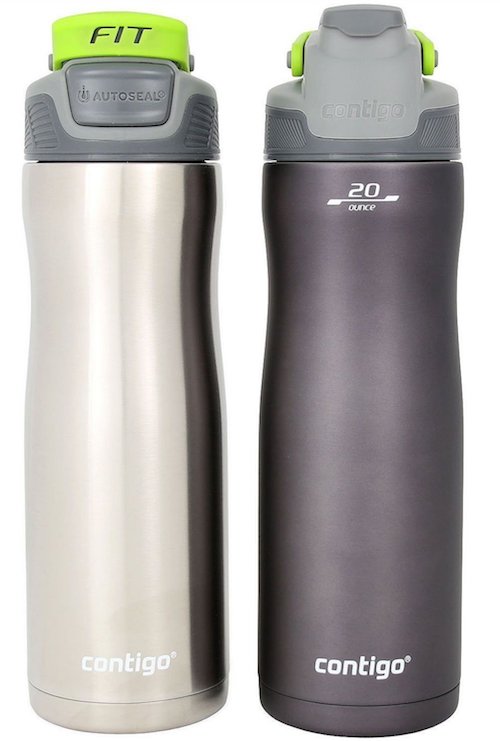 The Contigo Autoseal Fit Trainer is a beast that is meant to accompany your hard workouts in the gym. It uses a vacuum seal to keep cold drinks cold. This bottle is not designed for hot drinks, so leave your buttered rum at home.
The greatest feature of the Contigo Autoseal is the mechanics of its lid. The simple push of a button is all that is needed to take a drink. The Autoseal mechanism is reliable and leak proof.
A splashguard built into the lid helps prevent spills. This water bottle is a beast that is designed specifically for the gym. It is a 20 oz. bottle that sells in a 2-pack for around $40.
Pros
Auto seal Lid is Quick and Reliable
Durable
Easy-to-Use
Cons
Sells in a 2-pack?
Only designed for Cold Beverage
---
3. Hydracentials Stainless Steel Vacuum Insulated Water Bottle
The Hydracentials Stainless Steel is an economic water bottle. It is simple, free of frills, durable, and uses 'triple wall insulation' to prevent sweat and keep beverages cool.
The third layer is a carrying case that acts as an insulator. It is not made for hot beverages. This product utilizes a straw which will melt with hot drinks, which is bad.
The cap for this product is a simple flip-top spout. It is available in 1 size, a 25 oz. container. This water bottle gets the job done and bypasses the fancy things in life. Keep it simple, drink cold water.
Pros
Affordable
Simple
Durable
Cons
Flip-Top Lid
No Hot Liquids
---
2. Glacier Point Vacuum Insulated Stainless Steel Water Bottle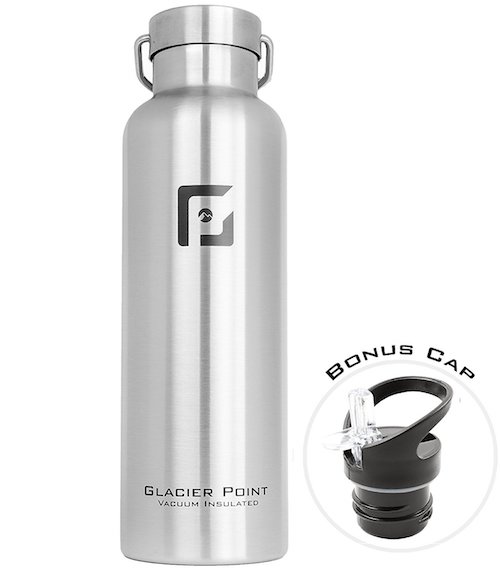 The Glacier Point Stainless Steel Bottle is an attractive and durable middleman for your hydration needs. It is a 25 oz. water container that boasts all stainless steel construction, including the cap. It uses a flip-top seal that has been rated well for spill protection.
The exterior of this bottle is clothed in a powder coat for an attractive and durable finish. It uses double-wall insulation to keep drinks cold for 24 hours, or hot for 12. This product is BPA free and does not allow condensation sweat to accumulate on the bottle.
Pros
All-Metal Construction
BPA Free
Average Price
Cold/Hot Friendly
Cons
---
1. The Coldest Water Bottle
Here we have another contestant boasting to be the best at what it does. Unlike #6 on our list, this contender ranks #1 and has some good qualifiers to back up its claim.
First of all, it comes in pink,(also available in black and blue) and boasts "the Coldest Water Bottle" on the side in bold white letters. The Coldest Water Bottle uses double wall insulation and hydro technology to keep drinks cold for 36 hours. Ok, that's impressive.
Hot drinks are kept so for 13 hours. This water bottle has a durable metal lid, with a large handle, and a wide-mouth which makes it easy to get the ice cubes in there. This water bottle is bold, simple, and rings in at around $25.
Pros
Super-Insulated
Wide-Mouth Opening
Durable and Simple
Cons
Pricier than Average
Screw-Off Lid
Which Stainless Steel Water Bottle Should You Buy?
After finishing a 'top 10' review like this, we now have a new standard in our minds for a quality water bottle. Does it leak, is it safe, and can it take both hot and cold beverages?
We are also aware of which bottles will match you yoga environment. With this information, you have everything you need to purchase a container that fits your lifestyle and your price range.
There are many choices out there when it comes to buying a good flask. Now you are aware of the 10 best bottles on the market, what to look for, and what to avoid.
---