Everyone knows that Vitamin C is an important vitamin to incorporate into your daily diet for a healthy immune system, but did you know that vitamin C does so much more than just boost your immune system?
Vitamin C has powerful antioxidants that can actually promote collagen production leading to better, healthier and younger looking skin.
Not only is it important to eat food sources that are high in vitamin C, but it has been proven that applying a vitamin C serum directly to skin can help reduce wrinkles, promote collagen production, and create a healthier, firmer skin texture.
| | | |
| --- | --- | --- |
| TruSkin Naturals Vitamin C Serum | | |
| ArtNaturals Anti-Aging Vitamin C Serum | | |
| PureBiology C Plus Vitamin C Serum | | |
| Claire-ity Vitamin C Serum | | |
| Amara Organics Vitamin C Serum | | |
But how would someone go about applying vitamin C directly to there face you might ask?
That is where a vitamin C serum will come into play.
Vitamin C serum's are unique blends of essential oils, vitamins and minerals that are all mixed into a lotion or gel that can be applied directly to your skin.
The serum will provide your skin with the nutrients that it needs in order to be the healthiest and youngest looking skin that it can be.
Today I want to rate the top 10 best vitamin C serums on the market in 2021 that way you can choose which one fits best for you.
[toc]
TruSkin Naturals Vitamin C Serum
---
TruSkin Naturals is the top choice in my recommendation for vitamin c serums due to its high customer satisfaction rates and the serum itself is very high quality.
Although it is only 20% vitamin c, the other natural ingredients really work well together in creating a smooth, hydrating formula that is perfect for someone new to using a vitamin c serum.
It uses only natural ingredients as well and is never tested on animals.
ArtNaturals Anti-Aging Vitamin C Serum
---
ArtNaturals Anti-Aging serum is another really great product for reducing wrinkles and creating a healthier, younger looking skin. This serum has a unique blend of vitamins and minerals with vitamin C being the main ingredient.
This product is great because it is water based and it moisturizes the skin as well leaving behind a smooth, non-greasy feel so make-up can be applied directly after usage. It uses 100% organic ingredients and is paraben free as well!
PureBiology C Plus Vitamin C Serum
---
PureBiology C Plus serum is most definitely a winner in the current vitamin c serum market. This unique blend of natural ingredients uses a whopping 30% vitamin c mixture.
Aside from the vitamin c, this serum has a unique wrinkle-fix fission technology that is great for reducing the amount of wrinkles around the eyes and chin areas.
Claire-ity Vitamin C Serum
---
Claire-ity Vitamin C serum is great for someone who has used vitamin c serums in the past and wants to vamp up their routine skin care regiment. It has 25% vitamin c which is extremely potent as well as other natural ingredients.
This serum contains jojoba oil which is unique and is sometimes used in lip balms to create the smooth hydration on the lips. This serum has a great reputation for working quickly and effectively without leaving an oily feel to the skin after application.
Amara Organics Vitamin C Serum
---
Amara Organics vitamin C serum is also a great choice when thinking about starting a vitamin c serum regiment. This product is completely organic and also contains 20% vitamin c. It is a water based product making it extremely smooth and non-greasy when applied to the face.
The bottle design makes it easy to get the correct amount every time, and it has a fun, unique design as well. The tinted bottle also makes it better for storage and keeps the product protected from sunlight and oxidation.
InstaNatural Vitamin C Serum
---
The InstaNatural vitamin C serum is unique because it contains more natural ingredients that are not always found in facial serums. Not only does it contain a high amount of vitamin C but it also blends hyaluronic acid, sea buck-thorn oil and plant stem cells which are great for revitalization.
A 1 ounce bottle costs about twenty dollars which is comparable to other similar vitamin c serums. It also has great reviews by actual customers who claim this product worked quickly and effectively.
LilyAna Naturals Vitamin C Serum
---
LilyAna Naturals vitamin C serum is another really great product that contains a high amount of vitamin c combined with other natural ingredients. This product has great reviews because it is said to be one of the fastest working serums on the market.
With LilyAna Naturals, people have seen results in as soon as one week which is phenomenal for a beauty serum. It comes with the convenient drip bottle as well, making it easier for portioning out the correct amount to apply each day.
Tree of Life Beauty Vitamin C Serum
---
Serumtologie, besides having a REALLY cool name, is another great product for someone looking to purchase a vitamin c serum. This product is 100% vegan, and uses only natural ingredients as well.
It has actually been tested and approved by a panel of dermatologists who say it is one of the best serums out there. It is extremely smooth and gentle on the skin and it contains 22% vitamin C.
You can easily buy this recommended product through amazon making it convenient to purchase and of course free shipping as well!
Tree of Life Beauty Vitamin C Serum
---
Tree of life beauty vitamin C serum is another really great product with it's own unique features. It is slightly less expensive than the other serums on the market and can also easily be purchased through amazon.
It has a nice smooth finish when applied to the skin and is 100% vegan and paraben free. It contains the highest amount of bio-available active vitamin C than any other product on the market, making it extremely potent and powerful against free radicals.
Timeless Skin Care 20% Vitamin C
---
Timeless Skin Care is a highly concentrated serum that comes in a convenient drip tip bottle making it easier for proper application. This product also contains vitamin E and ferulic acid making it a nice blend of nutrients that compliment each other well.
It is also a water based serum making it extremely light and a great moisturizer as well. The fact that it is water based also makes it better to the touch and doesn't leave a slimy, greasy feel right after application. I would definitely recommend this product for someone with dry skin who really needs a boost of nutrients.
Which Vitamin C Serum Should You Buy?
Overall, each one of these products is absolutely amazing and will transform your skin.
If I had to choose one of these products as being the most effective for the best price I would have to say TruSkin Naturals Vitamin C Serum.
TruSkin has some of the best reviews on Amazon and for good reason. It contains the perfect amount of vitamin c and is water-based which makes it extremely smooth and easy for application.
Don't just sit around while your skin is slowly deteriorating everyday, do something about it! Go ahead and try any one of these vitamin C serums and I promise you won't be disappointed.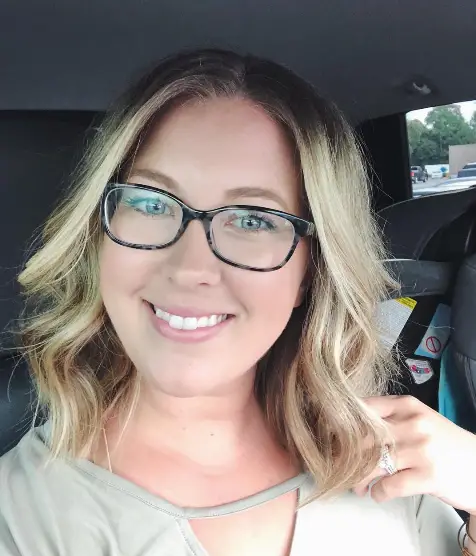 Lauren Gamble is an author, mompreneur, co-founder of Naturally Made Essentials. She is on a mission to help thousands of women across the world achieve a healthy, happy lifestyle through teaching natural health practices.