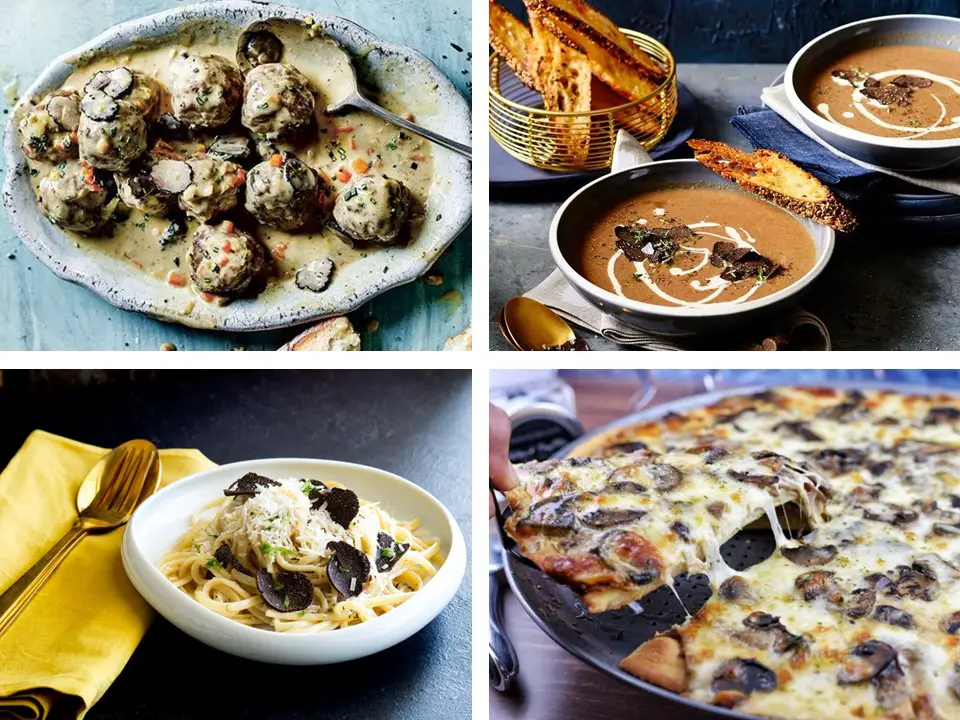 We know what you're thinking: black truffles? That's a bit fancy.
While it's true that the ingredient has gained mass popularity over the years in fine cuisine, you may be surprised by just how good truffles actually are for you.
Not to be confused with the chocolate variety, these truffles (whose varieties include black truffles, white truffles, summer truffles, garlic truffles, and more) are a type of fungus which grow near the roots of certain trees.
Despite their unique taste and expensive price tag, truffles are also incredibly good for you. They contain many important vitamins and minerals, including vitamin C, phosphorus, sodium, calcium, magnesium, manganese and iron.
Studies also indicate that truffles may be a complete source of protein, providing all nine essential amino acids your body needs 
As you'd imagine, truffles offer a wide range of impressive health benefits, including:
Lowering cholesterol
Controlling blood sugar
Protecting your liver from damage
Reducing inflammation throughout your body
Fighting bacterial infections
Helping prevent cancer
If you're excited to start incorporating truffle into your meals on a more regular basis, then you're in luck. We've rounded up the best 40 black truffle recipes that you're sure to love.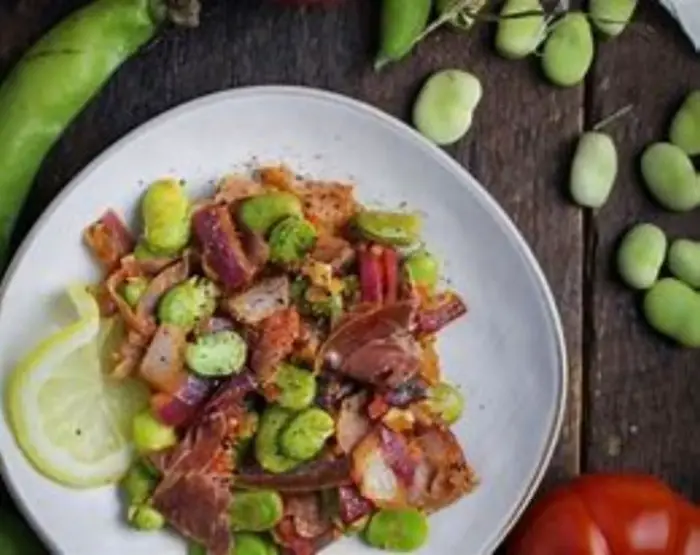 1. BLACK TRUFFLE FAVA BEAN SALAD RECIPE FROM GIORGIO TRUFFLE SHOP
If you've been wondering how you can incorporate black truffle into a salad, then wonder no more. This recipe includes ingredients such as fava beans, bacon, shallots, black truffle oil, red wine vinegar, pepper, and salt.
Not only does it sound delicious but it's also very quick and easy to make.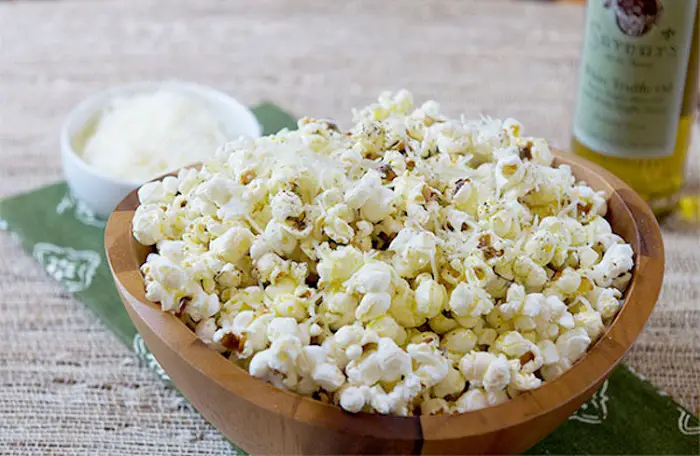 2. TRUFFLE OIL POPCORN FROM IDEA HACKS
Ready for the perfect movie watching snack? This recipe shows you how to make popcorn with a truffle oil twist!
You'll just need popcorn kernels, canola oil, white truffle oil, shredded parmesan cheese, and a pinch of salt and pepper. Does popcorn get any tastier (or fancy) than that?!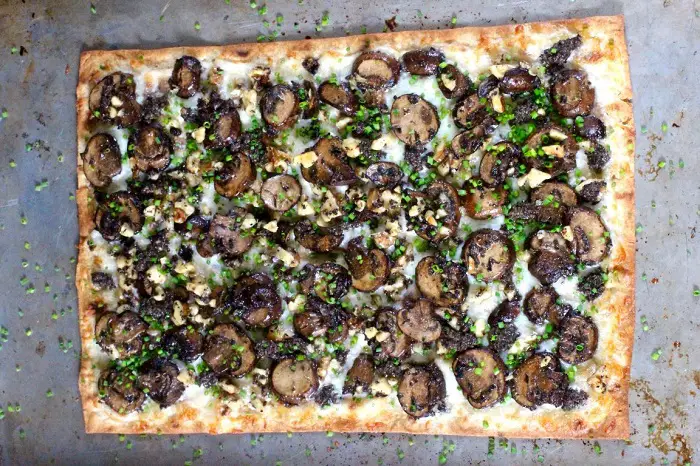 3. FLATBREAD PIZZA WITH MUSHROOM, WALNUT, AND BLACK TRUFFLE SAUCE FROM TASTE WITH THE EYES
"The flatbread is heated just long enough for the cheeses to melt and the edges to get a little crispy allowing the Black Truffle Sauce to release its heady aromas and intensify the robust earthy flavors", the recipe states.
If that's not enough to encourage you to make this truffle sauce flatbread pizza, then we don't know what is!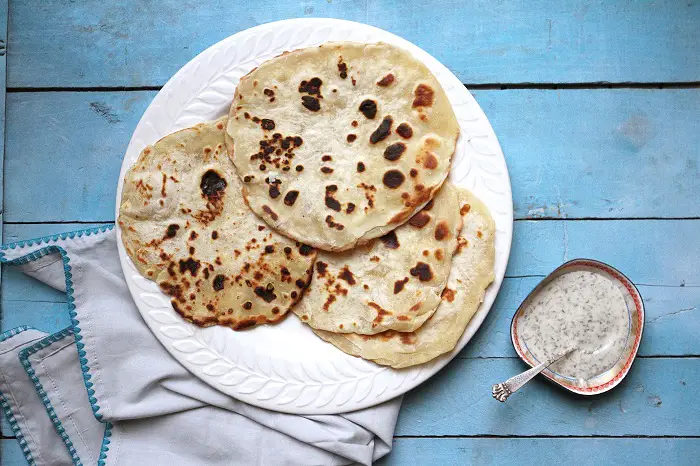 4. ROTI WITH BLACK TRUFFLE FROM SAVEUR
Is there anything nicer than the flaky, charred, and buttery flavor of roti bread to accompany a meal?
This one is infused with grated truffle and sunchoke oil, taking its flavor to a whole new and intriguing level.
Other ingredients include flour, sugar, baking powder, crème fraiche, plain yoghurt, olive oil, grapeseed oil, red wine vinegar, Dijon mustard, buttermilk, hot sauce, grated pecorino cheese, and more.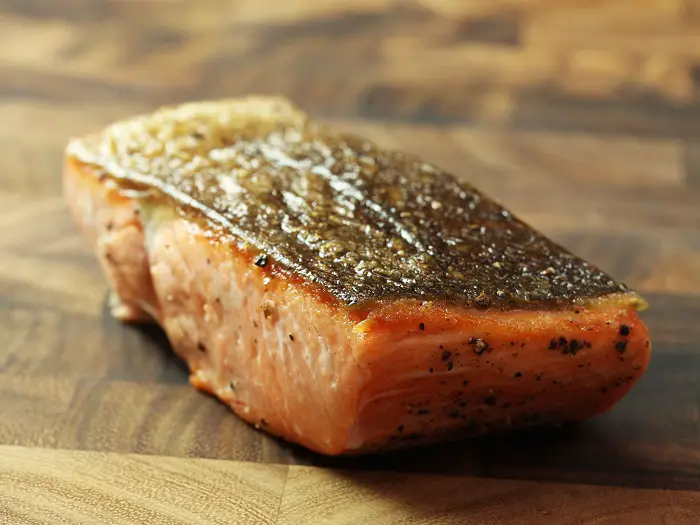 5. TRUFFLE PAN-SEARED SALMON RECIPE FROM GIORGIO TRUFFLE SHOP
This tasty truffle pan-seared salmon takes just 15 minutes to make. You'll just need salmon (of course), black truffle oil, grapeseed oil, and salt and pepper. Simple, yet completely delicious!
You can also take comfort in the fact that it's quite a healthy meal, as salmon is an excellent source of omega-3 fatty acids, vitamin B12, selenium, and choline.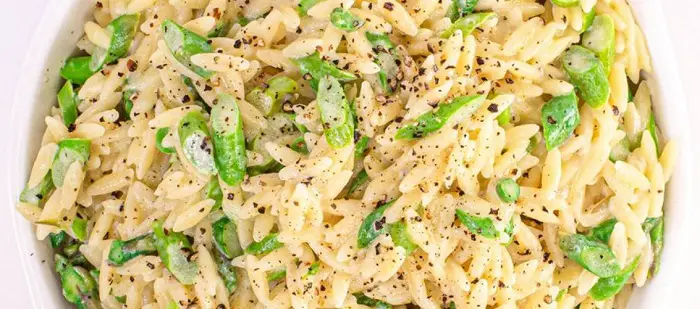 6. ORZO MAC AND CHEESE WITH BLACK TRUFFLE BUTTER FROM RACHAEL
Here's a mac and cheese with a twist!
This orzo mac and cheese contains black truffle butter, making it earthy, creamy, and utterly delicious.
Ingredients include asparagus, orzo pasta, extra-virgin olive oil, garlic, heavy cream, unsalted butter, parmesan cheese, Pecorino Romano, black truffle butter, salt, and pepper. Yum!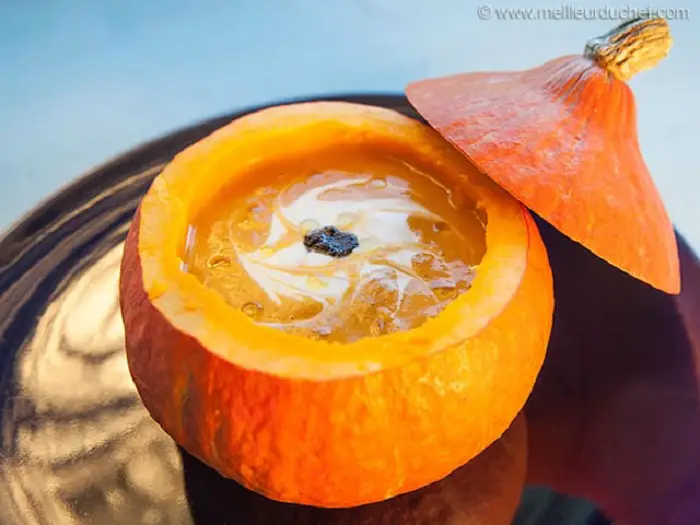 7. PUMPKIN VELOUTÉ WITH BLACK TRUFFLE FROM MEILLEUR DU CHEF
A velouté sauce is a savory sauce, made from a roux and a light stock.
This one marries the incredible flavors of pumpkin and black truffle to create a dish that's unlike anything you've eaten before.
This tutorial takes you through all 30 small steps to create this dish, so you needn't be too afraid to try it.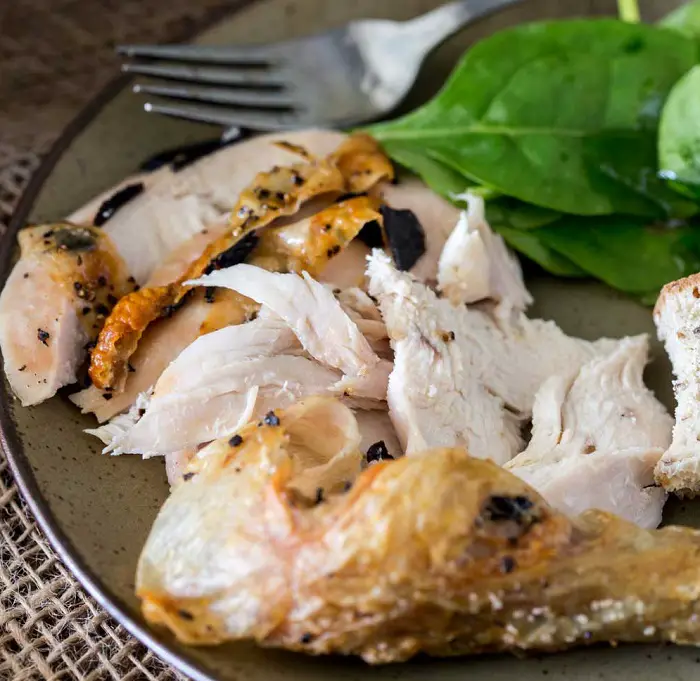 8. BLACK TRUFFLE STUFFED ROAST CHICKEN FROM SPRINKLES AND SPROUTS
Crisp chicken skin, succulent juicy meat and the rich earthy flavor of black truffle.
This black truffle roast chicken is the perfect mix of everyday comfort and extravagance! It's the perfect dish to serve up next time you have friends or relatives around to your place. You'll love this roast dinner with a fancy twist.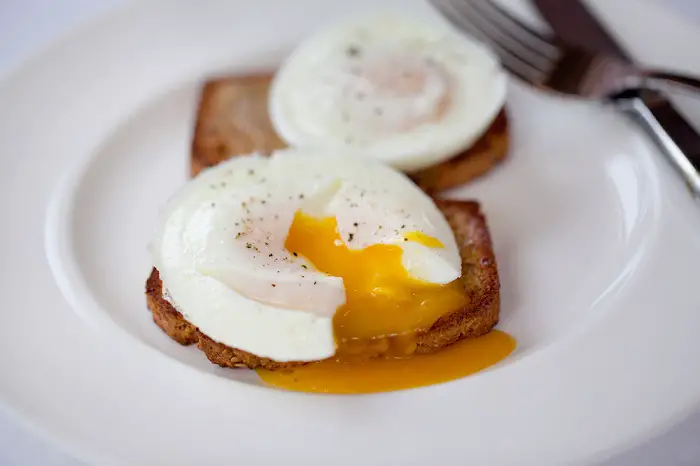 If you're looking to transform your Sunday brunch with a fancier, healthier twist, look no further than these truffle poached eggs.
To make them, you'll just need white vinegar, eggs, kosher salt, black pepper, whole-grain bread, and truffle olive oil. If you're feeling generous, grate some black truffle over the top of the dish too.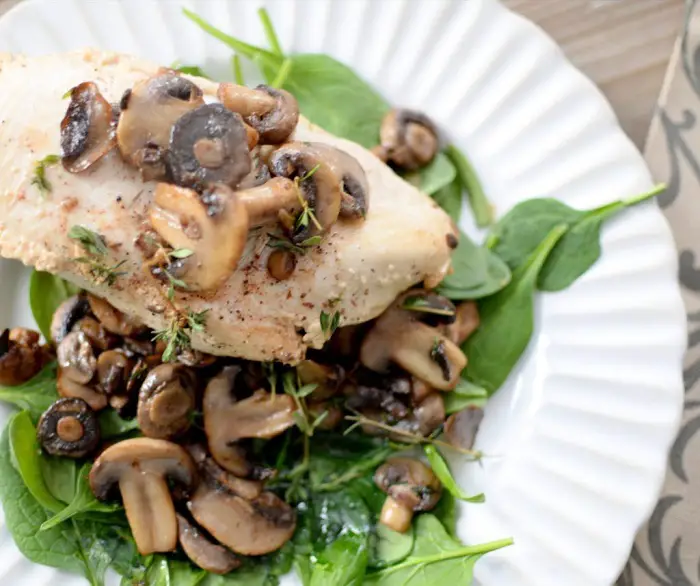 10. CHICKEN MUSHROOM MAGIC FROM CRAVING 4 MORE
Chicken and mushrooms with black truffle salt; doesn't that sound divine?
The best part is that this recipe is a cinch to create, landing a delicious meal on your dinner table in no time. Ingredients include butter (or olive oil), sliced mushrooms, fresh thyme, black truffle sea salt, chicken breast, salt, and pepper.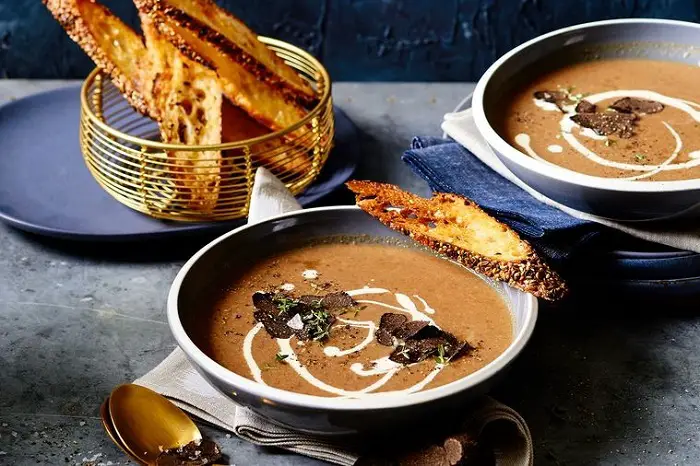 11. MUSHROOM AND TRUFFLE SOUP FROM DELICIOUS
Forget your average mushroom soup – black truffle adds a touch of decadence to this dish, transforming it from the everyday to something truly special (and delicious!).
You'll just need extra virgin olive oil, garlic cloves, eschahlots, thyme, Swiss brown mushrooms, sherry, dried porcini, and chicken stock, as well as thickened cream, shaved black truffle, and toasted bread to serve.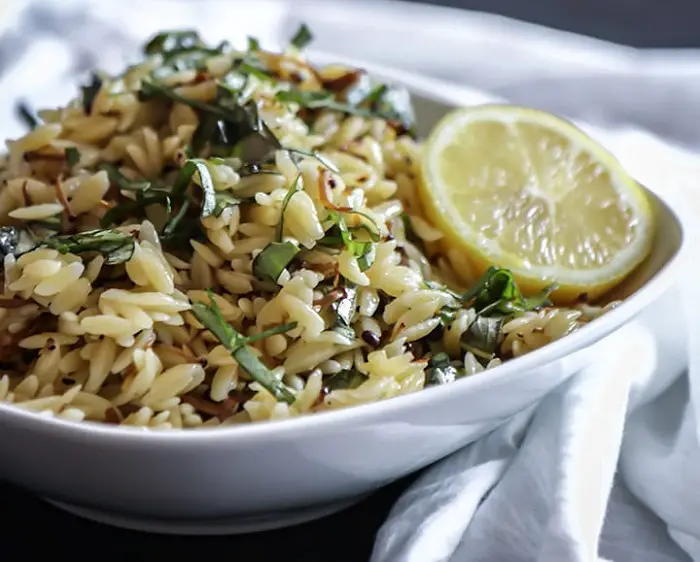 12. ENOKI MUSHROOM ORZO SALAD FROM FORK IN THE ROAD
Mmm…vegan mushroom orzo salad with enoki, fresh basil and drizzled in black truffle oil. Served warm or cold, this vegan pasta salad is comfort food at its best!
The black truffle elevates this already-tasty dish, giving it a nutrient-rich, earthy taste. It's a versatile meal that can be eaten any time of the year – hot or cold!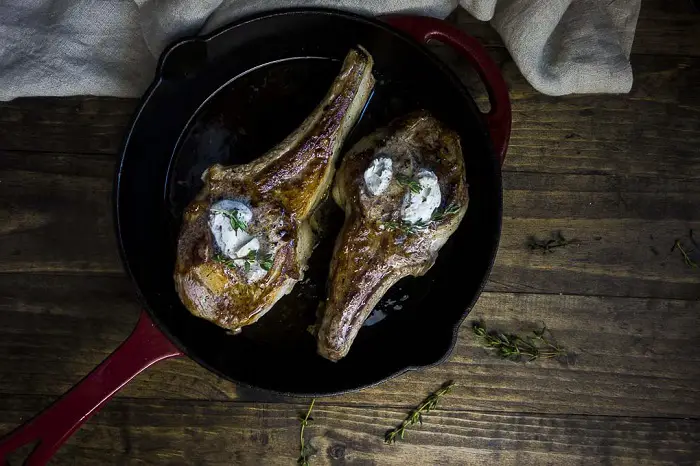 13. VEAL CHOPS WITH HOMEMADE BLACK TRUFFLE BUTTER FROM WENT HERE 8 THIS
These tender, juicy, pan seared veal chops are just the thing to make that Christmas or New Year's dinner special.
When served with your very own homemade black truffle butter, your guests won't know what hit them! After all, special occasions should be accompanied by special food, making this elegant, yet homely, treat a winner in our eyes.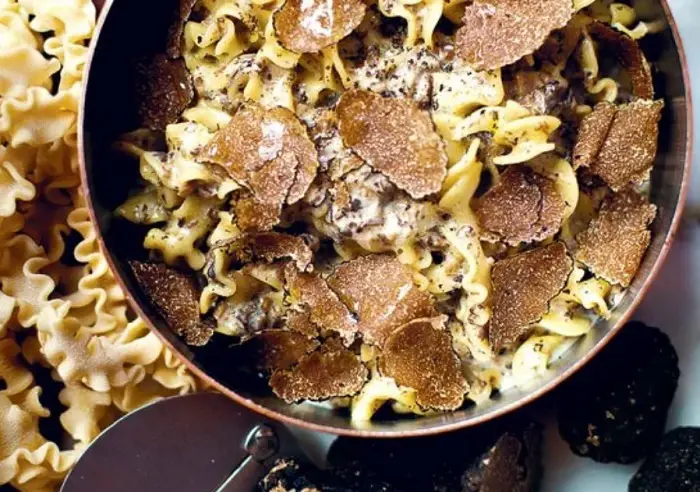 14. BIG MAMMA'S FAMOUS TRUFFLE PASTA FROM VOGUE
The Big Mamma team at the head of popular Parisian eateries East Mamma, Ober Mamma, Mamma Primi and Big Love Caffé share this signature dish, helping you to experience your own French delicacy at home, this week for dinner.
Ingredients include Mafaldina or tagliatelle pasta, black truffle, mascarpone, shallot, button mushrooms, white wine, butter, truffle oil, and parmesan.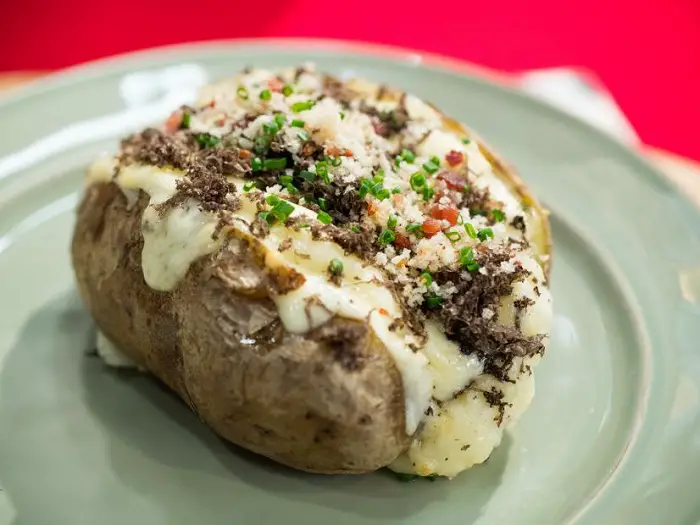 15. BLACK TRUFFLE FONTINA CHEESE BAKED POTATO FROM FOOD NETWORK
If you thought cheese baked potatoes already tasted great, wait until you try them with black truffle!
These are very easy to whip-up and use ingredients such as russet potatoes, bacon, panko breadcrumbs, garlic, salt, pepper, heavy cream, unsalted butter, fontina cheese, chives, and black truffle.
They're a great game night delicacy!
16. GRILLED CHEESE WITH TRUFFLE OIL, ARUGULA AND SUMMER TRUFFLES FROM EAT LOVE SAVOR
This recipe for Grilled Cheese with Truffle Oil, Arugula and Summer Truffles is a wonderful way to enjoy the subtle flavor of summer truffles.
According to this recipe, "the Morbier cheese, spicy arugula, and nutty summer truffles, enhanced with black truffle oil make an exceptional sandwich". Who knew lunch (or a lazy weeknight dinner) could be so darn delicious?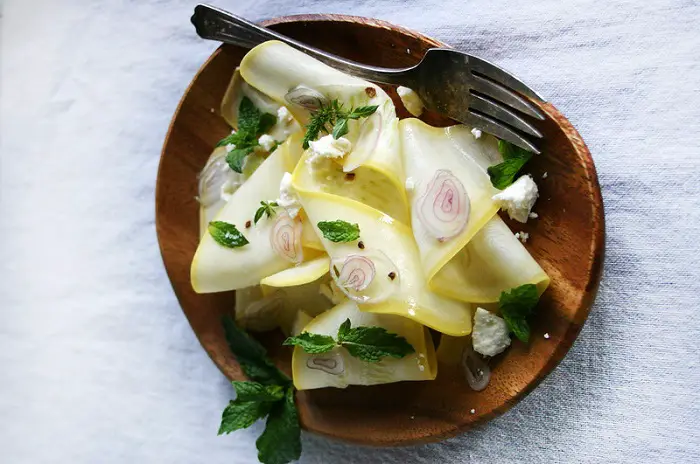 17. SUMMER SQUASH SALAD WITH MINT, FETA, AND BLACK TRUFFLE SALT FROM LOCAL MILK
"Translucent ribbons of yellow summer squash, a handful of fresh mint, heady black truffle salt, thin slivers of shallot, and salty crumbles of feta tossed with a glug of olive oil and white balsamic"…
If that description of this summer squash salad with truffle salad hasn't got your tastebuds tingling, then we don't know what will! It's a light, yet zesty salad that's got a great hit of earthiness.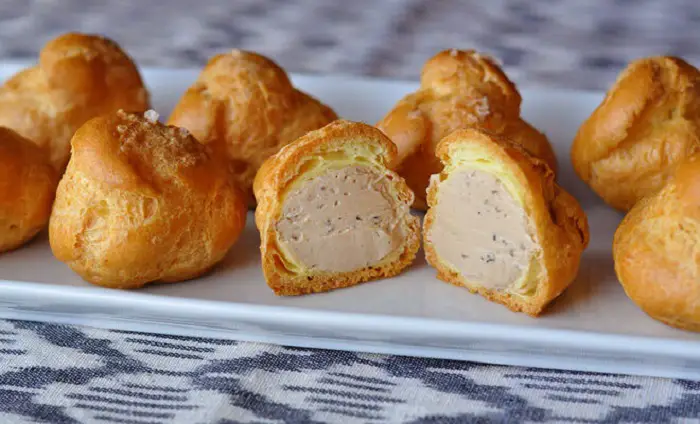 18. FOIE GRAS CREAM PUFFS WITH BLACK TRUFFLE FROM D'ARTAGNAN
Have you got a special occasion coming up?
These foie gras cream puffs with black truffle are going to knock your socks off because they're decadent, delightful, and utterly delicious.
To make them, you'll just need unsalted butter, water, salt, flour, eggs, Sel Gris or Maldon salt, and 1 Medallion of Foie Gras with Black Truffles, softened.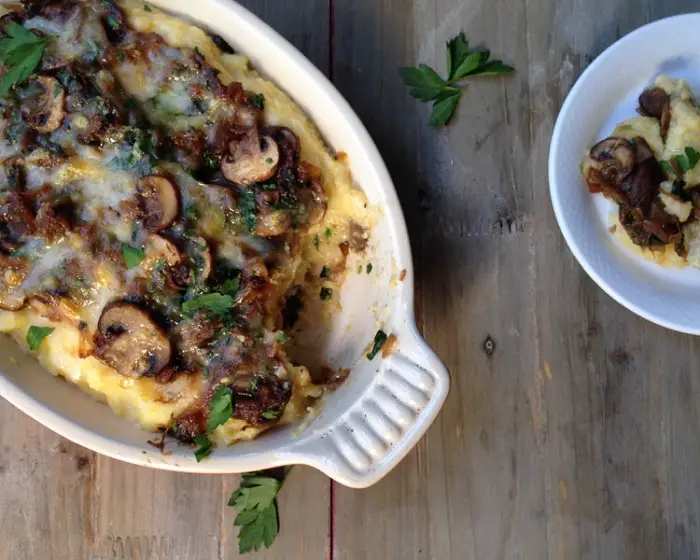 19. TRUFFLE MUSHROOM POLENTA GRATIN RECIPE FROM CIAO FLORENTINA
This Rustic Italian Truffle Mushroom Polenta Gratin is just the mid-week meal to satisfy your comfort food cravings, plus it's also perfect for serving up when guests drop by.
It only uses a tiny dab of truffle infused butter to finish up the creamy polenta and infuse the dish with flavor, so if you're still getting used to the taste of the ingredient, this is the recipe for you.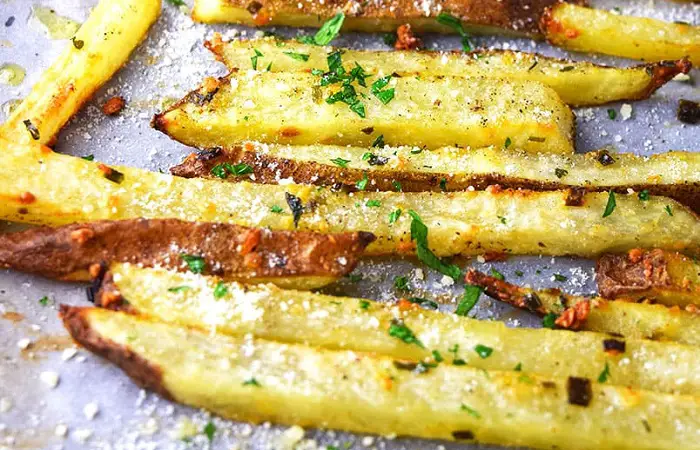 20. BAKED PARMESAN TRUFFLE FRIES RECIPE FROM KITCHEN SWAGGER
Baked French fries finished with Parmesan cheese and truffle oil – what's not to love? These fries take the meal accompaniment and snack to a whole new level.
The best part is that these fries can be considered 'healthy' when compared to fries in a fast food restaurant because they're baked – not fried. It just gets better and better.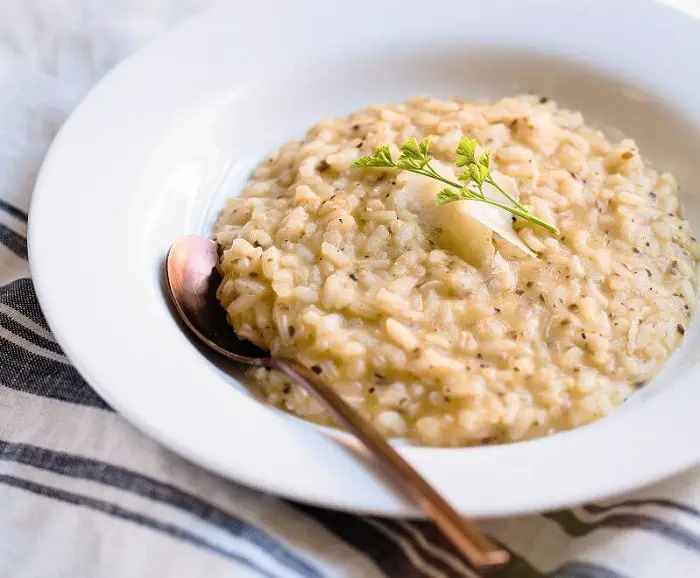 21. PARMESAN TRUFFLE RISOTTO FROM A COUPLE COOKS
This Parmesan truffle risotto recipe is pretty simple to put together, but the black truffle flavor will have you (or your guests) thinking it's straight out of a gourmet restaurant.
Plus, it's vegetarian and gluten-free! You'll just need ingredients including vegetable broth, shallot, butter, Arborio rice, white wine, Parmesan cheese, kosher salt, canned black truffles and mushrooms (or black truffle oil), and freshly ground black pepper.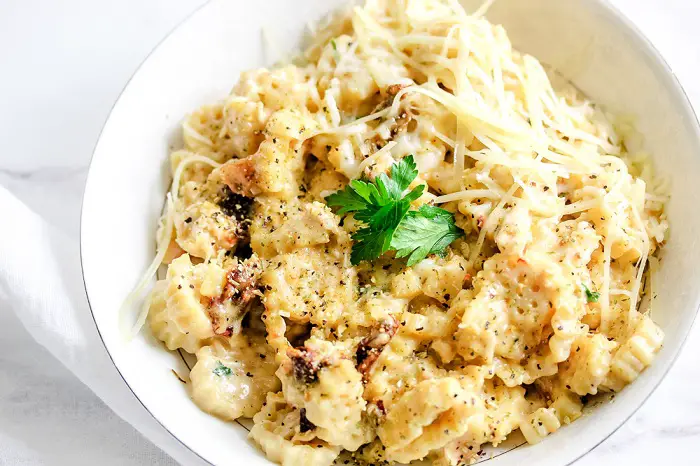 22. BLACK TRUFFLE ALFREDO PASTA FROM DINE LIKE SHAY
This black truffle Alfredo pasta has a little secret that you're going to love: it uses Trader Joe's Black Truffle Alfredo Pasta Sauce – no sauce-making required!
Other ingredients you'll need to have on-hand include pasta, sun dried tomatoes, uncured bacon, rotisserie chicken, parsley, garlic and herb seasoning, four cheese mixture, and parmesan Romano.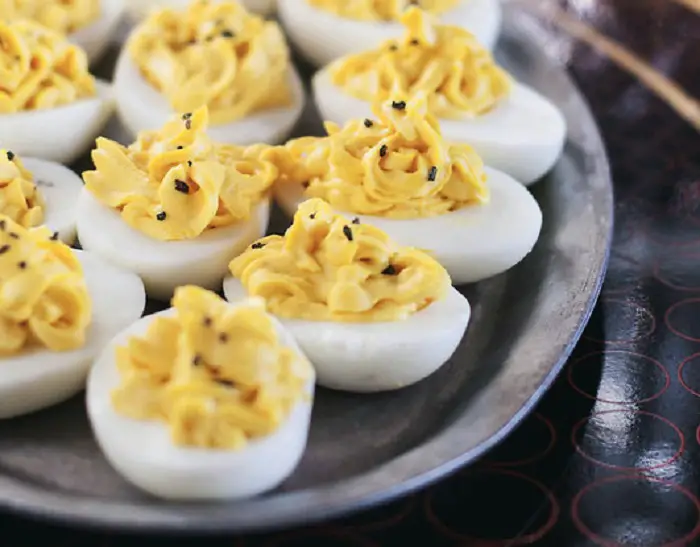 23. TRUFFLED DEVILED EGGS WITH CRÈME FRAÎCHE FROM LOCAL MILK
Have you ever tried deviled eggs before?
Trust us, they're not as sinister as they sound! Nicknamed "black tie eggs" due to their fanciness, these deviled eggs contain crème fraiche, mayonnaise, Dijon mustard, truffle oil, sugar, white wine vinegar, black truffle sea salt, and black truffle shavings.
Delicious? We think so.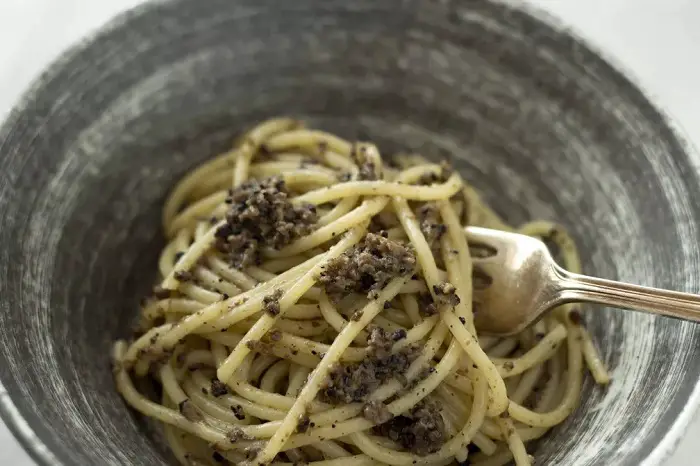 24. SPAGHETTI WITH BLACK TRUFFLE SAUCE FROM FOOD 52
This pasta dish is simple to make, yet the use of black truffle makes it a decadent addition to any dinner – whether it's just you, your family, or a special occasion with guests.
You'll just need spaghetti, extra virgin olive oil, garlic, anchovies, sea salt, and the hero ingredient – black truffle. Grate or pound it to form the black truffle paste.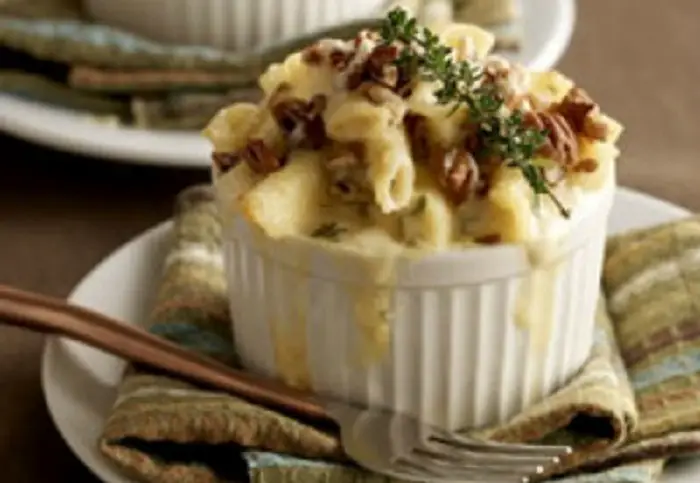 25. BACON AND BLACK TRUFFLE MACARONI AND CHEESE RECIPE FROM WHAT'S COOKING AMERICA
Ready for this "kicked up" and very gourmet version of Macaroni and Cheese?
The secret ingredient is – of course – truffle oil, transforming the common dish into one worthy of a three-hatted restaurant.
It turns out that bacon, cheese, and truffle are a match made in culinary heaven. Who knew?! Serve as a side to chicken, seafood, or red meat, or enjoy it on its own.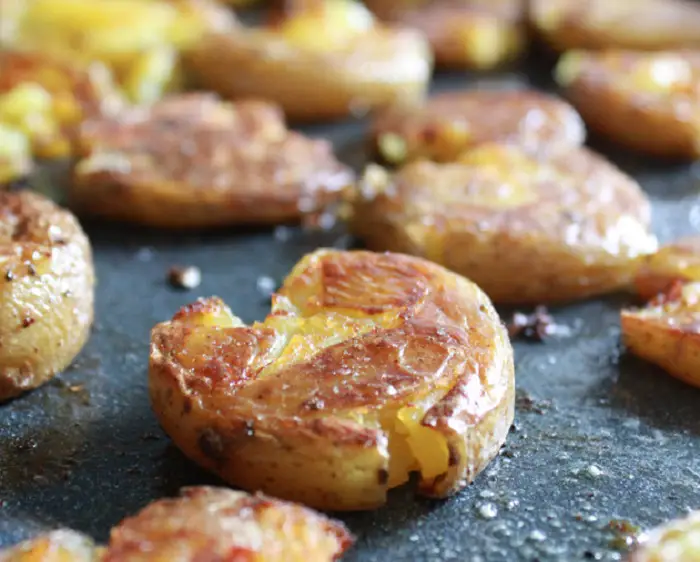 26. BLACK TRUFFLE SMASHED POTATOES FROM KNEAD TO COOK
If you're a vegan or vegetarian, you'll particularly love this dish, as there's no meat, seafood, or animal products in sight!
These crispy, crunchy, and moreish bakes potatoes are adorned in sea salt, pepper, olive oil, and black truffle oil – although if you have fresh truffles, you could just as easily sprinkle some over the top.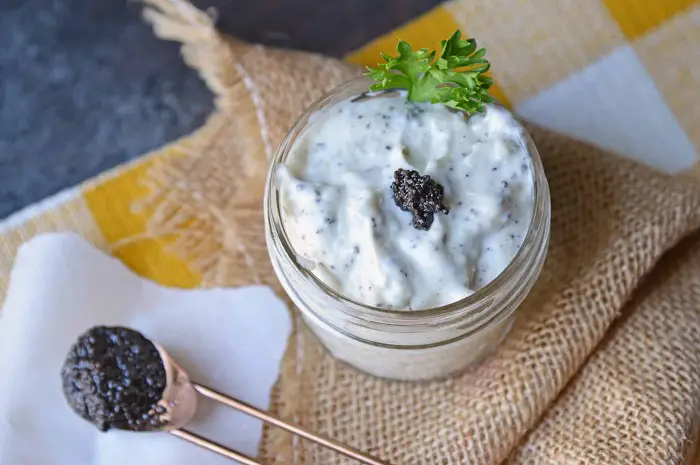 This truffle aioli sauce is an easy-to-make condiment that's perfect for dipping French fries, adding to sandwiches, and so much more.
This aioli sauce is made with truffle pate instead of truffle oil and contains no raw eggs, unlike most aioli sauces, making it suitable for a wider range of dietary restrictions and requirements.
It takes just 10 minutes to make, so you'll have mouth-watering truffle aioli sauce in no time.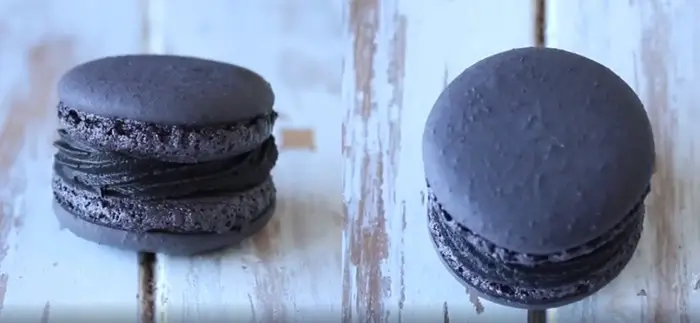 28. BLACK TRUFFLE MACARONS FROM TASTEMADE
Remember how we said truffles weren't to be confused with those of the chocolate variety?
Well, these macarons contain both ingredients – chocolate and black truffle! Other ingredients include ground almonds, icing sugar, liquefied egg whites, caster sugar, water, black food gel, cocoa powder, dark cooking chocolate, thickened cream, and truffle.
Yum!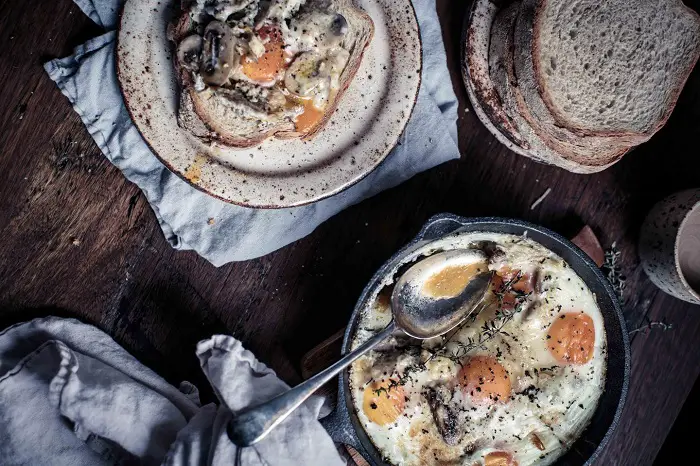 29. CREAMY MUSHROOM & BLACK TRUFFLE BAKED EGGS FROM ANISA SABET
"Mushrooms sautéed in butter, garlic, thyme and white pepper then topped with gruyere and truffle infused eggs" – these creamy mushroom and black truffle baked eggs are an indulgent brunch recipe you're going to love!
You actually infuse the eggs with the black truffle for at least 24 hours (just in the fridge), then fry it all up in a pan. Sunday brunch never tasted so good.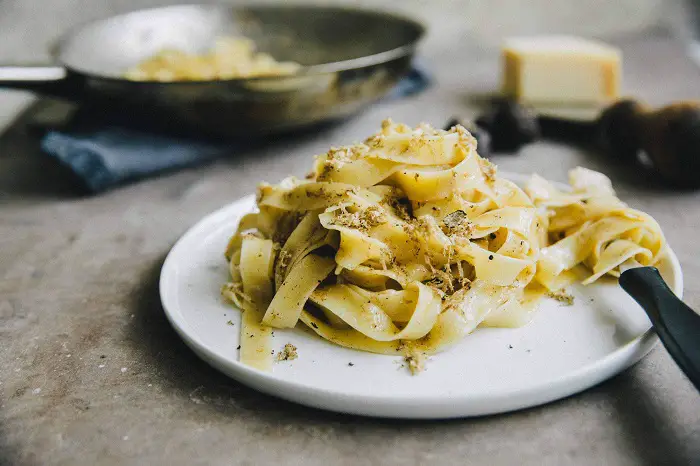 30. TAGLIATELLE PASTA WITH BLACK TRUFFLE SAUCE FROM JERNEJ KITCHEN
Here's a rich, creamy butter black truffle sauce recipe that you can master quickly – in just 15 minutes to be exact! You'll just need tagliatelle pasta, olive oil, butter, garlic, black truffle, beef or vegetable stock (or water), and freshly grated parmesan cheese.
If black truffle isn't an ingredient you cook with regularly (which, for many of us, it's not), then you can save dishes like this for a special anniversary or occasion.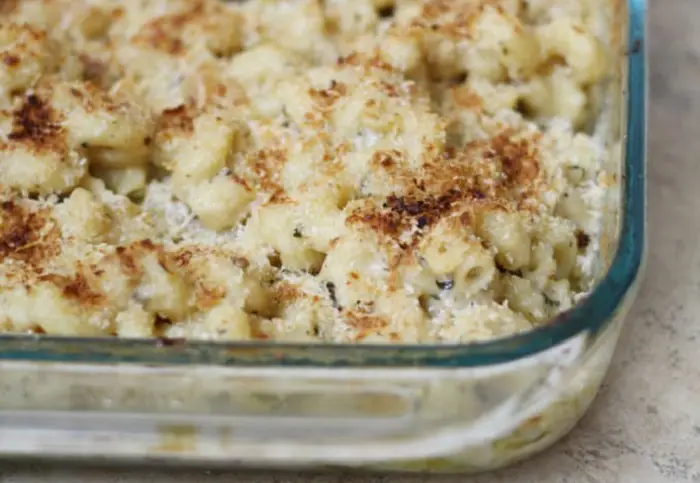 31. THE BEST TRUFFLE MAC AND CHEESE RECIPE FROM MEG O ON THE GO
Labelled the best mac and cheese on the planet, this dish is perfect for holidays like Thanksgiving, Christmas, and Easter, but is also a fabulous and gourmet side dish any day of the year.
It's easy to get bored of the traditional mac and cheese, so why not elevate your tastebuds to a whole new level using truffle? Your friends and family will be begging you for the recipe.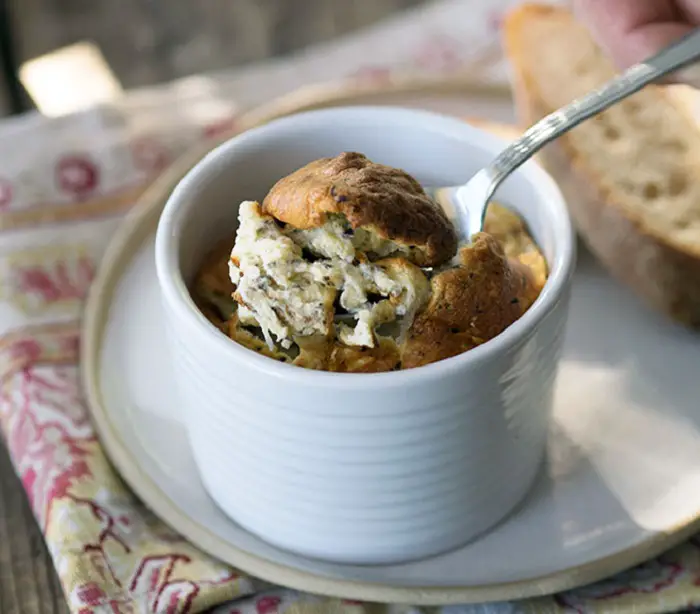 32. BLACK TRUFFLE AND PARMESAN SOUFFLES FROM BELLY RUMBLES
If you've never made or eaten souffle before, now is the time. You see, this popular French dish tastes even more divine than ever when they contain truffle. But don't just take our word for it!
To make a black truffle and parmesan souffle, you'll just need milk, butter, flour, parmesan, eggs, egg white, salt, pepper, and black truffle.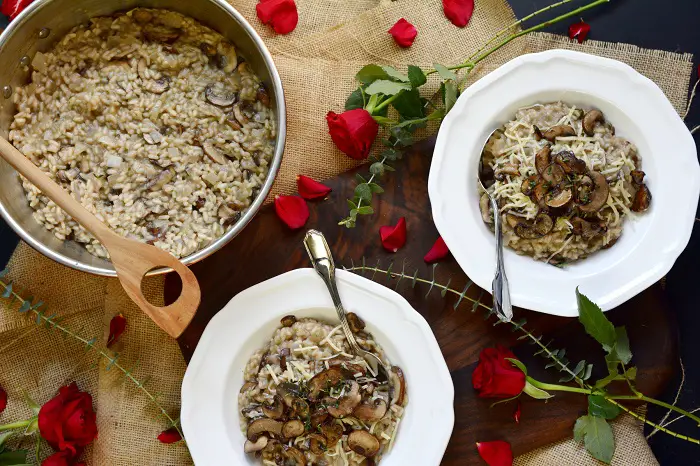 33. BLACK TRUFFLE MUSHROOM RISOTTO FROM SED BONA
This Black Truffle Mushroom Risotto recipe is the perfect luxurious dinner for Valentine's Day and is so much fun to make with your significant other!
It uses arborio rice, mushroom broth, white wine, garlic cloves, baby Bella mushrooms, onion, unsalted butter, black truffle oil, fresh thyme, salt, pepper, and parmesan.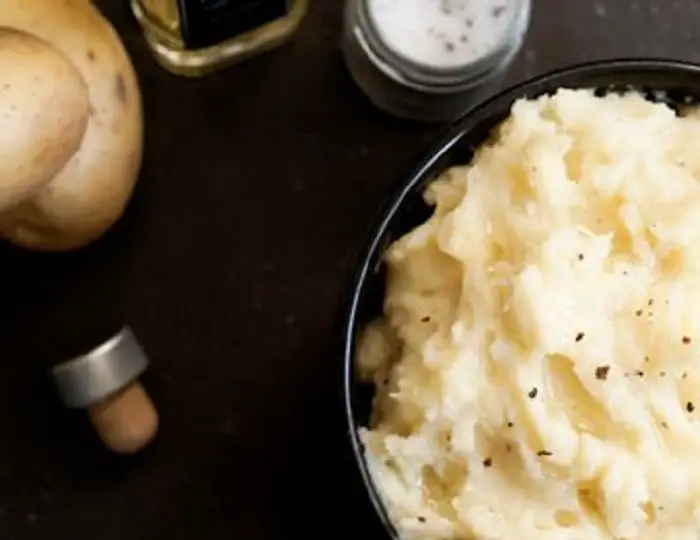 34. BLACK TRUFFLE MASHED POTATOES RECIPE FROM THE DAILY MEAL
This mashed potato recipe is a great starting point for those who have never eaten truffle before, or cooked with it.
You see, it's a simple recipe that's creamy and not overpowered by the truffles, helping you to adjust to the new flavor. You just need potatoes, butter, black truffle oil, and truffle salt.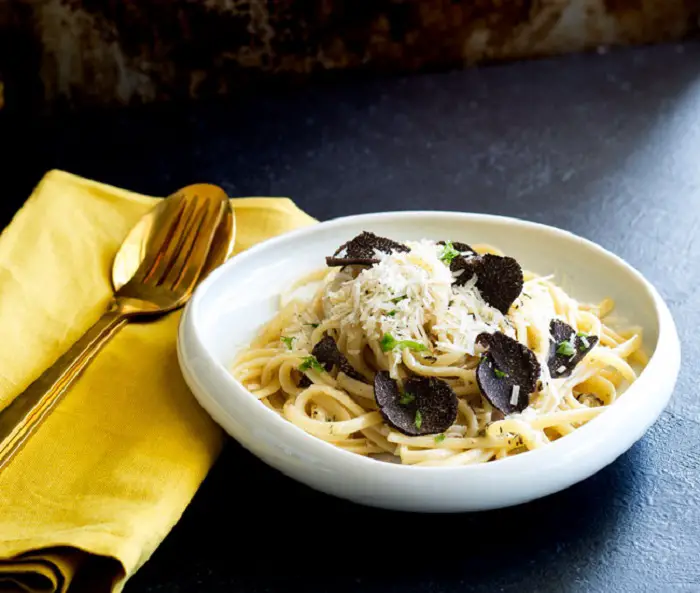 35. FIVE INGREDIENT BLACK TRUFFLE PASTA FROM SPRINKLES AND SPROUTS
In this recipe, the unmistakably earthy rich flavor of black truffle is paired with everything it loves, including butter, cheese and perfectly cooked linguine.
The best part though (other than the taste)? This meal can be made in just 10 minutes, giving you more time to sit down, enjoy it, and relax. After all, truffle should be savored!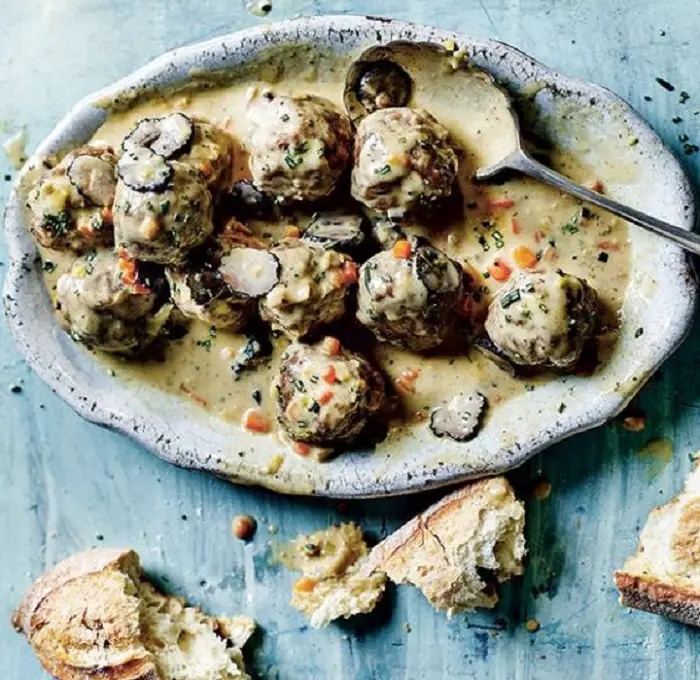 36. MEATBALLS IN BLACK TRUFFLE SAUCE RECIPE FROM WOMAN AND HOME
These flavorsome meatballs are perfect to share with friends and family as a tapas style sharing starter.
The flavor of the truffle is really intense and gives the whole thing an earthy kick that you'd expect from the star ingredient. Count us in!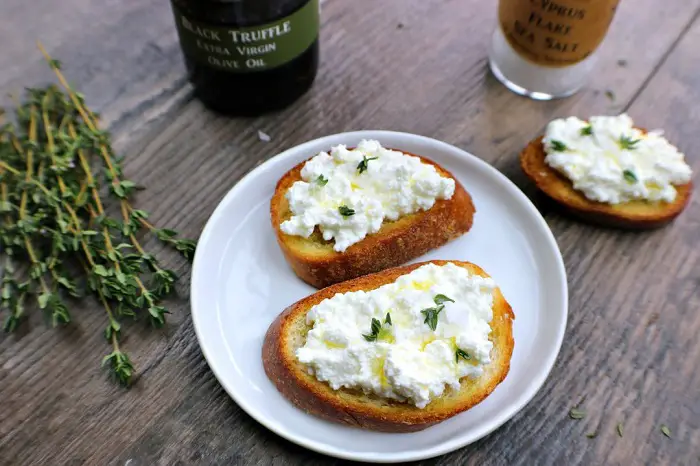 37. EASY AND DELICIOUS BLACK TRUFFLE CROSTINI FROM MANGIA MICHELLE
If you're looking for a simple, yet delicious midday snack or weekend brunch, then you're in luck.
This black truffle crostini isn't just easy to make, but it's absolutely delicious too.
If you're hosting a dinner party and looking for a quick appetizer to whip up, then you should also consider this recipe, which features tasty ingredients such as fresh ricotta, garlic, thyme, and black truffle infused oil (among others).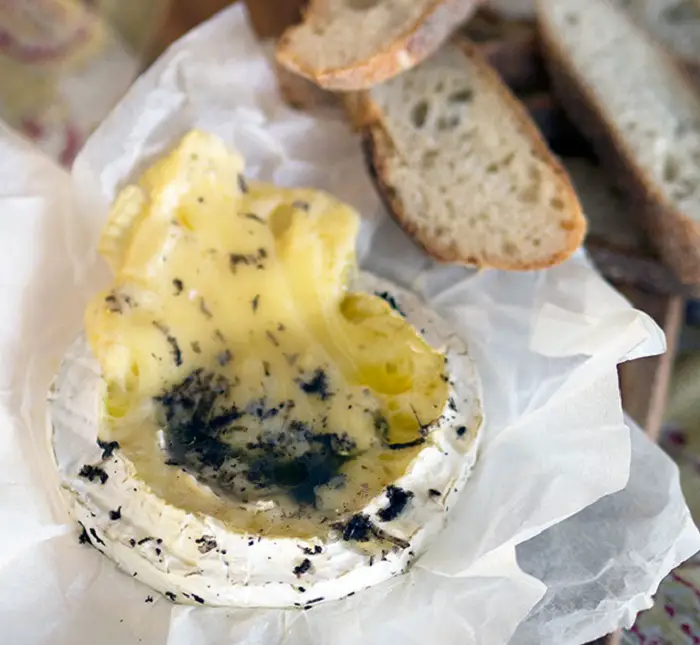 38. BAKED BRIE WITH BLACK TRUFFLES FROM BELLY RUMBLES
If you've had the pleasure of a baked brie before, then your mind is about to be blown.
Imagine the creamy, mouth-watering taste of gooey, warm brie cheese combined with the earthiness of black truffles…see what we mean?
This is perfect for dipping hot, crusty bread into, as well as vegetables such as carrot and celery.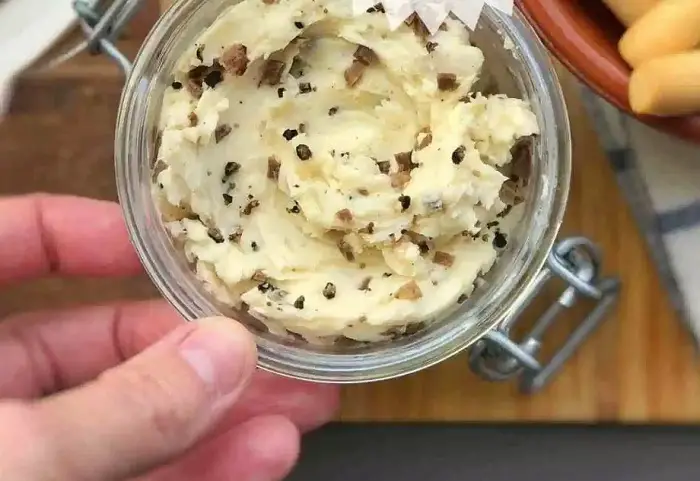 39. BLACK TRUFFLE BUTTER RECIPE FROM SIMPLE TASTY GOOD
You may have noticed some of the recipes among this list require truffle butter, but fear not.
If truffle butter is proving difficult to find at your local store, you can use this recipe to make your own! You'll just need black truffles – fresh or preserved (and their juice) – as well as unsalted butter, garlic powder, pepper, and salt.
That's it!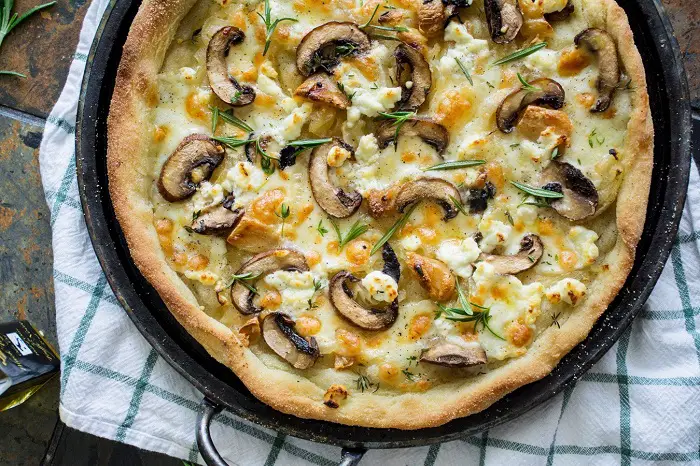 40. MUSHROOM PIZZA BIANCO WITH TRUFFLE OIL & FRESH HERBS FROM PORT AND FIN
Looking for another pizza recipe containing the star ingredient?
This mushroom pizza with fresh herbs contains truffle oil, which lets you ease into the taste and obtain that truffle taste if you can't get your hands on the fresh stuff.
Quick, easy, and utterly delicious (not to mention, cheesy), this pizza is perfect for Friday night dinners and last-minute get-togethers with friends.
Which Black Truffle Recipe Will You Try?
There you have it – the top 40 black truffle recipes that you can enjoy for breakfast, brunch, lunch, dinner, and even dessert!
Truffles might seem decadent or unnecessary in a home cooked meal, but remember, they contain numerous health benefits for you and your family.
As well as containing many important vitamins and minerals, including vitamin C, phosphorus, sodium, calcium, magnesium, manganese and iron, truffles are also wonderful for helping to lower cholesterol, control blood sugar, protect your liver from damage, reduce inflammation, fight bacterial infections, and potentially prevent cancer.
If you've never cooked with black truffles before, start with an easy recipe (such as one of the brunch or breakfast meals), then work your way up to those which seem more advanced.
When it comes to getting in the kitchen and experimenting with food, you can't go wrong, so don't hold back!
Which black truffle recipe will you be trying this weekend? We'd love to hear from you in the Comments section below.
Share on Pinterest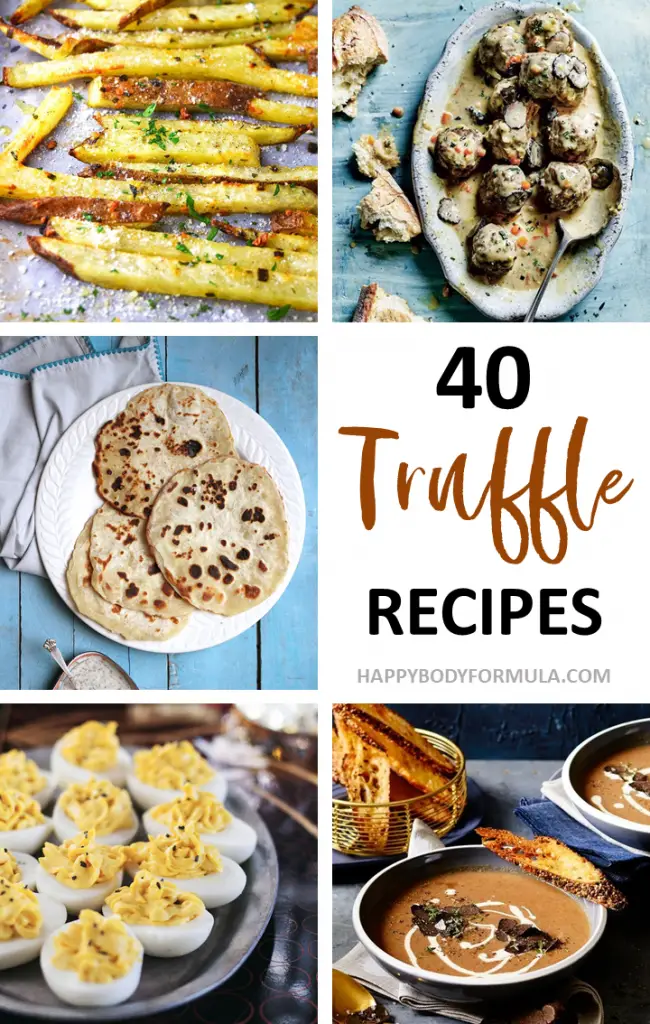 Melanie Clarke is the founder of Whim Online Magazine, an online magazine based in Australia that has a strong focus on whimsical + dreamy photography, as well as art and fashion content.