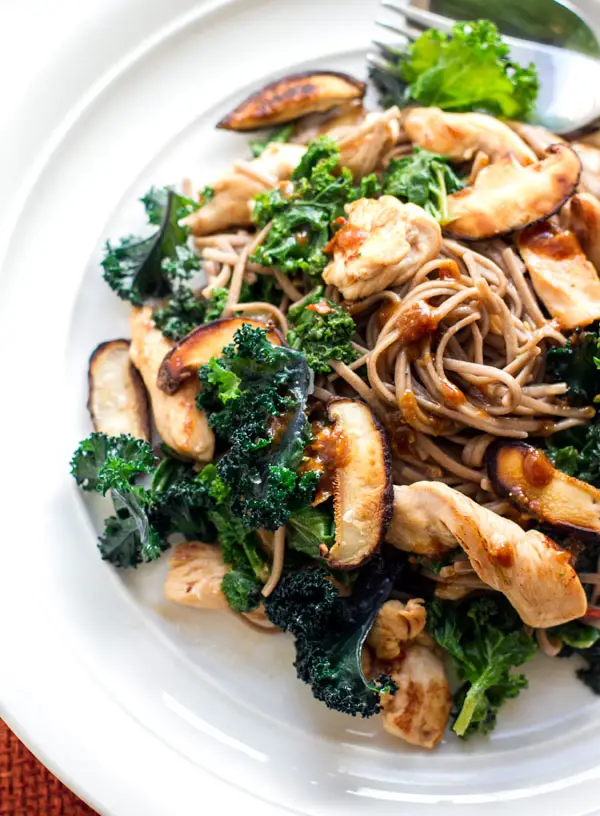 Kale, chicken and shiitake mushrooms are the star ingredients in this recipe. The buckwheat noodles add a serving of gluten-free, nutrient-dense carbohydrates, as well as lovely texture.
In general, noodles are not exceptionally nutritious when compared to vegetables. And due to their high carbohydrate content, we recommend to consume noodles in moderation, mostly post workout, or if you're trying to increase carbohydrate intake for sporting activities.
Furthermore, it's helpful to avoid any wheat/gluten based varieties. Healthier varieties of noodles, such as 100% buckwheat soba used in this recipe, can be fantastic carriers of flavors and other nutritious ingredients.
What's good about it: Kale is a nutritional powerhouse while chicken will provide you with protein and some B vitamins. This dish is low in sugar and the 100% buckwheat noodles (soba) – which are gluten-free – have a lower glycemic index than most wheat-based noodles.
Fresh miso has beneficial probiotics and fantastic umami flavor, which complements the other flavors in the dish.
Looking for more recipes like this? Check out our 7 day make ahead meal plan full of nutritious and delicious meals. You'll get a shopping list, meal plan and make ahead recipes for the week to help you stay on track.
Cook's notes: Buckwheat soba noodles are traditionally Japanese. Some varieties can contain wheat and other grain so make sure to look for 100% buckwheat soba. Rice noodles can be used instead as well.
If you're following a low-carbohydrate paleo diet, you can use zucchini noodles instead. Soba noodles can be purchased in the Oriental/Japanese section of the supermarket or from an Asian grocer.
If you can't find fresh shiitake mushrooms, use the dried variety instead which you can soak in warm water. Common button mushrooms can also be used. I used organic, fresh brown miso.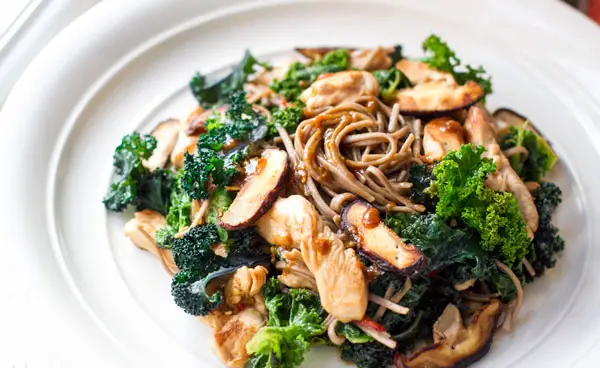 Buckwheat Noodles With Chicken Kale & Miso Dressing
Ingredients
For the noodles
2-3 handfuls of kale leaves (removed from the stem and roughly cut)
150 g / 5 oz buckwheat noodles (100% buckwheat, no wheat)
3-4 shiitake mushrooms, sliced
1 teaspoon coconut oil or ghee
1 brown onion, finely diced
1 medium free-range chicken breast, sliced or diced
1 long red chilli, thinly sliced (seeds in or out depending on how hot you like it)
2 large garlic cloves, finely diced
2-3 tablespoons Tamari sauce (gluten-free soy sauce)
For the miso dressing
1½ tablespoon fresh organic miso
1 tablespoon Tamari sauce
1 tablespoon extra-virgin olive oil
1 tablespoon lemon or lime juice
1 teaspoon sesame oil (optional)
Instructions
Bring a medium saucepan of water to boil. Add the kale and cook for 1 minute, until slightly wilted. Remove and set aside but reserve the water and bring it back to the boil. Add the soba noodles and cook according to the package instructions (usually about 5 minutes). Rinse under cold water and set aside.
In the meantime, pan fry the shiitake mushrooms in a little ghee or coconut oil (about a teaspoon) for 2-3 minutes, until lightly browned on each side. Sprinkle with sea salt and set aside.
In the same frying pan, heat more coconut oil or ghee over medium-high heat. Sauté onion and chilli for 2-3 minutes and then add the chicken pieces. Cook 5 minutes over medium heat, stirring a couple of times, then add the garlic, tamari sauce and a little splash of water. Cook for a further 2-3 minutes, stirring frequently, until chicken is cooked through.
Finally, add the kale and soba noodles and toss through the chicken to warm up.
Mix the miso dressing and drizzle over the noodles right at the end of cooking, this way you will keep all those beneficial probiotics in the miso alive and active.
Music, mountains, dogs, travel, food and friends.